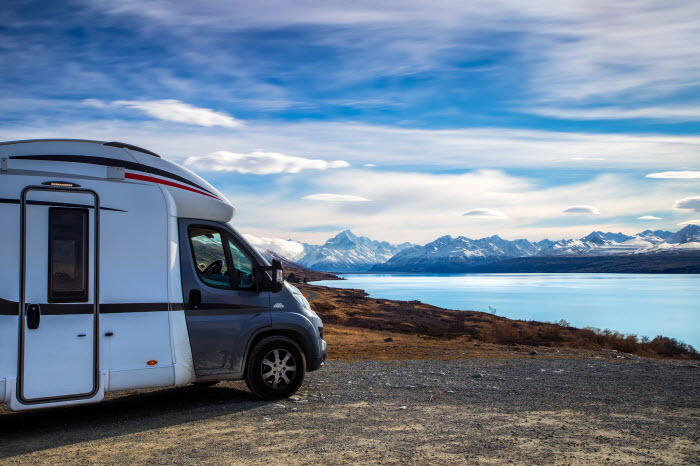 Grab the family and start your motorhome adventures in a Bürstner Ixeo IT726G – four of these fantastic four-berth vehicles have just become available at SmartRV.
The 2016 models have come off the fleet at SmartRV's sister company, Wilderness Motorhomes, where they were known as an 'Alpine 4'.
These premium German-built ex-rental motorhomes were regularly maintained and serviced to the highest industry standards at Wilderness and have now been refurbished and are ready for sale at SmartRV for an incredible $109,900.
There are two Bürstner Ixeo IT726Gs available in Auckland and two in Christchurch.
The motorhomes have proven their reliability on New Zealand roads and are freedom camping certified. They have a drop-down double bed and two extra-long singles (ideal for teenagers, or convert to a King bed), making them perfect for families.
With a combined toilet/shower, practical kitchen (3-burner gas hob and oven/grill) and plenty of storage, these Bürstners have everything you need for life on the road. And with insulation and heating, stylishly designed interiors and leather upholstery throughout, you'll be cosy and comfortable in your home away from home.
All used vehicles from SmartRV come with a full three-month warranty, the balance of the five-year water tightness warranty*, registration, a self-containment certificate (CSC) and minimum 1000km Road User Charges (RUC).
As a SmartRV owner, you'll also receive ongoing support from the After Sales team and membership to SmartRV's Owners Club.
Don't miss this opportunity to own a leading-brand motorhome at an amazing price. The Bürstner Ixeo IT726G will be on show at the 2019 Hamilton Motorhome Caravan & Leisure Show at Mystery Creek (Sept 20-22) and at SmartRV's Auckland and Christchurch bases.
Find out more about the Bürstner Ixeo IT726G here .
*Please refer to your individual Vehicle Offer of Sale Agreement (V.O.S.A) and consult with our Sales Representatives.