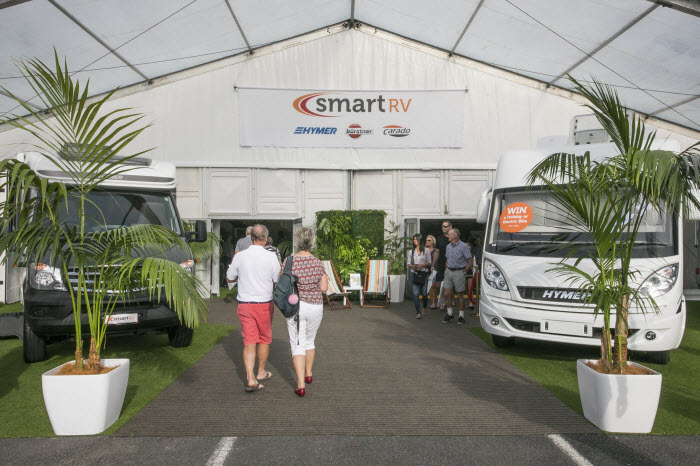 The Covi SuperShow, New Zealand's biggest annual motorhome expo, is coming up in March and SmartRV will be there with our full range of motorhomes on display and some amazing 'Show Only Specials'.
The Covi SuperShow is a must for anyone who owns a motorhome, is looking to buy, or simply wants to see the latest RV innovations, vehicles and products. It will run from Friday 15 to Sunday 17 March at Auckland's ASB Showgrounds.
Come and see us at the SmartRV Pavilion, chat to the team and browse our range, including value brand Carado, popular Bürstner, and premium HYMER motorhomes imported directly from world-renowned manufacturer Erwin Hymer Group.
Carado
Carado offers German design and engineering with an outstanding quality to value ratio. These practical motorhomes open up a world of freedom and comfort. With Carado, "what you see is what you get" – and that's a well-designed, reliable and functional German motorhome.
We'll have the Carado T447 and T449 at the very special new price of $129,900 (discounted from $141,900 & $139,900 respectively).
Bürstner
See what makes Bürstner such a popular choice for Kiwi motorhomers, as it combines premium German quality with superior comfort and sophisticated features. Its new 'Wohnfühlen' ("comfortable living") interior design offers expanded living space and innovative elements and layouts to create your new penthouse apartment on the road.
For the first time at the Covi Show, we will have the Bürstner Ixeo I 729 and Ixeo I 736 on display, which arrived in New Zealand last year. They have been a hit with SmartRV customers already, thanks to their seamless integrated design (where the cab and motorhome body are designed as one) and clever interior layouts. They also offer a range of top quality elements as standard, such as Thermo Floor double floor with no interior steps, a wood-free body with XPS insulation, aluminium windows, extra-large entrance door and 1.98m headroom.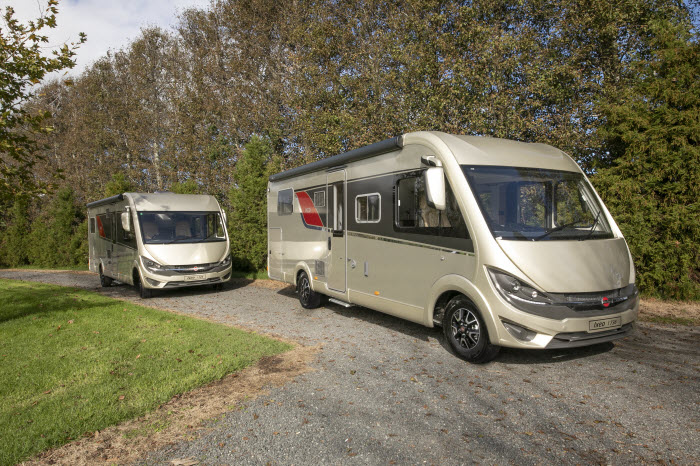 The 'Wohnfühlen' interior features include softer natural hues in premium long-wearing fabrics, soft close drawers, fold down kitchen storage, scratch-resistant worktops, premium fittings, LED night lighting and additional USB ports.
Hymer
For the pinnacle in motorhome travel, be sure to step inside the HYMER 4x4 at Covi. This luxurious vehicle lets you take the road less travelled to live your dreams of adventure and freedom in comfort. HYMER is a unique German heritage brand that is renowned for its excellence in production and design, and for its refined, understated quality.
The HYMER 4x4 is built on a premium Mercedes chassis and is a four wheel drive motorhome that is a must-have for adventurous souls. It features rear single beds that can convert into a king bed, a 157L fridge/freezer, oven and extendable bench top. It also has an awning, solar panel and a large rear garage offering great storage for all your toys as you get off the grid.
Don't miss the chance to see SmartRV's range of premium motorhomes up close and enjoy the special 'Covi Show Only' offers on selected vehicles over the three days. It's the perfect time to secure your dream motorhome.
Come and see us at the SmartRV pavilion by the main Showgrounds entrance at Gate 2, on stands OS59 and OS51. Our After Sales and Service team will also have a dedicated counter within the pavilion to help with any enquiries.
The Covi SuperShow is a special time for our owners too, and the annual SmartRV Owners' Club Covi VIP Event will be held on Saturday 16 March (5.30pm-7.30pm).
If you haven't received your invitation yet, contact Estelle Verani at
estelle.verani@smartrv.co.nz
as RSVPs are due by Friday 1 March.
What: The Covi SuperShow
When: Friday 15 to Sunday 17 March
Where: ASB Showgrounds, Auckland. SmartRV's pavilion will be by the main entrance at Gate 2, on stands OS59 and OS51.