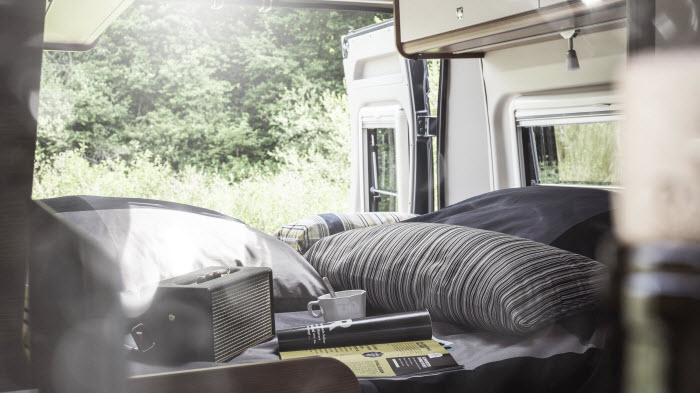 Looking for a campervan that is ready for adventure at a moment's notice, has everything you
need for life on the road, and is exceptional value for money?
Meet the new Carado Vlow, now available at Wilderness. This compact, flexible campervan designed for two is the latest arrival from Carado, the German motorhome brand renowned for affordable, well-designed and reliable motorhomes.
Priced at just $104,900 the Carado Vlow V640 cleverly includes everything you need in a functional, comfortable space while featuring stylish, modern design throughout. A double bed, combined toilet/shower and a kitchen make it ideal for freedom camping around New Zealand.
The kitchen has a two-burner gas hob, bench space, storage for crockery and essentials and a 96Lfridge/freezer to keep you supplied for your adventures. The dining area is opposite the large entry door, so you can open it up to enjoy meals with a view and use the handy insect screen in hotter months to keep any bugs at bay.
Double doors at the rear of the campervan also open up the bedroom, so you can enjoy panoramic views in comfort. Imagine sitting in bed sipping your early morning coffee and watching the sunrise over a picture-perfect lake, or lying in bed at night watching the stars appear!
The Vlow is a great example of how Carado combines outstanding value with all the flair you'd expect in a high-end motorhome, including foam mattresses, functional kitchens, and loads of storage.
If you're looking for a reliable campervan that makes life on the road easy, then come and see the Carado Vlow V640 at The 2019 Hamilton Motorhome, Caravan & Leisure Show or the Wilderness Auckland Sales Centre.