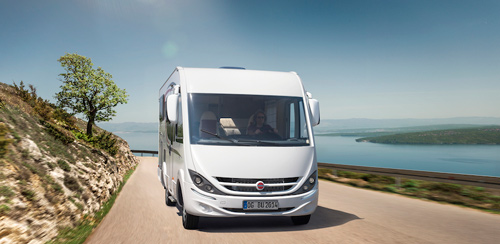 Bürstner has taken out the coveted prize of 'Camper of the Year 2014' at the Caravana trade fair in Leeuwarden, Netherlands, along with three awards at the recent UK Motorhome Awards held in London.
The Bürstner Brevio T645 took top honours at Caravana Leeuwarden being awarded the 'Camper of the Year' prize for 2014. The judges highlighted the new interior layout, low weight and high payload as features that stood out from the rest. They also noted the benefit of driving the Bürstner Brevio T645 as your daily driver without neglecting the comfort when camping.
The Bürstner team were also thrilled to scoop three awards at the prestigious UK Motorhome Awards, hosted by Warner Publications who publish popular UK magazines MMM (Motorhome Motor Caravan Monthly) and Which Motorhome.
The Bürstner Viseo i700 was announced the winner of the 'Best Non-Fixed Bed Motorhome' and the Bürstner Brevio T645 was awarded a 'Highly Commended' in the same category. Bürstner also scooped a third award, receiving 'Runner Up' in the 'Best Fixed Singled Bed Motorhome' category for their Bürstner Nexxo T690G "55 Limited Edition".
Michael Becker, former CEO of Wilderness Motorhome Sales, the sole importer of Bürstner motorhomes in New Zealand, is delighted that Bürstner's design and innovation has once again been recognised by the leading industry publication in the UK.
"Bürstner are the European market leader in motorhomes and their commitment to innovation was a key factor in our decision to import their motorhomes. They are also leading edge when it comes to design and they represent great value for money for our customers," Michael said.
Wilderness have offices in Auckland and Christchurch and offer new and used motorhomes for sale.
The Motorhome Awards 2014 (UK)
Best Non-Fixed Bed Motorhome - Winner
Bürstner Viseo i700
Best Non-Fixed Bed Motorhome - Highly Commended
Bürstner Brevio T645
Best Fixed Single Bed Motorhome - Runner-up
Bürstner Nexxo T690G "55
Caravana Leeuwarden Awards 2014 (Netherlands)
Camper of the Year
Bürstner Brevio T645