Your Ultimate Guide to Buying a HYMER Motorhome in New Zealand
Prestigious heritage brand HYMER is notable for its industry-leading production, aesthetically-pleasing design and pure excellence. It's a reputation that's been well-earned over a seriously long time in the recreational vehicle industry.
---
The original inventor of the motorhome

HYMER was founded in 1957 by Erwin Hymer in the small southern German town of Bad Waldsee. It was an incredible pioneering spirit that led HYMER to build the world's very first motorhome — iconically named the Caravano.
The quality craftsmanship, attention to detail and original design concepts of the Caravano established HYMER as a reputable and innovative motorhome manufacturer.
The popular Hymermobil series was to follow. It featured RVs with aerodynamic designs, advanced technology and luxurious interiors — motorhomes that became highly regarded for their comfort, reliability and superior build quality.


Innovative insulation

New standards of innovation were then reached with the development of HYMER's PUAL body shell technology. By using lightweight foam walls as effective insulation, it ensured:
A comfortable temperature in summer
Cosy warmth over the colder months.
A focus on safety and driving dynamics

A soon-to-be flagship range of motorhomes — the B-Class — was launched in the 1990s. This range offered improved safety features and enhanced driving dynamics, becoming synonymous with luxurious comfort and exceptional design.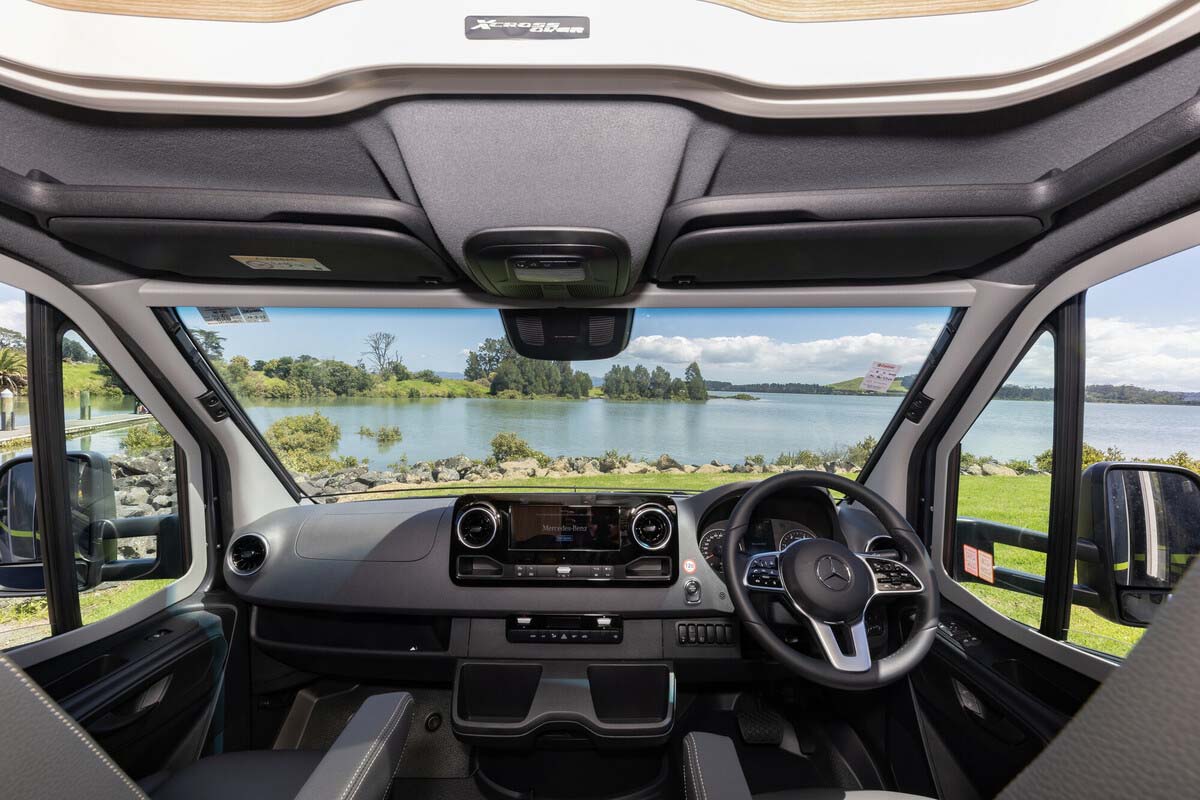 New millennium milestones

The year 2004 was particularly significant for the HYMER brand when it produced its 100,000th motorhome. This was followed ten years later by hitting the 150,000 milestone as part of the Erwin Hymer Group.
Today, the Erwin Hymer Group is Germany's largest recreational vehicle manufacturer — and HYMER is its most recognisable brand.
HYMER in New Zealand

HYMER motorhomes are relatively new to the Kiwi recreational vehicle market with the first models arriving en masse in 2017. The first New Zealand dealership to have exclusive distribution rights was Wilderness — then known as SmartRV.


HYMER motorhomes are ideally suited to New Zealand. They come with intelligent central heating systems and reliable insulation for all-year touring in Europe.


They're also at home in New Zealand's rugged conditions being either rear-wheel drive — or all-wheel drive vehicles that can handle almost any road.


Take a look at our current stock of HYMER motorhomes.


Building a reputation on innovation
HYMER motorhomes have a refined understated quality that translates into an exceptional experience of life on the road. They've built their reputation by creating motorhomes that blend the ultimate in luxury with superior features and state-of-the-art technology.


Their motorhomes are considered:
Classic — with a long and storied history
Timeless and elegant — featuring interior designs that last.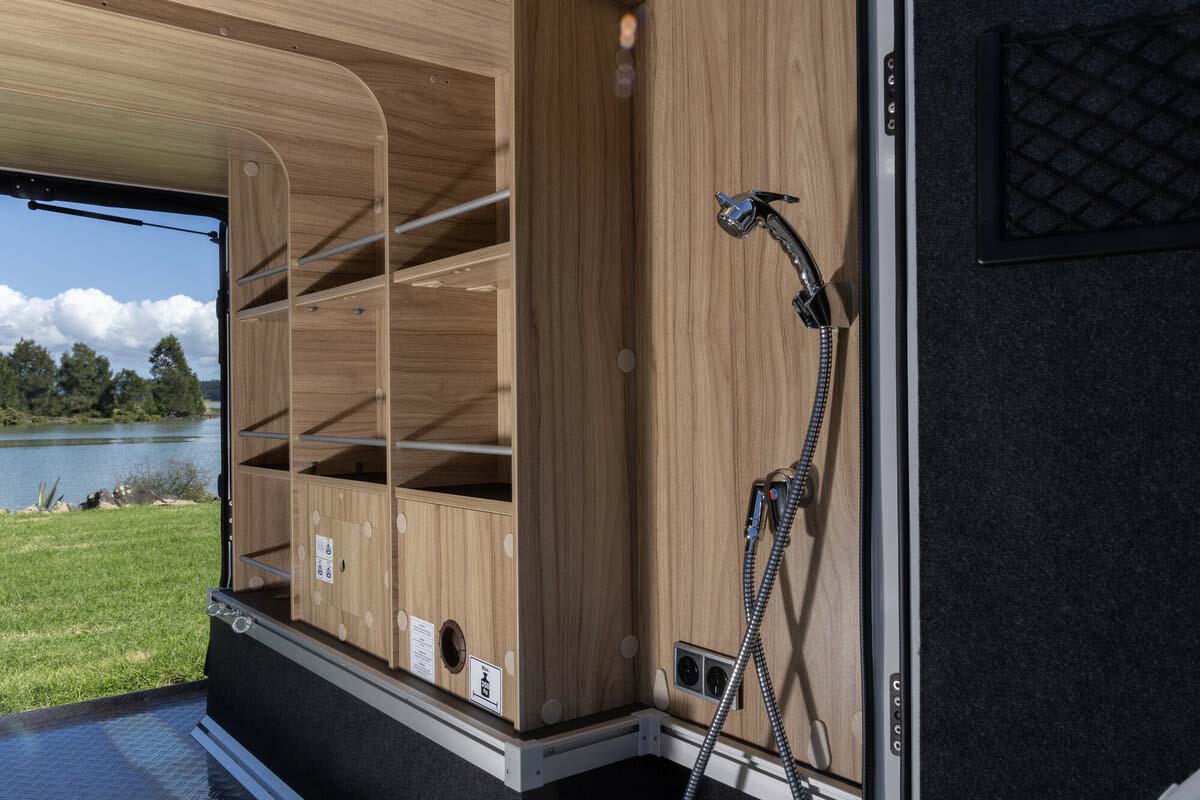 HYMER is superb at making use of every single centimetre so that interior space is maximised. The company's attention to detail and smart design decisions are some reasons why HYMER offers quality you can feel.
Utilising technology to enhance safety and comfort

At the core of the HYMER brand is an unwavering commitment to driving safety. Right from the initial stages of development, the company places a sharp focus on every aspect of motorhome safety — encompassing not only superior build quality but also an exceptional driving experience.
Well-known for advancing motorhome technology, a few of HYMER's achievements include its:
Smart control system — which monitors your heating, lights, water and electrics
bi-LED headlights — with modern LED fibre optic technology that gives superb illumination to further increase safety
Comfort sleep system — disc-spring bed frames provide exact counter pressure for every part of your body while resting
Dual-zone heating — so you can individually control the temperatures in your living area, sleeping space and cab.

Find out more about the technology and safety features in HYMER motorhomes.
Industry awards

HYMER has consistently been at the forefront of the European motorhoming industry. The company has won many awards, such as the:
Golden Top Brand 2022 of the AutoZeitung in the motorhome category — chosen by thousands of participants as the brand they'd had particularly good experiences with
European Innovation Award 2022 for the HYMER Backrack+ — a component carrier for added flexibility while you're on holiday
German Innovation Award 2021 — claiming 1st place for the HYMER Connect app.


Take a look at other recent awards won by HYMER.


After sales support

HYMER is well supported in New Zealand by an experienced after sales team with access to a large stock of spare parts. Wilderness knows Carado motorhomes inside-out and are able to help you through any after sales assistance you may need — from servicing to warrants and accessories to repairs.



What are the most popular layouts in a HYMER?
HYMER offer a variety of layouts across their range of motorhomes and a few are popular with owners, like the:
Rear bed layout — a dedicated sleeping area with a fixed bed that's separate from the dining and lounge spaces for comfort and privacy
Island bed layout — a central bed with access on both sides, making it convenient and easy to move around
Front lounge layout with a drop down bed — creating a dual space for socialising and relaxing, and then sleeping after the night is done.



Permanent beds

HYMER motorhomes have permanent beds like most German made RVs. Permanent beds ensure a superior sleep experience because they have extremely comfortable, luxurious mattresses — rather than makeshift ones using couch cushions.


However, this level of comfort comes with potential trade-offs — which is often less bathroom or kitchen space.

Learn all you need to know about motorhome bed types and layouts.


All-wheel drive

HYMER's ML-T models are designed to give you a high level of comfort and practicality — while empowering you with the freedom to explore a variety of destinations. In essence, they're all-wheel drive vehicles intended to be driven off-road.


They're popular with New Zealanders due to their capability to navigate off-the-beaten-track and explore remote places.


The HYMER ML-T 580 is one of the few full size all-wheel drive recreational vehicles in New Zealand. Built on a Mercedes Sprinter chassis, this motorhome's layout has a front lounge along with either twin king single beds or an island bed in the rear, and features:
Swivelling driver's and passenger's seats
A galley kitchen
A combined bathroom midship
Permanent beds in the rear.


Expect quality throughout with a practical kitchen, a highly functional bathroom, optimal storage and central heating with insulation — originally designed for harsher European winters.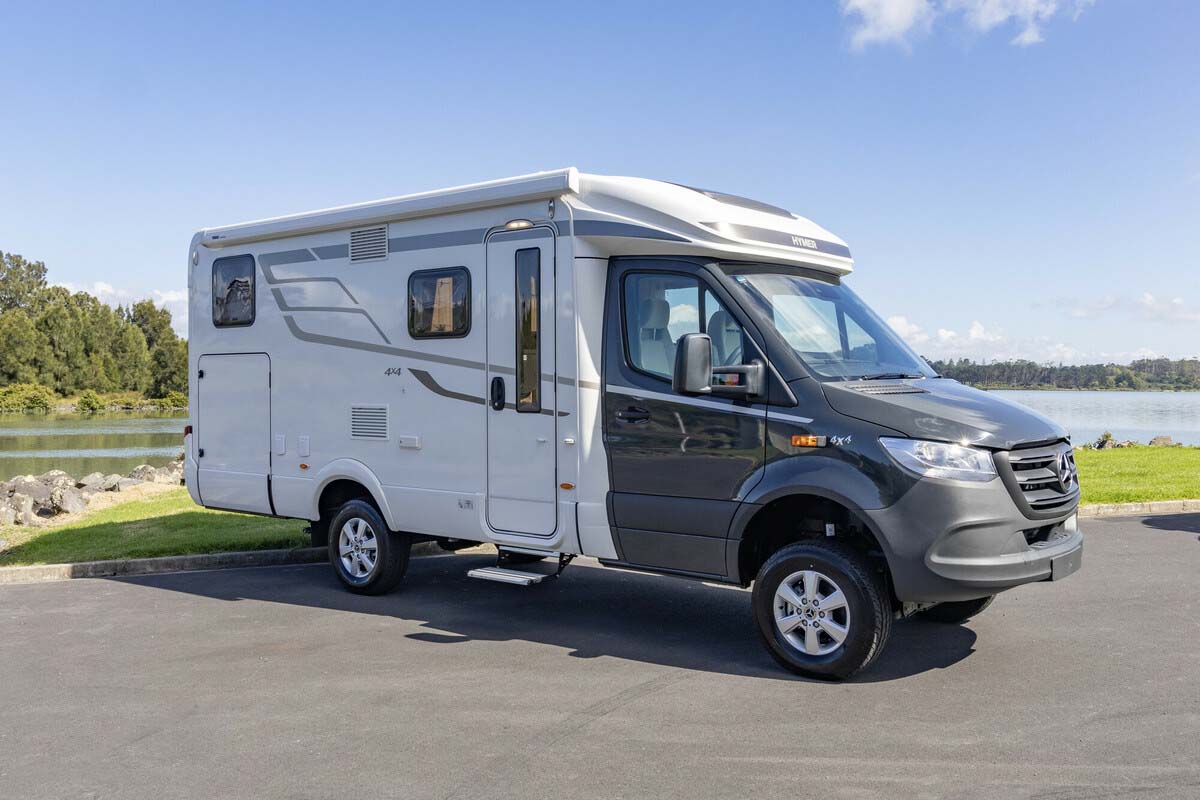 Weight and payload

Do HYMER motorhomes have any advantages over other European motorhomes when it comes to weight and payload?


The company uses lightweight technologies to keep weight down and ensure payload is maximised. However, it's important to consider the specs of each model you're interested in — for safety, legal compliance, performance, comfort and durability reasons.

A few factors that influence weight and payload in HYMER motorhomes are:
Construction — while maintaining durability and structural integrity, HYMER utilises advanced lightweight materials and build techniques to reduce weight
An integrated chassis — the company often uses AL-KO integrated lightweight chassis which have been designed specifically for motorhomes
Selecting lightweight components and materials — for certain systems, appliances, fittings, fixtures and furniture inside each motorhome.

Find out more about the importance of motorhome weight and payload.



How much is a HYMER motorhome?
HYMER motorhomes are generally in the higher price range because of their exceptional quality, expert craftspersonship, dependability and advanced features.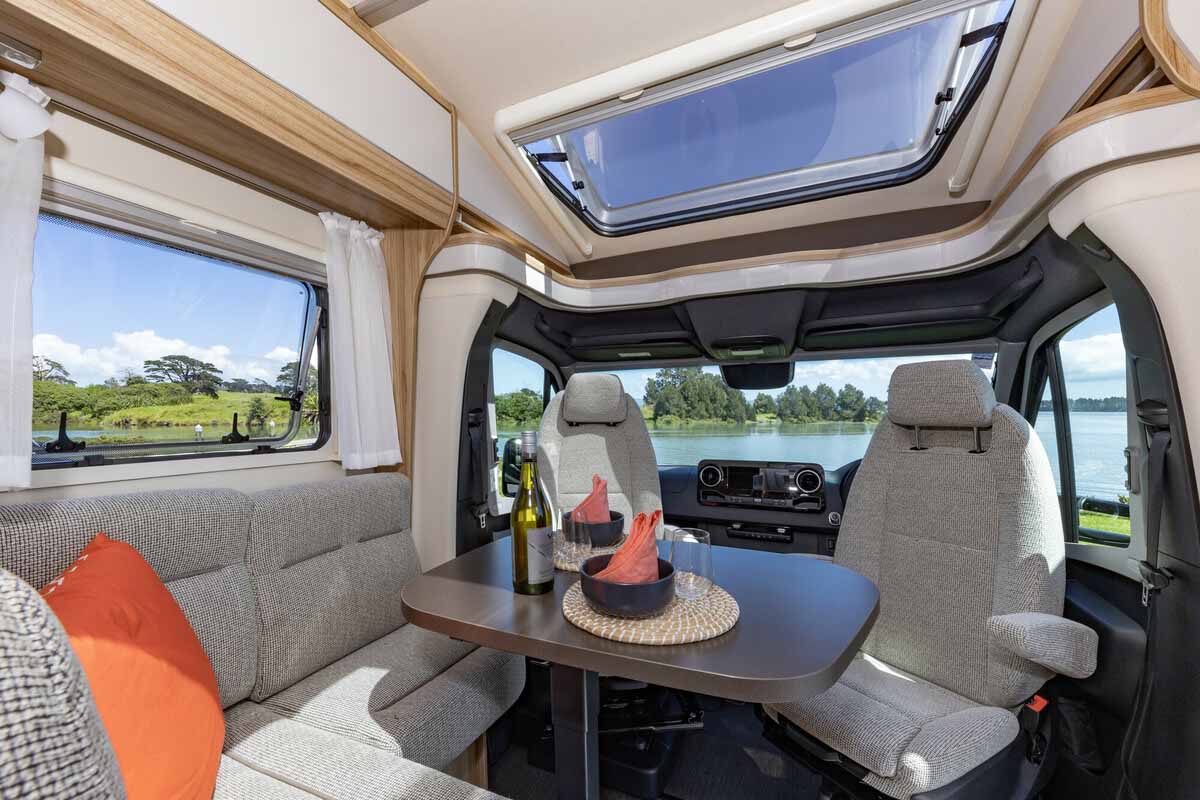 If you're shopping for a used HYMER, a couple of factors to take into account are:
Warranties and guarantees — particularly covering water tightness and fit out, due to the reputation, quality and complexity of features in HYMER motorhomes
After sales support — look into what expert advice and servicing will be available after purchasing your motorhome.
HYMER offers a ten year supply guarantee for vehicle operability parts.

The benefit of this policy (to you as an owner) is that you can be assured of receiving the replacement parts you need that relate to operating your motorhome. You'll feel supported — and will enjoy the peace-of-mind that you can still get parts even after your motorhome model's production has ended.

This differs from most other recreational vehicle manufacturers. They may have shorter warranty periods or more limited coverage for specific parts or components.

Be sure to research and compare warranty and parts supply policies of any motorhome manufacturers you're considering buying from — to ascertain their levels of coverage and support. Find out if there are any limitations or exclusions and take into account factors like:
The comprehensiveness of parts supply guarantees
Their duration of coverage
The manufacturer's reputation for support and customer service.
What are vehicle operability parts?
Vehicle operability parts are components that are essential for the proper functioning and operation of your motorhome. They can include electrical systems, critical mechanical parts, drivetrain elements, engine components and other vital systems needed to ensure your motorhome functions and performs.
Surging demand and lengthy wait times

HYMER motorhomes aren't immune to global changes in supply and demand. Ongoing supply shortages along with increasing demand will keep waitlists reasonably long and prices elevated over the foreseeable future.


Utilise our team of experts

We have an expert team that's available weekdays to help you on your journey towards buying a HYMER motorhome. Get in contact with any HYMER queries you may have.

If you're already the owner of a HYMER, we carry more than $1 million worth of spare parts — to help you get back on the road again without delay.
---