German motorhomes have built a global reputation for exceptional design and comfort — but also reliability, innovation and safety.

Carado, Bürstner and HYMER are three of the premium German motorhome brands available to purchase in New Zealand. In this article, we discuss the safety features and innovative technologies of these three popular German brands.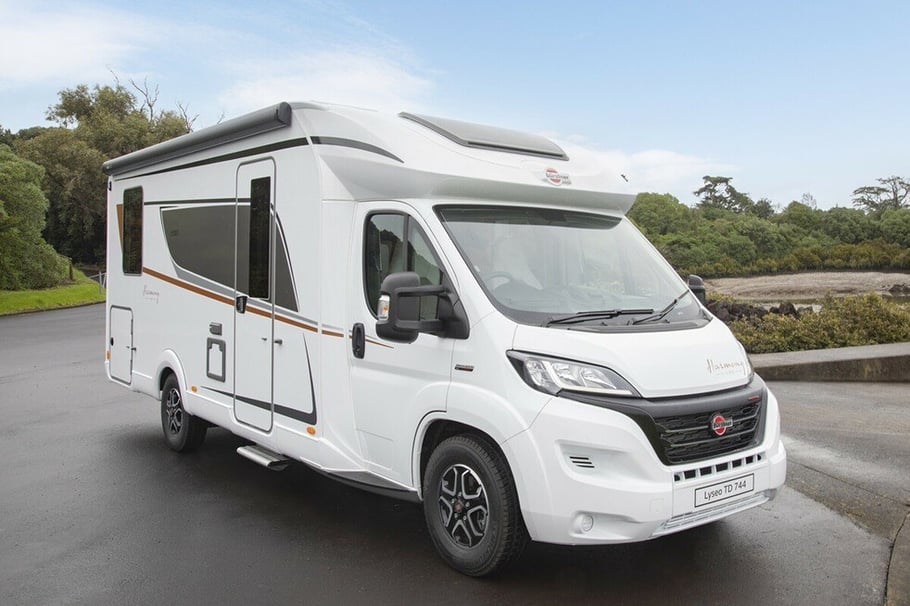 Bürstner's technology and safety features
A trusted brand and market leader, Bürstner are at the forefront of motorhome technology and innovation. The premium interior of each Bürstner motorhome is complemented by exceptional driving tech and outstanding safety features.
Wide track rear axle
Bürstner motorhomes utilise reliable Fiat Ducato chassis which have wheel arches that are wider apart than usual. As well as creating more space on the inside of the motorhome, it also increases driving stability — very important for safety on the road.

Weigh up whether a front wheel or rear wheel drive motorhome is best for you.
Toptron Crash Protection Unit
A safe addition to your Bürstner motorhome can be the Toptron Crash Protection Unit (CPU). It's designed to seal off the gas supply and turn off all gas-consuming devices in the event of a crash — or if your vehicle is tilting dangerously.
A fifth travel seat
Wouldn't an extra seat with a safety belt for a fifth person be handy? Bürstner created the Vario Seat which transforms the cushioned dining room seat directly behind the driver into a roadworthy travel seat with a seatbelt.

Switching from one to the other takes less than a minute — and means you could motorhome around the country as a group of five rather than four.
Reverse driving camera
Reversing is one of the most dangerous things you can do in a motorhome — simply due to its size and the lack of vision directly behind. A driving camera at the rear changes all that, making it easy for you to see obstacles when manoeuvring your motorhome.
Third brake light
The rear of each Bürstner motorhome features an integrated Bürstner logo that's also a third brake light. As well as being highly recognisable, it also provides additional visibility from the rear — and therefore more safety.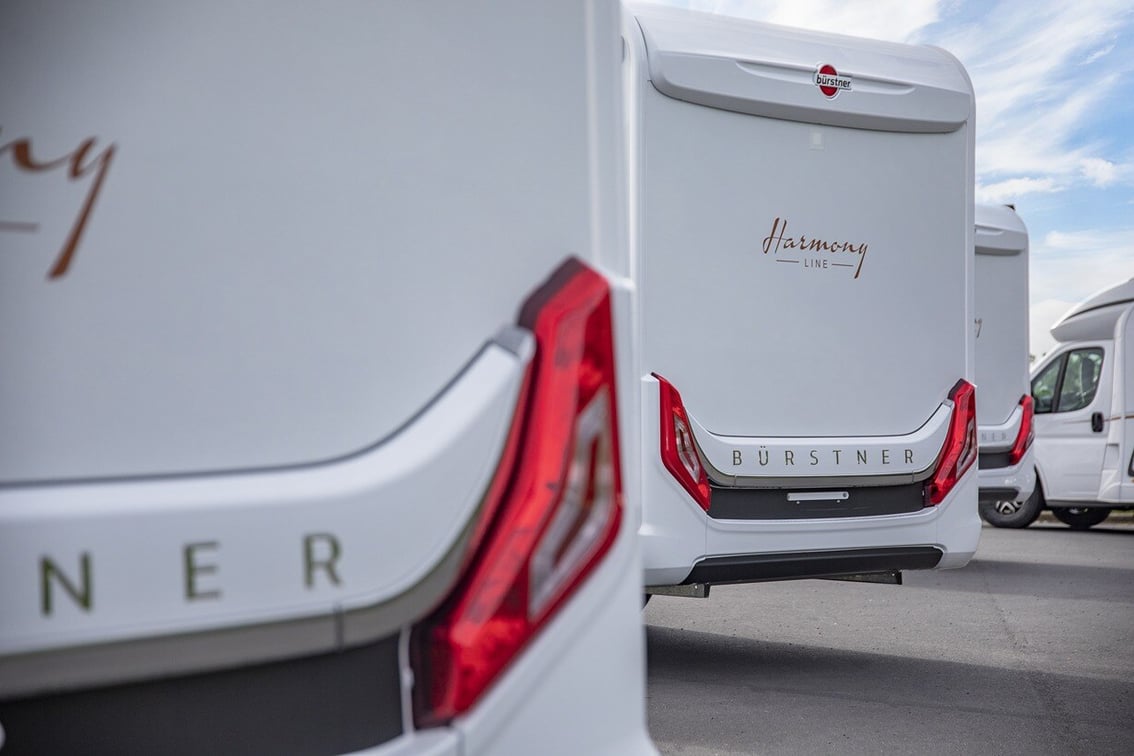 Premium extra large door
Bürstner's extra wide habitation door offers a couple of advantages.


Extra security — from the double locking mechanism.

Added safety — the large door makes it easier to get in and out.




Find out more about Bürstner motorhomes.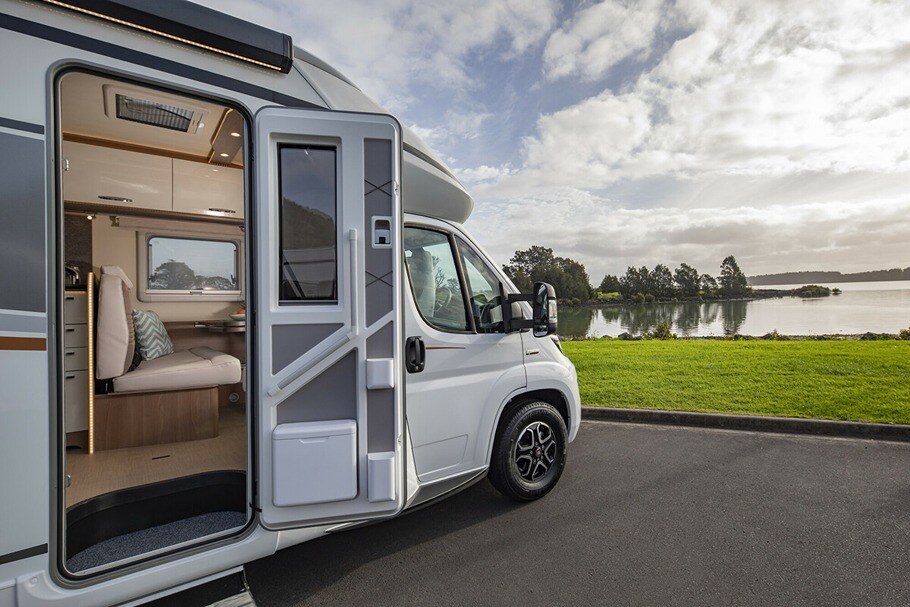 HYMER's technology and safety features
HYMER motorhomes have always had driving safety at their centre. From the development stage, they focus keenly on all aspects of motorhome safety — from build quality right through to driving experience.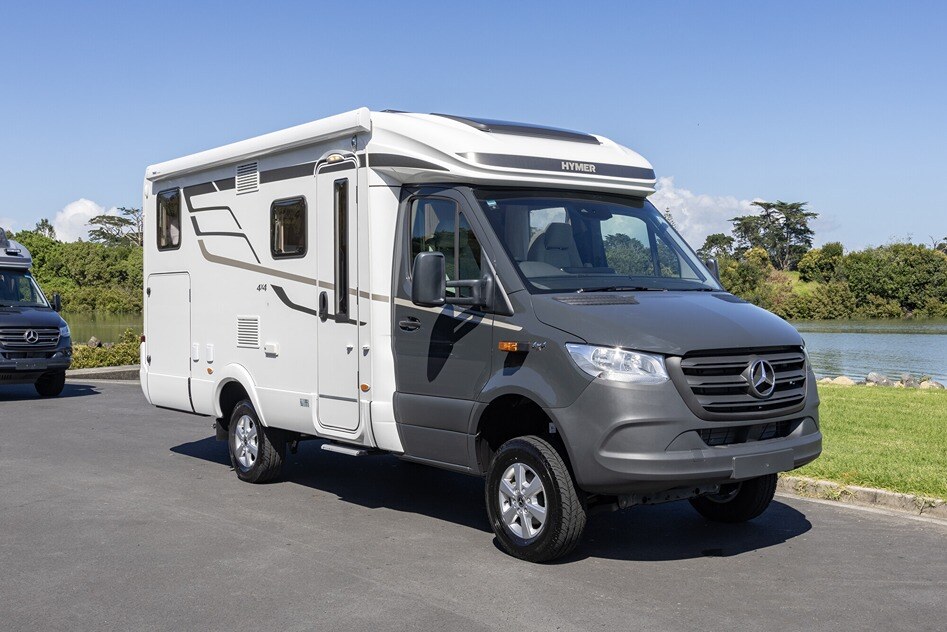 Super Light Chassis
HYMER's Super Light Chassis (SLC) has been designed to offer consistent lightweight construction throughout. The result is a motorhome with maximum payload and excellent travel comfort.

Some of the other benefits provided by HYMER's SLC include:


Independent suspension — for a more comfortable ride

Improved driving quality — through a low centre of gravity

A raised floor — which holds heating and power supplies plus the motorhome's water and sewage tanks

A step-free living room area — to avoid tripping hazards

Acoustic and thermal insulation

Continuous underbody — for optimised aerodynamics

Great storage space options.




Get more info on HYMER's Super Light Chassis.
Comfort sleeping system
One of the big advances in motorhome technology has been the quality of mattresses that can offer a restful sleep. HYMER have helped lead the way with their comfort sleep system. A disc-spring bed frame ensures precise counter pressure for every part of your body.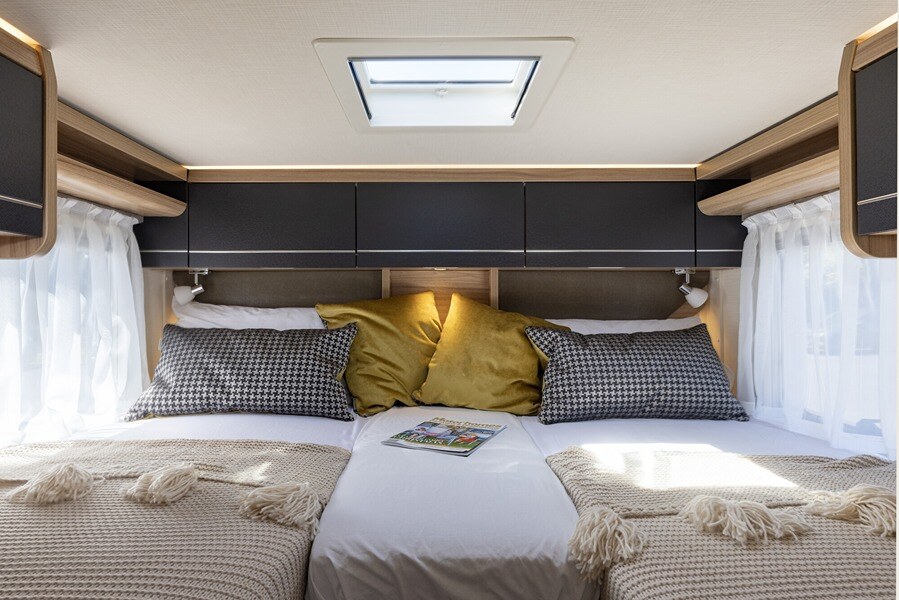 Dual-zone heating
Most of us prefer a cooler temperature while sleeping compared to the living area of a motorhome during the day. HYMER's climate control technology allows you to separately control the temperatures in your cab, living space and rear sleeping areas.
Smart Battery System
HYMER's Smart Battery System is designed to combine the low cost of lead batteries with the excellent performance of lithium ones. As a result, you'll enjoy:


The freedom of having a self sufficient onboard power supply

Increased capacity and performance of your lead batteries

An improvement in the efficiency and lifespan of your battery system

Lower costs for your system's overall service life.




Learn more about HYMER's Smart Battery System.
Energy management system
HYMER's latest energy management system will automatically switch to your motorhome's optimal power source to help reduce your power consumption by up to 75 percent. It combines LED technology with intelligent energy management to detect how much power your multimedia and navigation system is using.
Smart control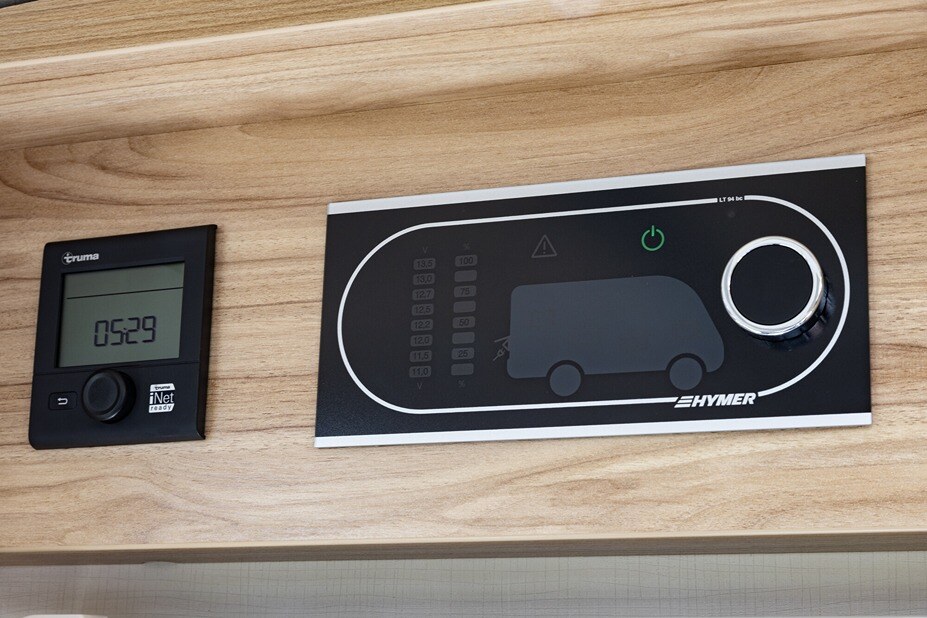 HYMER have developed their own smart control system. It's designed to control and monitor certain functions in your RV — like the heating, lighting, air conditioning, water and electrical systems.
The main peripheral devices onboard your motorhome (such as the audio, camera, GPS and climate control systems) are connected to the navigation system's control unit. As a result, you can easily stay up-to-date with its most important data.
Find out more about light, heating and ventilation in motorhomes.
HYMER Connect app
Turn your HYMER motorhome into an intelligent motorhome by downloading the HYMER Connect app. Recognised as the first smart ecosystem for an RV, you'll be able to control living area functions and access vehicle information all from your smartphone.

View your motorhome's mileage plus electricity and water levels. Then control lighting and temperature — all at the touch of a button.

Find out more about the HYMER Connect app.
HYMER's innovation and safety awards
König Kunde Award 2022 — Special award for high safety standards
German Innovation Award 2021 — 1st place for the HYMER Connect app
German Innovation Award 2019 — for HYMER's Super Light Chassis
German Innovation Award 2019 — for HYMER's Smart Battery System
Multimedia
Special integrated speakers are positioned in your motorhome's living area and rear space so you can enjoy rich clear sound whether you're in the cab, kitchen or bedroom. You can expect the acoustics to be equally good whether you're on the move or parked up.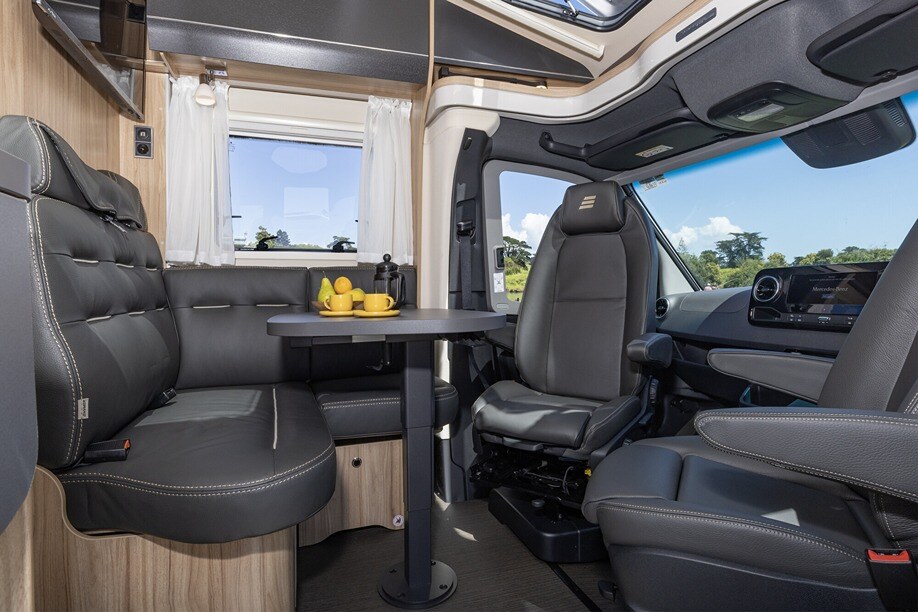 Glass reinforced plastic
HYMER use a multi-layer technology to ensure optimal protection from leaks. The motorhome's roof and underbody contain glass reinforced plastic (GRP) or fibreglass to:


Prevent hail damage

Ensure leak tightness

Protect against stone chips, road salt and dirt.




bi-LED headlights
These state-of-the-art headlights with modern LED fibre optic technology:


Guarantee excellent illumination during the day and at night

Further increase your safety.




This type of headlight can be used in both high beam and low beam modes.
Hot air curtain
After you've parked up to camp for the night, you would usually expect misting over the front windscreen. Not with HYMER's hot air curtain technology which prevents draughts and windshield fogging.

Read more information on HYMER motorhomes.
Carado's technology and safety features
Carado motorhomes are built to high German standards. They offer a combination of value for money with reliability and practical family layouts.

Plenty of their safety features come from utilising Fiat Ducato chassis. It's the optimal base for this brand — as it is for Bürstner motorhomes.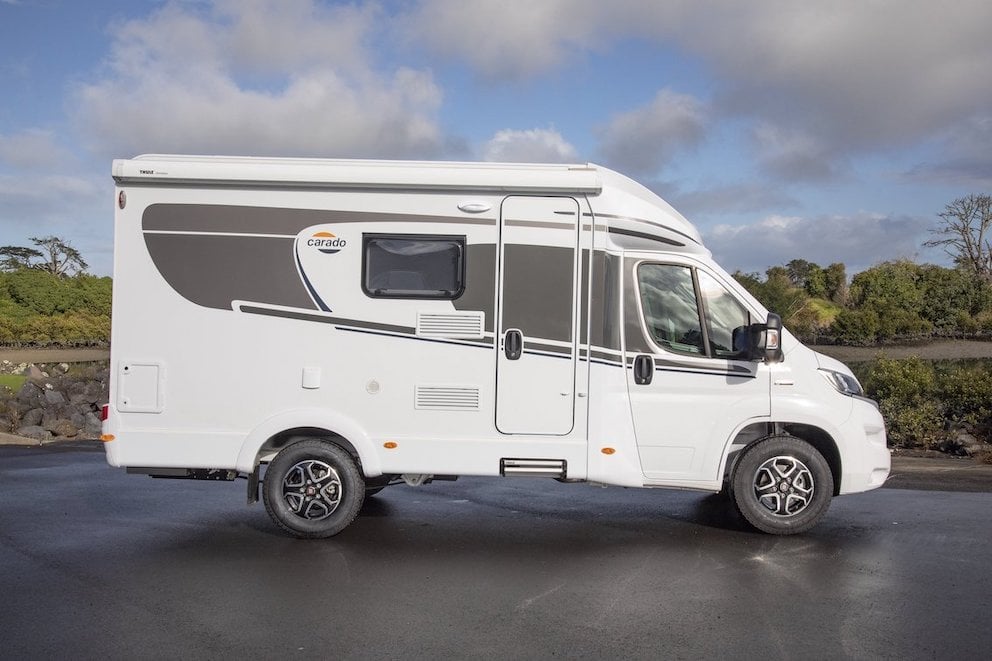 Electronic stability control
Carado ensure the driving safety of their recreational vehicles is enhanced with electronic stability control (ESC) — preventing potential oversteering or understeering. You'll be able to better keep control of your motorhome if it starts to veer off your intended path.

Recent versions of the ESC system also come with cross wind assist which will stabilise your motorhome in strong crosswinds. In addition, the post collision braking system is designed to apply the brakes if you do crash to avoid any secondary collisions.
Anti-lock braking system
An anti-lock braking system (ABS) prevents your Carado's wheels from locking up when you need to stop quickly.
Traction control system
If your wheels have a loss of traction, the traction control system (TCS) will detect this and stop them from spinning as your motorhome begins to move.
Hill holder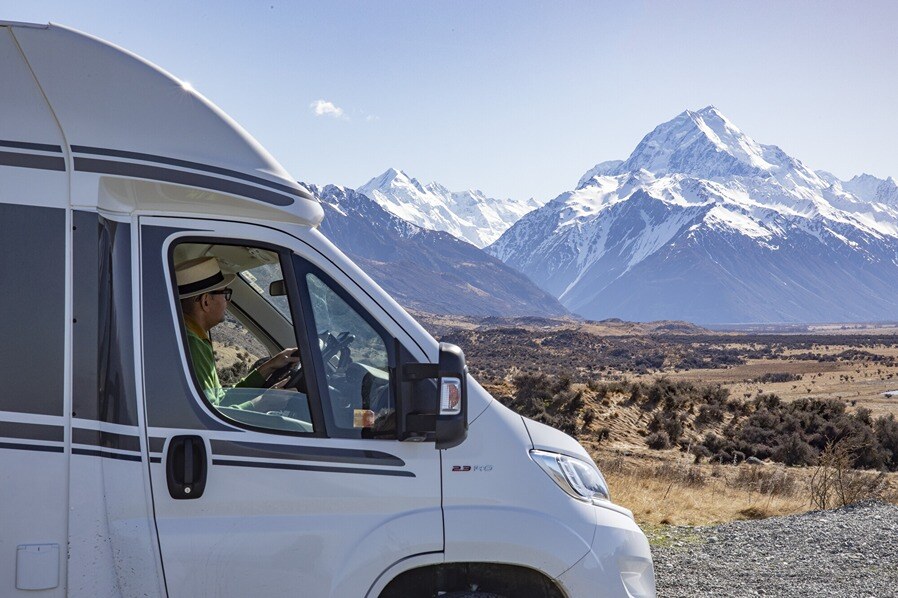 Hill holder technology facilitates hill starts by momentarily keeping your motorhome stationary while you take your foot off the brake pedal to depress the accelerator.
Servo Soft technology
Carado motorhomes are fitted with drawers that feature the brand's practical Servo Soft pull-in mechanism. It helps provide safe storage when driving that's within easy reach when you're parked up.


Discover more about Carado motorhomes.
---
Still undecided? Get to know other key features to consider when buying a motorhome. Also check out the advice from our marketing director, Mary Hamilton, a seasoned professional in the motorhome industry, on how to find your perfect motorhome.