Finding a motorhome with the right balance of light, heating and ventilation is vital for your sense of wellbeing and relaxation. Although they're invisible elements, they can have a considerable impact on your comfort and enjoyment.

Browse through our guide for some useful advice on these three important parts of purchasing an RV.
What kind of lighting do you want in your motorhome?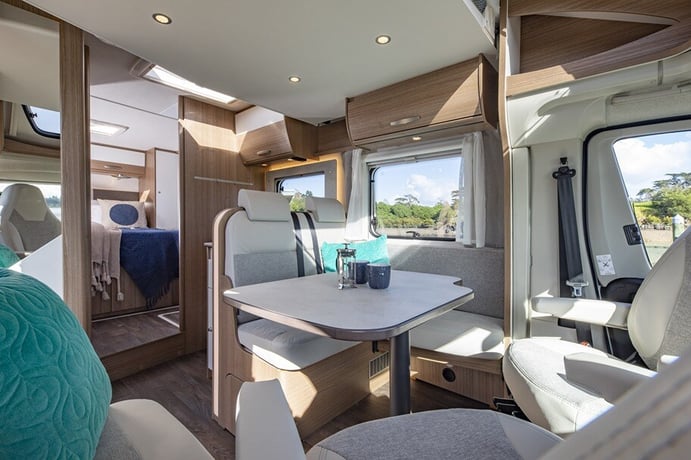 As humans, we've evolved to become accustomed to various tones of artificial light. Instead of waking up to the sunrise and falling asleep to the sunset, we now depend on human-made light to get through each day.

But being exposed to the right kind of light at different times and in different environments improves our metabolism, quality of sleep and feeling of wellbeing.



Natural lighting
Starting with natural light, it can vary depending on the size of your windows and how many skylights you have.


Skylights
Skylights are essentially windows placed on your roof that allow natural light to filter into your motorhome. You're likely to see them over the cab but they can also be above your living or sleeping areas.

When purchasing a new motorhome remember that more skylights can potentially be added at extra cost.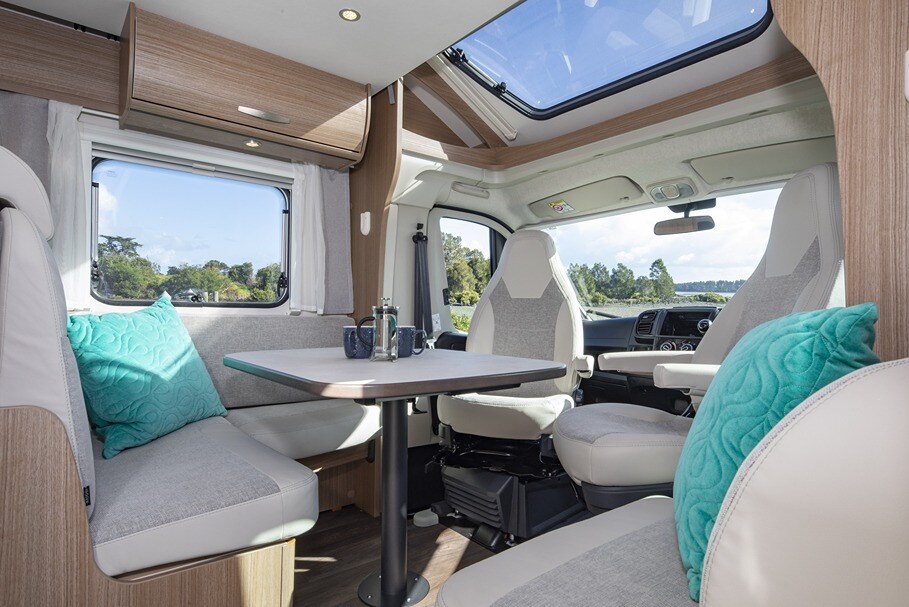 Direct vs indirect lighting
Optimised lighting conditions help your body regenerate while you're on vacation. That's why it's important to have the right kind of light in the right places.

The scope of illumination and where it falls defines whether certain lighting is direct or indirect. Lighting is considered direct when the majority of the light lands on a specific task or area. Indirect lighting mostly falls outside the direct scope of your fixture.

Look for motorhomes with LED lights for tasks (like reading or cooking) as their design means they'll emit light in one direction as opposed to all around. As a result, you'll have direct light focused on your job at hand.

When viewing motorhomes, think about:


Ambient lighting strips — found on the underside of benches or shelves, and even along the floor for guidance at night

Convenient lights — in cupboards, wardrobes and your motorhome's garage

Functional lighting — to make day-to-day tasks easier like preparing food, playing cards, reading a book or brushing your teeth.




Aesthetically-pleasing lights make a world of difference and will simply make you feel good.
How can you best heat your motorhome to suit your travel plans?




Investing in a motorhome with quality insulation, double glazing, and a central heating system is essential if you plan to travel in the cooler months, especially if you prefer to head off-the-beaten-track.


Insulation
Insulation performs the critical function of trapping warmth and preventing it from escaping. A dependable heating system only achieves a portion of its potential if the warm air slips out.

Just like in New Zealand homes, insulation hasn't been a priority for locally built motorhomes. Manufacturers have relied on most motorhomes being used during warmer months. However, motorhomes imported from Europe are designed for travel in cooler climes so are typically well insulated.
Insulation is an integral part of the shell construction in a motorhome — unlike a campervan. Well insulated motorhomes have insulation material in the walls and roof. The most well insulated also have insulation in the floor which will:


Trap warm air

Reduce road noise.




Discover how to prepare your motorhome for the winter season.
Double glazing
A motorhome's shell isn't the only place from which warm air can escape. Almost half your heat can be lost through poorly-fitted single glazed windows.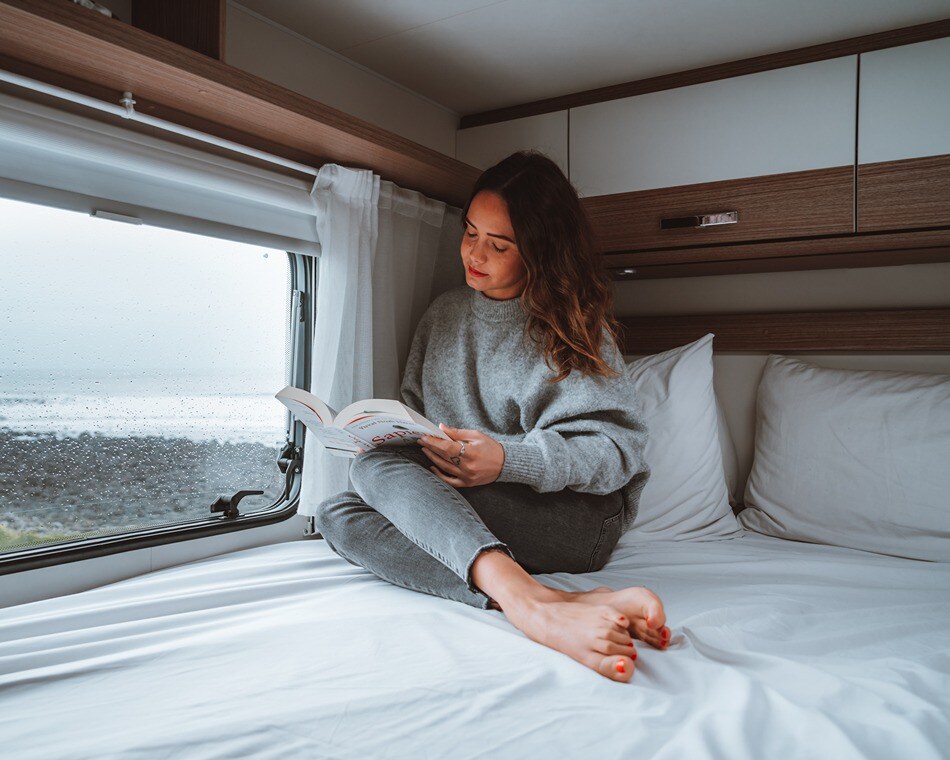 Window panels
Most motorhome windows consist of two safety-grade acrylic panels that are bonded together. On the positive side, they're:


Stronger and lighter than glass

Typically tinted grey

Less susceptible to condensation.




However, acrylic panels do have a couple of downsides like being prone to cracking and vulnerable to scratching.
Window frames
Is it best to go for a motorhome with framed or frameless windows? That depends on your criteria — durability, aerodynamics, heat retention or pure looks.

Framed windows usually have a shaped outer (and a flat inner) pane. They tend to cost less, can be more stable and are able to open wide to help keep the rain out. Aluminium frames sit flush with a motorhome's body so are more aerodynamic but pricier.

Frameless windows are aesthetically pleasing, yet may not be as durable. They'll also allow more natural light to enter your motorhome.


Hinges
Most motorhome windows are hinged from the top. Your options to look out for are:


Hinged — popular as you can often open them to varying positions, achieving different rates of venting

Fixed — offering no ventilation

Sliding — they open horizontally, can come with integrated fly screens and aren't a potential hazard of walking into like hinged windows.




Curtains and blinds
Double glazed windows will help retain heat and keep the cold out, but so will the right type of window coverings.

Entry-level motorhomes tend to have curtains on rails. Top of the line motorhomes will likely have integrated blinds known as cassette blinds.

A cassette blind is attached to the window so it drastically reduces the chance of heat loss. Compared to curtains, blinds are more effective at:


Blocking out light

Retaining heat.





Central heating systems
Thermostatically-controlled blown air heating systems are fairly standard in motorhomes these days, especially those imported from Europe.

The heater's fan blows warm air through a ducting system to quickly warm up the space. Blown air heating systems:


Often have a thermostat — to control the temperature

Distribute warm air evenly — reducing the chance of cold spots.




Be sure to choose the right heating system for winter travelling.

Multiple vents
The most effective heating systems will disperse heat through multiple vents around your motorhome — rather than via one or two. Heat will be dispersed at both floor and seat levels.

As an example of effective heating in a top-end brand, Bürstner designed their Clima Concept to optimise conditions at all times.

They placed the heating unit in the living area to prevent any heater noise waking you up at night. Optimally positioned warm air vents do the work of spreading the heat providing a more comfortable environment inside your motorhome.

An efficient system will also heat your hot water.


Drying rooms
Look for vents in motorhome bathrooms as this means you can heat the bathroom and also use the space as a drying room. Drying rooms are ideal for removing moisture from towels and for drying your wet rainwear.


To find out more about drying rooms, take a look at our buyers' guide to RV bathrooms.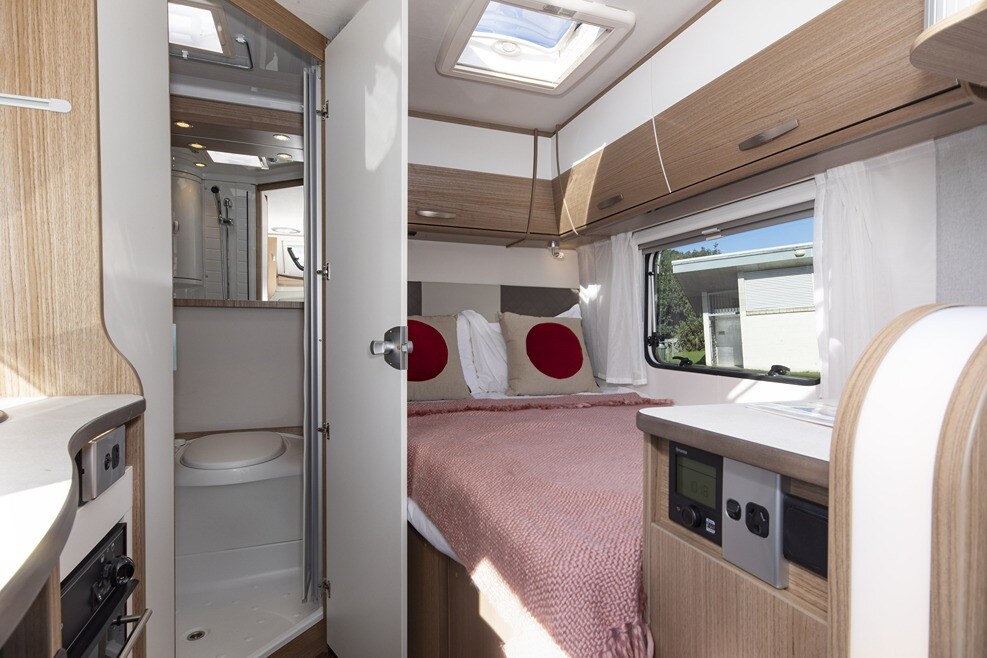 LPG or diesel heaters
Most modern motorhomes which are set up for winter touring come with either a liquified petroleum gas (LPG) heater or a diesel heater. They vary in size from two to six kilowatts (kW) — suitable for small motorhomes right up to bigger RVs.

The benefits of a diesel heater are:


Convenience — if your motorhome has a turbo diesel engine, it's most convenient as the fuel comes directly from the main diesel tank

Operation while driving — you can turn the heater on while your motorhome's in motion so the area behind the cab also stays warm.




Alternatively, the advantages of using an LPG heater are:


Speed — it's quicker to heat up your motorhome

Automated — it'll turn off when you reach your chosen thermostat temperature

Cost — it's less expensive to replace when it comes to the end of its life.




Get some useful tips on LPG motorhome safety.
Truma heating system
Many European motorhomes come with a Truma heating system which can run on mains power, 12 volt (V) battery, and gas.

You'll be able to utilise mains power at camping grounds while saving your gas supply for nights freedom camping. Plus, you have the option of a mixed mode.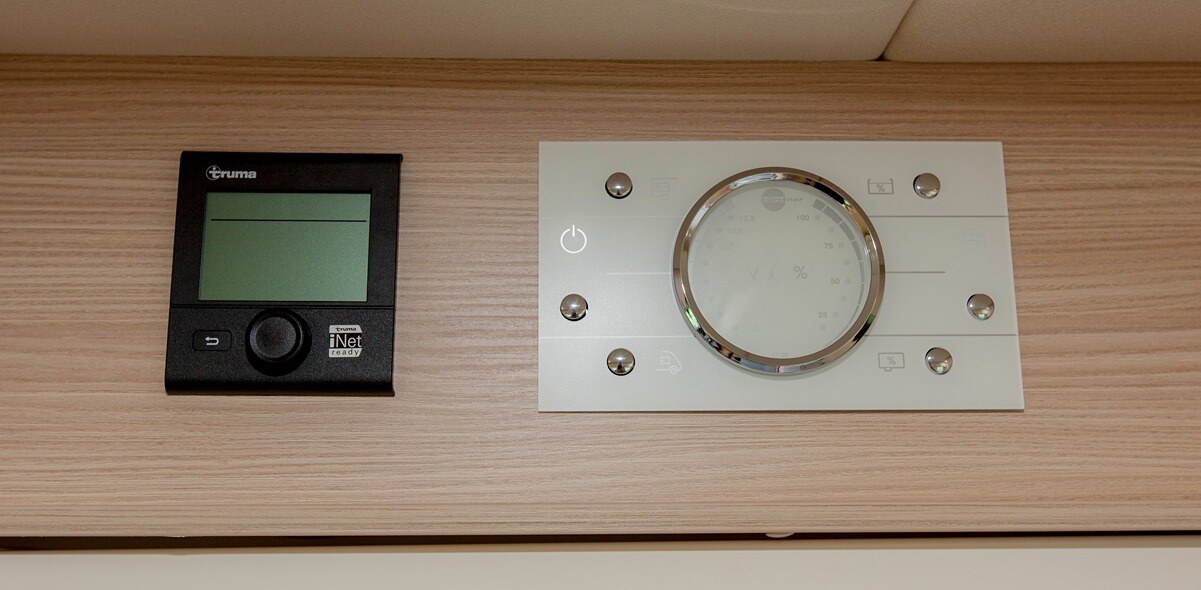 Portable electric heaters
Portable heaters, similar to those you might have at home, are the most basic form of heating motorhomes.

To use one, you'll need 240 V mains power from campgrounds because they're not suitable for freedom camping. They also won't spread the warm air throughout your motorhome.

Learn more about motorhome heating systems.
What are the key features of a well ventilated motorhome?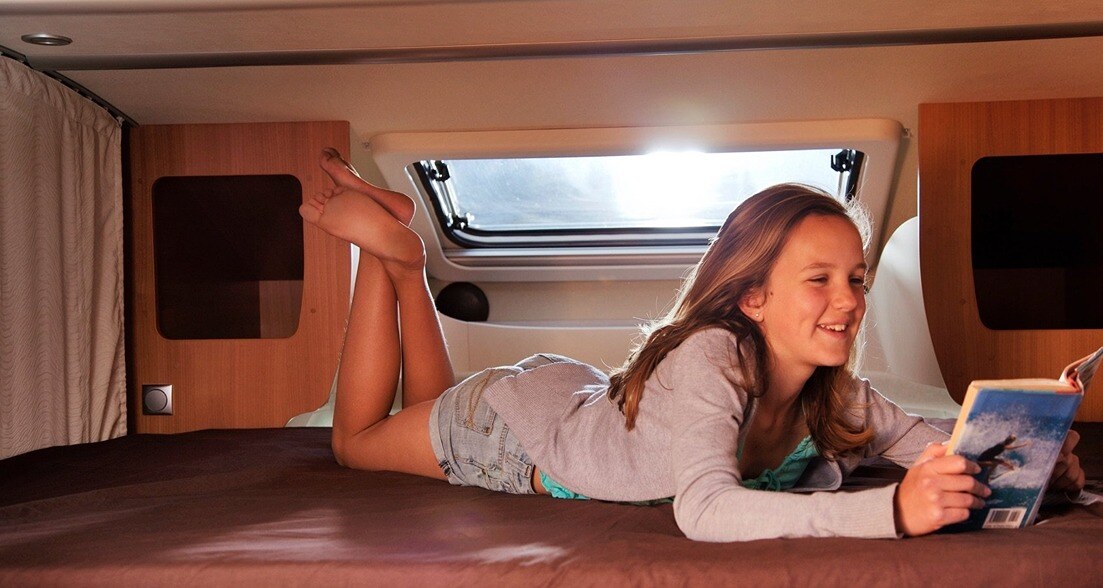 It's important to be able to regulate airflow in and out of your vehicle — to achieve a comfy environment. After all, living in a hot sweaty motorhome that smells of last night's fry up probably isn't your idea of a relaxing few months on the road.


Benefits of effective ventilation
As you begin heating your motorhome, hot air will start rising and you'll want to keep the air circulating to avoid condensation and stuffiness. By investing in a motorhome with ample ventilation you'll:


Help control the internal temperature — keeping you cool on uncomfortably warm days

Remove undesirable smells and odours — like yesterday's fish burgers

Counter moisture buildup — helping to reduce condensation.





What to look for when measuring ventilation performance
Ventilation should be a primary consideration when deciding which motorhome to buy. Here are a few things to keep an eye out for.


Air vents
They're designed to allow fresh air to enter and warm air to leave your interior vehicle space. Some new innovations in this area include Bürstner's Air Plus system which includes ventilated cabinets which help prevent condensation.


Roof vents
Roof vents promote airflow inside your motorhome while also letting natural light enter from above. They can either open or stay fixed — like the fixed ones above sleeping areas in all Wilderness motorhomes.
Some motorhomes have a vent above the bathroom to help remove steam and moisture. Just remember to close each vent before driving off or you could end up with more than a vent.
See our guide to motorhome bathrooms for more on bathroom ventilation.


Extractor fans
Cooking is a prime candidate for releasing moisture into your motorhome which will eventually settle as condensation and even mould.

An extractor fan may be located above your cooking space. Make sure it's vented to the outside — or better still, always open the window directly behind your gas hobs while you're cooking.

A well-built motorhome will have a combination of permanent air vents, roof vents and possibly an extractor fan — all aimed at providing you with continually replenished air.


Check out our buyer's guide to motorhome kitchens.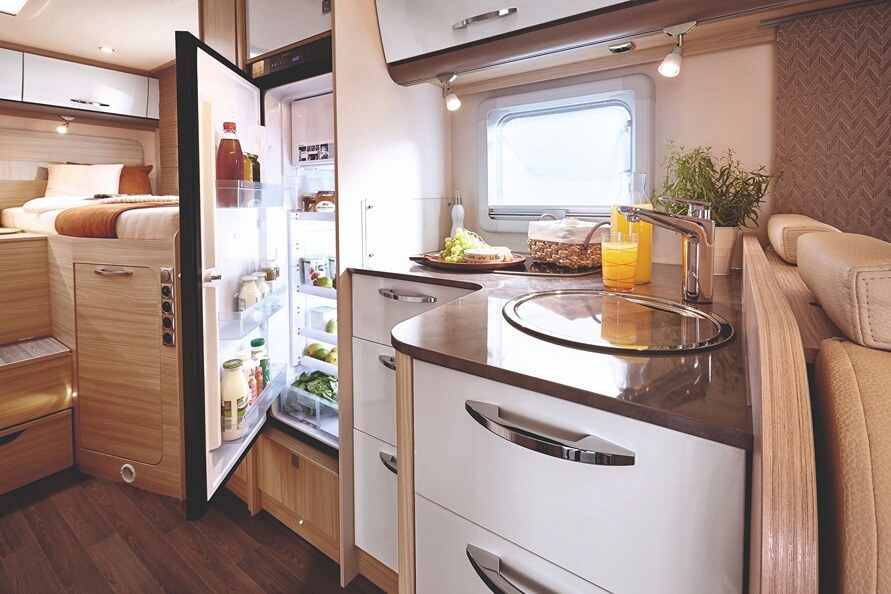 Habitation Door
The main way to enter a motorhome is through its habitation (or entry) door. These can range from relatively narrow to extra wide depending on whether you purchase a lower end model or a higher end one.


A few entry door features to look out for when motorhome shopping include:


Extra wide access — many high end motorhomes have this easier option which is ideal if you'll be carrying gear or young kids

Windows and blinds integrated with the door — to provide extra light

Central locking — for convenience

Retractable electric steps — which are the easiest to operate.




Find out more about motorhome habitation doors.
Ensure a pleasant level of comfort right from the start.
Lighting and ventilation can often be an afterthought when considering all the aspects of a motorhome purchase. But like heating, they're major elements that deserve your attention — to help maximise the comfort and enjoyment of your motorhome. Take a look at the light, heating and ventilation in our range of motorhomes for sale.