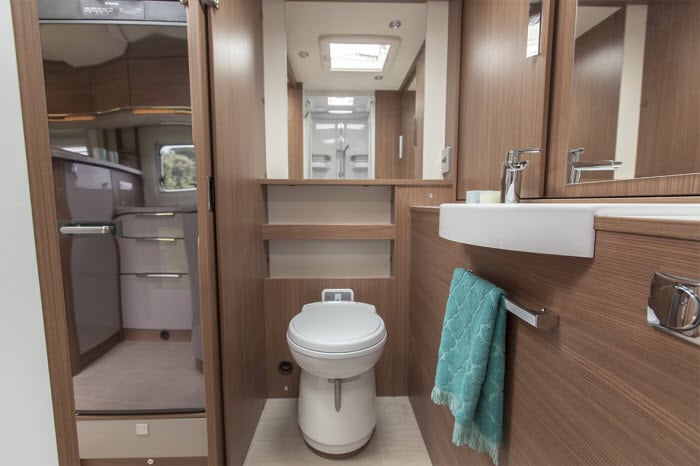 A practical bathroom is key to a comfortable life on the road, and your motorhome's water storage capacity (fresh and grey) will also dictate how long you can go "off-the-grid" freedom camping. Here, we explain what to look for when it comes to motorhome bathrooms and their features, as well as water storage.


Bathrooms

In motorhomes, bathrooms are described as 'wet' or 'dry'. This indicates whether the shower and toilet can be separated (dry) or are in a combined space (wet). An integrated shower and toilet room with sufficient space for a shower screen is a dry bathroom, while at the other end of the spectrum some small motorhomes have the shower rose above the cassette toilet, which is a wet bathroom.

There are also layouts in which the toilet and shower are completely separate spaces.

Motorhome designers are becoming increasingly clever with bathroom layouts, and along with toilets that can swivel to make space, you can also find washbasin walls that can swing to create a larger shower space, or to separate toilet and shower.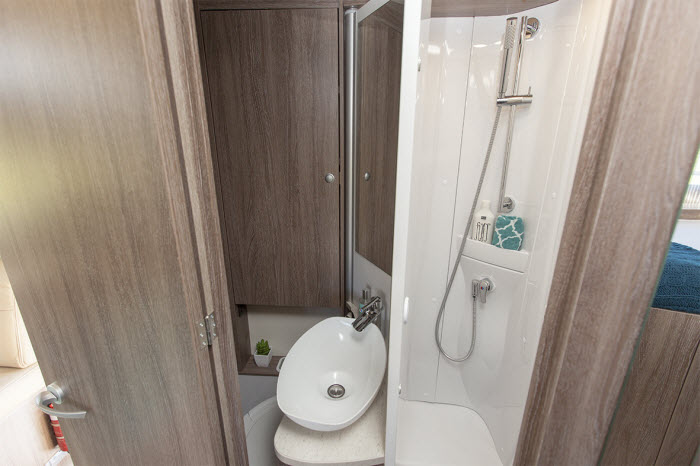 Your choice of bathroom layout will depend on who will be travelling regularly and what you're most comfortable with.


Things to consider:
Will you travel regularly with friends, or children? A separate shower and toilet can be useful.
Is ease of movement important to you? Look for a bigger bathroom with more room to manoeuvre.


Features to look for:
A good amount of dry storage for toiletries and essentials like toilet paper
Shelf rails to secure items and cupboard fasteners to avoid them opening while travelling
Shower caddies for storage
Window or ceiling vents for air flow and to expel moisture
Vents and hangers to create a drying room
Good lighting
Mirror
Shower roses that assist in water saving while allowing a powerful stream of water (test the water pressure if possible)
Toilet with easy to use disposal process


Toilets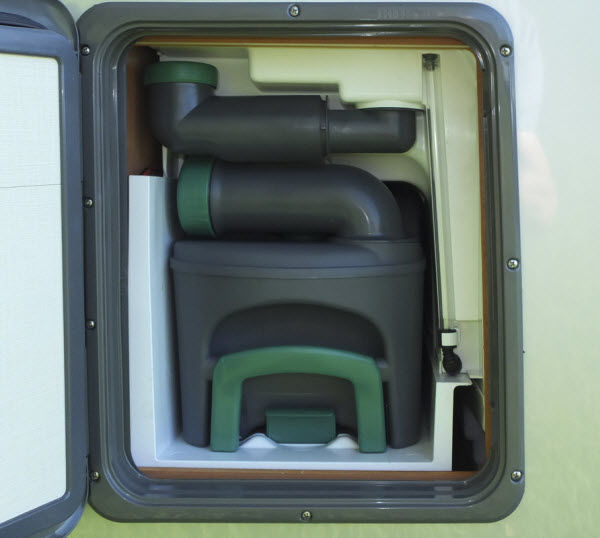 Most toilets in modern motorhomes are 'cassette toilets'. After it is flushed, the contents of the toilet is emptied into a storage container, known as a 'cassette'. This cassette contains a chemical to break down the contents and prevent odours. After flushing, there is usually a seal that moves back to close the entrance to the cassette before the toilet lid is replaced.

When it's time to empty the cassette (a light on the toilet usually indicates this), you disconnect it from the toilet and remove it via an exterior panel on the side of the RV for emptying at a dump station. You then refill it with the toilet chemical, add a little bit of water and replace it for use.

The RV you buy should be designed to make this process as easy as possible. The process is quick and will only need to be done every few days (depending on how many of you are travelling).


Fresh and grey water

This is the water you have available to use in the bathroom and kitchen, and the wastewater you create in these spaces. Any motorhome that is Certified Self-Contained (i.e. carries the blue compliance sticker) has to meet certain requirements around fresh and wastewater, including enough capacity for those on board for at least three nights. You can read more about the specific requirements in our RV Buyers' Guide: Self-Contained Vehicles.

How much water storage is enough?

Think about how you will use your motorhome. Do you intend to spend extended periods of time (i.e. more than three nights) freedom camping in remote areas, away from water supplies? If so, you'll want to ensure all your needs for preparing food, cooking, showering and toileting are met.

If required, you can also take along extra portable tanks available quite cheaply at an RV supply store. These often have both easy grip handles and rolling wheels to assist when moving them around to fill or stow.

Disposing of grey water and refilling with fresh is a straightforward process and can be done easily at any number of dump stations and fresh water sites around the country. You will find these in most towns and also at holiday parks and many campgrounds. An app like Campable or the NZMCA app will let you find the nearest sites quickly and easily.


Also in the Wilderness 'Buyers' Guide' series:
RV Buyers' Guide – Budget
RV Buyers' Guide – Motorised or Towed?
RV Buyers' Guide – Self-Contained Vehicles
RV Buyers' Guide – Chassis and Construction
RV Buyers' Guide – Length, Layout and Beds
RV Buyers' Guide – Kitchen
RV Buyers' Guide – Lighting, Heating and Ventilation
More helpful reading: