Your Ultimate Guide to Buying a Bürstner Motorhome in New Zealand

Finding joy on the road in your home-away-from-home isn't an experience all motorhomes can provide. But one brand certainly can — Bürstner.

Working out which motorhome to purchase may involve some trade-offs and compromises. But if the overall experience is right then you'll be able to love and enjoy it for years to come.
Background on Bürstner

Bürstner was the first German motorhome to be imported into New Zealand in large numbers. Well known for quality craftsmanship and creative design, Bürstner's philosophy is all about building more than just a vehicle.

Hugely popular in NZ, you can guarantee that a Bürstner motorhome:

With around 60 years experience under its belt, Bürstner has developed into a trusted brand and market leader in Germany and around the world.
Erwin Hymer Group

Bürstner is part of the Erwin Hymer Group, which had the largest number of new motorhomes registered (and made up nearly 30% of total market share) in Germany in 2020.

Demand has continued to increase and current supply shortages are expected to keep prices up and waitlists long.
Why buy a Bürstner motorhome?
The Bürstner brand stands out for its overall build quality and excellent motorhoming experience. That's why a Bürstner motorhome holds its value so well.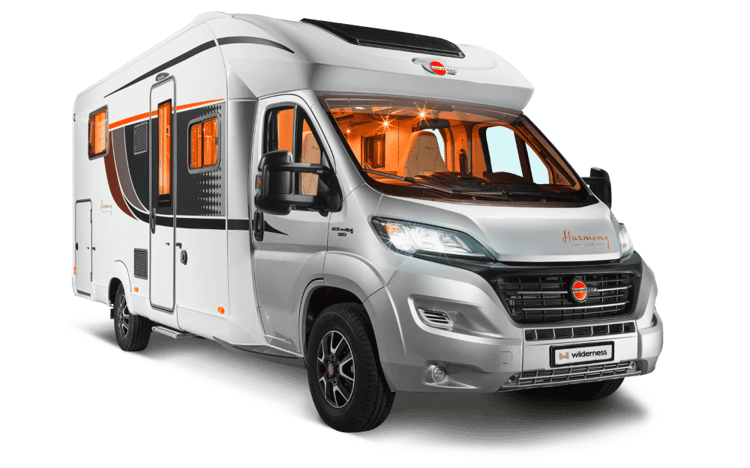 Each Bürstner motorhome is manufactured to the highest standards with industry-leading construction methods and technologies. Both the chassis it works with and the motorhome habitation unit (or shell) are extremely well designed and built.

You may not see this structural integrity at first glance, but you'll feel it every time you hit the road — giving you a relaxed ride with minimal rattling.
Wohnfühlen — comfortable living

It's not just the craftsmanship that speaks for itself. Everything in a Bürstner motorhome is designed with the aim of making your experience more enjoyable.

Bürstner calls this Wohnfühlen — which is it's way of ensuring travellers truly feel at home in their motorhomes. It provides a sense of comfort and cosiness through the:
Lights

Colours

Fabrics

Functionality.
The Bürstner concept

The Bürstner concept is applied to every part of its motorhomes – from kitchens through to bathrooms and bedding through to storage.

Some models have a home light that you can charge and move around in your motorhome to create an atmosphere with ambient lighting – just like at home. Plus, you'll find:
Quality insulation and heating

Luxury mattresses

Space-maximising features such as movable walls in the bathroom

High-end finishes and materials.
Continuous research and development

Bürstner works with external partners and automotive specialists to leverage the best technologies, ideas and expertise from across multiple industries and brands. This is its commitment to continuous research and development for better comfort, functionality and durability.

As a great example of how its approach to innovation translates into some of its features, Bürstner was first to introduce a double floor into its motorhomes.

The double floor houses wiring, plumbing and heating ducts along with extra insulation and in-floor storage spaces. It reduces road noise and also creates a seamless floor from the front to the back of the vehicle with no internal steps.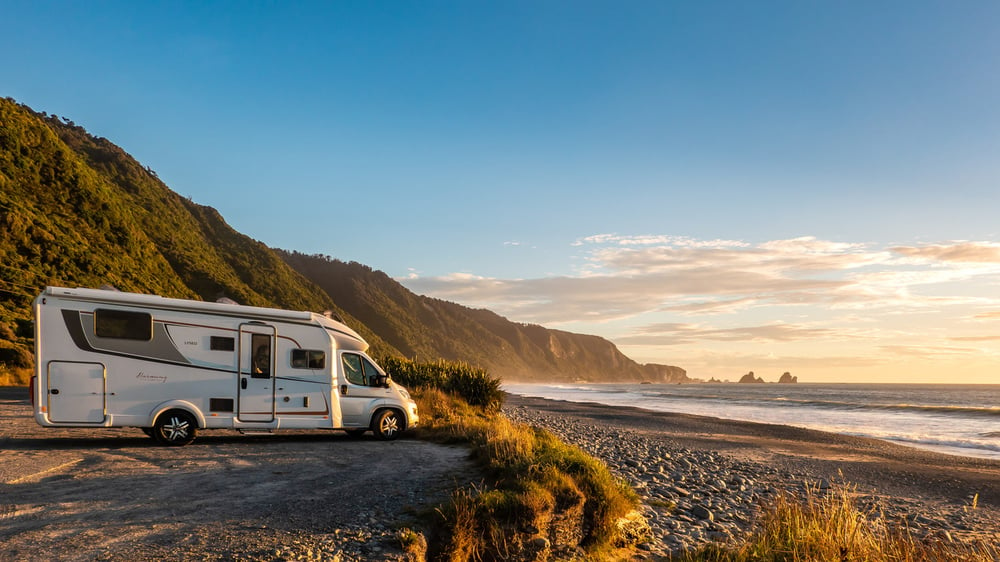 Innovation and design awards

This approach to design and innovation has won Bürstner numerous prestigious industry awards over the years. In 2022, the brand:
Won the European Innovation Award for its interior design of the Lyseo Gallery

Scooped up silver in the 2022 Promobil Motorhome of the Year Awards for the Lyseo TD.

With its reputation for design and innovation, it's perhaps no surprise that there are more Bürstners than any other European motorhome brands on the road in New Zealand.
After sales support

Bürstner is well supported in New Zealand by an experienced after sales team with access to a large stock of spare parts. Wilderness knows Bürstner motorhomes inside-out and are able to help you through any after sales assistance you may need — from servicing to warrants and accessories to repairs.
What are the most popular layouts in a Bürstner?

Like most German motorhomes, Bürstners have permanent beds — whether they're fixed to the floor or drop down from the ceiling.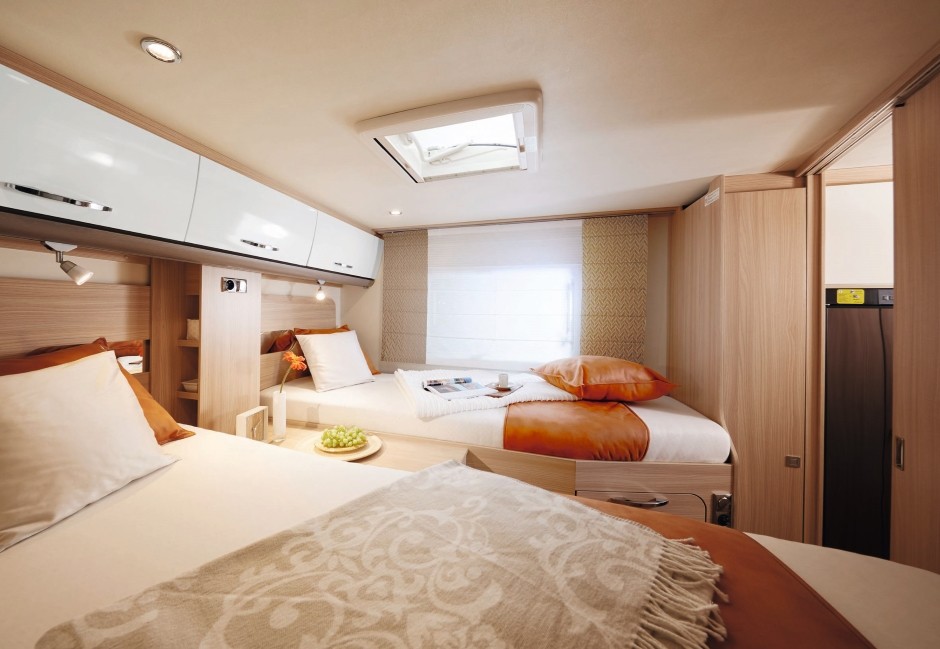 Permanent beds ensure a superior sleep experience, but the space these beds take up is traded from other areas — like the bathroom or kitchen.

If a larger bathroom is a priority, you'll have to trade off space in the bedroom and find a model that works for you.

The three main Bürstner layouts imported into New Zealand are:
Full-size with front and rear lounges

Compact

Full-size with a front lounge — and either an island bed or twin king single beds in the rear.
Each has its own benefits and is popular for different reasons.
The original drop down Bürstner bed

Does the idea of a lounge at the front and at the rear of your motorhome appeal? With sweeping panoramic views, no less?

Bürstner invented the original drop down bed. Then a few years ago, it created an electric drop down bed in the rear.

This layout offers more usable space during the day with a true sense of a home lounge and Wohnfühlen. It's fast becoming a new best-seller.
Learn more about Bürstner's innovative drop down bed.
Dual purpose lounge

Bürstner has two models with this so-called dual purpose lounge. They are the:
Lyseo TD744 — with a large L-shaped sofa that's ideal if you're travelling with four passengers

Lyseo TD745 — it features a smaller sofa and a coffee table which transforms into a solid base for a drop down queen island bed with easy access.
Both models can sleep four with the extra drop down bed above the dining table in the front. To see if either model is currently available, check the Shop Bürstner Motorhomes tab at the top of this page.
The classic layout



Bürstner's classic, most popular layout features a front lounge with swivelling driver's and passenger's seats. The back has permanent beds with extremely comfortable, luxurious mattresses — you'll find them easy to get on and off.

Other options include the:
Lyseo TD736 with an island bed — ideal if you're less mobile

Lyseo TD690G which is a compact, under 7 metre model that sleeps two — excellent if you want to go off-the-beaten-track as it's easy to manoeuvre

Lyseo TD727G with Bürstner's biggest garage — perfect if you plan to carry lots of outdoor gear.
To see if these models are currently available, check the Shop Bürstner Motorhomes tab at the top of this page. And if you're looking for a big garage, also check the payload of the vehicle.
How much is a Bürstner motorhome?
Bürstner falls into the higher end of New Zealand's motorhome range. Expect to pay prices starting from around $200,000.

Used Bürstner motorhomes come on the market from time to time, including some ex-rentals. These are typically about three years old and are priced from about $135,000 upwards.

If you're considering a used motorhome, there are several key factors to weigh up such as:
Reliability

Warranties

After sales support.
Soaring demand and longer wait times

Global demand for motorhomes has increased dramatically over the last few years. Bürstner is no exception — and wait times can be much longer than usual.

Depreciation (the reduction of value) is a key factor to consider alongside the initial purchase price. But remember that a motorhome with the Bürstner brand will hold its value well.
Why buy a Bürstner motorhome from Wilderness?

At Wilderness, we've been importing Bürstner motorhomes for over ten years.

"As sole distributors, we have an excellent relationship with the company," says Wilderness Founder and CEO John Managh. "We decided back in 2012 that we wanted to source their motorhomes. We thoroughly researched all the European brands but Bürstner were the only ones who ticked all the boxes for us — value for money, robustness, good reputation and good sales support."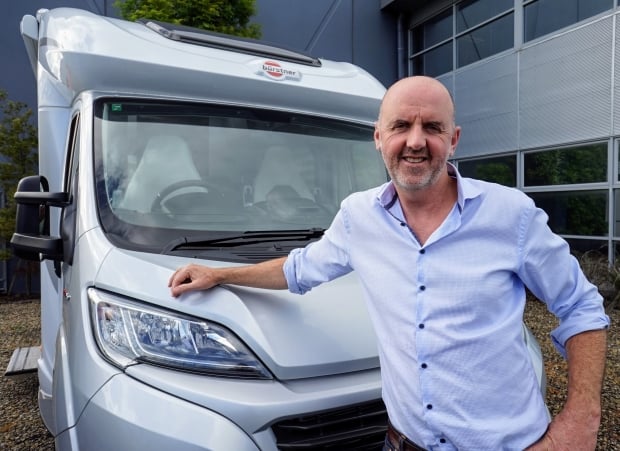 Try before you buy

At Wilderness, we have a hand-picked range of Bürstner motorhomes in both Auckland and Christchurch. Plus, we stock a large rental fleet, so you can try before you buy.

More than ten percent of buyers have hired a Bürstner motorhome for a holiday before they purchased one. It's a smart way to experience whether a Bürstner is the right motorhome for you.
A team of experts

We have an expert team that's available weekdays to help you work through your buyer journey. We also carry more than $1 million worth of spare parts so you can quickly get back on the road.
Water tightness guarantee

Bürstner offers generous warranties — especially when it comes to water ingress.

Leaks and water damage are a key issue with motorhomes, and Bürstner has developed best-in-class sealing techniques.

They're so confident in their manufacturing process that they offer an industry-leading ten year water tightness guarantee.
Explore our range of Bürstner motorhomes today.
Switch to the Shop Bürstner motorhomes tab at the top of this page to see what's available.