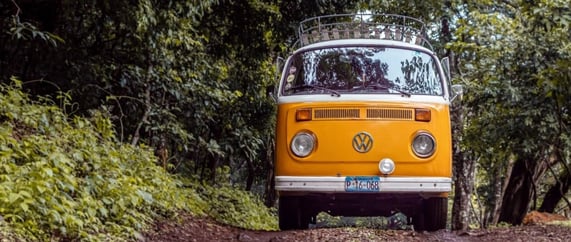 We can all picture it. A classic VW Kombi van parked up by an idyllic New Zealand beach, a long haired surfer untying his surfboard from the roof and heading into the water to catch the first waves of the day. That's surely one of the most iconic Kiwiana images around. But while that VW camper has been a familiar sight for a long time, most other German motorhomes have only arrived on New Zealand shores in the last decade or so.

Locally manufactured motorhomes have dominated the New Zealand market since motorhoming became a thing after WWII.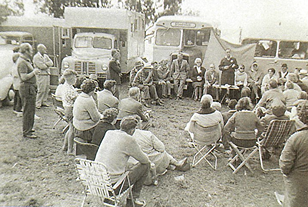 While a limited range of motorhomes were imported from Australia and the UK in the late 1990s and early 2000s, it wasn't until around 2010 that the growing popularity of touring by motorhome prompted Kiwis to look to European alternatives.

The German motorhome industry's reputation for quality, reliability, efficiency and innovation is globally unparalleled – just as it is for its world leading car brands. The country's leading R&D infrastructure, end-to-end value-chain integration and highly skilled workforce together create an undefeatable international automotive domain. That's why German motorhomes have quickly become highly sought after in New Zealand.

In the article about the difference between German and New Zealand made motorhomes, we looked at some of the key factors that separate those made in Germany and those made locally. In this article, we will give you an overview of the German motorhome brands available at New Zealand dealerships and the parts of the market that they target.
Which German motorhome brands are for sale in New Zealand?
Since regular shipments of Bürstner motorhomes first arrived from Germany in 2011, the market for clever and comfortable vehicles has grown significantly. So much so that you can now choose from a number of new German motorhome brands in New Zealand.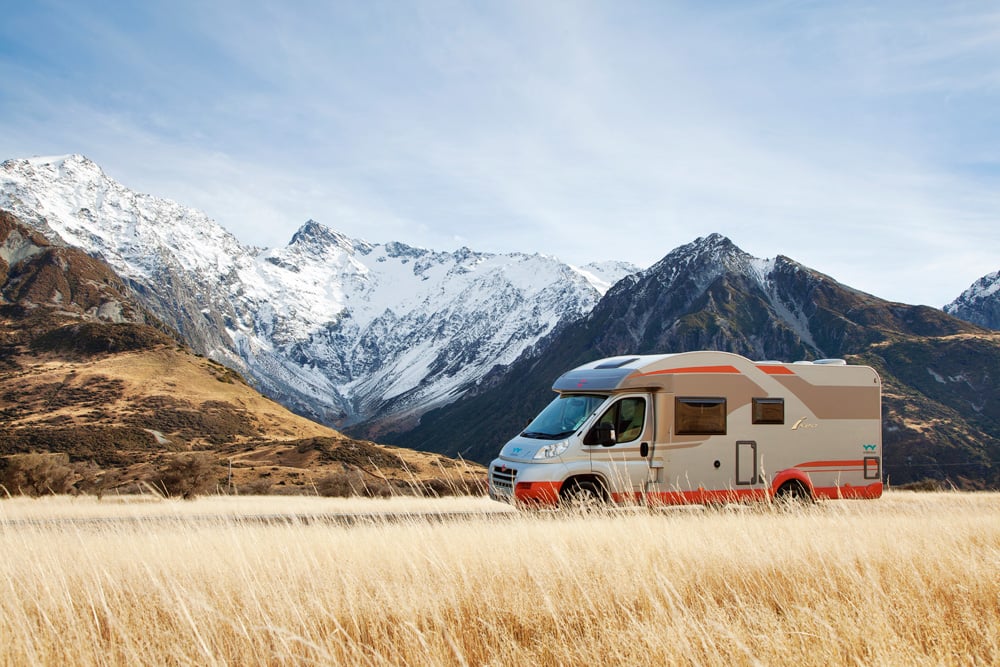 The German motorhome manufacturing industry is dominated by the Erwin Hymer Group (EHG). Based in Bad Waldsee in the south of Germany, the EHG stable of 11 motorhome brands produce more than 55,000 vehicles each year accounting for 26% of the European market. The majority of German motorhome brands available in New Zealand are manufactured by one of the EHG companies.

Table: German motorhome brands for sale in New Zealand


| | | | | |
| --- | --- | --- | --- | --- |
| Motorhome brand | Class | Range | Parent company | Distributor in NZ |
| Bürstner | Motorhomes | Mid | Erwin Hymer Group | Wilderness |
| Carado | Motorhomes | Entry | Erwin Hymer Group | Wilderness |
| Carthago | Motorhomes | Mid | Carthago Group | RnRV |
| Dethleffs | Motorhomes | Entry, mid & high | Erwin Hymer Group | Zion |
| Frankia | Motorhomes | High | Groupe Pilote | Zion |
| HYMER | Motorhomes | High | Erwin Hymer Group | Wilderness |
| Malibu | Campervans + Motorhomes | Entry | Carthago Group | RnRV |
| Morelo | Motorhomes | High | Morelo | Zion |
| Niesmann+Bischoff | Motorhomes | High | Erwin Hymer Group | Zion |
| Sunlight | Motorhomes | Entry | Erwin Hymer Group | Zion |
| VW | Campervans | Entry | Volkswagen Group | VW NZ |

You can also find second hand motorhomes from these German brands in NZ. Read our article on buying a used motorhome to learn more about the dos and don'ts of purchasing second hand. A few motorhomes from other German brands come on the market from time to time. These include Eura Mobil motorhomes which were imported in 2016 and 2017 and Hobby campervans (pictured below) which were in the Wilderness rental fleet in the late 2010s.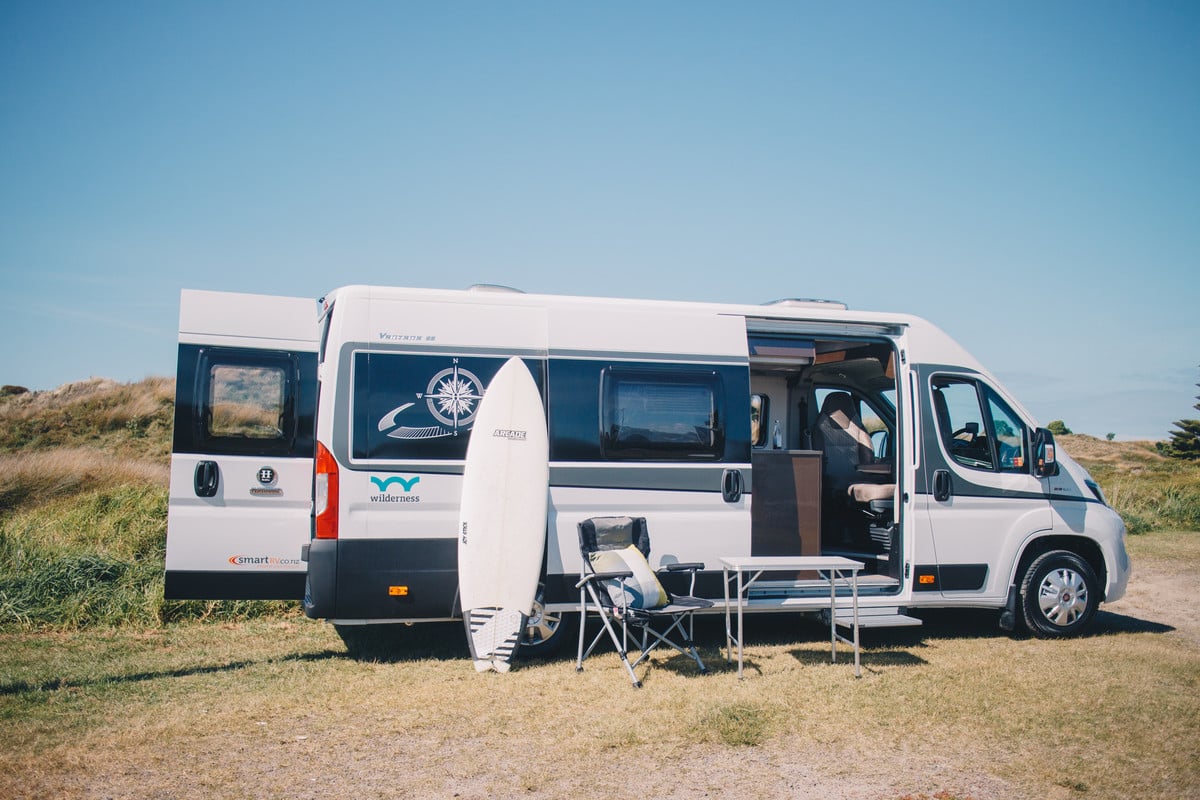 What are the different classes (types) of German motorhomes available in New Zealand?
While you can buy German campervans in New Zealand, the vast majority of RVs imported from Germany are motorhomes. Semi integrated (C-class) motorhomes (those with the living space partially integrated with the cab) are the best value and hence most popular. Fully integrated (A-class) motorhomes used to be the domain of the most luxurious (starting at $200,000) but in recent years the lines have blurred. You can now find entry level motorhomes that are fully integrated so the class of motorhome is not always the defining factor when it comes to price. It's now more about the construction methods, type of materials and features that are included that separate entry level motorhomes from the high end.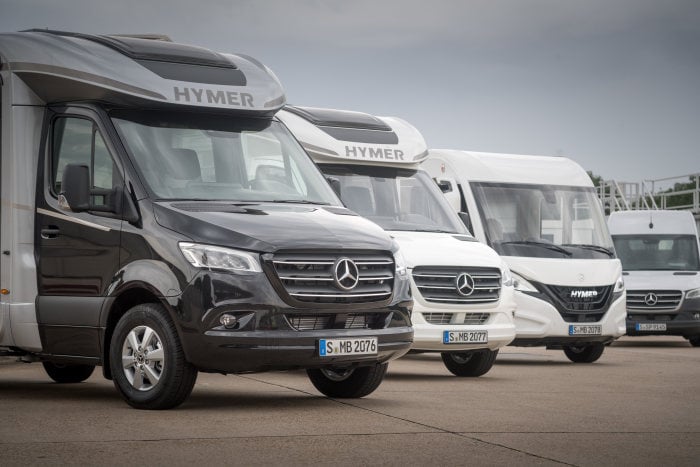 Which are the best German motorhome brands and models?
Most of the German brands available in New Zealand have been in business for more than 50 years so are well established manufacturers with solid reputations. It's no secret that their reputation for innovation, comfort and quality has been key to the global success of the German motorhome brands. In 2019/20, the Erwin Hymer Group alone accounted for more than a quarter of all motorhome and caravan sales in Europe. Due to their scale, these market leading companies are able to invest heavily in research and development and deliver some of the most innovative new technologies in the industry.

The German brands and their models cover pretty much all market segments from more basic and affordable models through to the premium high end vehicles. For most buyers, the price will be the major factor that will narrow down the range. After price, it comes down to your preference regarding layout and specifications. Choosing a motorhome is about finding the best features to suit your preferences at an acceptable price point. Read on to find out which brands sit in the basic, mid range and high end price brackets.


What German motorhomes can I get on a smaller budget?
A good quality entry level motorhome is all about value for money – combining safety, reliability and comfort with cost-effective materials and building techniques. You can generally expect an entry level motorhome to be more compact than many of the high end brands. However, that doesn't mean that you won't find quality entry level motorhomes up to 7.5 metres long.

Some of the larger German manufacturers like Carado use highly efficient manufacturing methods combined with economies of scale to provide a better quality and higher specced vehicle than other motorhomes in the entry level part of the market. Other manufacturers cut costs by using inferior materials and cut corners in the design and build of their motorhomes. The features of even a basic German motorhome include many premium features such as fully winterised construction, quality drop down beds, separate toilet and shower rooms and clever storage. You can find out more about the differences between German made and New Zealand made motorhomes.

It all started with the iconic VW Kombi van. While the Kombi is no longer manufactured, Volkswagen still offers a range of campervan models that now incorporate the latest technologies. The VW California is a small van and follows the general layout of the original Kombi van while the Grand California is its upgraded bigger brother with four wheel drive, a higher roofline and separate wet room. It's VW's first fully self contained van.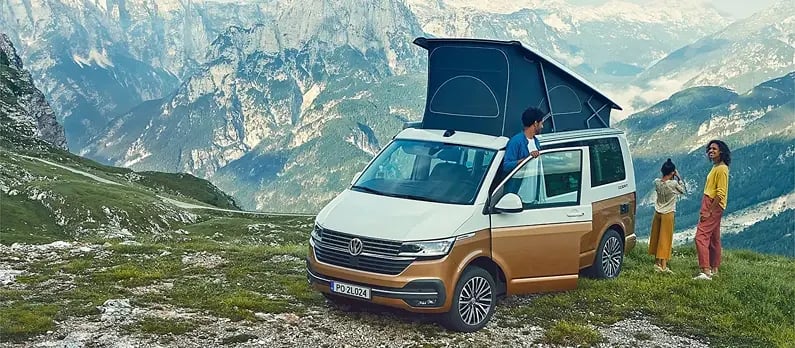 The other German campervan available in New Zealand is Malibu by Carthago. While Malibu makes vans as well as semi-integrated and integrated motorhomes, they are especially well known for their vans. In 2019 and 2020, Malibu won the Promobil campervan (with bathroom) of the year award. In 2021, they introduced the Malibu Van First Class, with a pop up roof and internal door that can separate the van into two rooms. The First Class won the European Innovation Award in the 'Overall Van Concept' category. Select Malibu and Carthago vehicles are available at RnRV.

Semi integrated motorhomes in the entry level category offer more living and storage space than a campervan so are ideal for people planning more than a quick getaway. While Carado also produces the full range of motorhome classes, it's their T series models that are available in New Zealand at Wilderness. Both the 2 and 4 berth versions are built on a light chassis which means they are under 3500kg and only require a WoF (not a CoF). Find out more about the differences between the Certificate of Fitness and a Warrant of Fitness regimes for motorhomes.

The Carado brand is a good example of how manufacturers can make the most of being part of a larger group of companies and utilise economies of scale. Founded in 2005, the Carado and Sunlight brands were developed by market heavyweight Erwin Hymer Group to compete in the entry level part of the market. A state-of-the-art factory was built in Neustadt, near Dresden in the east of Germany. Streamlined production and a focus on making a small selection of models to the highest possible standard means Carado has become one of the most successful motorhome brands in Europe. Carado started with just semi integrated motorhomes and later in 2017 extended their range to include vans and integrated motorhomes. Sunlight also manufactures the full range of recreational vehicles from vans through to fully integrated.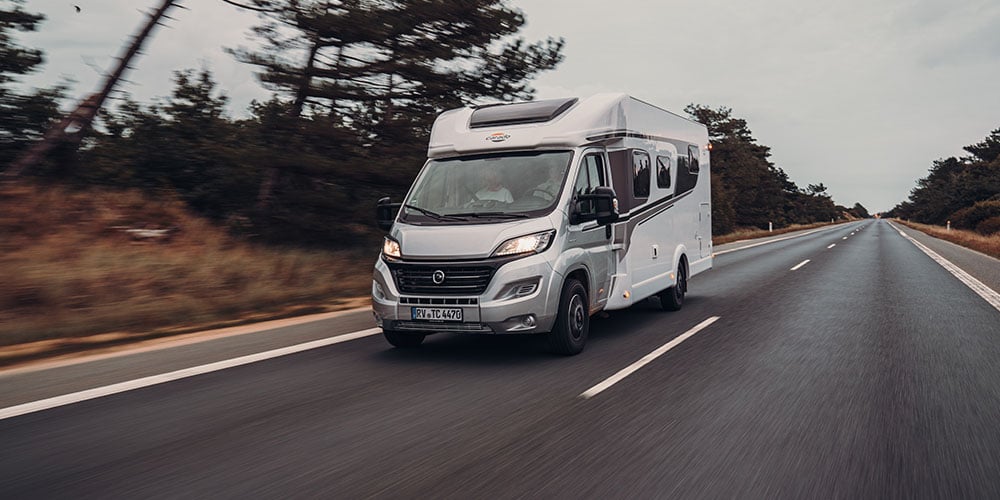 What features can I get in a German motorhome on a medium budget?
With a little bit more money to spend, you can get a motorhome with more refined features and creature comforts. Some of the mechanisms onboard, such as drop down beds, are more likely to be electric rather than manual and manufacturers tend to include space maximising extras such as bench extensions or moving bathroom walls. Interior designs including lighting and fabrics will be more high end.

While improved aesthetics are nice to have, it's really the performance of the motorhome that separates the entry level from the mid range part of the market. This can include a more powerful engine, more driver comfort and safety features, plus better materials and more advanced construction methods giving better ergonomics, insulation and aerodynamic performance. Check and compare the specifications of the motorhomes you are interested in, and consider which features are most important for you and your lifestyle.

Some of the aspects of a motorhome which are important to understand before you make a purchase are often the hardest to find as information from many dealers often focuses on the base vehicle and the more superficial features of the habitation unit. Do your homework on the design and construction of your preferred motorhome as these will have a large bearing on the performance of your vehicle. In mid range motorhomes from brands like Bürstner and Dethleffs, the shell is crafted from aluminium on the exterior and breathable wood panel on the interior with Styrofoam or XPS foam for insulation sandwiched between. The wall and floor thickness will usually be greater than in an entry level motorhome due to the greater thickness of the XPS foam and therefore more insulation. A mid range motorhome is more likely to have at least some components of glass reinforced plastic (GRP) construction. GRP construction methods are a little heavier than standard wall construction methods but are more durable especially in preventing damage from stones and hail plus salt water.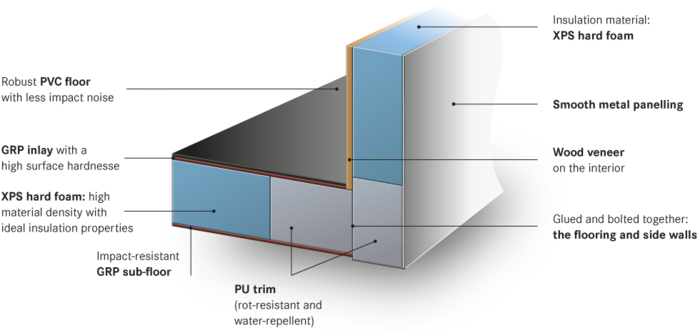 Figure: Bürstner motorhome wall construction

Perhaps the biggest innovation in the construction of mid range motorhomes in recent years has been the thermofloor. Pioneered by Bürstner, the thermofloor is a double layer that runs from the cab to the rear on one level – no steps. This innovation has greatly improved safety, by reducing trip hazards, and thermal performance.

Central heating systems are fairly standard across entry level and mid range German motorhomes but mid range motorhomes are more likely to have better heat dispersal improving warmth and comfort. In addition to keeping travellers cosy, it also ensures that water tanks stay warm enough in very cold weather to prevent freezing. In addition to superior insulation, most German motorhomes have an anti-freeze system which releases the fresh water in extreme temperatures to prevent it from freezing in the pipes.

Water ingress is one of the main issues with motorhomes, which is why materials that don't rot and excellent sealing techniques are so important. Manufacturers with advanced materials and construction methods are more likely to offer a longer water tightness warranty indicating their confidence in their vehicle's ability to prevent water ingress. Make sure you check the fine print and the timeframe that is covered.

The body of a mid-range motorhome will be more contoured and therefore more aerodynamic than an entry level motorhome. While you'll find double glazing in all German motorhomes available in New Zealand, those in the mid range category are more likely to have more and better windows, skylights and doors than entry level motorhomes. The Bürstner Lyseo has aluminium framed windows that sit flush with the motorhome shell reducing drag and road noise. In contrast, the windows in the Carado are more basic but hardwearing. The window coverings in a mid range motorhome are likely to be the integrated window cassette type which incorporates insect screens and blinds. These are more effective in both reducing the chance of insects entering the motorhome and reducing heat loss than basic screens and curtains in an entry level motorhome.

The habitation door in a mid range motorhome is likely to be wider, sit lower (known as coupe entrance) and have more features than the door in an entry level motorhome. A wider door that sits lower makes entering and exiting the motorhome easier, particularly for people with limited mobility. Many mid range motorhomes have the extra wide (700mm) Hartal door with central locking, plus a window and integrated insect screen and waste bin. While the extra features in the Hartal door are a bonus, being able to lock the motorhome with the press of one button is a convenience that many buyers really appreciate.

In the interior of the motorhome, a couple of features that distinguish a motorhome in the mid range from entry level are upholstery, storage compartments, lighting and power supply. A mid-range motorhome is more likely to have ergonomically designed seating with high end hard wearing fabrics. Kitchen storage is often drawers rather than cupboards with open shelves. Lighting is more likely to be low energy LED with up and down lighting plus highly adjustable spot lighting. You'll usually find more power sockets in a mid range motorhome than in an entry level one.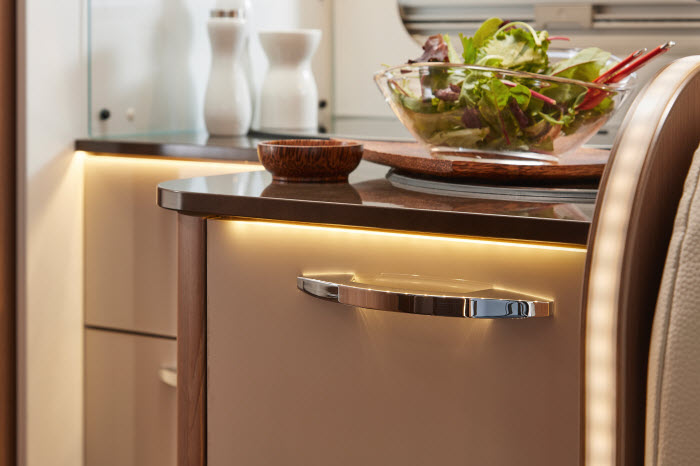 Bürstner's Lyseo models are among the bestsellers in the mid range segment for German motorhomes. They feature market leading innovations such as the original motorhome drop down bed that can be lowered from the ceiling. The 4 berth semi integrated Bürstner motorhomes available from Wilderness now come on a heavy chassis to increase the vehicle's payload. Their 2 berth and compact motorhomes are in the light truck category (3500kg and under) so are on WoF. Bürstner also manufactures campervans and caravans, however these are not currently imported into New Zealand.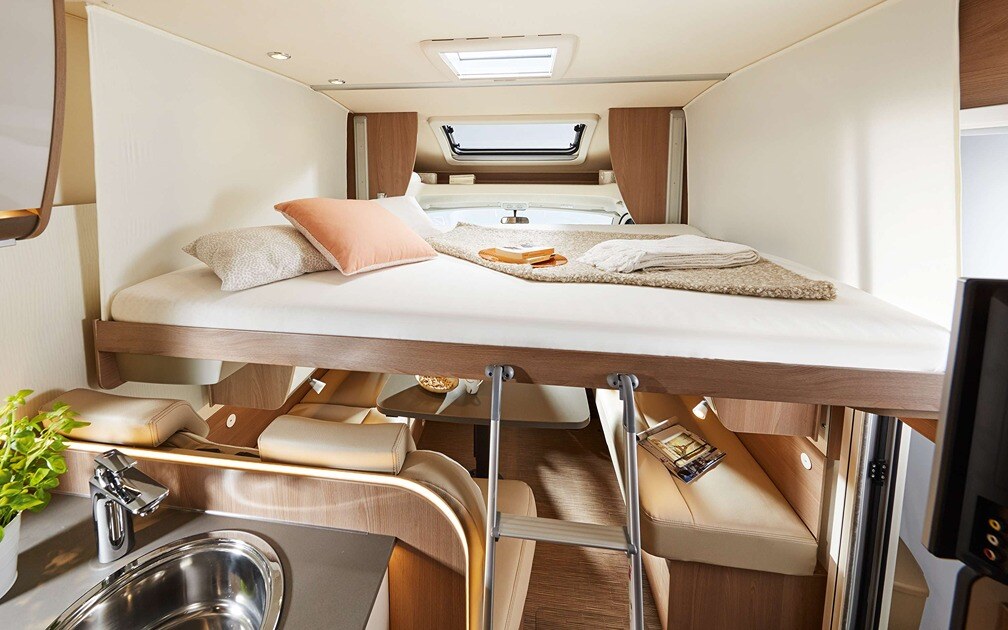 Another brand in the mid range category is Carthago, an independent German manufacturer founded in 1979. Having started as a provider of custom made motorhome conversions, they've developed and expanded their range of motorhomes over the last few decades. Many of their motorhomes are the fully integrated type with a GVM of over 3500kg. This gives them the capacity to carry large water tanks and a good amount of gear.

German caravan pioneer Dethleffs also produce a range of motorhomes. Arist Dethleffs is credited with building the first ever German caravan in 1931. Now part of the Erwin Hymer Group, Dethleffs offer motorhomes across the full range from entry level to high end in New Zealand. The Dethleffs Trend is positioned at the entry level, the Esprit and Pulse in the mid range and the Alpa in the high end. Several Dethleffs motorhome models are available in both semi integrated or fully integrated configurations. The key benefits of an integrated motorhome are a more spacious front lounge and a more aerodynamic body. But these come at a cost. The price premium for an integrated motorhome compared with the same model in a semi integrated body is between 10% and 15%.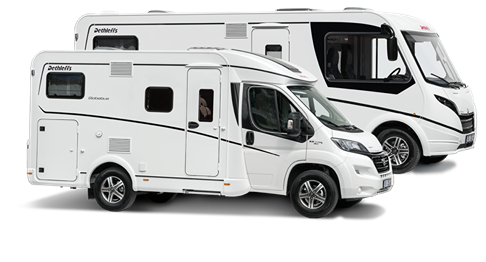 What German motorhomes can I get on a bigger budget?
Motorhomes at the premium end of the market are more likely to be bigger, built with more advanced construction techniques, and have more features designed to improve the user experience. You'll find high end motorhomes that incorporate the latest technology and apps along with luxury finishes and materials. Motorhome equipment may include the ALDE warm water heater which supplies a thermostatically controlled temperature evenly distributed throughout the vehicle – a step up from the forced air Truma Combi heater standard in entry level and mid range German motorhomes. Clever details may include smart storage cupboards, ergonomic kitchens, larger bathrooms with luxury fittings, more seating, more comfortable and highly adjustable beds including electric drop down beds, and multi adjustable large tables plus extra lighting thoughtfully placed to enhance performance and ambiance. You also have more choices of interior colour combinations. Dealers tend to load up these luxury motorhomes with aftermarket extras including more solar panels, lithium battery packs and grunty inverters, plus satellite dishes, big TVs and entertainment systems. While these are nice to have, they can easily be added on after purchase so don't let things like the number of solar panels or size of the TV sway your final decision.

Most of the larger high end motorhomes have a fully integrated body and are in the heavy vehicle category (greater than 3500kg GVM). Some have rear wheel drive, dual axles and hydraulic suspension. While 7.5m is common for a full size motorhome in the mid range market, high end motorhomes are typically 8.5m to 9m long with a few over 9m. Their engines are bigger to power the larger motorhome. Lighter motorhomes are designed and built to have a GVM of less than 3500kg so all aspects of construction are focused on weight. The heavier and longer chassis in a larger high end motorhome means less restrictions in the fitout. The motorhome can accommodate more equipment, larger storage tanks, and will usually have a generous payload.

Not all high end motorhomes are super sized or even fully integrated. The HYMER ML-T 580 is under 7m long but in a category of its own as the only all wheel drive, full sized motorhome available in New Zealand. Multi award winning HYMER, the flagship brand of the Erwin Hymer Group, has set new industry standards with their innovations and features. They manufacture all classes of motorhomes but only the semi integrated ML-T 580 is available here. The result of collaboration between two German automotive heavyweights – HYMER and Mercedes-Benz – the HYMER ML-T unites the latest drive technology and innovative lightweight construction to produce optimal comfort in an agile, semi-integrated motorhome. The interior reflects the HYMER reputation for quality and attention to detail in every aspect.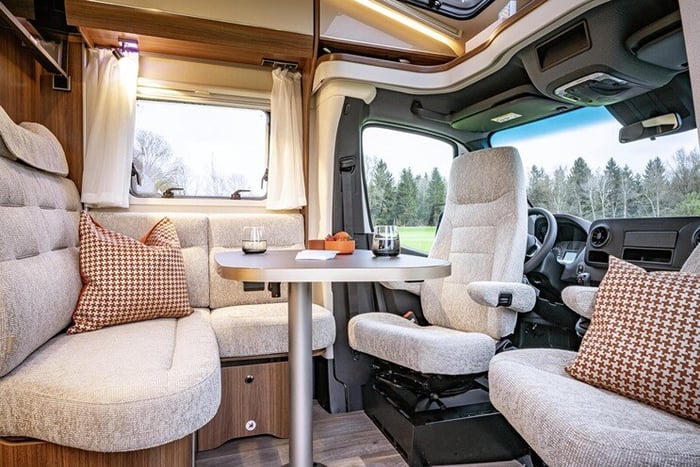 The three other high end German motorhome brands available in New Zealand are Morelo, Niesmann+Bischoff, and Frankia. A relative newcomer to the German motorhome scene, Morelo is an independent German motorhome brand founded in 2010. They specialise in fully integrated motorhomes in the heavy vehicle category. They produce seven models on the Iveco Daily base, each with a range of different layouts and configurations. Their Morelo Empire won the German design award in 2018.

Niesmann+Bischoff, another Erwin Hymer Group brand, focuses on fully integrated motorhomes on the Fiat Ducato base. The iSmove model is at the top end of their range. The result of extensive R&D, this premium motorhome is unique in the high end category – achieving both luxury and lightweight with a GVM under 3500kg. Several patents are pending for innovations such as the slim line lifting bed that hides in a dark anthracite ceiling and a rotating backseat.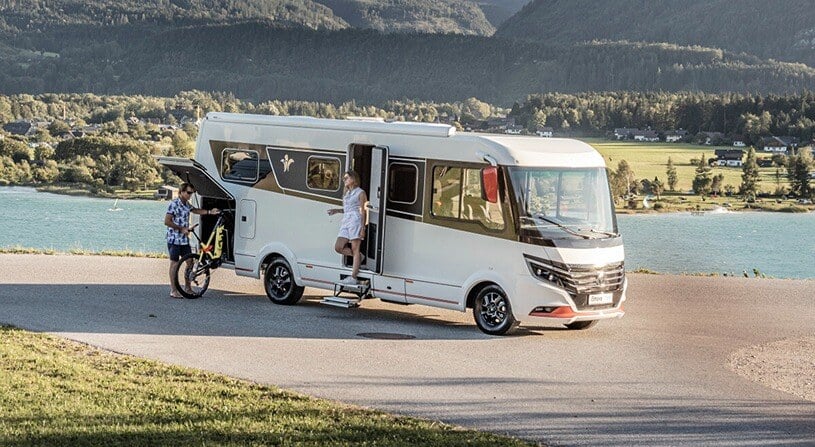 Frankia produces a range of motorhomes including both semi integrated and the larger integrated motorhomes. The semi integrated Frankia M-line is on a Mercedes Sprinter chassis with rear wheel drive and features a single level double floor. They also offer a layout option with a large sitting area in the rear, a layout which is less common in German made motorhomes.

Whether you're looking for a slice of nostalgia for your weekend getaways or a luxury palace on wheels, you'll find a German campervan or motorhome to suit your needs. Germany has been manufacturing recreational vehicles for 90 years so the combination of experience, automotive industry expertise and R&D investment has put them at the forefront of the RV market. Their reputation for quality, innovation and reliability is second to none. Perhaps the greatest testimony to the Quality Made in Germany reputation that German manufacturers have earned is that even buyers in the entry level segment of the market can be confident that their motorhome will give them many years of pleasure.


Download our Guide:
What Motorhome Should I Buy?
In this buyers' guide, we've tried to unpack the the motorhome options available to New Zealand buyers and walk you through the pros and cons.