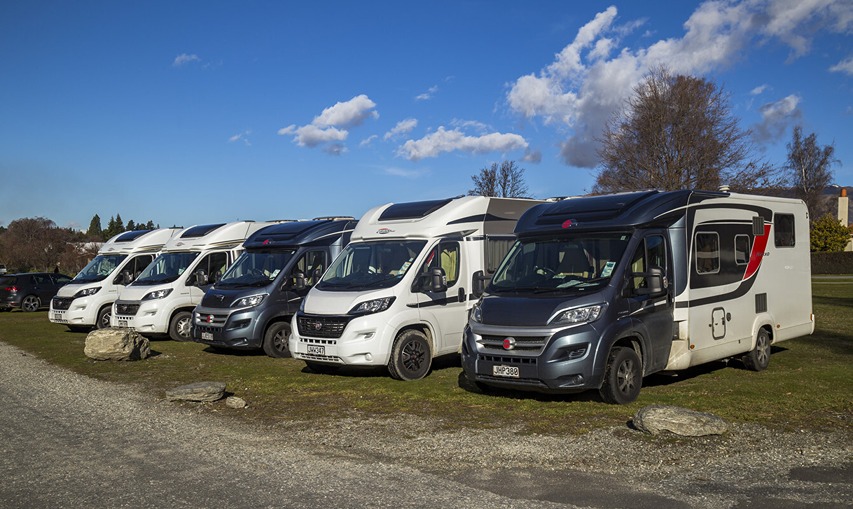 Thinking about purchasing a used motorhome and wanting to know the steps to take to get the key in your hand and drive off into the sunset? To find the right reliable RV you'll need to carefully complete a series of checks — to gain the knowledge and confidence to buy.


In this comprehensive article, we look at your must-haves, consider ex-rentals and run through checking the condition of a used motorhome. We also talk about inspecting the exterior and interior of your prospective purchase and touch on the cost of a used motorhome.
Decide on your must-haves in a used motorhome
As with any significant purchase, your first step towards buying a motorhome will likely begin with drawing up your must-have features list. Take your time to carefully think through your personal preferences, taking into account how you plan to use the motorhome.


You'll probably receive plenty of advice from friends and family — particularly if they have their own recreational vehicles. It's common to hear others raving about their perfect motorhome and the features they absolutely love or the ones they avoided. A few examples you may hear are:
Taking that last suggestion of a higher-than-normal capacity for water storage onboard means your motorhome will have extra weight. If one of your must-haves is to be able to take long showers every day, perhaps the extra capacity is necessary for your ideal motorhome.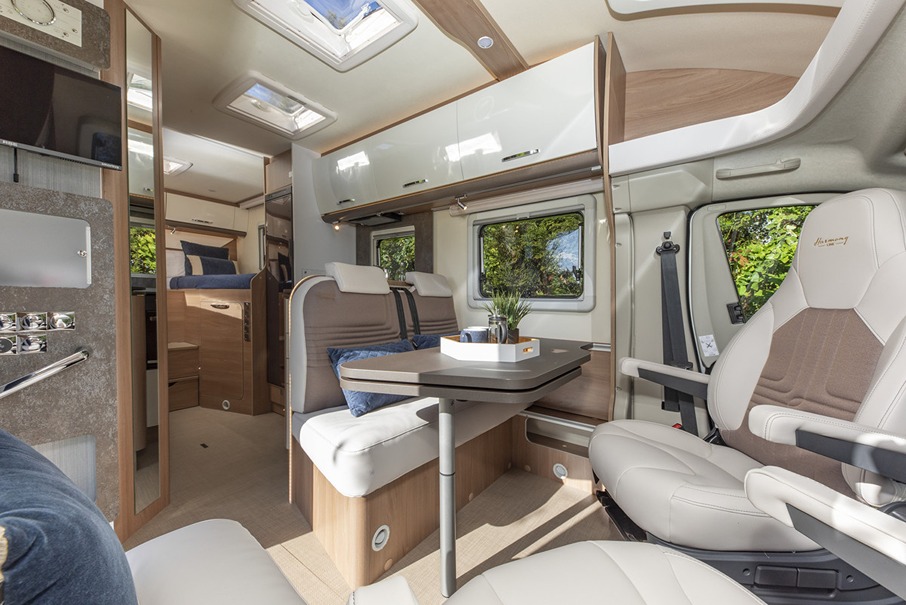 However, other factors come into play like keeping the gross vehicle mass (GVM) under 3500kg — so it requires a warrant of fitness (WoF) instead of a certificate of fitness (CoF). The advantages of owning a motorhome under 3,500kg of weight include:
A lower annual inspection cost
No need to keep to a reduced speed limit
Being able to drive with your car license.


Most European motorhomes have standard water storage of 120L with payload and weight some of the main considerations. The question to ask is how you plan to use your motorhome.
Features to consider for your ideal motorhome


In reality, there's no such thing as a perfect motorhome — as no single motorhome is perfect for everyone.


While looking around campgrounds and holiday parks, you'll notice a huge variety of makes, models, shapes and sizes — each one just right for their owner. Be sure what type of motorhome would work for you and how you want to use it before taking any external advice.


Read about the features to think about when buying a motorhome.


Consider trying before you buy

If you've never driven a motorhome before, that's ok. Take the opportunity to hire a similar recreational vehicle to what you're interested in — or better yet, make use of a try before you buy offer.

With such a significant investment, it's important to go for a test run to gain a clearer idea of what's most important to you in a motorhome.

Look for quality and longevity
It's important to note your personal preferences so you have a clear idea of what you're looking for. Once you've determined those, bear in mind that structural soundness, reliability and comfort are important aspects of quality dependable motorhomes.
Trusted German-made motorhome brands tend to hold their value well because they're known for their quality and longevity — plus their innovative features. When shopping around for a used one, ensure the owner has records detailing:
How well it's been maintained, and
How regularly it has been serviced.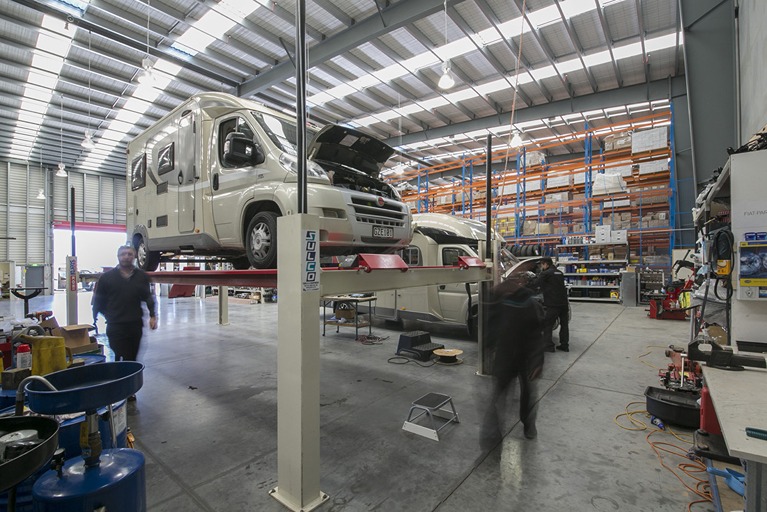 Find out about the differences between New Zealand-made and German-made motorhomes.


The importance of reputation
Look for trusted dealers in the marketplace that are selling trusted motorhome brands. This way, you'll likely encounter fewer issues navigating the purchasing process and following up on any post-purchase problems.
Motorhome layout configuration

The arrangement of your motorhome's interior like the living room, sleeping areas, kitchen, bathroom and storage spaces is collectively known as its layout. Your must-have features list will help determine the ideal motorhome layout for you.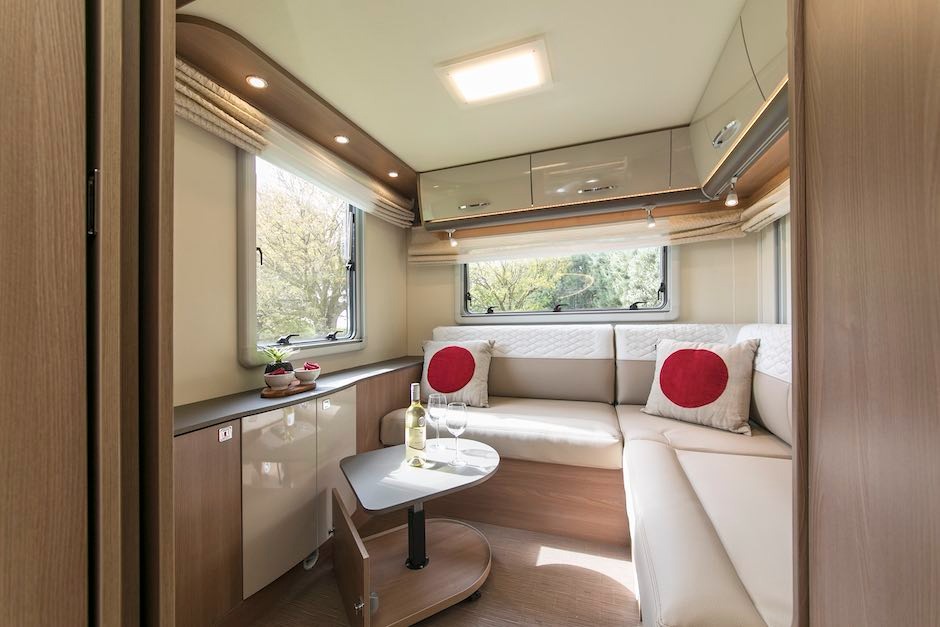 Think about what's most important to you when you're on the road and while parked up camping. Do you need a:
Very comfortable permanent bed rather than a lounge that converts into one?
Combined or separate toilet and shower?
Large fridge to store enough food for multiple days freedom camping?
Reliable winterised heating system for holidays during the colder months?
Spacious garage to store all the outdoor gear you want to take with you?


See our guide on motorhome length, layout and floor plan for more information.


Compare custom-built versus off-the-shelf used motorhomes
Finding your ideal used campervan for sale may involve comparing personalised, custom-made designs against pre-owned factory models.
Off-the-shelf used motorhomes
Constructed on a production line, off-the-shelf motorhomes are usually your most cost-effective choice. Parts are standardised and labour is utilised efficiently to build each motorhome. Compare this to custom-built RVs where owners inevitably invest a lot of money to create recreational vehicles that are just right for them.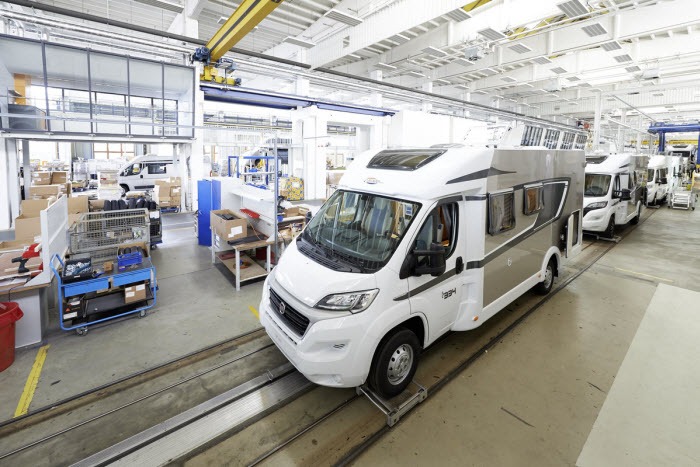 Factory-made motorhomes come in numerous different layouts although most brands conform to a handful of popular ones, such as the:
Rear bed layout — often featuring a fixed bed, this layout optimises space by using the rear for sleeping and the central and front areas for living, cooking and dining.
French bed layout — where the bed is positioned against the side wall of the motorhome
Drop-down bed layouts — where the front or rear bed can be moved down from the ceiling for when you need it.


In general, off-the-shelf motorhomes are also built to tight weight specifications. Manufacturers work hard to keep the gross vehicle mass (GVM) under 3,500kg in the light truck category.
View our guide to motorhome weight and payload to find out more.
Custom-built used motorhomes


If you're interested in purchasing a used custom-built motorhome, find out which parts of the RV were customised — and compare these specs to those of a similar off-the-shelf motorhome.


Craftspeople who custom build motorhomes usually don't have access to the same range of materials that a large scale factory may have. When considering a bespoke motorhome, look for where there's value in the type of travel you really want to do.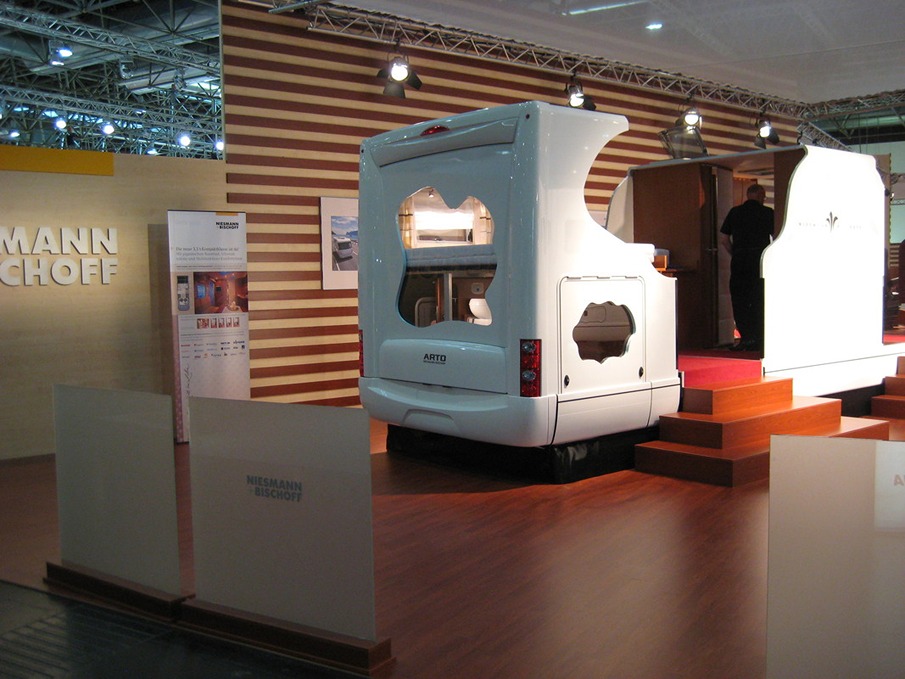 Custom builds will often have larger freshwater and grey water tanks, as well as house batteries with greater capacity. Be sure to check:
What materials the builder used — and ensure that these are fit for purpose
The motorhome is fully compliant — with the rules for vehicle modifications and

certified self-containment

.


Weight can be another differentiating factor. Custom-built motorhomes are likely to be heavier and would hence incur higher running costs. In fact, heavier motorhomes have a higher total cost of ownership — including fuel consumption, the cost of registration and potentially needing a pricier CoF rather than a WoF.


Take note of the motorhome's add-ons, like additional house batteries, solar panels and even a satellite dish. By understanding how much these extras cost, you may be able to customise an off-the-shelf motorhome with the same add-ons — but at a more affordable price.


Learn more about custom-built motorhomes.
Consider the motorhome's future resale value


A highly personalised custom build may not suit most buyers. Think twice about the resale value further down the track of each motorhome you're considering — before committing to a purchase.
Consider ex-rental motorhomes
Rental motorhomes are built to withstand heavy usage and high mileage — and are designed to drive thousands of kilometres every year. Unlike many rental cars, well-maintained hire motorhomes from reputable brands can still be in great condition at the end of their rental lives, due to the:
Frequency of getting serviced — and the thoroughness of repairs and maintenance
Refurbishments made — to get the motorhomes ready to sell.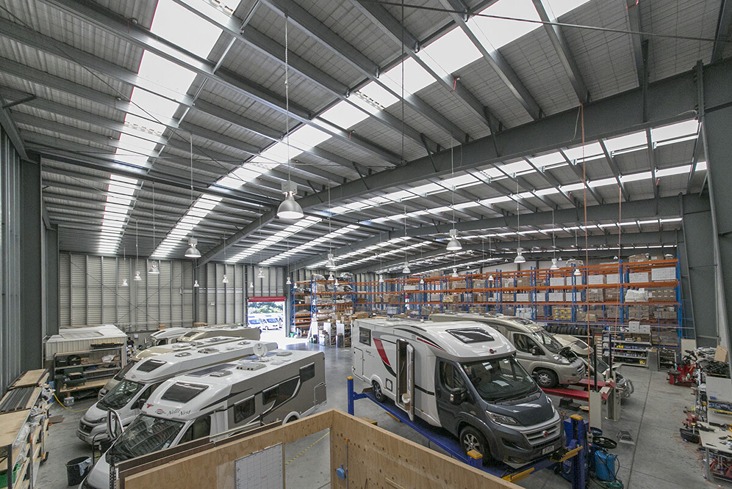 Take a look at the dealer's online reviews for their rental business to assess how well they look after both their vehicles and customers.


Rental motorhomes accumulate mileage much quicker than privately owned ones. Expect a rental to do around 20,000-40,000km a year — while a privately owned RV may travel closer to 5,000km per year. Therefore, if an ex-rental and a privately owned motorhome have the same mileage, the ex-rental will be significantly newer.


Since base vehicles have improved greatly over the past ten years, you'll enjoy more comfort and safety features in a newer model.


Discover the safety features and technology of German motorhomes.


View the all-important spec sheet
When you're comparing used motorhomes for sale, it can often be difficult to find a full list of each vehicle's specifications. And if you don't have a spec sheet, it's hard to know exactly what you're buying.


One benefit of considering an ex-rental motorhome for sale is that it'll usually come with a spec sheet which:
Details the motorhome's construction — like the specs of the base vehicle, engine size and safety features
Gives a full list of the recreational vehicle's features — including vital weights and measurements like the dimensions and payload.


You may not see spec sheets when viewing private motorhomes for sale, and the owner may not know what types of construction, or which kinds of insulation, the RVs have. Motorhomes with advanced construction methods like glass reinforced plastic (GRP) and thermoflooring offer considerable benefits — but if the information isn't available, you won't know.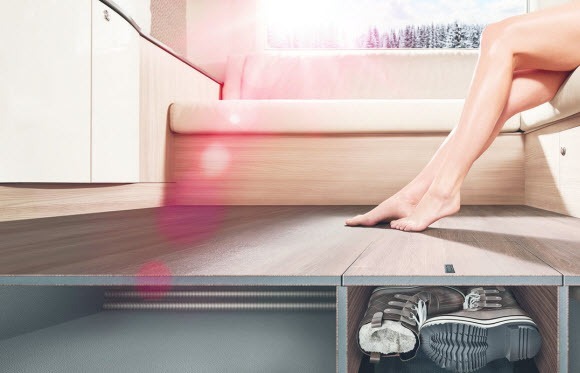 Before you go ahead and buy an ex-rental, be sure all maintenance and compliance checks have been done. Also, ask whether you can see the motorhome's full service history.


Be aware of aftermarket modifications


Spec sheets can also help you determine if a previous owner made any changes to a motorhome. It's possible that modifications may not be safe or compliant — especially if they were carried out by an unqualified tradesperson.

If you suspect that the gas or electrical systems may have had changes, get an updated gas safety certificate (GSC) and an electrical warrant of fitness (EWoF) before buying.
Check the condition of the used motorhome
Used recreational vehicles have likely seen their fair share of adventure so it's important to meticulously inspect any that take your interest.


The chassis and engine

At the top of your checklist when it comes time to view motorhomes for sale will be the base vehicle and its engine. Used motorhomes may boast considerable mileage, yet unlike car engines, motorhome base vehicles have engines that are designed to last.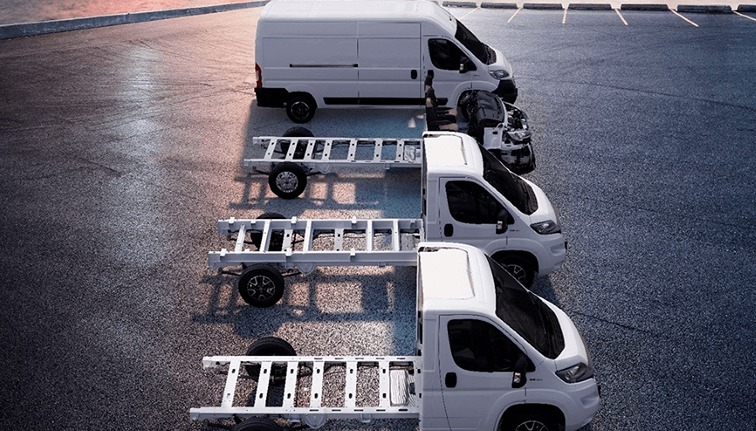 A motorhome built on a reliable base vehicle like a Fiat Ducato or a Mercedes will still offer years of reliable service — even if it's done more than a hundred thousand kilometres.


Take a closer look at the Fiat Ducato Series 8 motorhome platform.


Review the mechanical service history

Ensure that the motorhome has been serviced according to the manufacturer's recommendations — including using the correct motor oil.

Cheap oils may reduce servicing costs but they'll ultimately have a detrimental effect on the reliability of the engine over the long term.
The warrant or certificate


Any motorhome bought from a licensed dealer in New Zealand must have a current CoF or WoF — and it must have been issued within the last month. Be sure to check when the warrant was given.

Also, ask when the last service was completed on the motorhome, and if any maintenance work was done on it. There should be a record of this work that you can look over.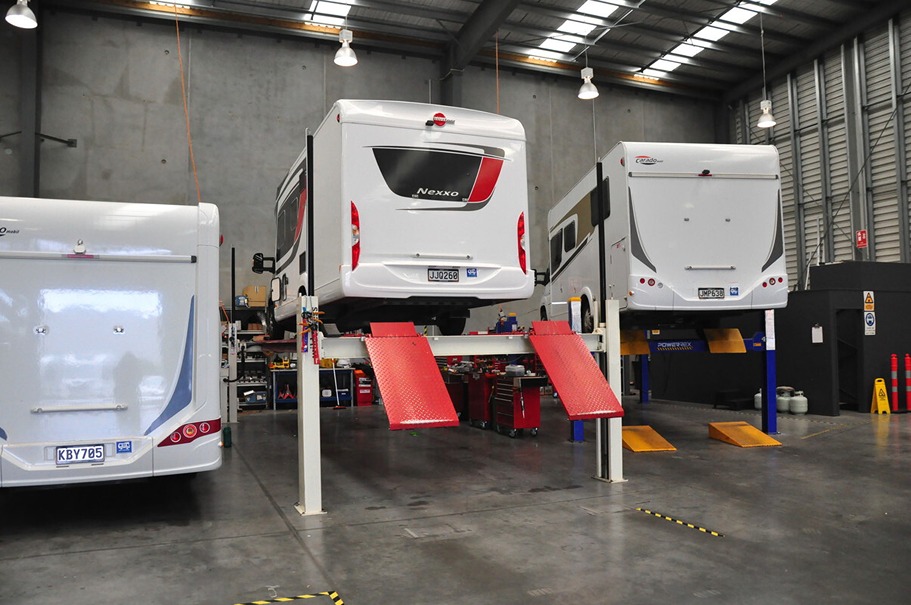 Find out more in our guide to warrants and certificates of fitness.
The test drive
Take your time to go for an extensive test drive so you can evaluate the overall performance of the motorhome. Pay particular attention to the:
Engine performance — listen for any unusual noises or vibrations, check for smoke, leaks and warning lights, and observe how the motor responds to changing gears and accelerating
Braking and handling — check that the brakes are responsive and drive different road surfaces at various speeds while taking note of the motorhome's response to steering
Overall functionality — test all systems and appliances onboard like plumbing, heating, electrical and cooling while checking for malfunctioning components, unusual odours and leaks.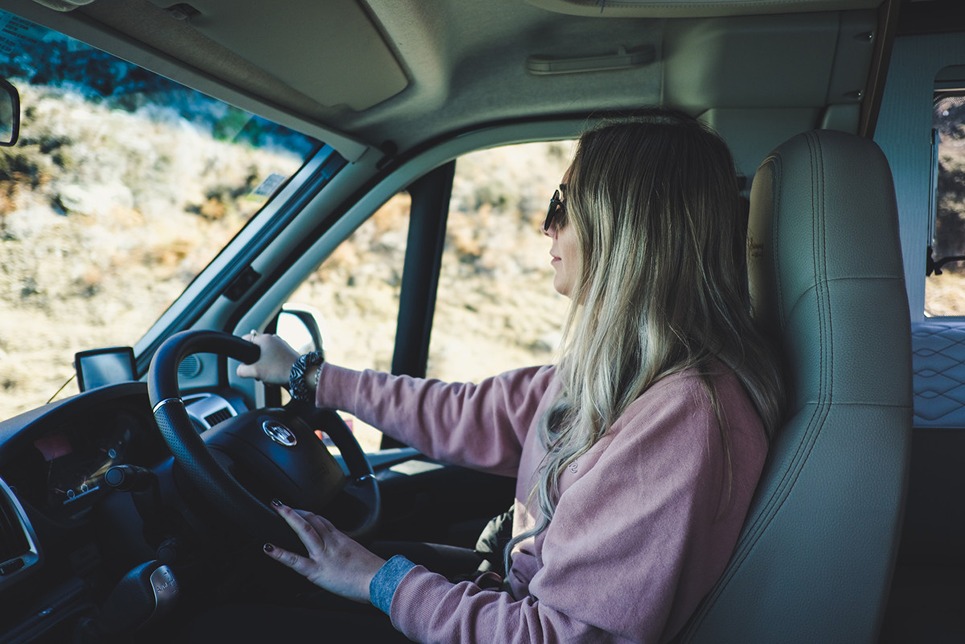 Ask your partner or a friend to come along for the ride to help out with testing the motorhome from different perspectives, like the passenger and rear seats. If you're feeling confident and satisfied with your test drive, think about organising a pre-purchase inspection from a qualified mechanic.


Read our blog on the pre-purchase due diligence process.
Assess the motorhome's exterior
When it comes to a recreational vehicle's exterior body, the most important thing you want to avoid is water ingress.
Water ingress


Most new motorhomes are built to a high standard of water impermeability and the manufacturer will often warrant for this. However, any motorhome is at risk of leaking. The most common leaks are caused by:
A manufacturing fault — such as inadequately installed window seals
Damage — especially to vents and windows
Poor installation of accessories — especially on the roof and windows.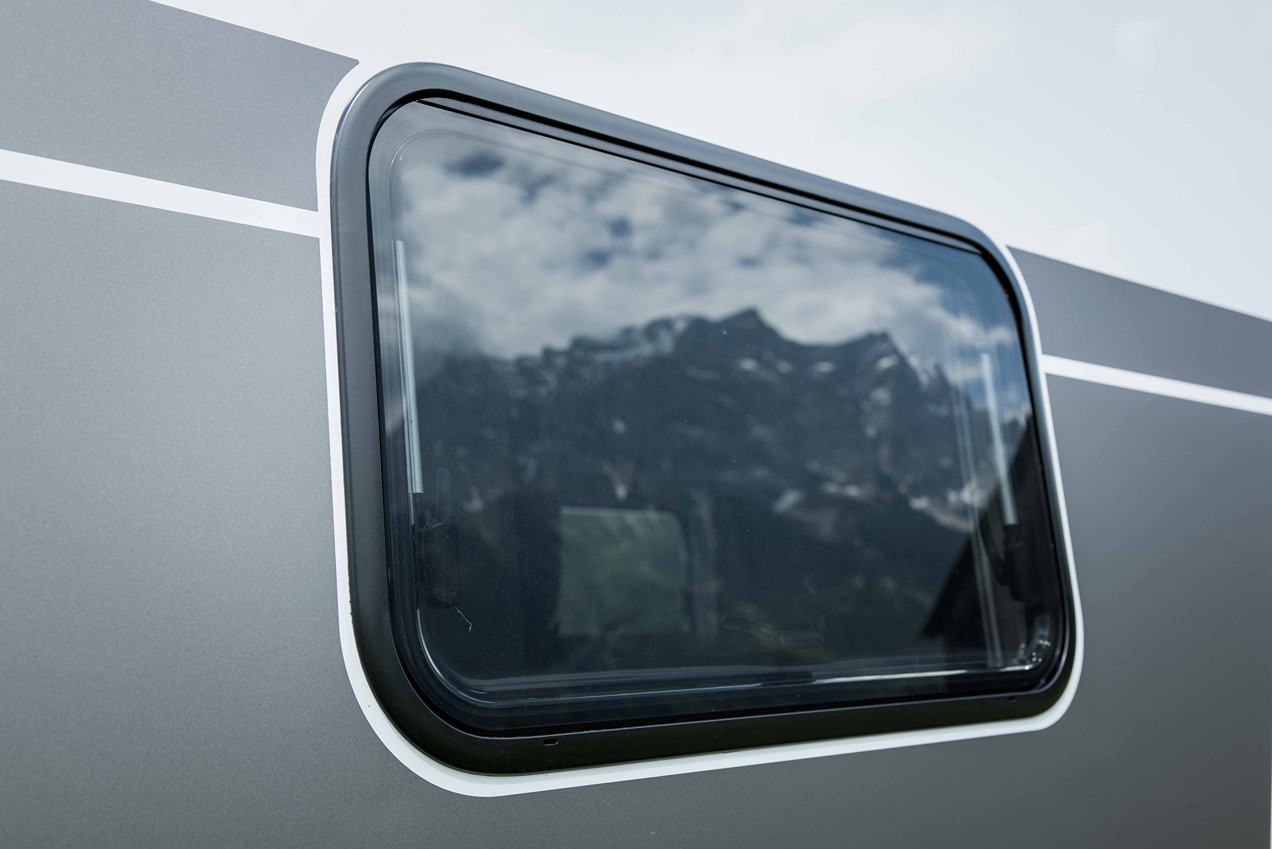 Check for sealants around windows, vents and lockers as this could indicate a potential past leak. Also, look out for water marks inside the motorhome and around the windows.
Will the motorhome keep water out?
It can't be overstated how important it is to establish whether a used motorhome you're considering is watertight. Bills of $20,000 or more can be common to repair structural damage caused by water leaks.
Damage, corrosion and rust


Look for any signs of damage and repair work on the exterior of the motorhome. Dented panels or uneven paintwork may indicate that repairs have taken place — meaning a closer inspection is worthwhile.


Rust can be a problem on some motorhomes as they're frequently used in harsh environments, like coastal areas and mountainous regions.


Make sure you, and ideally a professional, check the underside of the motorhome for corrosion. Although this takes more effort, it's certainly worth it as repairs to the chassis can be costly. While you're under the motorhome, inspect the waste water pipes for damage or leaks.


Lockers, gas and tyres

As you work your way around the motorhome, test all the external lockers to ensure they have keys and open easily. Check the LPG gas bottle certification is current. Have a close look at the tyres and their tread.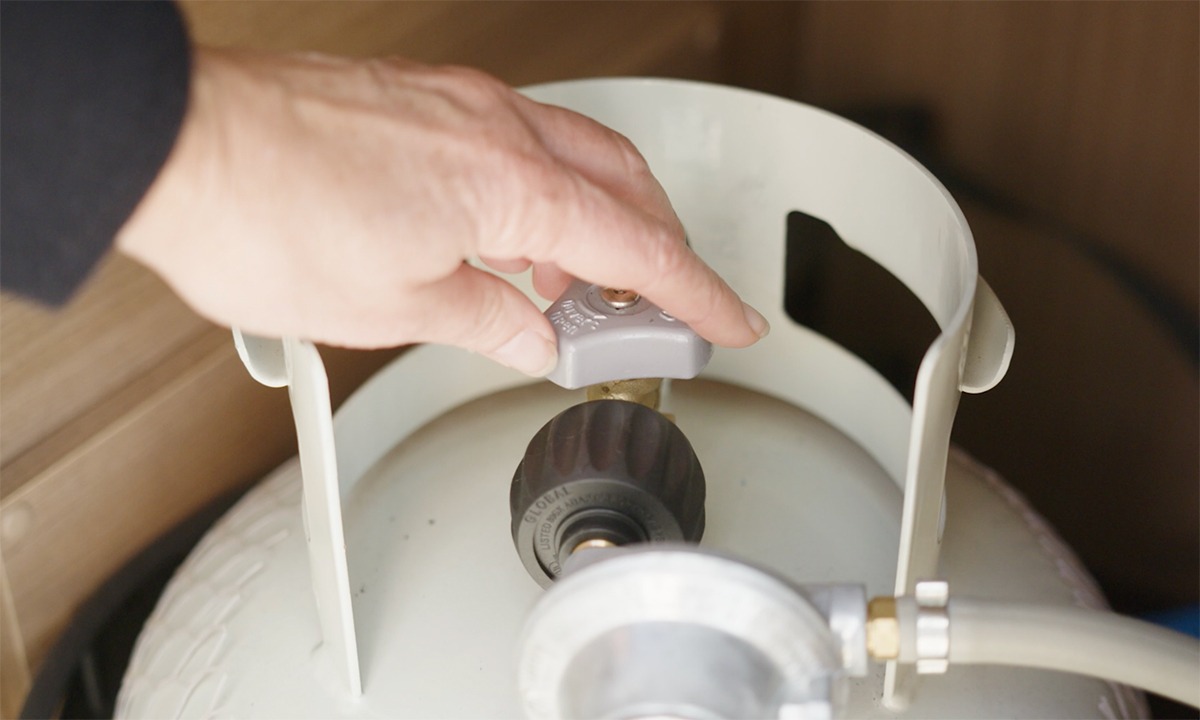 Add-ons


Take note of any add-ons to the motorhome, such as bike racks, satellite dishes and solar panels. An add-on can be installed after the motorhome leaves the factory so ensure they've been correctly fitted.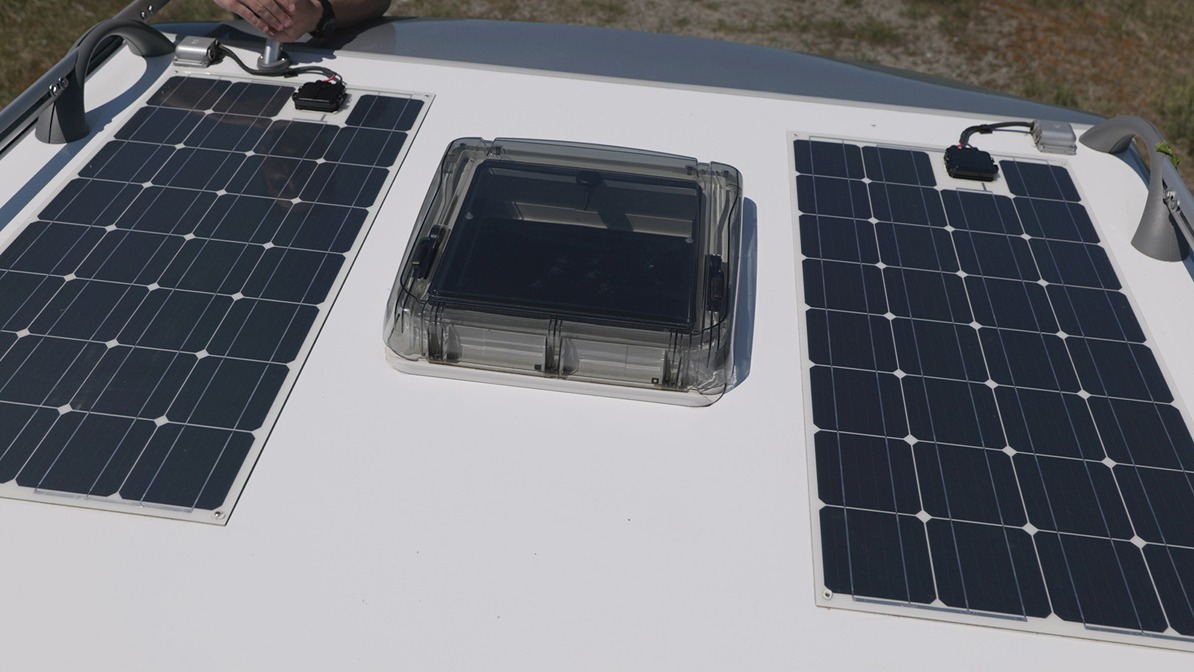 Weight


Ask about the weight of any add-ons and their impact on the overall tare weight of the motorhome — and its payload capacity. It's a smart idea to get the motorhome weighed so you know its actual weight.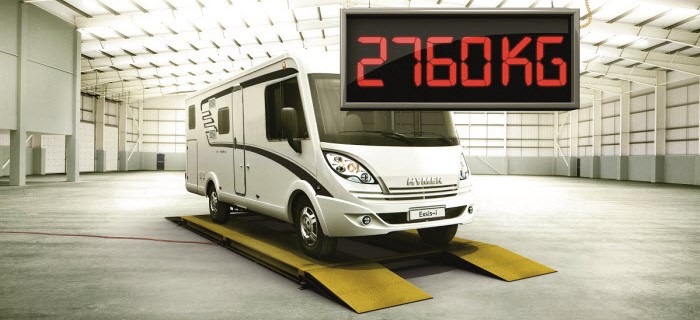 Read our guide to motorhome weight and payload to find out more.


Inspect the motorhome's interior


The interior of any used motorhome you're thinking about buying is just as important as the outer surface. Make sure moisture leaks and a working heating system are top of your list.
Moisture leaks
Closely examine the motorhome's interior for any indicators of dampness or moisture accumulation. A healthy, well-insulated, and properly ventilated motorhome should exhibit no signs of mould or mildew. Thoroughly check the:
Backs of curtains and blinds — as well as seat cushions and squabs for mildew or mould spots
Ceiling, skylights and windows — for moisture leaks
Wall linings — for bumps or pimples as they can be a sign of moisture
Windows frames and panes — as condensation accumulates here and mould can easily grow on single glazed windows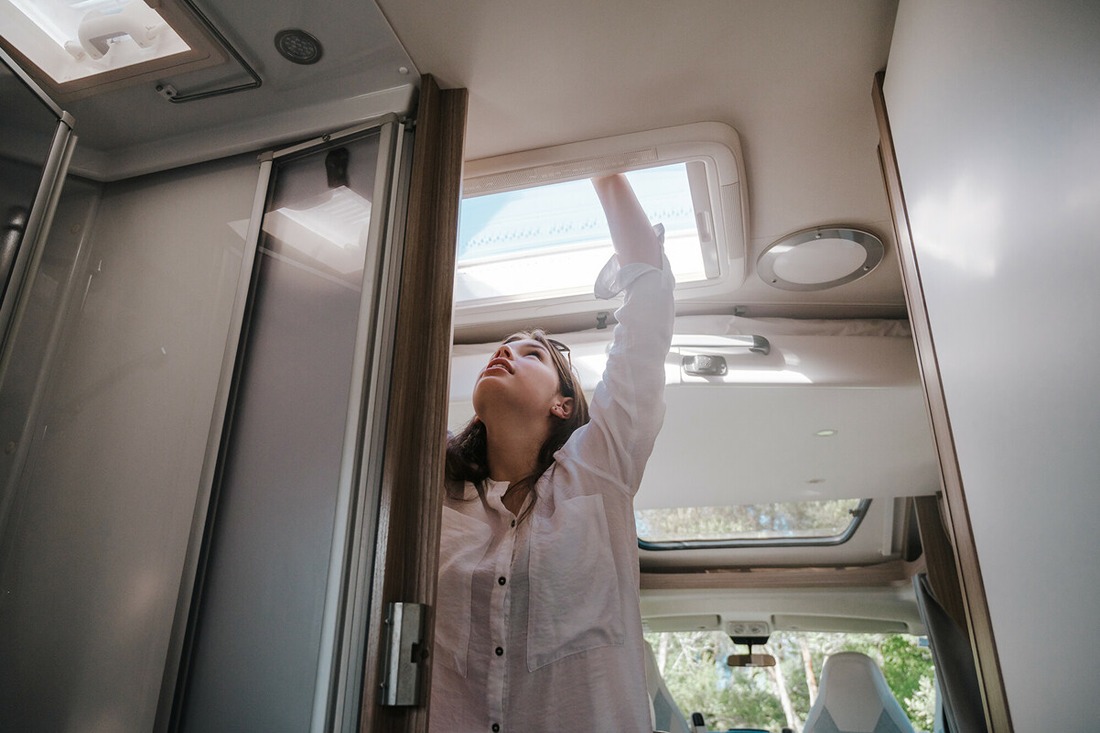 Keep your sense of smell alert to any damp or musty odours. Winter can be an opportune time to view a motorhome — as the colder temperatures can exacerbate dampness issues.


To avoid costly surprises, it's crucial to have a suspected leaky motorhome thoroughly inspected by a qualified technician before you decide to buy. Undetected leaks can cause structural damage, potentially resulting in expensive repairs of tens of thousands of dollars.


Learn about the key features of a well-ventilated motorhome.


Beds


Revitalising and relaxing sleep will be one of the most important things you'll want from your motorhome. It can have a huge impact on your lifestyle and comfort while on the road.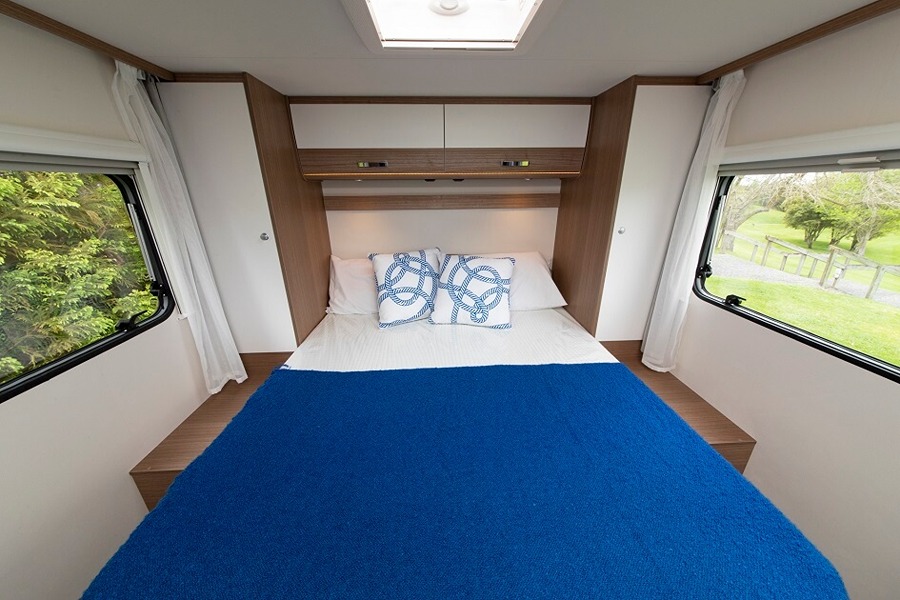 Prepare the bed yourself to see how time-consuming it is, then try it out. If it's assembled from the lounge seating, check how easy it is to put together and ensure it contains all the necessary parts.


If the motorhome has a drop down bed, ensure the mechanism works smoothly and that there are safety parts in place. For over cab or elevated beds, attach the ladder and test it out.


Check out our buyers' guide to motorhome bed types and layouts.


Heating system
Check there's a working heating system in the motorhome and find out how to operate it. Ask questions like:
What power sources can it use?
Will it distribute the air efficiently throughout the motorhome?
Does the motorhome have sufficient ventilation — so you can leave the heater on overnight in winter?


Many modern motorhome heating systems can use gas, electric power (when plugged into mains) and diesel. Check the LPG bottle and its connections, then let the heater run on gas for a while to ensure it works.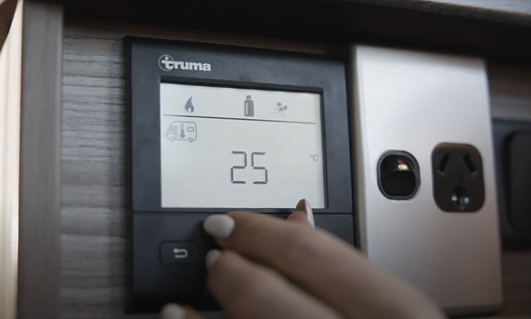 Even the heat from a powerful heating system won't be retained inside the motorhome if it doesn't have quality insulation and double glazed windows. Doublecheck this by inspecting firsthand inside and looking closely at the spec sheet.


Some motorhomes have a heater vent and a roof vent in the bathroom — so you can turn the space into a drying room for your wet clothes and footwear.


Check out our buyers' guide on motorhome heating.


Let the heater run
It can take time for a motorhome heating system to warm up. Consider letting it run for at least half an hour — to see how efficiently it heats the space.
Lighting


Test all the light switches throughout the motorhome to ensure they work. Due to being long-lasting and exceptionally energy efficient, LED lights are fairly standard in modern motorhomes.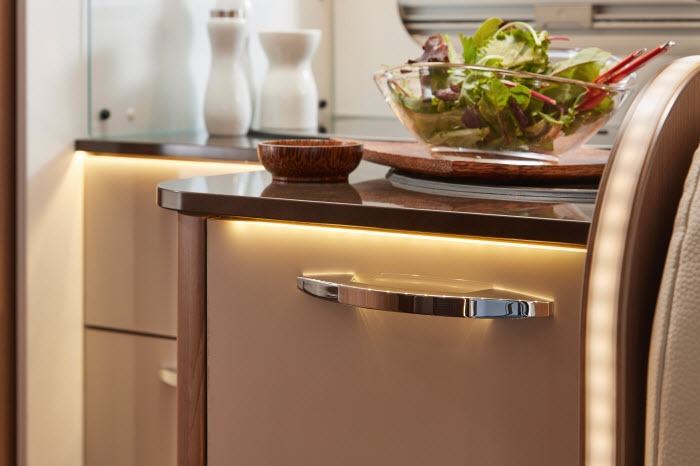 Reading and kitchen task lights are usually the lights used most often — so be sure to inspect them well for proper functionality and adequate illumination.
Take a look at our buyers' guide to lighting for a more detailed look into how light affects the motorhome experience.
Retrofitting
It's possible to retrofit lights but a certified electrician has to do this job. Some modifications may require recertification of your motorhome.
Bathroom
Another fundamental part of the motorhome is the bathroom. It's sometimes designed as one large room containing both the shower and toilet — other models feature the shower in a separate space.


If the motorhome has a combined shower and toilet, is it a dry or wet bathroom? Is there a dividing wall that protects the bathroom from water when you take a shower?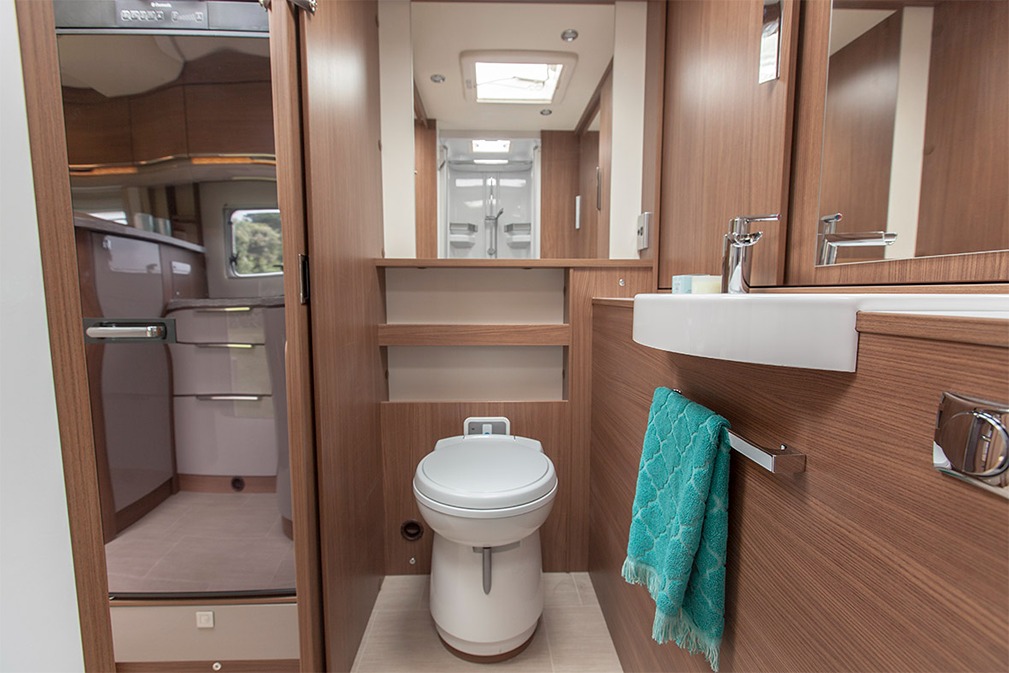 Play around with the toilet and be certain it's easy to operate. Also, check that the toilet cassette can be easily removed from its external locker. Ideally, it will slide out smoothly to be emptied — then snugly clip back into its space.

Investigate whether there are enough storage cupboards and spaces. Check the entire bathroom for signs of wear and tear. Excessive rub marks or added sealant are warning signs.

Get more information about bathrooms in recreational vehicles.
Cupboards, doors and lockers

Over time, cupboards and furniture can get damaged and begin to show wear and tear in used recreational vehicles. Be sure to check the:
Veneer hasn't lifted — and all the hinges and locks work as they should
Cupboard doors all align — tap them when closed to get a feel for how snugly they fit as loose doors cause noise while travelling
Inside of lockers — inspect any pipes and wiring plus dirt build up in the far corners.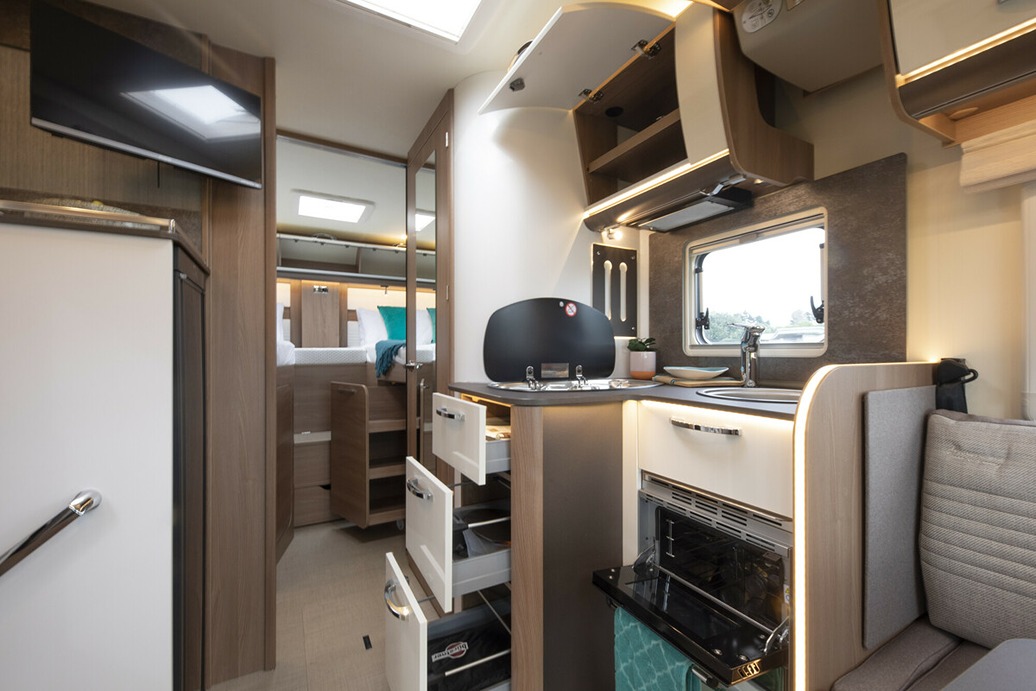 A poorly sealed habitation unit will let dust in. As time goes by, the dust settles and becomes dirt.

Don't forget the habitation door. Some newer European motorhomes have central locking in the cab and the habitation door — so ensure it's working. Also, cast your eyes over the window latches and insect screens to check that they're in good working order.
Appliances

Test all the appliances in the used motorhome but focus on the oven, fridge, water pump and central heating unit.

The gold standard fridge in modern motorhomes is a three-way fridge that can run on 240V power while you're connected to mains power. When you're off-grid, either LPG or the 12V house battery will keep your motorhome fridge cool.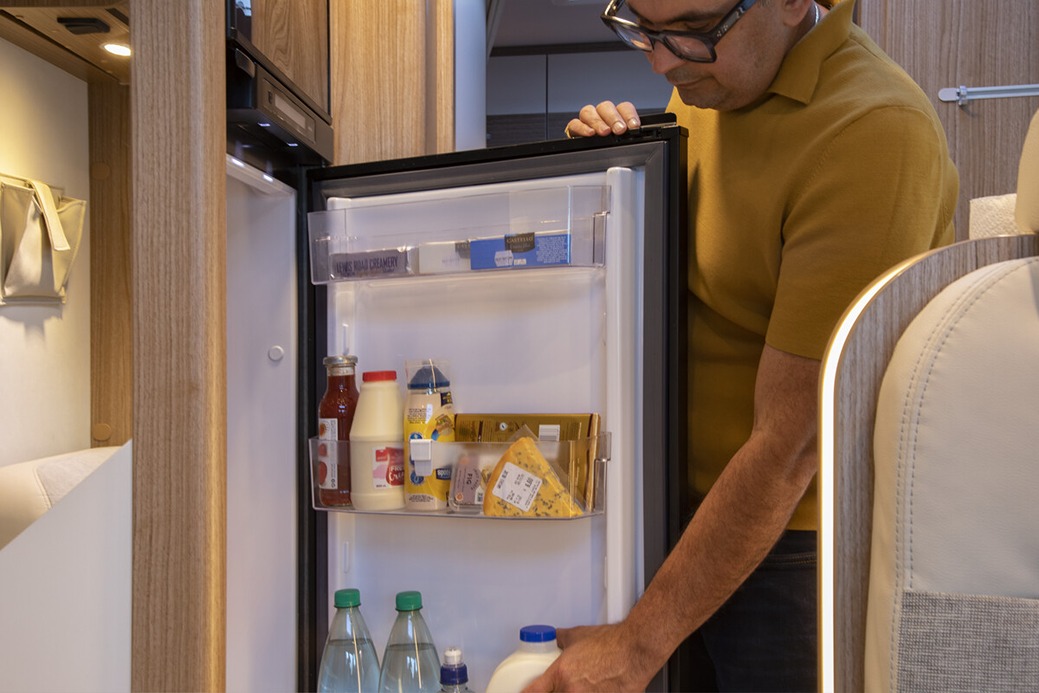 Find out more about motorhome 12V house batteries and how they can power your appliances when you're off-the-grid.
Check the fridge when cold


Motorhome fridges can take hours to get cold when they're first turned on. Ask the seller to turn it on before you arrive — so you can more accurately gauge how well it works.
Verify the validity of the warranty


New motorhomes are typically accompanied by multiple warranties covering the base vehicle, the motorhome conversion and all onboard appliances. When buying a used motorhome, you can often expect the balance of the warranty to be passed onto you as the new owner.


Make sure you verify the warranty cover with the authorised dealer of the motorhome brand.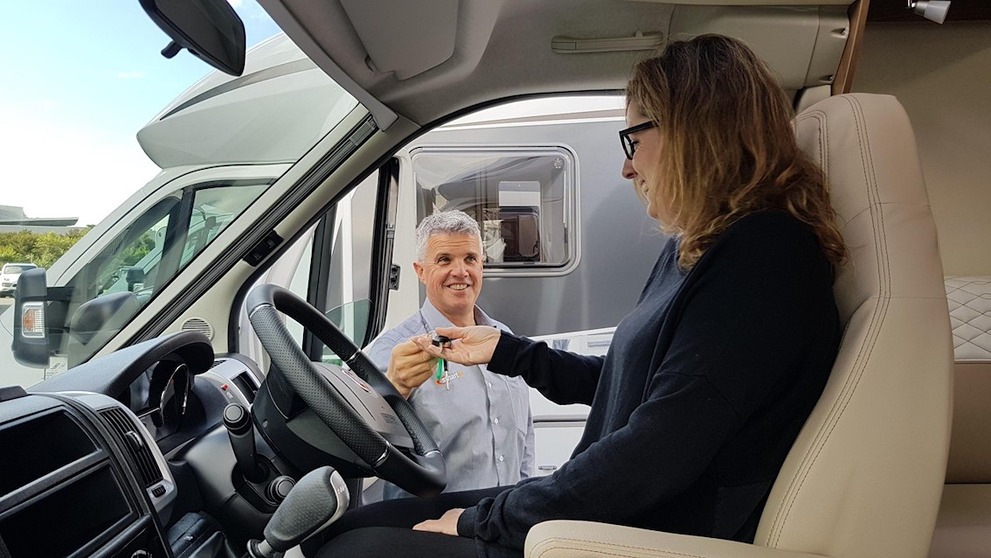 For an off-the-shelf motorhome, you can expect the warranty on the:
Base vehicle to be about two years
Motorhome conversion to be between two and five years.

Motorhomes built in a production factory tend to have a longer warranty than those that are custom-built.

Some premium motorhome brands offer a water tightness warranty of five, seven or even ten years. That's definitely worth checking — especially given that leaks are one of the biggest problems with motorhomes.

Be aware though that water tightness warranties require annual checks by a certified provider to be valid. Look at the original warranty documents along with the paperwork for the required compliance checks.

Find out more about motorhome warranties.
Warrant validity
If the motorhome has a water tightness warranty, check with the authorised dealer that the annual inspection requirements have been met and that the warranty is still valid.
Determine the cost of a used motorhome
Research the motorhome layout and specifications you're after and compare prices over a few months so you get a realistic idea of the market.


Trade Me Motors is a logical place to start as it's where many dealers and private sellers list their motorhomes. As a general rule, the more kilometres a motorhome has on the clock, and the older it is, the cheaper it will be. Ex-rental motorhomes don't usually go on the market until they have done at least 120,000km.

Prices for secondhand campervans or motorhomes for sale can vary greatly. You may be able to get an older motorhome with fewer kilometres for a similar price to a newer model with higher kilometres.

Your personal preference will dictate what feels like value for money. However, it's important to be aware of the total cost of motorhome ownership.

Included in the total cost are items like insurance, vehicle licensing, maintenance, repairs, fuel and storage — plus depreciation costs. Some motorhome brands hold their value better than others. Vehicle age, kilometres driven and the motorhome's general condition play a role too.

Read our motorhome depreciation guide for everything related to depreciation.
How do deal with repairs


If you've thoroughly inspected the motorhome that takes your interest, you may have a list of items that need repair. This is the time to decide whether you want to:

Proceed with the purchase and undertake the repairs yourself, or




Make the completion of the repairs a condition of purchase.




If you choose to arrange the repairs yourself, make sure you price them into the purchase price.



Decide if it's better to buy privately or from a dealer
You essentially have two options when deciding to purchase a used motorhome. You can arrange to buy through a private seller — or you can approach a dealership and buy an ex-rental campervan or motorhome for sale.


Regardless of which option suits you best, make sure all the paperwork is in order and the RV has evidence of compliance and recently received a full service.

When you buy from a private seller, all the risk sits with you. When you buy from a licensed dealer, not only are you protected by the Consumer Guarantees Act but also the trading standards required of licensed motor vehicle dealers.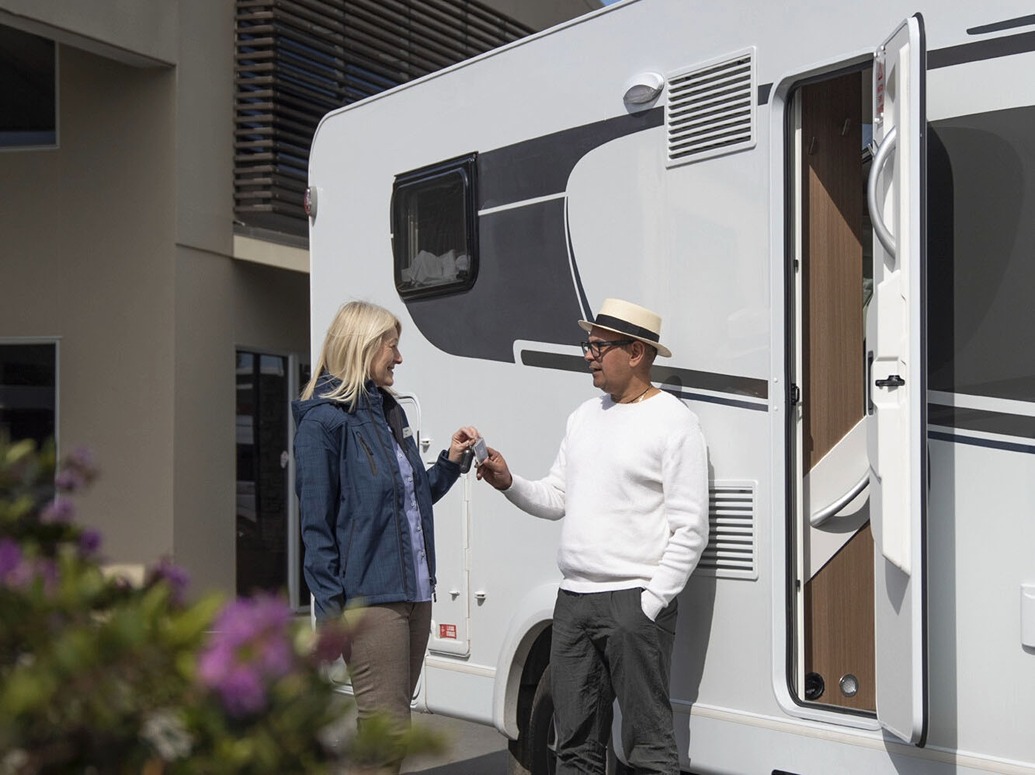 At a dealership, motorhomes generally come with full mechanical checks, warrants and after sale support. A dealer may also have spare parts more readily available for the vehicles they rent and sell.

Enquire as to whether the dealer can help you with options for finance.
If you're buying a diesel motorhome, it also pays to check how many more kilometres you can travel before you need to start paying road user charges. If you're looking at an ex-rental, you may be able to try before you buy. Hire the same, or similar, model to what you're considering buying — to truly feel what it will be like to own.

No matter where you buy, the purchase of a motorhome is a big investment so you should always do your due diligence. Check the:
Current registration papers of the vehicle — along with the CoF or WoF
Gas safety certificate (GSC)
Electrical warrant of fitness (EWoF)
Self-containment certification — not just the sticker on the vehicle but the actual certificate
Evidence that the water tightness warranty is valid.
Purchase with caution

It's recommended to have a new gas certificate and EWoF, plus a brand new water tightness test, and a new CoF or WoF (within the last 30 days) before you decide to purchase. Either ensure the dealer is providing this documentation or arrange to get these tests done.


Better to be overly cautious than to experience buyer remorse.
History of the recreational vehicle
If you have any concerns about the history of the RV, you can get a full report covering registration and ownership history, compliance records, importation details and the odometer history. Simply visit ThatCar or CarJam and enter the motorhome's license plate.


Take a few minutes to check the motorhome's history — and avoid getting scammed.
Before you drive off in your new used motorhome, make sure you have adequate insurance cover. Obtain a quote from your insurance company and get an insurance plan in place before you drive off into the wilderness.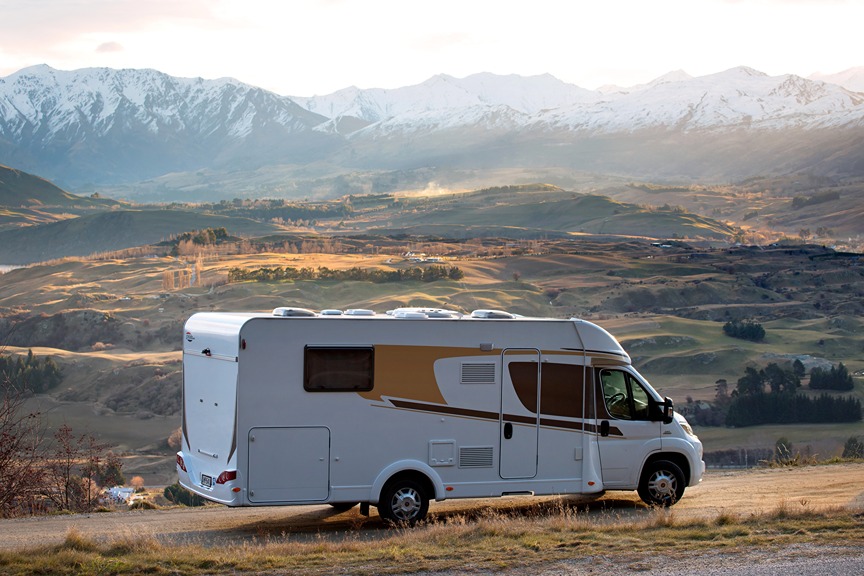 ---
Get a clearer idea of how much it will cost you to own a used motorhome in New Zealand.