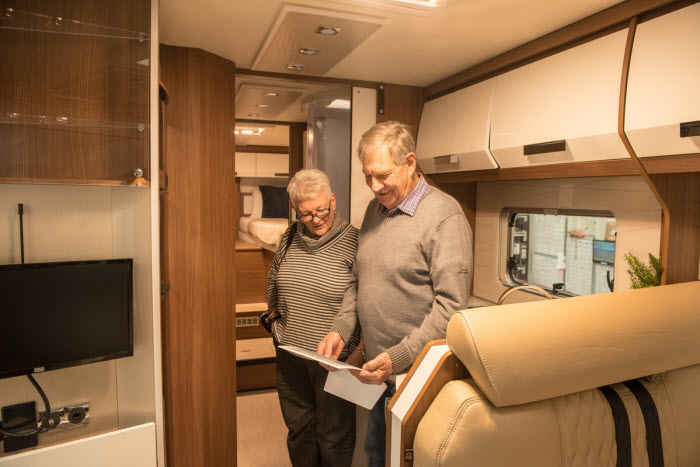 Buying second hand is a great way to get into the motorhome market or upgrade to a different model. Used motorhomes are more affordable than new, but of course they've also already seen some action. So, it's important to check the motorhome carefully before making a purchase. Here is collection of top tips and everything you need to look out for to ensure you're getting a reliable vehicle and avoiding common pitfalls.


What is the best second hand motorhome to buy?
Buying a motorhome, just like many other large purchase, usually starts with drawing up a must-have list. The list of features that are important to you should take into account your personal preferences as well as how you plan to use the motorhome. It's worth taking the time to carefully think through your priorities.

Many motorhome buyers find that as soon as word gets out that they're in the market, they're bombarded with advice from well meaning people. Motorhomers love to share the features they love about the motorhome they own, which they believe make it the perfect motorhome. Here are some examples we often hear: "you'd be crazy to buy a motorhome with an offside habitation door", "you'll regret not buying a motorhome with front wheel drive", or "you must have storage capacity for 300L of fresh water".

The reality is that there is no such thing as a perfect motorhome as no one motorhome is perfect for everyone. You'll see campgrounds full of campervans and motorhomes of all shapes and sizes and each one is just right for their owner. So, before you incorporate the advice of others in your list of "must-haves", think about how you intend to use the motorhome and what would work for you.

Water storage capacity is a great example. Some people swear by large water tanks that allow you to take long showers every day. Others are happy with the standard 120L you'll find in most European motorhomes. Lots of water storage means extra weight. People who want to keep the gross vehicle mass (GVM) under 3500kg (and there are substantial advantages for this) will use their motorhome differently than those who aren't concerned about vehicle weight. How would you use your motorhome? Do you need a four minute shower every day? Or would a one minute shower suffice?
Tip #1

There's no such thing as a "perfect" motorhome. Listen to advice from friends but make up your own mind about what kind of motorhome is going to work for your unique needs and preferences.

Quality
Personal preferences aside, structural soundness, reliability and comfort are key and that's why many trusted German brands hold their value so well. They are known for their quality and longevity as well as innovative features. There are a few general differences between New Zealand made and German made motorhomes. Read our blog to find out more.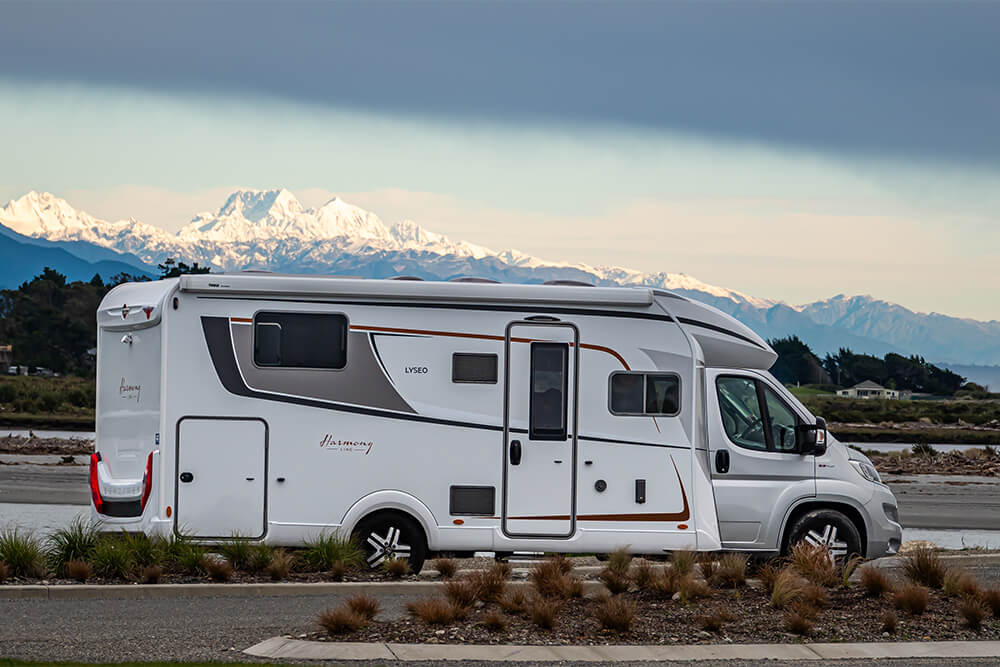 Look for a quality motorhome that's been well maintained and regularly serviced that comes from a trusted seller. In terms of the size and layout, there are many different options. It really comes down to personal preference as to which configuration is best. Consider what's important to you while you're on the road. Would you prefer a super comfortable permanent bed or would you be happy with a lounge that converts to a bed? Would you like a separate toilet and shower or would you prefer to save space and go with a combined toilet and shower? Will you need a large fridge? Is a good heating system important? How much storage do you need? Read our guide to motorhome length, layout and bedding for more information.


Tip #2


You're less likely to have issues if you purchase a trusted brand motorhome from a trusted seller.

Custom built vs off the shelf
Off the shelf motorhomes (those built on a production line) are generally a more cost effective option than custom built ones where the previous owners invested a lot of money into getting just the right thing for them. Owners who get a motorhome built to fit their unique needs often spend way more than they would on a similar off the shelf motorhome. When they go to on sell the motorhome, they may have expectations of recouping what they invested in the motorhome. While off the shelf motorhomes come in numerous layouts, they generally conform to a handful of popular ones. However, a highly personalised custom build may not suit most buyers which makes it harder to sell.

If you're looking at a custom build, check what was customised and compare it with the specification of a factory built motorhome. Custom builds often have bigger fresh and grey water tanks and bigger batteries. Can you see the value for money in these for your travel preferences? The craftsmen who custom build motorhomes usually don't have access to the same range of materials that a large scale factory does. Check what materials the builder used and ensure that these are fit for purpose. It also pays to check that the motorhome is fully compliant with the rules for vehicle modifications and self containment.

Weight can be another differentiating factor. Off the shelf motorhomes are generally built to tight weight specifications. Manufacturers work hard to keep the gross vehicle mass (GVM) to under 3500kg in the light truck category. Heavier motorhomes have a higher total cost of ownership, including fuel consumption and cost of registration and warrants. Custom built motorhomes are likely to be heavier and would then incur higher running costs.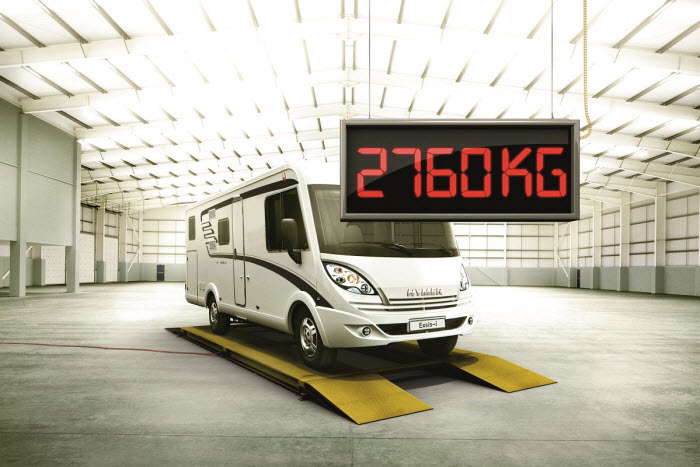 Look at the add ons or extras such as extra batteries, solar panels, and satellite dishes and understand how much these really cost. You may be able to customise an off the shelf motorhome with the same extras at a more affordable price.


Tip #3

A highly personalised custom build may not suit most buyers so think twice about the resale value.
Ex rental motorhomes
Rental motorhomes are built to withstand heavy usage and high mileage. They are designed to drive many thousands of kilometres each year. At the end of their rental life, a well maintained motorhome of a reputable brand can still be in great condition (unlike many rental cars). A rental motorhome will rack up the mileage much quicker than a privately owned one. It will do around 20,000 - 40,000 kilometres a year while a privately owned one may do closer to 5,000 kilometres a year. So when you compare an ex rental with a privately owned motorhome with the same mileage, the ex rental will be much newer. Since base vehicles have improved greatly over the past 10 years, you'll get a lot more comfort and safety features in a newer model.

Ex rentals will usually come with a spec sheet which details the motorhome's construction and gives a full list of features. Unlike cars, it's often hard to find a full list of motorhome specifications when purchasing a used one. If you don't have a spec sheet, it's difficult to know what you're buying. As well as the specifications of the base vehicle like engine size and safety features, a spec sheet will tell you all the important weights and measurements and other features that the previous owner may not know like what insulation the motorhome has and the type of construction. Motorhomes with advanced construction methods like glass reinforced plastic (GRP) and thermofloors offer considerable benefits but if the information is not supplied, you won't know.

A specification sheet will also be useful in determining any changes that have been made to the motorhome by a previous owner. Aftermarket modifications, especially if they aren't done by a qualified tradesman, may not be safe or compliant. If you discover or even suspect any changes to gas or electrical systems, you should get an updated gas compliance certificate and electrical warrant of fitness (EWoF) pre purchase.

Always ensure that all maintenance and compliance checks have been completed before you purchase an ex rental. A full service history is helpful.


Tip 4

You can often find ex rentals from trusted brands that still have plenty of reliable motoring left. Many of these have a lot more modern features than a privately owned motorhome which has done similar mileage.
How do I know that the base vehicle and engine are sound?
Once you're ready to start inspecting motorhomes for sale, ensuring that the base vehicle is sound will be at the top of your list. Used motorhomes can have quite a few kilometres on the clock, but unlike car engines, motorhome base vehicles have engines that are designed for the long haul. A motorhome on a reliable base vehicle like Fiat Ducato, VW or Mercedes which has done a couple of hundred thousand kilometres will still offer many years of reliable service to a new owner.

Carefully check the mechanical service history. Check that the motorhome was serviced at the correct intervals and the correct motor oil was used as specified by the base vehicle manufacturer. Cheap oils may reduce servicing costs but will have a detrimental effect on the reliability of the engine over the long term.

Ensure the certificate of fitness (CoF) or warrant of fitness (WoF) is current. A motorhome purchased from a licensed dealer must have a CoF or issued no more than a month ago. You can learn more about CoF and WoF here. Check when the last service and warrant was completed and what work was done on the motorhome.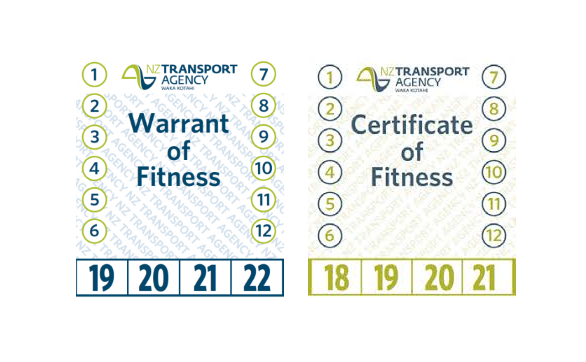 A test drive is key so take your time. Check the performance of the motor and motorhome as a whole. Look for signs of mechanical wear including burning oil, smoke or overheating. Listen out for any abnormal or unexpected noises and rattles. Take a partner or friend with you to test the motorhome from both the passenger and rear seats. Once you're satisfied with your test drive and checks, it can be good idea to organise a pre purchase inspection with a qualified mechanic especially if you are buying from a private seller.


Tip 5

Ensure that the motorhome has been serviced according to the manufacturer's recommendations, including using the correct motor oil.

What should I check on the exterior of the motorhome?
Other than poor engine reliability, the most serious issue you want to avoid is water ingress. Most new motorhomes are built to a high standard of water impermeability and the manufacturer will often warrant for this. However, any motorhome is at risk of leaking. The most common leaks are caused by a manufacturing fault, damage especially to vents and windows, or poor installation of accessories, especially on the roof or windows.

Look out for sealants around windows, vents and lockers as this could indicate a potential past leak. You should also check for water marks inside the motorhome and around the windows. See the section below for signs of leaks inside the motorhome.

Check the exterior of the motorhome for any damage and signs of repair work. Dented panels or uneven paintwork may be a sign of repairs and is worth closer inspection. Rust can be a problem on some motorhomes as they are frequently used in harsh environments, such as coastal areas or mountainous regions that use salt and grit in winter. Make sure you (or even better - a professional) check the underside of the motorhome for corrosion. This can be a bit of an effort, but it's certainly worth it as repairs to the chassis can be costly. While you're under the motorhome, check the waste water pipes for damage or leaks.




When you work your way around the motorhome, check that all external lockers open easily and have keys. Check the gas bottle(s) certification is current. Have a close look at the tyres and check their tread. Finally, inspect any motorhome add ons such as bike racks, satellite dishes and solar panels. Since these items are added after the motorhome leaves the factory, ensure that they have been correctly fitted. Ask about their weight and their impact on the overall tare weight of the motorhome and its payload capacity. It's a good idea to get the motorhome weighed so you know the actual weight. Read our guide to motorhome weight and payload to find out more.

Tip 6

A thorough exterior check should cover signs of leaks, corrosion, poorly repaired body work, damaged pipes, and poorly fitted accessories.

What do I need to look out for in the motorhome interior?
Moisture leaks
Carefully inspect the interior of the motorhome for any sign of dampness or moisture build up. A healthy, well insulated and ventilated motorhome should have no signs of mould and mildew. Check the backs of curtains and blinds as well as seat cushions and squabs for mildew or mould spots. Carefully inspect the ceiling, skylights and windows for moisture leaks. Look for bumps or pimples on the wall linings as these can be a sign of moisture. Windows frames and panes are often areas where condensation accumulates and mould can easily grow on single glazed windows. Have a good sniff for damp or musty smells. Winter can be a good a time to view a motorhome to get a good feel for issues around dampness.

If you suspect that the motorhome may leak, it's important to get it thoroughly checked by a motorhome technician pre purchase so you know what you're getting yourself in for. If the leak or leaks have caused structural damage, you could be in for a repair bill in the tens of thousands of dollars.

Heating system
Next, check that there is a working heating system in the motorhome and find out how to operate it. What power sources can it use? Does it distribute the air efficiently throughout the motorhome? Does the motorhome have sufficient ventilation in built so you can leave the heater on overnight in winter? Many modern heating systems can use both electric power (when plugged into mains power), gas or diesel. Check the gas bottle and the connections and let the heater run for a while to ensure it works. It can take a while for the system to warm up so consider letting it run for at least half an hour to see how well it heats the space. Some motorhomes have a heater vent and a roof vent in the bathroom to allow this to be turned into a drying room for clothes and shoes in wet weather conditions. Double check if the motorhome has insulation and double glazed windows.


Lights
Try out all the lights to ensure they work. LED lights are standard in modern motorhomes as they are extremely energy efficient and long lasting. Reading lights and task lights in the kitchen are typically the ones that get the most use so ensure they are in good working order and give enough light. It's possible to retrofit lights but a certified electrician must do this. Some modifications may require re-certification of the motorhome. While you're considering the lights, it's a good idea to have a close look at the motorhome's 12V house battery. Find out how old it is and check its charge and how long it lasts.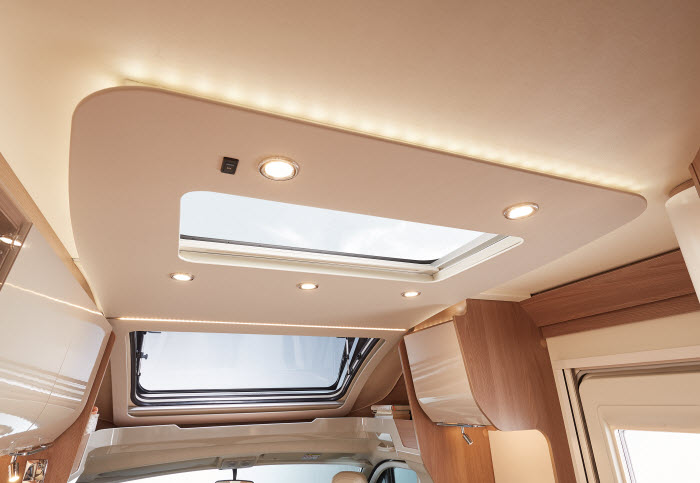 Cupboards and lockers
Cupboards and furniture can be damaged or show excessive wear and tear in older vehicles. Check that the veneer hasn't lifted and that all the hinges and locks work. Ensure the cupboard doors all align and tap the closed doors to get a feel for how snugly they fit. Loose doors not only cause noise while travelling but may also cause further damage. Make sure to inspect all cupboards and lockers really well from the inside taking care to reach into every corner, checking pipes and wiring, plus any dirt build up. A poorly sealed habitation unit will let dust in. Over time, the dust will settle and become dirt.

Check the window latches and insect screens are in good working order. And don't forget the habitation door plus storage lockers or garage accessible from the outside. Some newer European motorhomes have central locking in not just the cab but the habitation door as well so make sure that's working.


Beds
A motorhome's layout and bed configuration are often key factors for buyers and can have a big impact on lifestyle and comfort on the road. Make up the bed and try it out. If the bed is assembled from the lounge seating, check how easy it is to put together and ensure that all the necessary pieces are there. Is it comfortable? If the motorhome has a fold down bed, ensure the mechanism works smoothly and that the safety nets are all there. For over the cab beds, attach the ladder and test it out.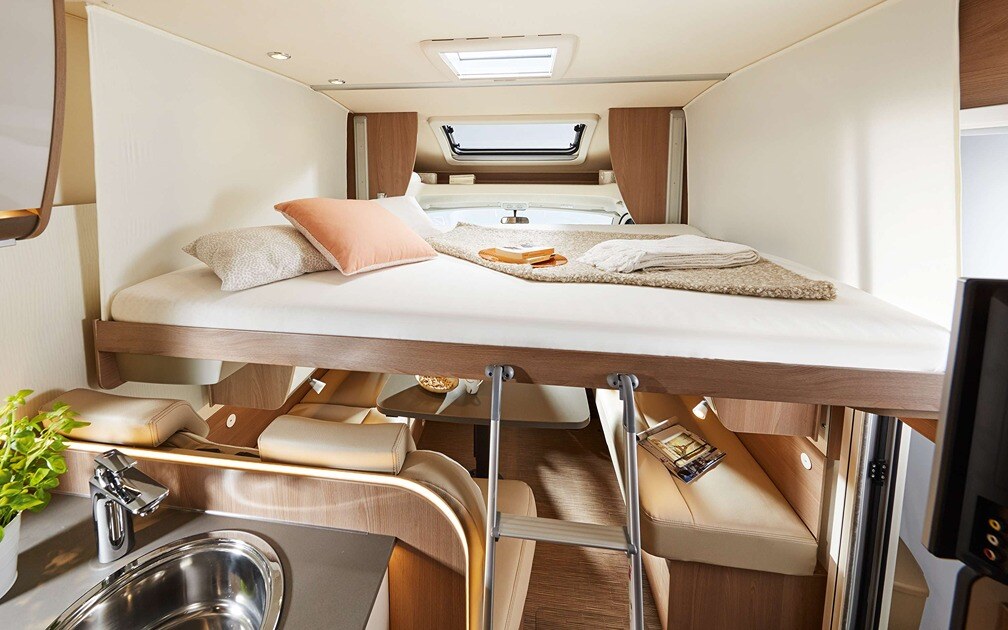 Appliances
Take your time testing out all the appliances in the motorhome with a focus on the oven, fridge, water pump and central heating unit if it has one. Turn on the oven and hobs to make sure they work. For fridges, the gold standard for modern motorhomes is a three-way fridge that can run on 240V power (when you're connected to mains power), the 12V house battery or gas. Fridges can take hours to get cold when first turned on. Ask seller to turn it on before you arrive so you can properly gauge how well it works.


Toilet and bathroom
Last but not least, inspect the toilet and bathroom carefully. Is this one large wet room or does it have a division into dry and wet area? Does the bathroom have sufficient storage cupboards? Is the toilet easy to operate and the cassette easy to empty? Toilets can be integrated, freestanding or 'sliding' (where you slide them into position for use). Check the removal of the toilet cassette from the external locker. It should easily slide out while fitting the space snugly and the end cap should seal properly. Check for signs of wear and tear. Any excessive rub marks or added sealant are warning signs.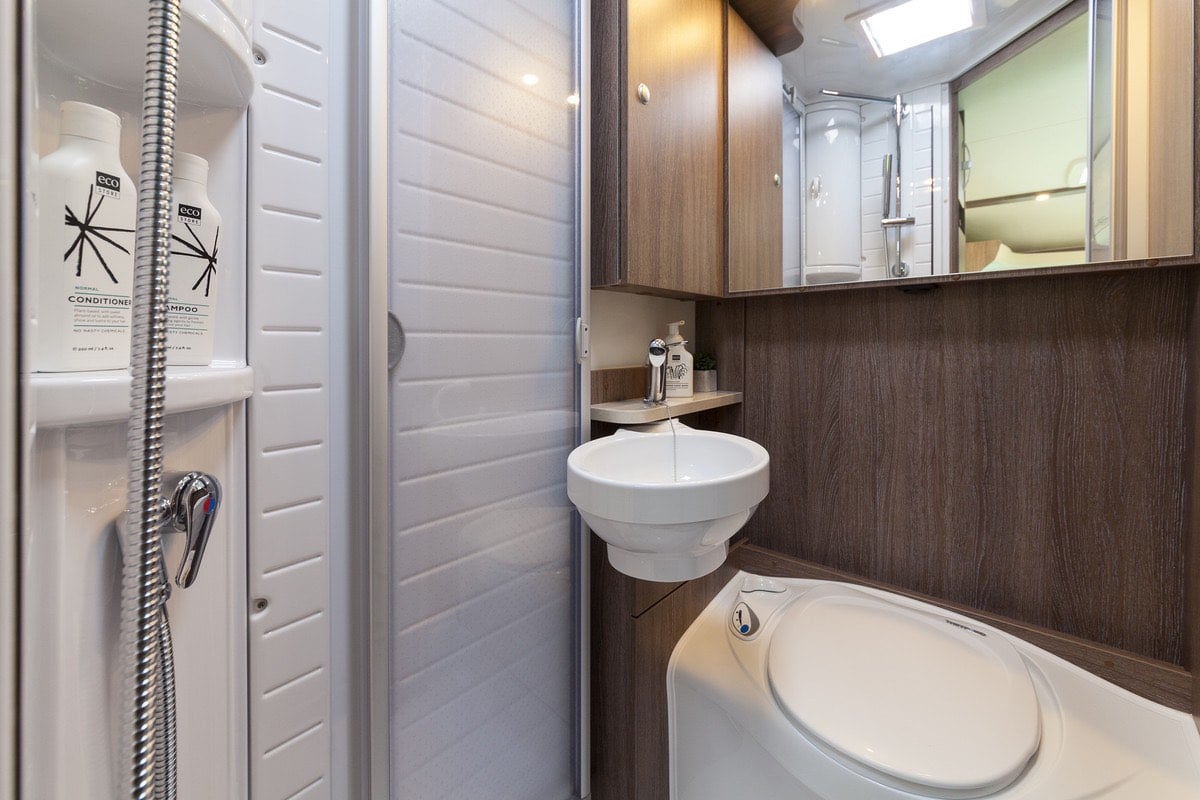 Tip 7

Get the seller to fully charge the batteries and turn on the fridge before you inspect the motorhome so you can check all appliances work properly.

Will the warranty still be valid?
New motorhomes come with different types of warranties for their base vehicle, the motorhome conversion itself and all the appliances on board. The balance of a warranty will generally be passed on to the new owner. However, if the motorhome has been parallel imported, this may not be the case. If in doubt, verify the warranty cover with authorised dealer for the motorhome brand.

You can expect the warranty on the base vehicle to be about two years and the warranty on the motorhome conversion of an off the shelf motorhome to be between two and five years. Motorhomes built in a production factory tend to have a longer warranty than a custom build.

Some premium motorhome brands offer a water tightness warranty of 5, 7 or even 10 years. That's definitely worth checking, especially considering that leaks are one of the biggest problems with motorhomes. However, water tightness warranties require annual checks by a certified provider to be valid. Check the original warranty documents along with the paperwork for the required compliance checks.
Tip 8

If the motorhome has a water tightness warranty, check with the authorised dealer that the annual inspection requirements have been met and the warranty is valid.

How much does a used motorhome cost?
Research the motorhome layout and specifications you're after and compare prices over a few months so you get a realistic idea of the market. Trade Me is a good place to start as dealers and private sellers usually list their motorhomes here. As a general rule, the more kilometres a motorhome has on the clock and the older it is, the cheaper it will be. Ex rental motorhomes don't usually go on the market until they have done at least 120,000km.

Prices for second hand motorhomes can vary greatly. You may be able to get an older motorhome with fewer kilometres for a similar price to a newer model with higher kilometres. It comes down to your preferences as to what's better for you. Whichever way you go, it's important to be aware of the total cost of ownership. This includes insurance costs, vehicle licensing and CoF or WoF, maintenance and repairs, fuel and storage as well as depreciation costs. Some motorhome brands hold their value better than others and, of course, vehicle age, kilometres driven and the general condition play a role too. Read our motorhome depreciation guide to find out more.

If you've done a thorough inspection of the motorhome you're interested in, you may have a list of items that need repair. That's the point to decide whether you want to proceed with the purchase and undertake the repairs yourself or make the completion of the repairs a condition of purchase. If you choose to arrange the repairs yourself, make sure you price the repairs into the purchase price.
Tip 9

A final word on price. The importance of determining whether the motorhome is watertight can't be overstated. We've seen bills of $20,000 plus to repair structural damage caused by water leaks.

Where is the best place to buy a used motorhome?
When you're looking for a used motorhome, you'll be buying it from either a dealership or a private owner. In either case, ensure that all the paperwork is in order and the vehicle has had a full service and evidence of compliance. When you buy from a private seller, all the risk sits with you. When you buy from a licensed dealer, not only are you protected by the Consumer Guarantees Act but also the trading standards required of licensed motor vehicle dealers. At a dealership, motorhomes generally come with full mechanical checks, warrants and after sale support. Unless the motorhome is sold "as-is, where is", it the CoF or WoF must be no older than 30 days. If you're buying a diesel motorhome, it also pays to check how many more kilometres you can travel before topping up the road user charges. If you're looking at an ex rental, you may be able to try before you buy and hire the same or similar model to really put it through its paces.

No matter where you buy, the purchase of a motorhome is a big investment so you should always do your due diligence. At a minimum, check the current registration papers of the vehicle along with the CoF or WoF, gas compliance, electrical warrant of fitness, self containment certification (not just the sticker on the vehicle but the actual certificate and the warrant on the windscreen), and evidence that the water tightness warranty is valid. If the motorhome is on a CoF and was built in New Zealand after 2005, it will need an LT400 certificate.
Tip 10

We recommend that you get a new CoF or WoF (within 30 days), a new gas certificate and EWoF, plus a brand new water tightness test before you purchase. It's better to be overly cautious before you part with your hard earned funds than to experience buyer's remorse.

If you have any concerns around the history of the vehicle, you can get a full report (for a fee) covering registration and ownership history, compliance records, importation details, odometer history and more. Scams involving people buying and selling vehicles on Facebook, Trade Me, and other websites are common so a few minutes checking the vehicle history will save the pain of being scammed. Go ThatCar or Carjam websites and enter the motorhome's licence plate.

Finally, before you drive off in your new used motorhome, make sure you have adequate insurance cover. Obtain a quote from your insurance company (or better still, from two or three different insurance companies) and get an insurance plan in place before you drive away.
---
Ready to explore quality used motorhomes?
Contact one of our sales team, they'll be happy to help.
---