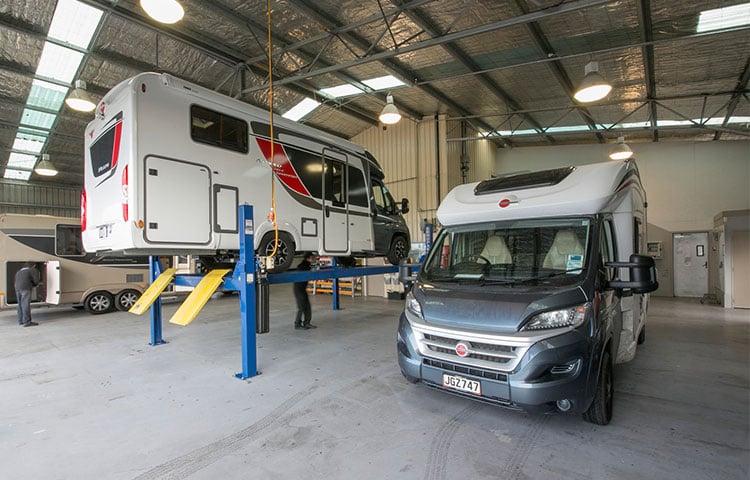 For many motorhome buyers, checking warranty cover is at the bottom of the checklist after details like engine, chassis, or interior touches.
However, warranty cover is too important to be forgotten especially if issues arise after you drive out the gate. It's a good idea to study the warranty of the motorhome you're looking at early in the buying process - not only because you'll know what to expect if issues arise but also you'll get an indication of the confidence the manufacturer has in their product.

This post will guide you through five key things you should know about warranties before buying a motorhome to alleviate impact on your wallet in case you require repairs in the future.


What is covered by a motorhome warranty?
Motorhome warranties usually cover both the base vehicle and the motorhome conversion. The warranty on the base vehicle is backed by the vehicle manufacturer and the warranty on the motorhome conversion is backed by the motorhome manufacturer.
There may also be separate warranties on some appliances backed by the appliance manufacturer.


Do motorhomes vary in terms of warranty period?
Motorhomes built in a production factory usually have much longer warranties than custom builds. That's because the manufacturer builds every motorhome to a standard specification. Most motorhomes built to a standard specification usually perform in the same way giving the manufacturer confidence in setting the warranty period. That being said, motorhomes, whether they are built in a production factory or hand built in a custom workshop, are all assembled by a human to a greater or lesser extent. Therefore, unlike a car, motorhomes built in the same production may perform better or worse than a motorhome of the same make and model depending on the skill of person who assembled it.

Durability and reliability are key factors influencing the design of a production motorhome. Since warranties are a significant selling point, many manufacturers focus research and development on improving durability and reliability so they offer longer warranties.

The warranty is also an important component of the motorhome cost since the manufacturer carries liability for the motorhome long after it has left the factory. So expect to pay more for a motorhome with a longer warranty.


What are the crucial things I should look for in a warranty?
One of the most common points of failure in motorhomes (and caravans) is water ingress. Because a motorhome shell is comprised of many more pieces than a car, the opportunity for water to get into the motorhome is much higher. Water damage can be significant and costly to repair. Several manufacturers have focused on building watertight motorhomes and offer water tightness guarantees to back them. These range from three years to ten years.


Who is responsible for addressing warranty issues?
While it's the motorhome manufacturer that sets the warranties, responsibility for providing warranty sits with the dealer who sells the motorhome. This means if you have any issues with your motorhome during the warranty period, you need to contact the dealer the motorhome was purchased from. This can be a downside for people considering importing a motorhome purchased from a dealer overseas. While there may be a NZ dealer who sells the brand you have imported, they are only responsible for the motorhomes they sell so you will need to take your warranty claim to the overseas dealer.
What does warranty cover on a used motorhome?
A used motorhome only a few years old may still have the balance of the purchase warranty. Check the length of the manufacturer's warranty, that the warranties have been registered with the manufacturer and also that all the manufacturer's requirements on that warranty are valid. Warranties provided by the base vehicle manufacturer will require servicing by an authorised agent and water tightness or impermeability guarantees will require regular water tightness testing by an approved agent such as Wilderness.
If you're interested to know about our motorhome warranties and guarantees, please visit this page. Our Rest Easy warranty applies to all our new or used motorhomes and covers any mechanical issues as well as issues with the fit-out.
Have more questions about warranties?
Our team of motorhome experts can get answers to your questions obligation-free. Get in touch, we'd love to hear from you.