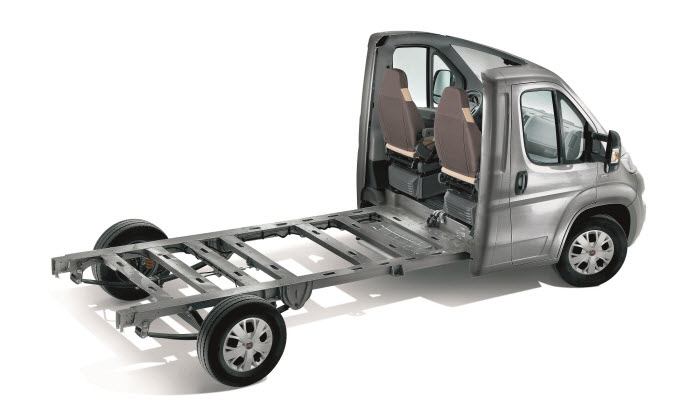 Motorhome features like layout, berths and storage are all important considerations when looking to buy an RV, but elements like the chassis and construction are critical too, as they are key to a vehicle's overall quality.

The chassis is crucial when it comes to on-road performance and safety, while the construction will determine the vehicle's weight, durability, thermal properties and ease of repair and maintenance.

Chassis
The chassis of a motorhome underpins (literally) its on-road performance and handling. While there are several brands used by motorhome manufacturers around the world, the most widely used chassis by far is the Fiat Ducato. In fact, Fiat claims that in Europe, 3 out 4 recreational vehicles are built on a Ducato base.

With more than half a million motorhomes produced in the past ten years, the Fiat Ducato is the most popular motorhome base vehicle for European manufactured motorhomes. The Ducato earned the top spot because Fiat specifically designed a base for motorhome conversion. This means it performs better, is safer and more comfortable than other base vehicles that are designed for a truck conversion. It also comes in a range of wheelbases, lengths and engine sizes so it's possible to get a different configuration if you want to carry more weight or get improved performance. The Fiat Ducato has dominated the motorhome conversion space for well over a decade winning the Promobil award for Best Motorhome Base for 13 consecutive years.

Supply issues with the Fiat Ducato over the past couple of years have seen manufacturers add the Peugeot Boxer and Citroën Jumper to their line up. All three vehicles are produced at the Sevel Atessa factory in Italy so while the badge may be different, the vehicles themselves are very similar. Mercedes Sprinter is also popular and comes with a good reputation. As a manufacturer of premium European vehicles, its motorhome chassis are highly regarded and often found in top-of-the-line motorhome brands like HYMER.

Ford has attempted to break into the lucrative motorhome manufacturing market with a lower priced cab and chassis but has struggled to convince the big manufacturers to switch from the Sevel-built brands. Entry-level motorhome brands such as Tribute and Chausson have been built on the Ford Transit for many years. However, mid to high-end brands such as Bürstner and Dethleffs are built on Fiat Ducato and Mercedes Sprinter.

It's important to consider the reputation of the lower-cost base vehicle for providing reliable motoring. A less expensive base vehicle might be easier on the pocket initially, but you could be in for big bills as soon as the motorhome is off the road for repairs. A base vehicle from a well-known manufacturer is likely to have fewer issues when it comes to sourcing parts or servicing locally.

Find out about the new Series 8 Fiat Ducato which has key upgrades in performance, environmental impact, safety and refinement.
Impact of chassis weight on cost

Because the cost of the base vehicle is the biggest component in the cost of the motorhome, an upgraded base vehicle will have a significant impact on the final price of the motorhome. Manufacturers can lower their costs (and the price in market) by building the motorhome on a lighter chassis. The trade off here is that a big motorhome built on a light chassis will have much less payload than one built on a heavier chassis. So if you want a big motorhome that can carry lots of luggage and extras, you need to give careful consideration to weight.

The motorhome manufacturer sets the GVM (gross vehicle mass) for each motorhome, which dictates how much weight the motorhome can safely carry on its chassis. A large motorhome that sits on a relatively light chassis (e.g. 3,500kg) won't leave you much in payload, which includes the occupants and anything else you carry on board.

You may be better off buying a more expensive motorhome on a heavier chassis (e.g. 4,250kg) so there's plenty of payload capacity – particularly if you plan to carry any large items like golf clubs, e-bikes or boats or want to add extras like a satellite dish, awning or solar panels.

From 2020, all 4-berth Bürstner motorhomes imported by Wilderness are on an upweighted 4,250kg chassis to give customers more flexibility when it comes to adding or carrying extras.

The motorhome's weight determines whether a warrant of fitness (WOF) or certificate of fitness (COF) is required. Vehicles with a GVM under 3,500kg require a WOF and those over 3,500kg require a COF. Since the compliance costs are higher with a COF, some buyers shy away from a heavier chassis because of the COF requirement. If you're looking to save money on a lighter chassis, you need to carefully consider whether you will have sufficient payload once fully loaded.

You can find out more about WoF and CoF requirements from NZTA and also about useful weight terms in our blog article.

Vehicle weight (in particular, gross laden weight or GLM) also has a bearing on what type of driver's licence you are required to have to drive your motorhome. Motorhomes with a GLM of 6,000kg or less can be driven on a car licence (class 1).


Construction

While not obvious on first inspection, there are numerous elements of the motorhome's construction that have a considerable bearing on its performance, durability, thermal properties (warmth and ventilation), water tightness, interior noise, plus ease of repair and maintenance.

Very early caravans used wooden frames with metal or fibreglass panels to create a strong and solid, albeit heavy, vehicle. A heavy vehicle was considered to be the most robust. But overtime, as water inevitably invaded, the wood rotted causing significant issues. Most manufacturers then turned to laminates to solve this problem. While laminates didn't rot, some delaminated.

Modern manufacturing uses strong, bonded laminates. Sometimes these are paired with technology developed for the aircraft industry. This includes honeycomb (light and strong) and closed pore polyurethane foam which is impervious to water and provides excellent thermal properties.

Aluminium and fibreglass are used for light, waterproof construction that has strength and durability. Powder coated aluminium is easier to maintain but is more susceptible to dents. Fibreglass is more dent resistant but heavier. A fibreglass finish can fade over time and may require more maintenance to keep it looking good.

Many higher end motorhomes including Bürstner are now built with glass reinforced plastic (GRP) roofs and some also with GRP floors. A GRP roof gives enhanced protection from hail and severe weather and a GRP floor increases durability as well. HYMER's PUAL 2.0 bodywork, considered among the most advanced in the industry, uses a multi-layer wall construction of aluminium and synthetic foam to withstand all external weather conditions.

A few manufacturers of higher end motorhomes have introduced, over the past few years, models with an all on one level floor from the cab to the rear. Not only does the one level floor make moving around easier and safer, it comes with additional underfloor storage, thermal properties, and pipework sandwiched within the two layers.


So why don't all manufacturers go down this route? A one level or continuous floor provides a much higher level of manufacturing complexity and therefore, cost. Motorhome floors were traditionally wooden and sat directly on top of the chassis which could cause issues with water tightness and heat retention. While wooden floors are now rare, a motorhome built using a cheaper construction method may have one or more internal steps, wheel arches in the bathroom reducing usable floor space, and limited if any underfloor insulation.

While most manufacturers provide adequate insulation in the ceiling and walls, underfloor insulation is less common. Like in your own home, a well insulated floor will have a major bearing on winter warmth and comfort.


Interior noise and construction


Construction is also key when it comes to interior noise reduction. You don't want to set off on your first road trip and find you can't hear your travelling companion over the noise of the engine and rattling furniture! Good quality construction materials should help reduce engine noise inside the motorhome but the only way to be sure is to do a thorough test drive of any motorhome on different road conditions.

A road test will be helpful for determining drivability and noise but won't tell you how well the motorhome will withstand the type of use you plan to subject it to over time. A good indication is an endorsement of a third party quality management organisation such as the International Organization for Standardization (ISO). In 1995, HYMER became the first caravan manufacturer to become ISO 9001 certified. Since then, Bürstner and Hobby, among others, have become ISO 9001 certified.


Construction durability

Perhaps the best indication of how confident a manufacturer is with the durability of the motorhome's construction is the length of the water tightness warranty. Bürstner recently extended its water impermeability guarantee from five to ten years underscoring their confidence in the quality of the motorhome build. It's important to remember that a water tightness guarantee requires a regular water tightness test by an approved agent. The test is the responsibility of the motorhome owner. If a claim is made and the water tightness testing is not up to date, the guarantee will be void.


---
Related Articles: