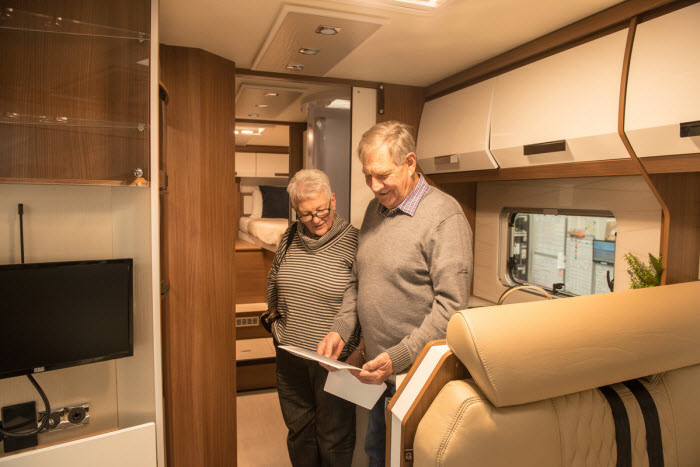 Once you've decided to embark on a life of exciting adventures in your own RV, one of the first considerations will be your budget. There are motorhomes to suit all types of budget but, as with any purchase, you get what you pay for. An RV is a significant purchase and doing some research will mean you can feel comfortable that you're choosing the right vehicle from the right company, and can enjoy worry-free motorhoming for many years to come.

Here, we look at some of the things to consider when it comes to the purchase of a motorhome.


How much do I need to spend?

One of the first things to think about is how you want to use your motorhome. There are four main questions to ask yourself:
How many of you will use the motorhome regularly? Is it just you and your partner, are you a family with children, or would you like to travel with friends too? You might travel with your family or friends from time to time, but always keep yourself in mind when making your final decision.
Do you plan to stay at holiday camps mainly, with just an occasional night freedom camping, or would you like to have the option of freedom camping (i.e. off the grid, away from electricity) for several days at a time? A lot of owners freedom camp or stay in NZMCA campgrounds were facilities may be limited.
Are you happy with just the basics on the road, or would you prefer more home comforts?
What is your budget? The most expensive motorhomes are not always the most suitable to your requirements.
Knowing the answers to these questions will help to decide the size of vehicle you need (number of beds, etc) as well as some of its features and capabilities.
Under $50,000
Older vehicle – likely a van or bus conversion.
May not meet self-containment standards (i.e. not suitable for freedom camping)


$50,000 - $100,000
Used refurbished European brand motorhome


$100,000 - $140,000
New value brand European motorhome


$150,000 - $200,000
New mid-range to premium European motorhome


$200,000 - $270,000
New deluxe European motorhome with luxury fixtures and features


New or used?

Buying a brand new motorhome brings the peace of mind that comes with knowing something is in perfect condition and under warranty should anything go wrong in your first years of ownership.

However, there is also a good market in second hand RVs from reputable dealers that can help to stretch your budget further. These are usually ex-rental vehicles and come extensively refurbished with a warranty. If you are considering buying a second hand RV, be sure to ask what sort of After Sales support is available to you.


Total cost of ownership

Beware of any hidden costs when buying a motorhome. Make sure you understand who you are buying from, what is included and what you will need to budget for on top of the purchase price.
Look carefully at the purchase price – does it include GST, on-road costs, and roadside support?
What does the warranty cover and for how long? Are maintenance and repairs covered under this?
How reputable is the dealership? Are they well regarded with a proven track record in happy customers? Do they offer After Sales Service?
How often will you need to service the vehicle and how much will this cost? What is the availability of parts and support?
How much will it cost you to insure the vehicle?
Have you factored in depreciation? Depreciation rates can vary greatly depending on the brand, model and age of the vehicle you buy. Some brands are known for holding their value better than others.


What happens after I buy?

It pays to buy from a reputable dealer with a proven track record in After Sales service and customer satisfaction. Look for a company that offers After Sales support, as well as clear information on maintenance, parts and servicing. Your dealer should also be able to offer advice on upgrading or adding features to your motorhome.


Renting out your RV

If you don't plan on using your motorhome regularly, then consider renting it out to earn some money and let it start to pay for itself. SHAREaCAMPER is a platform for New Zealand campervan, motorhome and caravan owners to connect with travellers and share their vehicles. It's an easy and secure way to earn some extra income from your RV when you aren't using it. Find out more at shareacamper.co.nz

More helpful reading:
RV Buyers' Guide – Motorised or Towed?
Find your perfect motorhome
Which motorhome brand is for you?
A motorhome made to measure
Why buying a used motorhome could be ideal for you
FAQs when buying from Wilderness
Self-containment and certification – the ins and outs