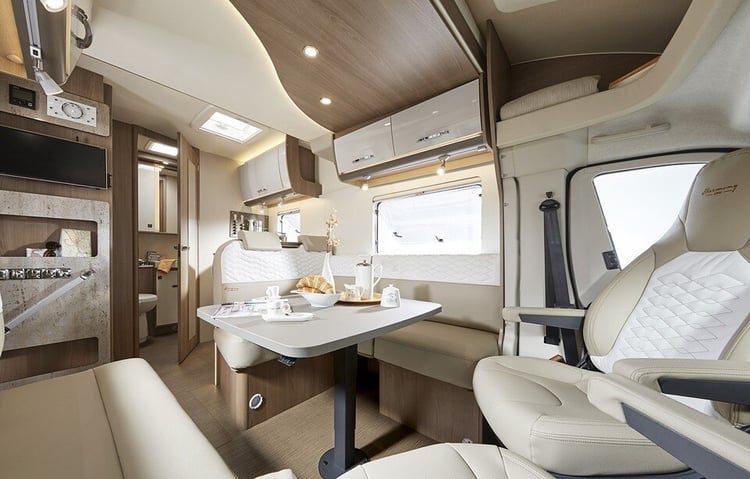 Deciding to buy an RV is the first step towards a life of exciting adventures and freedom on the road. Many factors will influence the price of a motorhome and it's important to understand these so that you purchase the best motorhome for your needs at the best price. Every aspect is going to affect the cost and not all of them are immediately visible.

Doing some research will mean you can feel comfortable that you're choosing the right motorhome for your budget and can enjoy worry-free motorhoming for many years to come.

Here, we look at the various factors that affect the cost of a motorhome along with some tips on what to look for.


Mass Produced or Custom Built
The majority of motorhomes for sale in New Zealand are mass produced in a factory from a limited set of designs. Custom built motorhomes, designed to the individual customer's specifications, have become less common over the past ten years as a greater range of ready-made motorhomes are available.

The main advantage of purchasing a ready-made motorhome as opposed to a custom built is price. The most significant components affecting a motorhome's cost of production are the components and labour. Like most automotive manufacturers, motorhome companies procure almost all components from third party suppliers. The single biggest component required is the base vehicle or cab and chassis. The larger motorhome manufacturers such as Bürstner purchase thousands of chassis per year. This gives them a significant purchasing power advantage over a bespoke manufacturer who may purchase only a few. The impact of a lower base vehicle cost can be several thousand dollars on the final price of a new motorhome.


Layout
By using standardised layouts, motorhome manufacturers reduce costs through operational efficiencies, automation which reduces labour costs (although there is much less automation in motorhome manufacture than in cars) and economies of scale. Economies of scale are not only relevant with the base vehicle but also all the other major components including fridges, heating, and furniture.

Perhaps the best example of a motorhome manufacturer who has focused on optimising operational efficiencies in order to reduce costs is German manufacturer Capron GmbH. Capron builds both the Carado and Sunlight brands for leading German motorhome manufacturer Erwin Hymer Group. At Capron, the number of floorplans produced is limited to the biggest selling models which allows for long production runs and a high level of standardisation. Capron has filled a niche for motorhomes at an entry level price point but built to a much higher standard than other entry level motorhomes.

Learn more about motorhome layouts in our Buyers' Guide – Length, Layout and Bedding.


Warranties
Motorhome damage can be significant and costly to repair which is why warranties are such a huge selling point. The warranty is also an important component of the motorhome cost since the manufacturer carries liability for the motorhome long after it has left the factory. Motorhome warranties usually last 3 to 10 years and cover both the base vehicle and the motorhome conversion. There may also be separate warranties on some appliances within the motorhome.

While it's the motorhome manufacturer that sets the warranties, responsibility for providing the warranty sits with the dealer who sells the motorhome. This means if you have any issues with your motorhome during the warranty period, you need to contact the dealer the motorhome was purchased from. This can be a downside for people considering importing a motorhome purchased from a dealer overseas. While there may be an NZ dealer who sells the brand you have imported, they are only responsible for the motorhomes they sell so you will need to take your warranty claim to the overseas dealer.

A used motorhome only a few years old may still have the balance of the new warranty. Check the length of the manufacturers' warranty, that the warranties have been registered with the manufacturer and also that all the manufacturer's requirements on that warranty are valid.

Learn more about five things you should know about motorhome warranties here.


Customisation
Bespoke manufacturers give customers the chance to design every aspect of their RV, allowing them to customise the build to their taste and style. However, these personal touches can add thousands of dollars to the overall cost.

The process begins with the customer meeting with the RV designer to create a home on wheels that fits the customer's exact specifications. Everything from the base vehicle to the finishing touches can be personalised to suit the customer's needs. There are even a few manufacturers that offer a scaled-back level of customisation to their standardized RVs. They usually allow the customer to change aspects of the vehicle's interior design such as furniture, upholstery, appliances, lighting and paint colours.

All in all, the added cost of customisation can vary depending on how many changes the customer would like to make to a base model or if they'd even prefer to start the build from scratch.


Age
Considering whether to buy a new or used motorhome is often a big choice, especially for first-time owners. While new motorhomes will offer the latest designs and technology, they also come with a more expensive price tag. Used motorhomes, on the other hand, will often be more budget friendly.

It is important to note that used motorhomes, while more affordable, do come with a few downsides. For one, you're less likely to be covered under the manufacturer's warranty and will need to cough up the costs for any repairs. Comparatively, new motorhomes give customers more peace of mind in terms of warranty and are equipped with modern features that are designed to elevate the motorhome experience.

Whether buying new or used, it's always worth thoroughly researching the options to ensure you're getting your money's worth.

Learn more about the benefits of buying new and used motorhomes in this post.


Mileage
Assessing the mileage is a major aspect when it comes to buying a motorhome, particular if you're looking at used vehicles. Mileage will frequently be a determining factor regarding the value of a vehicle and can also be an indicator of future maintenance and servicing costs. However, when looking at the mileage of a motorhome, you shouldn't weigh it like you would when buying a used car.

First off, used motorhomes tend to have a lot lower mileage than used cars, meaning it isn't too hard to find a used motorhome with low mileage. This is attributed to the fact that most owners use their motorhomes for weekend getaways and short trips, whereas car owners often drive their vehicles every day.

There are also other added benefits to buying a used motorhome even though it will have more mileage. Firstly, you may be able to find a used motorhome with lower mileage and higher specs for a similar price to a new motorhome with lower specs. This is because many motorhome owners will deck out their vehicle with features like tow bars, solar panels, and upgraded electrical systems which may not be fully reflected in the price.

Therefore, while you may not want to purchase a motorhome with high mileage, sometimes purchasing a used motorhome with low mileage rather than a new one may save you money in the long run.


Chassis
Because the cost of the base vehicle is the biggest component in the cost of the motorhome, an upgraded base vehicle will have a significant impact on the final price of the motorhome. Manufacturers can lower their costs (and the price in market) by building the motorhome on a lighter chassis. The trade off here is that a big motorhome built on a light chassis will have much less payload than one built on a heavier chassis. So if you want a big motorhome that can carry lots of luggage and extras, you need to give careful consideration to weight.

The motorhome manufacturer sets the GVM (gross vehicle mass) for each motorhome, which dictates how much weight the motorhome can safely carry on its chassis. A large motorhome that sits on a relatively light chassis (e.g. 3,500kg) won't leave you much in payload, which includes the occupants and anything else you carry on board.

You may be better off buying a more expensive motorhome on a heavier chassis (e.g. 4,250kg) so there's plenty of payload capacity – particularly if you plan to carry any large items like golf clubs, e-bikes or boats or want to add extras like a satellite dish, awning or solar panels.

From 2020, all 4-berth Bürstner motorhomes imported by Wilderness are on an upweighted 4,250kg chassis to give customers more flexibility when it comes to adding or carrying extras.

The motorhome's weight determines whether a warrant of fitness (WOF) or certificate of fitness (COF) is required. Vehicles with a GVM under 3,500kg require a WOF and those over 3,500kg require a COF. Since the compliance costs are higher with a COF, some buyers shy away from a heavier chassis because of the COF requirement. If you're looking to save money on a lighter chassis, you need to carefully consider whether you will have sufficient payload once fully loaded.

You can find out more about WoF and CoF requirements here and also find out more about useful weight terms here.

Vehicle weight (in particular, gross laden weight GLM) also has a bearing on what type of driver's licence you are required to have to drive your motorhome. Motorhomes with a GLM of 6,000kg or less can be driven on a car licence (class 1).

Learn about chassis in more detail from our Buyers' Guide – Chassis and construction.

Engine
Engines and chassis packs can have a huge impact on the overall cost of the motorhome. By closely checking the specifications, you'll be able to see if you're getting a standard engine and chassis pack or one that's been upgraded.

Your standard quality engine such as the Fiat Ducato will come with features such as electronic stability control, hill holder, rollover mitigation, traction plus, and hill descent control. An upgraded chassis pack, however, will include cruise control and speed limiter, lane departure warning system, traffic signs recognition, full brake control, and blind-spot assist. While an upgraded chassis pack does offer a higher level of safety, these upgrades can significantly increase the cost of a motorhome.

Another element of your motorhome engine that can save you several thousands of dollars is opting for manual transmission over automatic transmission. But the trade-off for performance and resale value of the motorhome should also be considered.


Craftsmanship
One aspect of a motorhome's cost that doesn't feature on any specifications sheet is craftsmanship. A bespoke motorhome built by craftsmen who take their time to ensure every component is perfectly fitted will give years of pleasure to the discerning owner. The purchaser is paying for the skill of the builder and the time spent creating perfection.

Mass produced motorhomes vary in the standard of care applied. Unlike cars which are usually built by robots, motorhomes are hand-built, even in the biggest factories. This means that build quality varies depending on the manufacturing process, the skill of the assembler (and even his/her state of mind on the day), and the quality assurance process. Don't assume that because the motorhome is more expensive it's well built. In fact, there are some motorhomes at the value end of the market that are among some of the most well built. German motorhome manufacturer Capron (which builds the Carado brand) focuses on the build quality as a point of difference. The manufacturing processes are simple to reduce errors, all staff on the factory floor are qualified tradesmen, and the quality assurance process is thorough.

It's worthwhile doing a thorough check of the interior and exterior of the motorhome your considering purchasing to look for signs of build quality and craftsmanship. Check that furniture and fittings are straight and attached securely to side walls. Poor alignment and gaps can be a sign of a shoddy build. Look for silicon sealant that has been used to cover evidence of gaps. Look at the care taken to fix fittings and wiring. If the screws are on an angle or half out then the builder wasn't taking care. If you find numerous signs of poor workmanship on a quick inspection, consider that the workmanship may be even worse behind the panels you can't see.


Considering the added costs or savings that can be made in each of these categories, means you'll be able to choose a motorhome that suits your budget without sacrificing your wants and needs. By collaborating with your sales agent and knowing your options, you'll be able to find a home on wheels you can enjoy for a lifetime.


Check out our range of motorhomes and prices here. Or even better - try before you buy. You'll see the difference in the price of our motorhomes vs others is more than justified by the quality and driving experience.