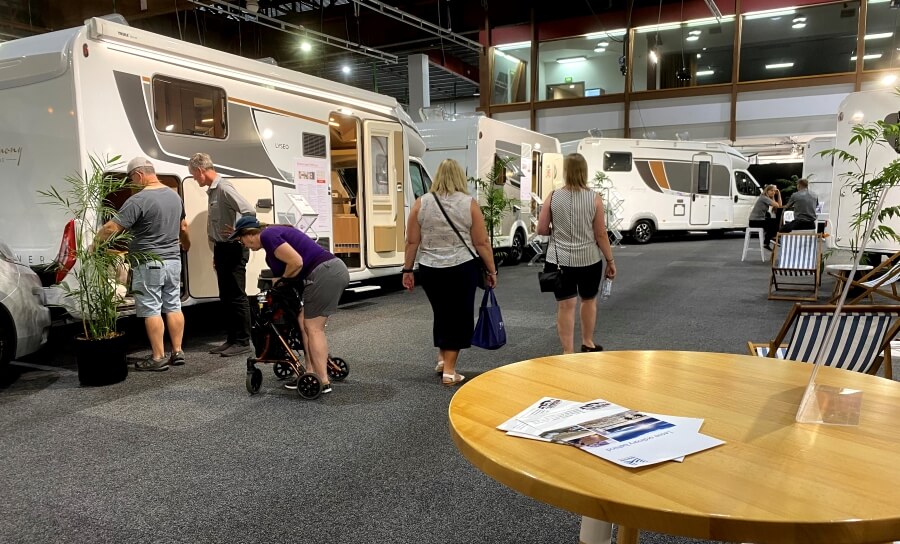 Cost is usually top of the list for most people when they're thinking about which motorhome is best suited to them, so it makes sense to ask the question, "Should I buy second-hand and save upfront, or pay more now and enjoy the benefits of an unused vehicle?"

"Price is a key consideration for buyers and this is usually what steers them toward either new or used," says Wilderness Motorhomes (formerly SmartRV) marketing director Mary Hamilton. "But this does need to be balanced out by other key factors such as layout suitability, ongoing costs, and overall quality."

"If you look at the market as a whole in New Zealand, there is a bigger market for used than for new. And of course, the market is experiencing unprecedented demand right now due to people not being able to travel internationally."

Mary says that Wilderness Motorhomes, who sell both new and ex-rental motorhomes, do sell more new than used vehicles, but that's more to do with supply. "With used sales, we sell only what's coming off our rental fleet, but we could sell a lot more secondhand if we had them available."


Purchase Price
A new motorhome is a considerable investment. Depending on the size, make and model, and base vehicle, you could pay anywhere between $70,000 and $700,000 for a new model.

There's no denying that there are considerable savings to be had in buying used, sometimes exceeding $50,000. However, as many buyers are discovering, supply is limited right now and means that sellers can demand a premium price.

Mary says a budget of $100,000 to $130,000 for a quality used unit with about 120,000km on the clock is realistic in this market.


Layout
In Mary's view, layout is the second biggest consideration among buyers, after price. And that can mean you're somewhat limited if you choose to buy secondhand. Buying new means you can choose the layout that best suits you, select from the most up-to-date vehicles, and choose from the latest styles (such as upholstery and furnishings).

"European motorhomes are quite different to Kiwi-built ones," Mary says. "They are built to be lightweight which means they can be driven on a WOF. They normally carry less water, have smaller kitchens, and are built on a smaller chassis. Many have a permanent or drop-down bed, rather than a lounge that converts into a bed.
"Depending on the size, make and model, and base vehicle, you could pay anywhere between $70,000 and $700,000 for a new model."
The lounge is typically at the front, which allows you to have the permanent double bed at the back. The latest designs offer the best of both worlds, with a rear lounge and a drop-down bed also at the back. But these are very hard to find secondhand – although the first of these will be coming off our rental fleet next year."


Warranties and Servicing
When you buy a new vehicle, it will come with a shiny new warranty. And because it's new, you'll have minimal maintenance costs, for the first few years at least. Buying secondhand from a registered dealer means you'll get the balance of any remaining new warranty. And if you're buying an ex-rental through a dealer, you have peace of mind in knowing their vehicles have most likely undergone regular, comprehensive servicing and maintenance.

When buying secondhand, ensure you get a service history and check that the specified products have been used, particularly oil. Some service providers use the cheapest oil rather than the correct one specified by the manufacturer, which can impact on the engine's lifespan.

A word about mileage: Potential buyers who have never owned a motorhome before can be unnecessarily alarmed at the high kilometres some motorhomes have done. It's worth noting that the base vehicles of motorhomes are designed to travel further and for longer than a car.

You might think twice about buying a car with more than 100,000km on it, whereas the base vehicles used for motorhomes are only just being 'broken in' at 100,000km. You can and do get reliable motoring at 500,000km in certain makes and models. Again, it's worth seeking advice on this from a trusted dealer.


Quality
Just like the thrill of buying a new car, there's something magical about stepping into your own brand new motorhome. Everything is pristine, the bed has never been slept in, and there's no wear and tear. New vehicles also come with all the desired bells and whistles including the latest performance and safety features.

Buying an ex-rental from a registered dealer means the vehicle will likely have had a thorough interior and exterior assessment, and that things like ripped upholstery or faulty latches will have been addressed.

A word about water damage: Water damage in a motorhome can cost tens of thousands of dollars to repair, especially if it gets into the wall linings, so this needs to be investigated carefully. European motorhomes come with a water-tightness guarantee for either five or 10 years – but for the guarantee to be valid, the vehicle needs to be checked annually. If you're buying a secondhand European model that has a water-tightness guarantee, it's vital to ensure the water-tightness checks have been registered.


Resale Value
Whether you choose to buy new or used, it's worth knowing more about the total costs of ownership. To help you work this out, Wilderness provides an online calculator that will give you an idea of the likely depreciation of the motorhome you're considering buying, as well as an indicative yearly cost of ownership including compliance, average running costs and more.


Discover the cost of owning a motorhome in New Zealand
* This article was originally published on Motorhomes, Caravans & Destinations magazine on October 2021.