Finding the right motorhome for your adventures can be tricky with all the different brands, specifications, features and layouts to choose from. In this article we're touching on German vs New Zealand made motorhomes and taking a closer look at some of their key differences.

Europe is the world's biggest market for motorhomes, but not every European motorhome is made to the same high standards. Within Europe, several German brands have built a global reputation for innovative design and exceptional comfort and reliability. The Erwin Hymer Group alone accounted for 26% of motorhome and caravan sales in Europe in 2019/20. They're proven market leaders with a host of industry awards under their belt. Their brands Carado, Bürstner and HYMER are for sale in New Zealand at Wilderness.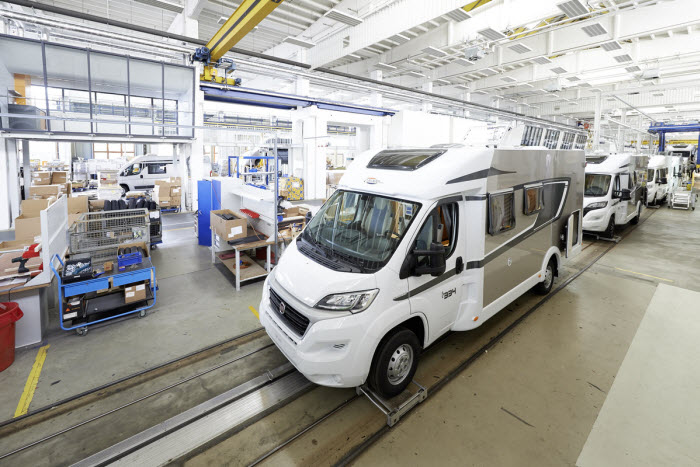 New Zealand manufacturers primarily produce motorhomes for the rental market, but there are several companies, such as TrailLite and the ALM Group, that make off-the-shelf motorhomes for the retail market. In addition to supplying its rental brands, Action Motorhomes also builds for the retail market. TrailLite has been in business for over 60 years and Action Motorhomes can draw on over 70 years of experience.

Here's what you need to know to work out whether a German or New Zealand made motorhome better suits your lifestyle.



Are the production methods different?
German motorhome manufacturers produce far more motorhomes per year than New Zealand companies. To give you an idea, the Erwin Hymer Group employs more than 7300 people globally and produces around 55,000 vehicles annually across its 20 brands. Think large-scale production lines and semi-automated manufacturing. They've been able to streamline processes and construction methods, benefitting from huge economies of scale. They've also been able to invest heavily into research and development.

In comparison, manufacturers in New Zealand tend to work in smaller factories and workshops. They rely more on individual craftsmen to build the different components of a motorhome. Action Manufacturing (with a team of around 250) builds more than 1000 maui and Britz rental motorhomes every year for their parent company thl. TrailLite manufactures around 80 motorhomes per year. The TrailLite range, Everland and Dreamland by Action Motorhomes and the Allisee Supremacy by ALM are all off-the-shelf motorhomes with a selection of standard floorplans. In addition to this, many Kiwi companies offer custom-built motorhomes.



Do German and Kiwi motorhomes use a different base or chassis?
Generally speaking, motorhome manufacturers from both Germany and New Zealand have access to the same range of base vehicles. These come from the world of commercial light vehicles and are generally supplied with the cab and chassis. A motorhome manufacturer then adds the habitation space. Base vehicles and specs can vary between German and Kiwi manufacturers and between different models produced by the same company.

With a 60% market share, the Fiat Ducato is a hugely popular base and really dominates the global motorhome market – for good reason. It's the only chassis that's been specifically designed for this market with a lower and wider chassis, offering a car-like driving experience and an excellent turning circle. In 2020, nearly half of all motorhomes registered in Germany were built on the Ducato, and it's been named 'best motorhome base vehicle' by the industry-leading German publication Promobil for the thirteenth year in a row. All Carado and Bürstner motorhomes for sale in New Zealand (at Wilderness) are built on the Fiat Ducato.

There are several other common options for base vehicles on the market including the Volkswagen Transporter, Mercedes Sprinter and Ford Transit. Also, Citroen's Jumper and Peugot's Boxer have both increased in popularity overseas. In New Zealand, TrailLite uses the Volkswagen Crafter, Mercedes Sprinter and Iveco Daily. The Allisee Supremacy motorhome is built on a Mercedes Sprinter. Action Motorhomes uses Renault and Mercedes for their retail motorhomes.

Base vehicles can be categorised as light (<3,500 kg) or heavy (>3,500kg), and there are pros and cons to both types. A heavy chassis can support more weight (think bigger water tanks and more gear) while a light chassis is more economical and cost-effective to run. Light vehicles require an annual WoF, whereas a heavy chassis needs a 6-monthly CoF. Read more about WoF vs CoF here. Two other important factors to consider are front wheel drive vs rear wheel drive and the size of the engine that's included.

Many of the motorhomes made in New Zealand are built on a heavy chassis and come with rear wheel drive. German brands, such as Carado and Bürstner, often have a light chassis and front wheel drive, which is suitable for most New Zealand adventures. For travel in winter where chains may be required, a front wheel drive can be the better choice. From 2021, the 4-berth Bürstner motorhomes available in New Zealand will be on a heavy chassis to increase the vehicle's payload and allow for more weight/gear to be carried. HYMER makes an off-the-shelf four-wheel drive motorhome that's built on the Mercedes Sprinter chassis.

Read our Buyers' Guide Chassis and construction and consider organising a test drive to check out the comfort and noise levels of the ride.
Do motorhome sizes and layouts differ between German and Kiwi brands?
When it comes to layout options, many traditional New Zealand motorhomes (and especially those produced for the rental market) have a U-shaped lounge with a table at the rear of the motorhome. The rear lounge converts into the main bed. It's also very common for Kiwi motorhomes to have an overcab or luton bed – a fixed bed above the driver cab. While this can be a handy feature to accommodate extra travellers, it can be harder to access and increases the motorhome's overall height, impacting on its drag and fuel consumption.

German motorhomes usually have a fixed bed installed at the back of the vehicle. This can be an island bed (with access around three sides), twin beds or a space-maximising king bed. The lounge is often located at the front of the motorhome, with swivelling driver and passenger seats optimising the available space. The big advantage of the permanent bed is that your bed is designed for sleeping so comes with a hotel quality mattress. A bed that converts from the lounge seating is dual purpose (seating and sleeping) so is less comfortable. A permanent bed is always made up ready for sleeping whereas a lounge conversion requires the bed to be set up from scratch each time.

Extra beds, that can be lowered from the ceiling (called fold down beds) via a hand-crank or a push button, are common in German motorhomes. These super convenient beds have proven to be so successful and popular that you'll now find them in most new 4-berth German motorhomes for sale in New Zealand. In fact, Bürstner invented the original fold down motorhome bed. This creates extra living space during the day and cuts out the need to convert seats into beds. As well as being highly convenient, fold down beds use high quality mattresses, much like the fixed beds, that allow for a good night's sleep. New Zealand's TrailLite and Action Motorhomes have also adopted this type of bed set up. Learn more about motorhome length, layout and bedding here.

Overall, German manufacturers tend to work with slightly shorter vehicles and include more refined features to make the most of every nook and cranny. For example, the 4-berth Bürstner models for sale in New Zealand are 7.49 metres long and 4-berth Carado motorhomes are 7.4 metres. In comparison, the NZ made Allisee Supremacy with luton is 7.9 metres long. TrailLite motorhomes are generally between 7.6 and 8 metres long, with their top end model measuring up to 9.1 metres.

Kitchens are often more condensed in German motorhomes. German manufacturers focus on making smaller spaces more usable with features such as rotating and extendable benchtops. German manufacturers will often exclude a microwave to save on weight and space (since it can only be used when connected to mains power), while it's typically part of the standard fit-out in Kiwi made motorhomes. However, you will often find decent sized fridges and separate freezers in German models which are less common in traditional NZ made motorhomes.

A motorhome bathroom is usually a small room with a toilet, shower and space for hanging towels and stowing toiletries. Manufacturers are challenged to prevent the whole room from getting wet when the shower is in use and to build in plenty of storage. In many NZ motorhomes, the bathroom is constructed as one room that gets completely wet when the shower is in use. German manufacturers have responded to this challenge by completely separating the shower and toilet rooms if space allows or using a clever swivel wall (variobad in German) that covers the shower when not in use and the toilet when the shower is in use. In addition to dry space, you'll usually find a lot more handy storage compartments in a German motorhome. You can turn the bathroom into a drying room for wet gear in Carado, Bürstner and HYMER motorhomes.
Water tanks tend to be bigger in NZ made motorhomes. While it's common to have a 120-litre fresh water tank in German models, the Allisee Supremacy can carry 250 litres of fresh water and TrailLite's 300+ series has a 300-litre fresh water tank. Action Motorhomes' Everland range is built to take a maximum of 110 litres of fresh water.

Since German motorhomes were originally built for countries that drive on the right, the door to the habitation space is offside (i.e. not on the kerbside) on New Zealand roads. In fact, this is the case for more than half of all motorhome brands imported into New Zealand. Kiwi companies build their habitation doors onside, which allows passengers to exit to the kerbside when parked along a road or city street. In most motorhomes (apart from fully integrated ones), you can enter and exit the motorhome safely via the cab. The thousands of Kiwi motorhomers who own German motorhomes have developed ways to mitigate this risk and keep their passengers safe. Learn more about offside and onside habitation doors here.

When you consider the layout of your potential future motorhome, it's worth thinking about how and where you would like to use electronic devices. Locate all the available power outlets. Are they easily accessible and suitable for your requirements? Are there enough power points throughout the motorhome? Kiwi motorhomes naturally have power points designed for NZ plugs but may have fewer power points than a German motorhome. All Carado, Bürstner and HYMER motorhomes available for sale via Wilderness have had their power points converted to take NZ plugs.



Which materials do German and New Zealand made motorhomes use?
The materials used to construct a motorhome conversion need to be lightweight and durable. Kiwi motorhomes are often made from fibreglass while many German manufacturers make their shells from glass reinforced plastic (GRP) or in some cases aluminium. Action Motorhomes in NZ use their Omnipanel wall and floor system, made from styrofoam sandwiched between fibreglass, for all their vehicles. Bürstner motorhomes have both a GRP roof and underside for improved strength and durability. For some of their premium motorhomes, HYMER uses a patented aluminium shell and aluminium interior wall system with a foam insulation sandwiched in between. Aluminium is robust and easy to repair. As an excellent heat conductor, it also allows the motorhome to warm up quickly in winter.

The key thing to keep in mind is that German motorhomes are generally designed and built for colder temperatures and year-round use. They include full insulation with double-glazed windows, underfloor insulation and a ducted central heating system. Bürstner invented the 'thermo floor' which is a double floor that includes extra insulation and underfloor storage compartments. It also creates a seamless one-level floor from the cab in the front through to the bedroom at the back, reducing trip hazards. Some new motorhomes built in NZ (including the TrailLite range) also have full insulation and double-glazing. It's worth checking out the exact materials and specifications of the motorhomes you are interested in as different manufacturers use different types of insulation and heating systems.



Is the warranty the same?
Different manufacturers offer different warranties. The warranty on the base vehicle or chassis is provided by the base vehicle's manufacturer (for example Fiat) while the warranty on the motorhome conversion and habitation space is provided by the motorhome manufacturer (for example Carado). Warranties on appliances within the motorhome are covered by the appliance manufacturer. Check our list of five things you should know about motorhome warranties here.

A common issue with motorhomes is water damage if water somehow finds its way into the shell. Many larger motorhome manufacturers have invested heavily into research and development to avoid water ingress and subsequent damage. As building materials and techniques have improved, so have the water tightness warranties. As an example, Bürstner extended their warranty to 10-years for new motorhomes purchased from 2019. Water tightness warranties require an annual test so that any signs of water ingress are picked up early. Getting the test done each year by an approved provider will ensure the warranty is valid.

Warranty claims are lodged through the dealership that sold you your motorhome so spend some time to research motorhome sales companies and the services they provide. What type of after sale support do they offer? How easy is it to get spare parts and accessories? It certainly makes life on the road so much more enjoyable when you know there's a team of experts you can rely on if you run into any issues with your motorhome.



How much do German made and Kiwi made motorhomes cost?
Prices for motorhomes can vary greatly so it pays to check exactly what you're getting for your money. German manufacturers – and especially market leaders such as Carado and Bürstner – benefit from huge economies of scale compared to New Zealand manufacturers. This means that you can generally get a motorhome with better materials and specifications for a lower cost than a similar one made locally. As a rough estimate, you will need to spend around 20 to 30 per cent more for a New Zealand built motorhome of a similar spec to a German-made motorhome.

When you're comparing the cost of a motorhome, it's not just the purchase price but the ongoing maintenance, regular checks, fuel consumption, et cetera that will add up to your total cost of ownership. Motorhome depreciation is another key factor to consider, and you'll want to make sure the resale value of your chosen motorhome brand stacks up. Read our guide to motorhome depreciation for details.



So which is the best motorhome to buy?
When should you be buying a German made vs a New Zealand made motorhome? As we've seen, almost every part of a motorhome – from base vehicle and wall materials through to layout and storage – comes in different variations. Whether a German or NZ made motorhome is better for you will depend on your budget and on which features and specs are important to you. How will you use your motorhome? Where do you want to go? How long for? How many people will be travelling with you and what sort of gear do you plan on taking? Once you've got a few models shortlisted, compare specifications and check what's included in the purchase price and what isn't. If possible, try before you buy, and organise a test drive.