Whether you're at home or on the road, sleep is important for our energy levels and general wellbeing. And when you're on a campervan holiday for weeks or months, the impact of a quality bed and bed layout that's easy to use can't be understated.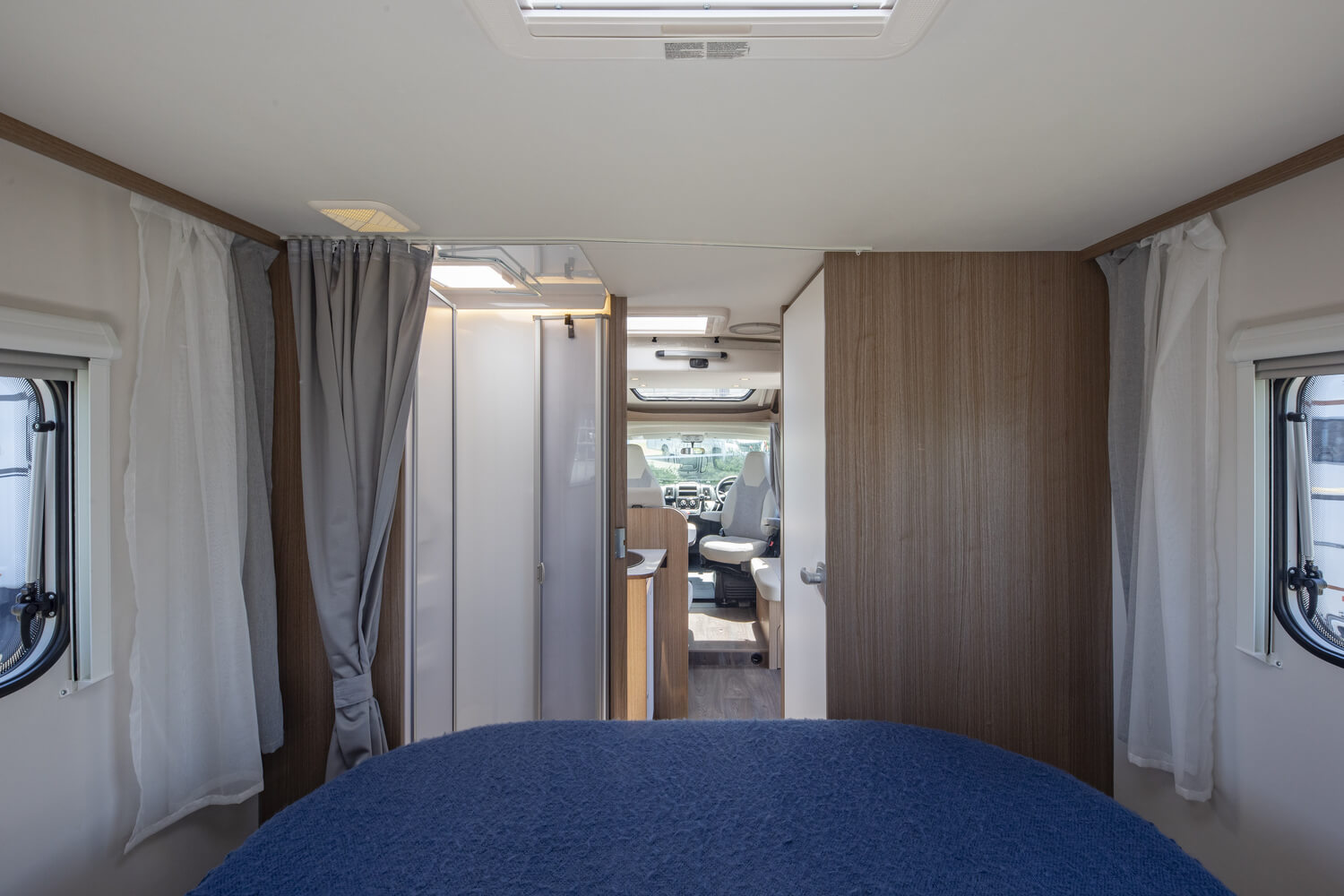 In this buyers' guide, we discuss the various types of beds and bed layouts — and how they affect the functionality of your motorhome.
Evolution of the motorhome bed
Early motorhome bed layouts favoured flexible use of space over comfort and convenience. As the industry grew, more emphasis was placed on ensuring a better night's sleep.

Recent innovations have solved many of the earlier issues so that the bedroom in a premium motorhome is now a place of solace — rather than an uneasy compromise.
The club lounge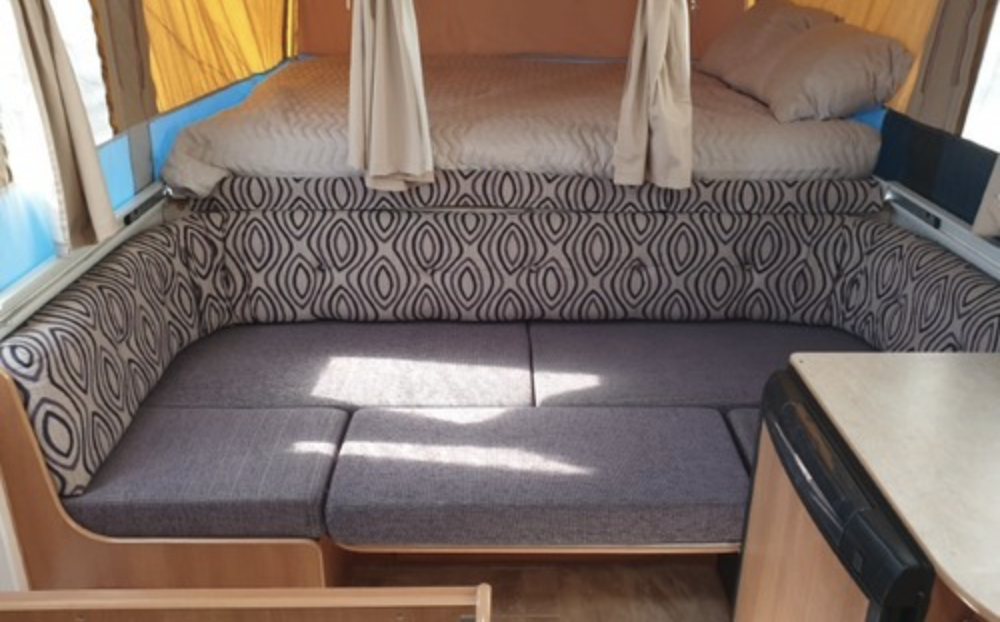 The main bed in the earliest motorhomes built in New Zealand was converted from the seating area or lounge. This simple design, known as the club lounge, created a dual purpose lounge and bedroom.

While the club lounge was cost effective to build and allowed for the living area to double as a bedroom at night, the set up was cumbersome and the bed uncomfortable.

A second double bed over the cab was also common with this configuration.
The permanent bed
Permanently installed beds that have just one purpose — a surface to sleep on — have been the preferred bedding system in Europe for decades. However, it wasn't until European motorhomes entered the New Zealand market in the early 2000s, that they became more commonplace here.

These beds greatly improve comfort and convenience by:


Reducing the hassle of setting them up

Providing a much better night's sleep than you'll get in a converted lounge.
The drop down bed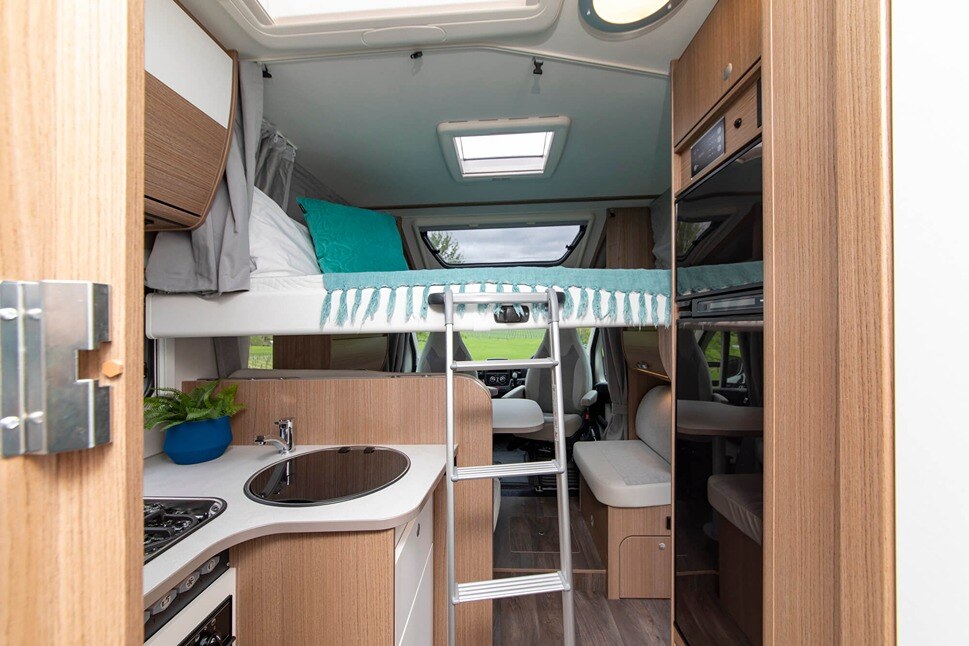 Beds that hide away in the ceiling when not in use — known as drop down beds — are the most recent innovation in motorhome bedrooms.

This revolutionary European design maximises the use of space in a motorhome by creating a dual purpose bedroom and lounge area combined with a permanent bed. Like the club lounge of the 20th century, it maximises the space — but with the benefits of a made up bed.
Motorhome bed layouts
Motorhome beds are either permanent or convertible.

Permanent beds are like those you have at home — with a solid base and mattress — and are either fixed to the floor or drop down from the ceiling. Permanent beds are usually kept made up — meaning you can jump into bed without delay.

Convertible beds are a seating area by day and change into a bed at night. The bedding is usually removed during the day so your bed can become a lounge, then replaced at night to convert back into a bed.

Converted lounges, fixed beds and drop down beds are the three most common RV bed setups — and each have their own advantages.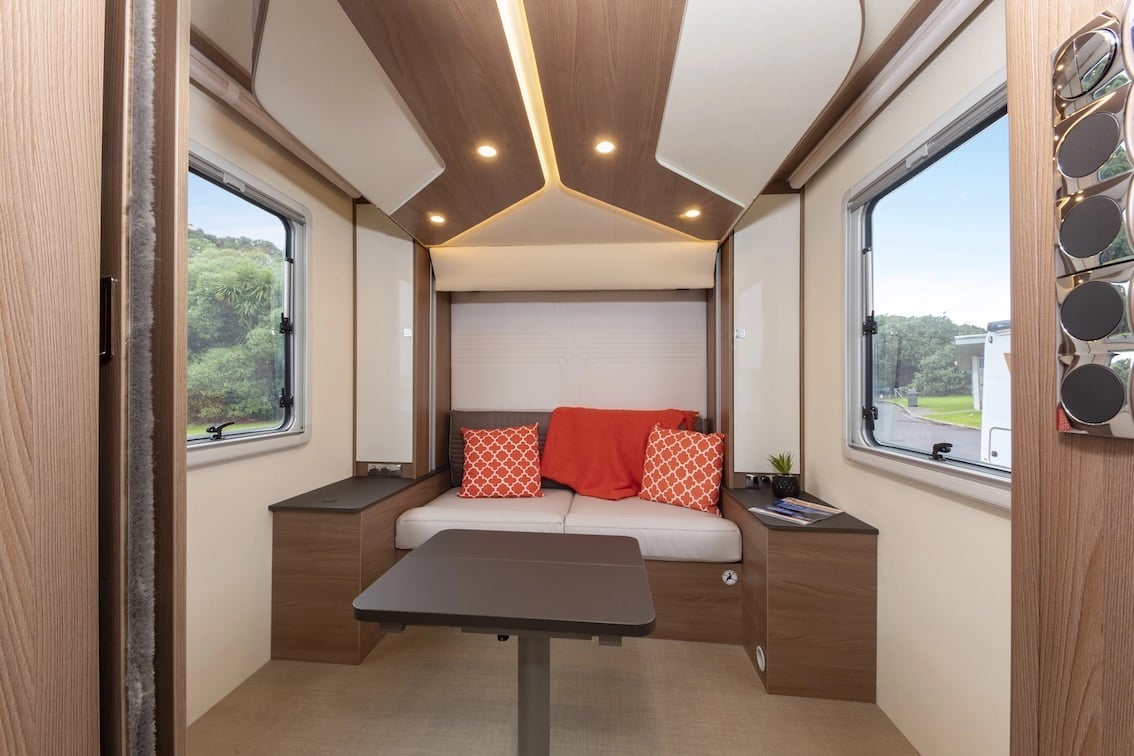 Converted lounges
The converted (club) lounge bed layout is a lounge seating area during the day which transforms into a double bed at night. The U-shape seat provides the main section of your bed's base.

Usually, an adjustable table is lowered to fill the void and make a complete bed base. The seat cushions are then rearranged to cover the bed base before adding sheets and blankets.

The same setup can also be used in a dinette with two bench seats and an adjustable table in between.

The advantages of a motorhome with a converted lounge are:


Optimising the use of space.

Enjoying panoramic views — as it's usually located in the rear with windows on three sides.




However, the drawbacks of the converted lounge are fairly significant.
For more information on lounge configurations, check out our RV buyers' guide to motorhome seating and lounges.
With dual use comes compromise
Cushions that are intended to be slept on should be flat yet lounge cushions are designed for seating — so they usually have contours for comfort. With dual use comes compromise and as a result, neither sitting nor sleeping is particularly comfortable.

Converting lounge seats into a bed is also time consuming and can take some effort. The time you need to assemble your bed base and add the bedding should be factored into your evening plans.

Will you have the energy at the end of each active day to make up your bed?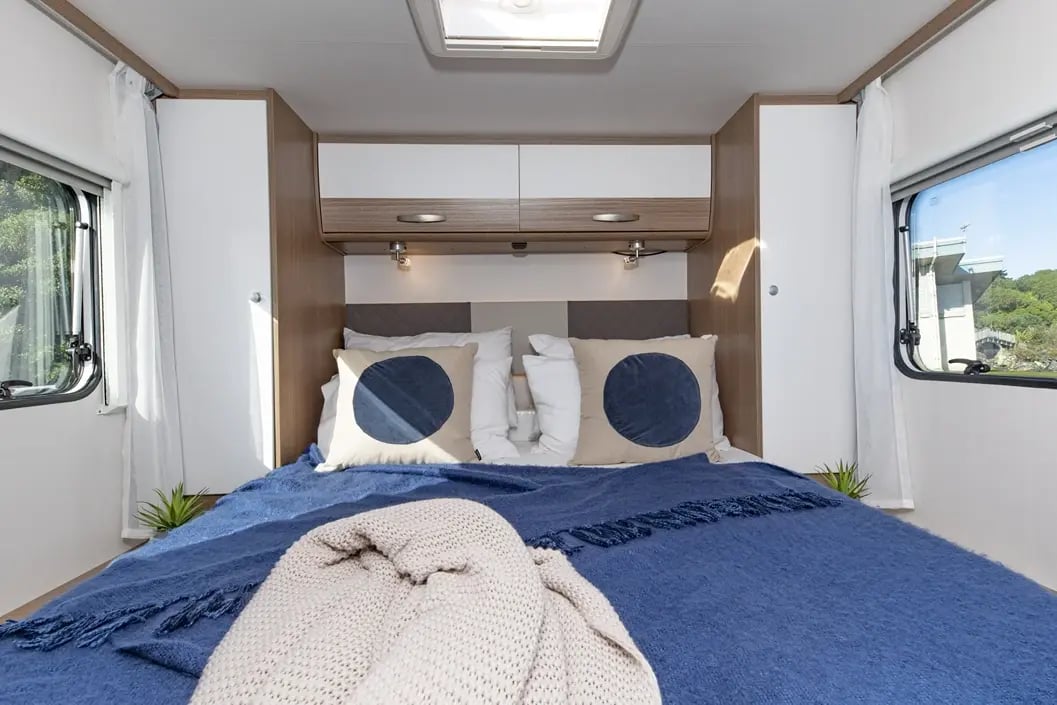 Fixed beds
The fixed bed layout consists of a top quality mattress with a sturdy bed base that's fixed to the floor of your motorhome.

The most comfortable motorhome beds are often fixed ones and come in several variations, including:


Single — usually in the rear and sometimes with an additional squab to join two singles together into a king
Cabover — is fixed in the space above the cab
Island — a fixed bed located in the centre of the back of your motorhome
French — commonly called a corner bed as it's positioned in one of the rear corners of your RV

Transverse — as the name suggests, a transverse bed sits perpendicular to the length of your recreational vehicle
Bunk — this is smaller and often fixed to the back wall of a motorhome.


The convenience of the fixed bed
Permanent fixed beds are also highly convenient because they remain made up during the daytime and are ready to fall into and sleep after a long day of activities.

If you plan to travel with a baby or toddler, a fixed bed can work well. You'll be able to easily fit in naps when your youngster needs a rest.
Drop down beds
Market-leading motorhome manufacturers put a lot of effort into research and development. So when Bürstner invented the original drop down bed, most other high-end brands soon followed suit.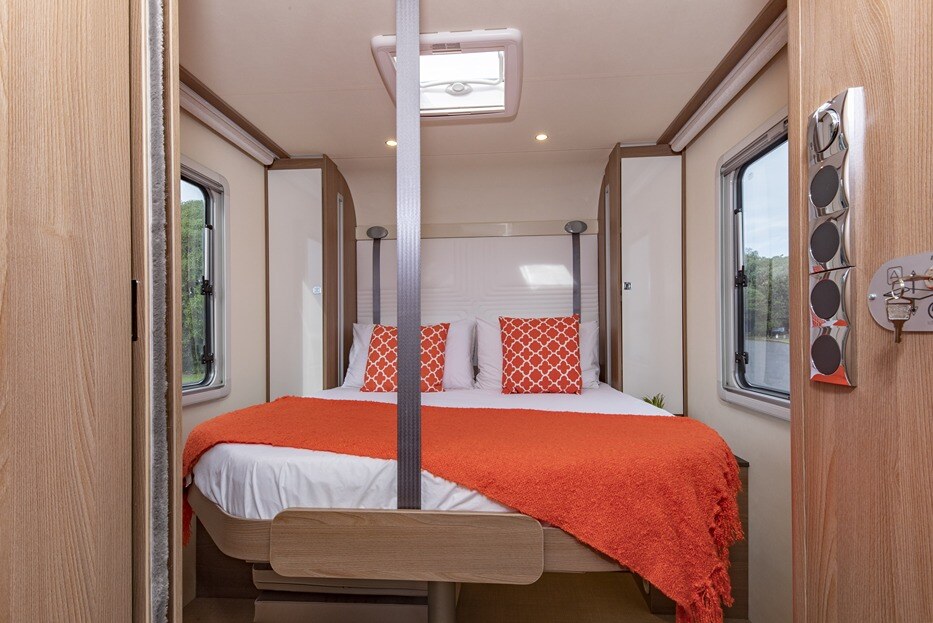 The drop down bed has now become a staple in many RVs because it:


Saves space — by tucking away into the ceiling during the day

Is more comfortable and convenient — than a converted lounge.




Drop down beds are generally positioned over the kitchen and dining areas. However, a few RV models feature dual drop down beds — one over the dining area and one in the back of the motorhome over the lounge. This configuration provides extra space and flexibility.
A spare for friends and family
Drop down beds can be particularly useful if you have friends or family you'd like to invite along for the occasional road trip.

The mechanisms and mattresses vary — but you can find manual and electric beds with mattresses in different sizes and thicknesses. Test them out and compare their sturdiness and comfort.

Even though your drop down bed will disappear into the ceiling, you'll still need to clear your pillows and duvet before stowing your bed. However, fitting the sheets only needs to be done once — and that's the trickiest part.

Get to know the innovations behind Bürstner's drop down bed.
Motorhome bed types and layouts
Regardless of whether motorhome beds are permanent or made up each night, their orientation and size are crucial to how well they'll suit you and your family.

Given that the bed is one of the biggest pieces of furniture in a motorhome, the type of bed you choose will have a large bearing on the configuration of the motorhome.
The single bed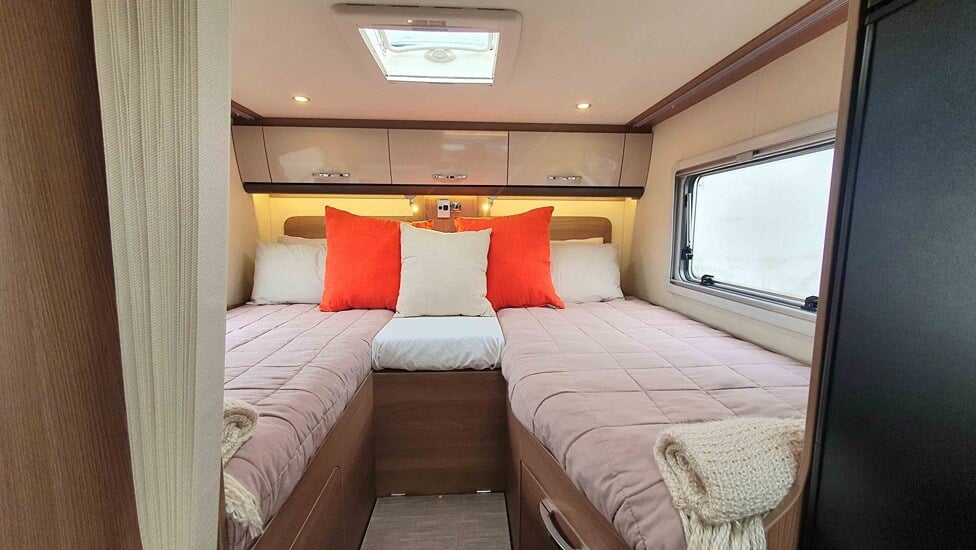 Single or twin beds are one of the most popular bed layouts. They're usually located in the rear with one bed on each of the side walls.

Some models have the option of converting two singles into a large king bed by pulling out a bed base to fill the void between them — then adding a small squab.

Most motorhome models with a twin bed layout are positioned high above the floor — accessible via steps in between the beds. This provides space for a large external locker under the beds.

The single beds setup is perfect for:


Couples — who prefer more space and want to avoid any movement transferred across the mattress when the other person moves

Larger people — the king bed setup is one of the biggest bed options in a modern motorhome

Families — when children don't want to share a double bed

Friends — who simply prefer their own bed.




This bed layout may not work so well if you're less mobile and not confident using steps at night. And if you find changing the bedding difficult when the bed's attached to the wall, it may also not be ideal.

Some of the main advantages of a twin bed layout are:


Comfort — sometimes having a bed to yourself simply can't be beat

Flexibility — suitable for travelling with family or with friends

Storage — if carrying toys with you is important, you won't find a bigger external locker.




The cabover bed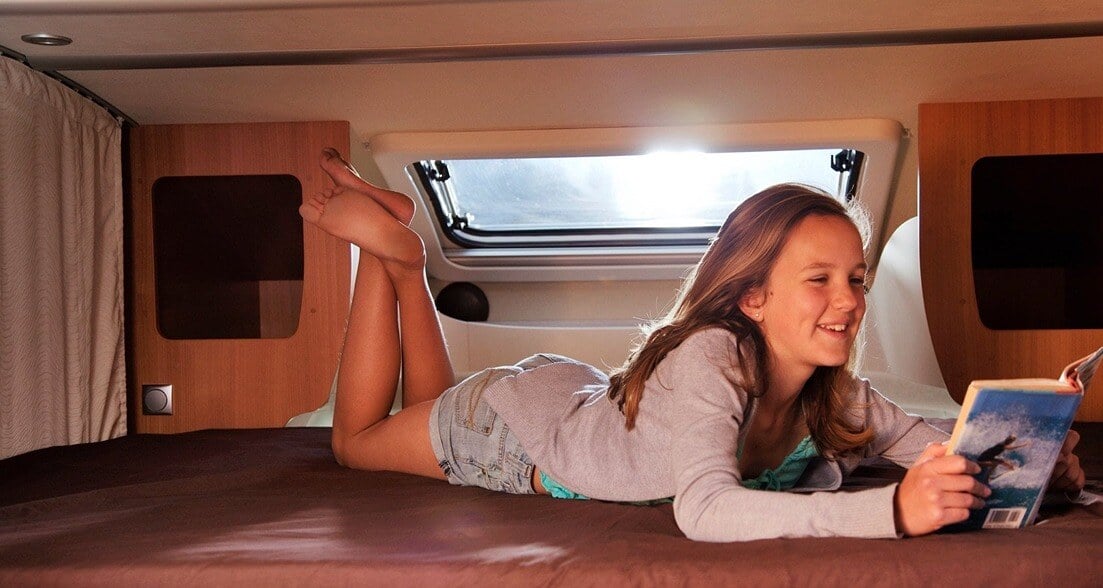 A fixed bed located above your motorhome's cab is called a cabover or a luton layout — named after its origins in the English city of the same name. Cabover layouts often have U-shaped lounges in the rear.

The bed will usually be accessed by a ladder, or occasionally by stairs. Motorhomes with cabover beds are much higher than motorhomes with other bed layouts.

The main benefits of the cabover bed include:


Being permanently made up — and ready to use at all times

Creating more living space — as the rear of your motorhome can be a dedicated lounge area with your main bed above the cab

Flexibility — the lounge may be convertible into a second bed

Storage — larger items can be stored on your bed when its not in use

Panoramic views — which are possible with a rear lounge.




On the downside, cabover motorhomes are less aerodynamic than semi-integrated ones — due to the additional vehicle height created by the cabover space.

As a result, your RV may be less stable when driving, especially in windy conditions. Poorer aerodynamics will also add to your fuel costs.

The cabover probably won't be the best bed layout if you:


Have mobility issues — and aren't confident using a ladder during the day or at night

Are taller — head room is limited in a cabover bed so you may find it difficult to sit up properly

Have young kids — who often love playing on cabover beds but could be in danger of falling without safety nets.




Find out more about cabover motorhomes.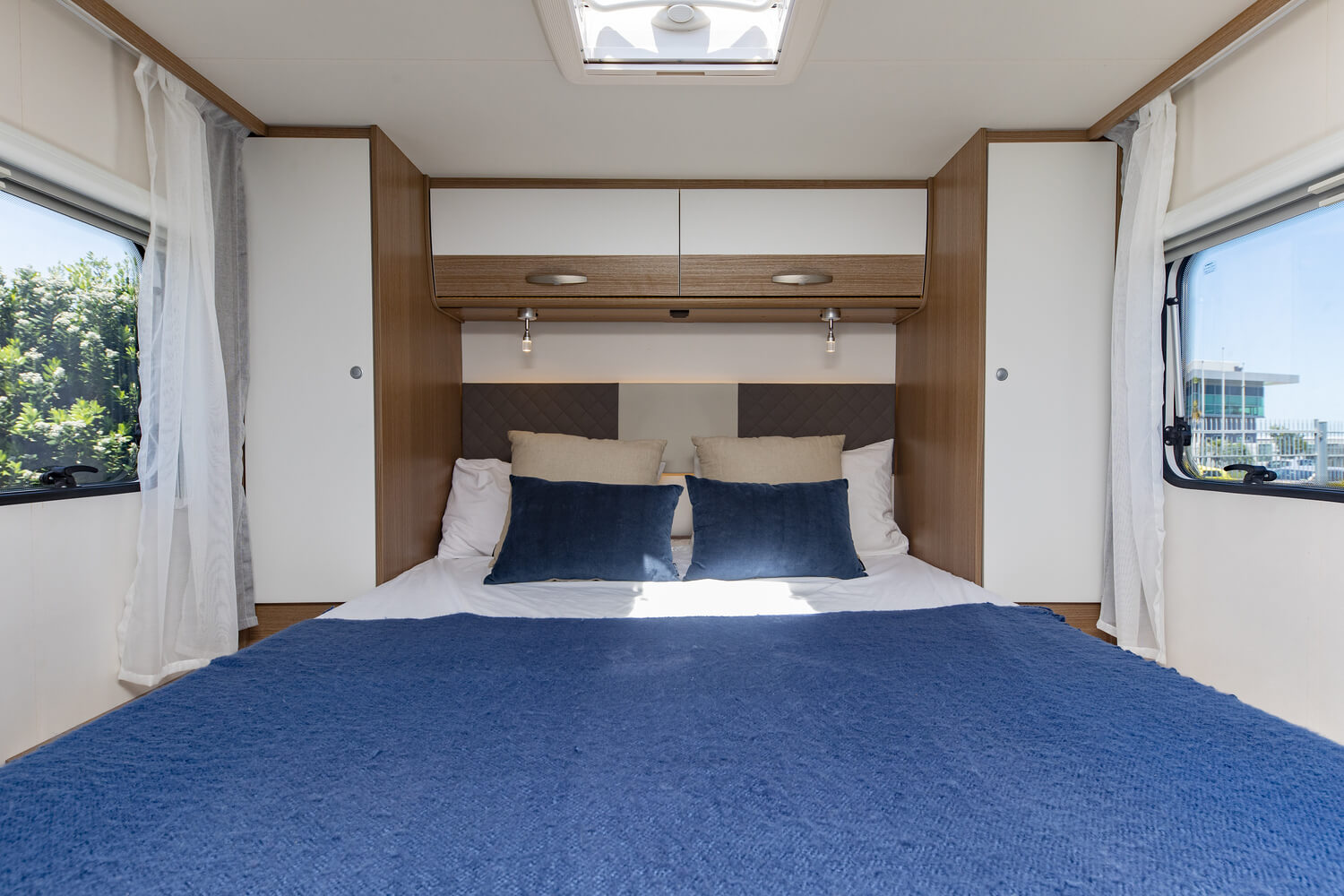 The island bed
The most popular style of bed in European motorhomes available in New Zealand is the island bed. It sits where you'd expect it to — like an island right in the centre rear of your motorhome. Less common is the island bed attached to one of the side walls.

This bed layout is most typical in motorhomes over seven metres long as it requires more floor space than other models.

The advantages of a motorhome with an island bed are:


Accessibility — both sleepers can get in and out easily from their own side

Bedside cabinets — handily located on each side of your bed

Ease of making up — this is the easiest of all RV beds to make due to access from both sides

Storage — there's plenty of storage under the bed

Height adjustability — the bed can be raised to provide more storage space in your external locker underneath (in some models)

Privacy — a door may separate your bedroom from the rest of the motorhome (in some models).




If it's important to have a large external storage locker, the island bed layout may not be your best choice.
The French bed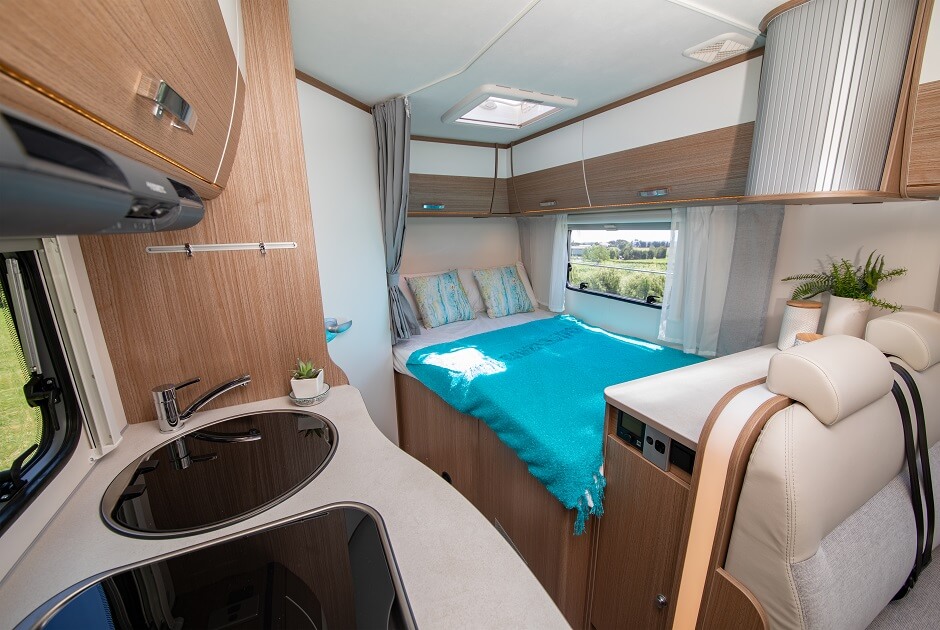 A French or corner bed is one that's fixed in the rear corner of your motorhome. This type of bed is oriented in a longitudinal position like an island bed — but with access from only one side. It usually comes in a double size.

This bed layout is popular in France where shorter motorhomes are preferred. The French bed takes up significantly less floor space than an island bed, so it's ideally suited to compact motorhomes.

The benefits of the French bed layout are:


Compactness — with the least amount of floor space required, a double bed is possible in a six metre motorhome

The potential for a larger combined bathroom and shower space.




One significant downside of the French bed is that you can only access it from one side. For this reason, it will be more difficult to make up — and you'll have to climb over your partner to get in and out.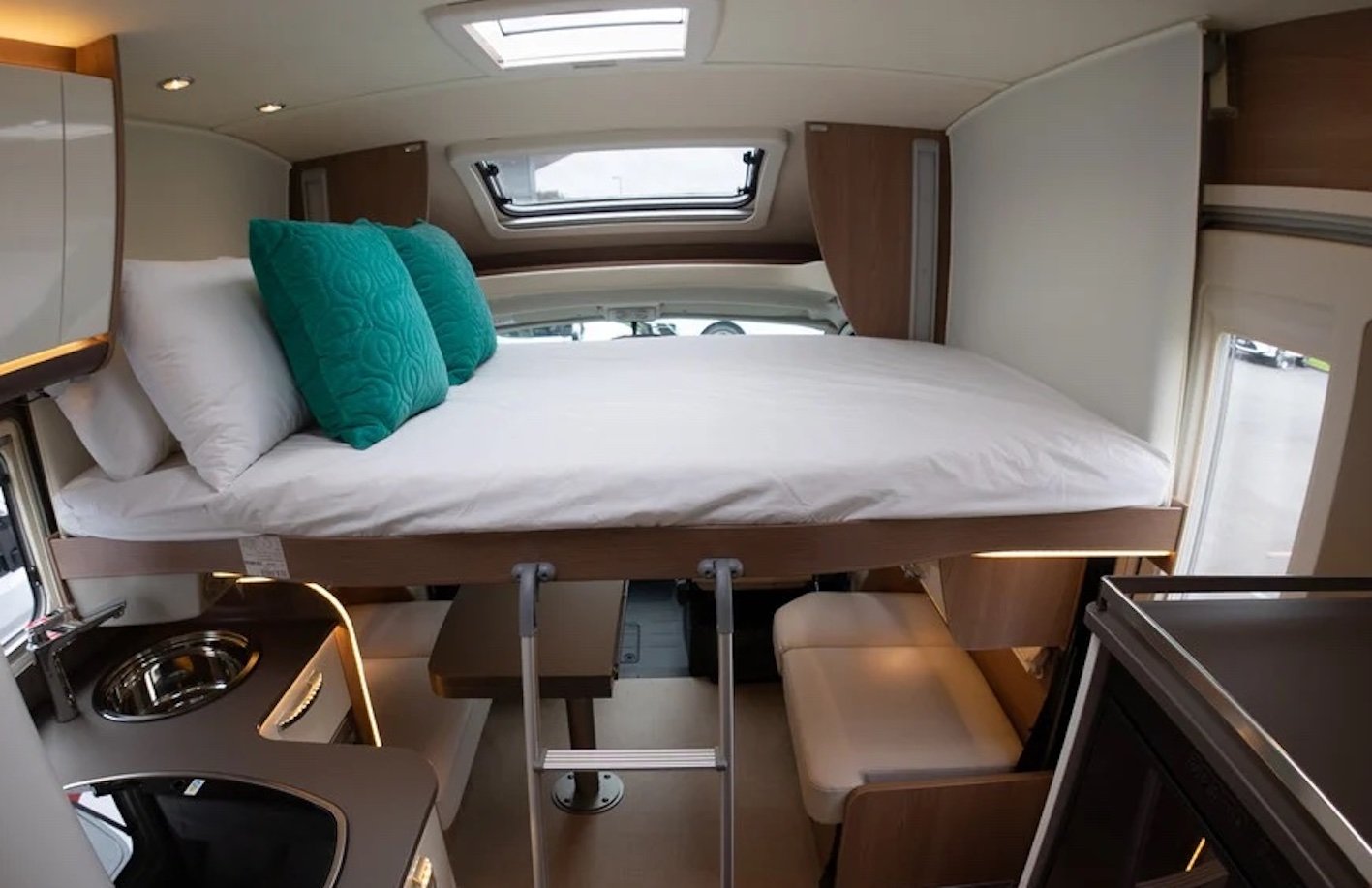 The transverse bed
A transverse bed is a fixed bed that's fitted to the back wall of your motorhome with the head on one side wall and the foot end on the other side wall. Also known as an east to west bed layout, this bed type is most commonly a double.

Transverse beds take up considerably less floor space than island beds. They're not all fixed to the floor either. Drop down beds, especially those located in the dining area, usually have a transverse orientation.

Converted lounge beds are also usually oriented in a transverse position.

The advantages of having a motorhome with a transverse bed include:


Efficiency of space — particularly in smaller motorhomes

Clear separation from the living area.




The bunk bed
Bunk beds are usually designed with children in mind and tend to be smaller than twin single beds. They're often fixed to the rear wall.

This bed layout, popular in motorhomes designed for families of up to five people, usually comes with a double bed as well. They're often between 7 and 7.5 metres long.

A few benefits of the bunk bed setup include:


Maximum occupancy — more people can be accommodated in an average sized motorhome

Saving space — bunks are usually small and take up less floor space than other configurations

Storage opportunities — some bunks may be designed with storage compartments built into their structure.




Sets of three bunks are even available in some larger motorhomes.

A few disadvantages of bunks in recreational vehicles are that they:


Can be too small for bigger people

Are very inflexible — the space can't be converted into other uses

Have less head room — it may be difficult to sit up in bed

Can be difficult to make up — due to poor access around the sides

Are unsafe for young ones — top bunks aren't suitable for small children unless safety nets are installed

May be cramped — if the living area is small

Don't usually come with a large external storage locker.
How your bed choice relates to your motorhome's configuration
Although the bed will be one of the most important features of your RV, you'll also have other factors that need to work with your bed setup. Like all things in the world of motorhomes, it's important to be clear about what you are, and are not, willing to compromise on.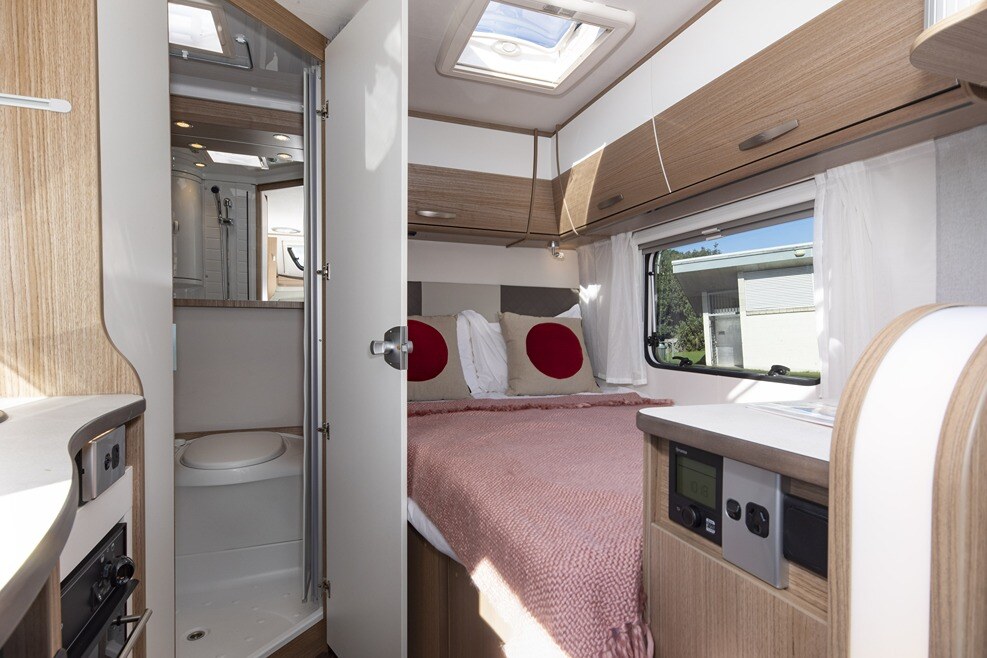 The bathroom
Your bedroom layout will often affect how the bathroom is positioned within your motorhome.

In models with the main bed in the rear, it'll fit between the bedroom and the central kitchen. This gives some separation from the bedroom and bathroom areas.

If your motorhome has a transverse or French bed layout, the shower will usually be located in the rear — next to your bed.

Motorhome bathrooms are usually designed as wet or dry rooms — and may comprise a separate toilet and shower.
Privacy
Some premium motorhome models have a door that can close off the rear bedroom from the rest of the vehicle. This is an ideal scenario when travelling with:


Children — who need to go to bed earlier

A partner — with a later bedtime

Another couple — so there's some privacy for sleeping.





Storage
A large external garage, plus plenty of storage space in your bedroom, will make a significant difference to your life on the road. This space will dictate what outdoor toys you can take — like golf clubs, a surfboard, hiking gear and extra supplies for longer trips.

Fixed single beds tend to sit up a little higher than the rest of your living area, making a large garage space possible.

If travelling with some serious high-end gear like ebikes is a top priority, storage space may be your most important consideration — with compromises needed on bed layout.

Check out our guide to maximising storage space inside your motorhome.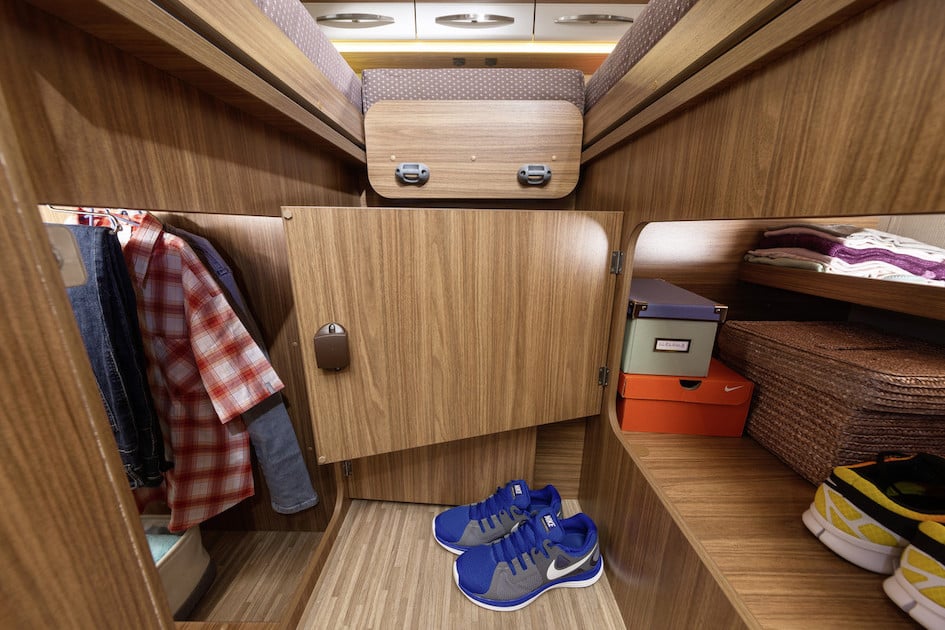 The kitchen
With more space dedicated to your sleeping quarters, other areas must make do with less space — like your kitchen.

Usually, this means that the kitchen has to fit into a smaller area. If you're a foodie and cooking gives you joy on the road, you may not want to compromise on kitchen space.

See our buyers' guide to motorhome kitchens.
With so many aspects of an RV to consider beyond the bed and bed layout, it's worth checking out our guide on the features to consider when buying a motorhome.