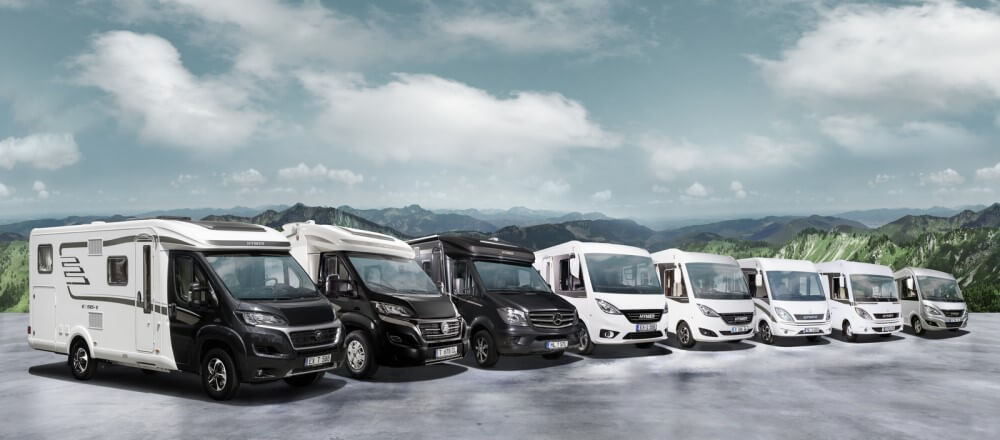 With such a huge array of campervans and motorhomes on the market, it's hard to know where to start when you're new to the game. Don't be put off by unfamiliar terminology. After all, it's not rocket science!

We will walk you through the main types of campervans and motorhomes available in New Zealand and the pros and cons of each so you can get one step closer to finding the one that will suit you and your lifestyle.

Campervan, motorhome or RV - What's the difference?
RV


Let's start with RV. The term RV, or recreational vehicle, is most commonly used in the US but has become more common Downunder because it's a catchall for any vehicle designed for camping. It includes campervans and motorhomes but also caravans, fifth-wheelers and camping trailers.
Campervan
While campervans are usually smaller than motorhomes, it's the body type that differentiates them. A campervan is based on a van body with the interior kitted out with a bed and a small kitchen. They usually have a small water tank and some have a compact coolbox.

Campervans are usually designed for two people - with any more than two, space is a bit tight, especially in bad weather. They're popular because they're agile. They're easy to drive and can park in a normal car parking space. A modern campervan is just as at home in the city as it is off-the-beaten track.

The two types of campervans are the compact campervan without an onboard bathroom and the converted box van with bathroom.


Compact campervan without an onboard bathroom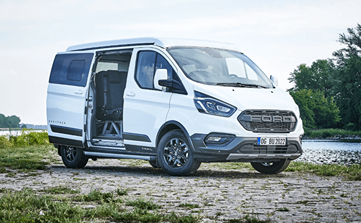 Number of people: 2-4

Typical dimensions: 4.99 - 5.40 metres long, 1.95 metres wide

Driver licence: car

Comfort level: low




In Europe, the compact campervan is the fastest growing segment of the RV industry. They are popular with couples and families who use it as a family car during the week and as a camping vehicle for escapes on the weekend.

Compact vans are usually under 5 metres long and can sleep two people, although some can sleep four. Many have a standard roof height (under 2 metres) which is difficult to stand up in. High top campers are around 2.65 metres high so are easier to move around in.

The most basic compact van has just a bed, a small cooker and portable coolbox, and water stored in a portable or fixed container. They don't come with a bathroom so are perfect for staying at full service campsites. Compact vans usually have little if any insulation or central heating so are best suited for summer camping. Some compact campervans have a pop-up roof providing additional sleeping berths.

Unlike Europe, new compact campervans without a bathroom are not as popular as motorhomes in New Zealand so the range of new models available is limited. The best example on sale in New Zealand is the Volkswagen California - a modern take on the classic Kombi from the 60s and 70s.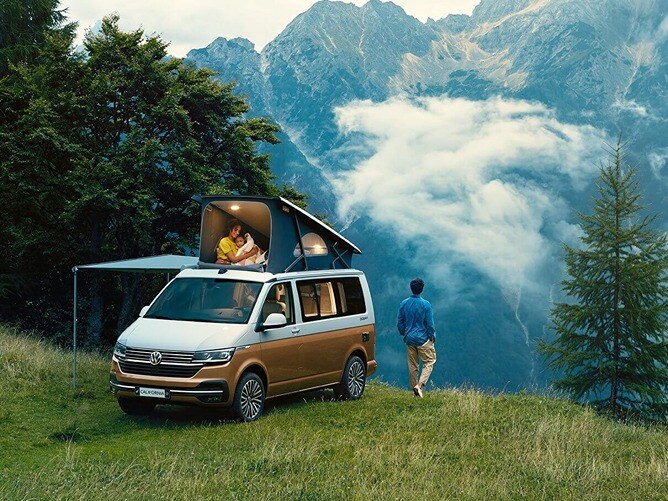 What's a slider?

The fact that vans are so easy to convert for camping means they are a low cost entry into the RV market. There's thousands of second hand vans which have been converted to campervans on New Zealand roads. Most have been fitted out by handy DIYers or by rental operators.

Campervans have been the backbone of the New Zealand rental industry so there's usually plenty of ex rentals available for sale. These vans are particularly popular with backpackers. The noisy opening of the sliding door has earned these older campervans the nickname "sliders".

The New Zealand government has stepped in to increase the regulatory requirements on these vehicles in response to the environmental and social issues caused by a small number of irresponsible campers. From 2018, it has been harder to get the self-containment certification required to freedom camp in compact vans without a bathroom.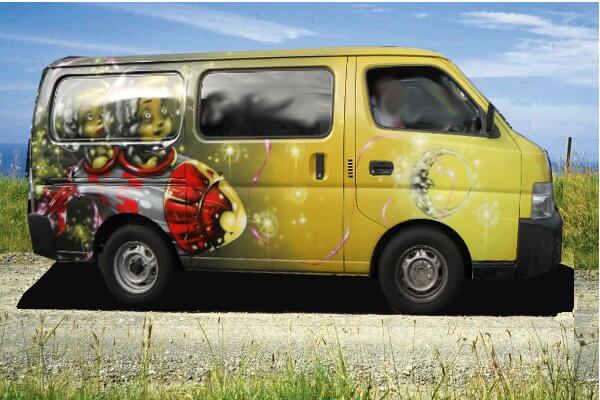 Pros and cons of compact a campervan without an onboard bathroom
Pros
Compact and maneuverable

Suitable for short getaways and everyday use

Suitable for travelling couples
Cons
Limited space and headroom

Limiting camping site options

Less suitable for winter




Insider Tip
Many people who purchase a campervan want to be able to escape from the rat race and stay in remote areas. To be able to stay at a site that isn't a designated campsite (freedom camping), the campervan must be certified self-contained. The regulations for self-containment certification changed in 2017 so if you're buying a campervan that was certified prior to 31 January 2018, it's important to check that it is compliant with the new regulations. Self-containment certification must be renewed every four years, so many campervans which were compliant under the old rules will not be recertified after 31 January 2022.

Converted box van with bathroom



Number of people: 2-4

Typical dimensions: 5.40 - 6.36 metres long, 2.05 metres wide

Driver licence: car

Comfort level: medium




The next size up in campervans, the converted box van, got its name because of its box shape. The squarish structure of the Fiat Ducato makes it particularly well suited to campervan conversion as living space can be fully optimised. It's also a step up in comfort as it has more headroom and living space plus convenience with its onboard bathroom with a shower and toilet.

The most common configuration in New Zealand is a two-berth with a lounge in the rear. With some rearranging of seat cushions, the lounge converts to a double bed at night. A pop-up roof, although uncommon here, offers additional sleeping berths.

The onboard bathroom means that these campervans can be certified self-contained which greatly extends the options of where you can camp including Department of Conservation (DOC) campsites, regional parks, and places where freedom camping is permitted.

The Carado CV600 campervan is designed for two people. The optional pop-up roof provides an additional berth for two more. As with most German campervans, the CV600 has a permanent bed in the back and a lounge upfront. The driver and front passenger seats swivel to provide extra seating in the lounge.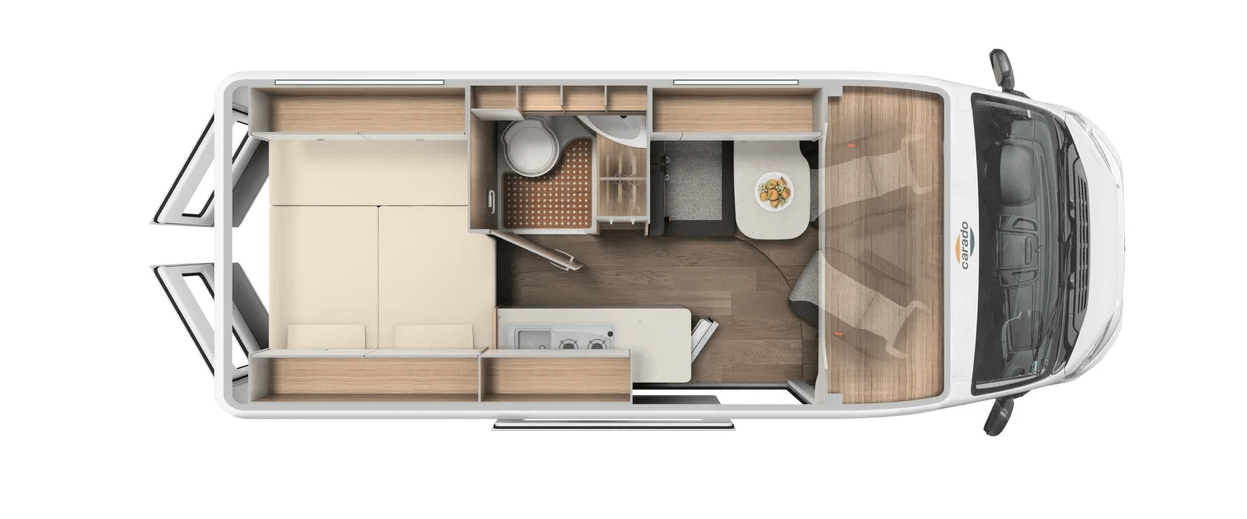 Carado CV600


Pros and cons of converted box van with bathroom

Pros
Convenience of onboard bathroom

More spacious than a compact camper

Easy to explore hard to reach places
Cons
Too small for families

Lacks storage for big items

Limited winter camping




Motorhomes


Unlike a campervan which starts life as a van, a motorhome is built on a truck body. Sometimes referred to as a coachbuilt, a motorhome has a habitation unit built on its truck chassis. The way the habitation unit is integrated with the truck body determines the type of motorhome it is. The three most common motorhome body types available in New Zealand are the semi-integrated, integrated and cabover.

A motorhome which has the driver's cab retained and the habitation unit starting just behind the cab is called a semi-integrated. A motorhome that fully incorporates the driver's cab into the habitation unit is called an integrated. When the driver's cab is retained but the habitation is extended over the cab roof, the motorhome is called a cabover.




Motorhomes are both wider and usually longer than campervans. They usually have integrated fresh and wastewater tanks and a power supply that runs the appliances and onboard equipment. Motorhomes are designed for two or more people, have one or more permanent beds or beds that convert from the lounge seating, a kitchen consisting of a sink, cooker and fridge, and a bathroom with toilet, hand basin and shower. Most motorhomes have more storage than a campervan. Many German motorhomes also have a large external locker (called a garage) for bulky items like bikes, golf clubs, and other toys. They are also fully insulated and have central heating making them suitable for winter touring.
Semi-integrated motorhome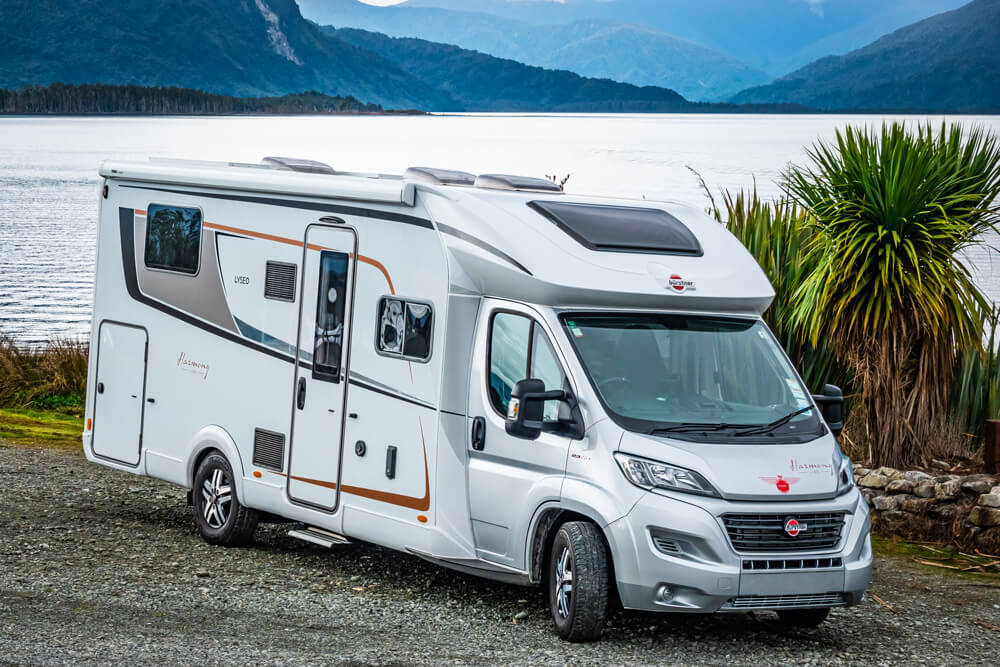 Number of people: 2-4
Typical dimensions: 5.99 - 7.69 metres long, 2.3 metres wide
Driver licence: car*
Comfort level: medium to high
*as long as the GVM is less than 6000kg.

The semi-integrated, also known as a low profile or C class motorhome, got its name from the design in which the original driver's cab is partially integrated into the living area. This body type was pioneered by European manufacturers and remains the most popular type in Europe. It's also now the most popular type of motorhome in New Zealand.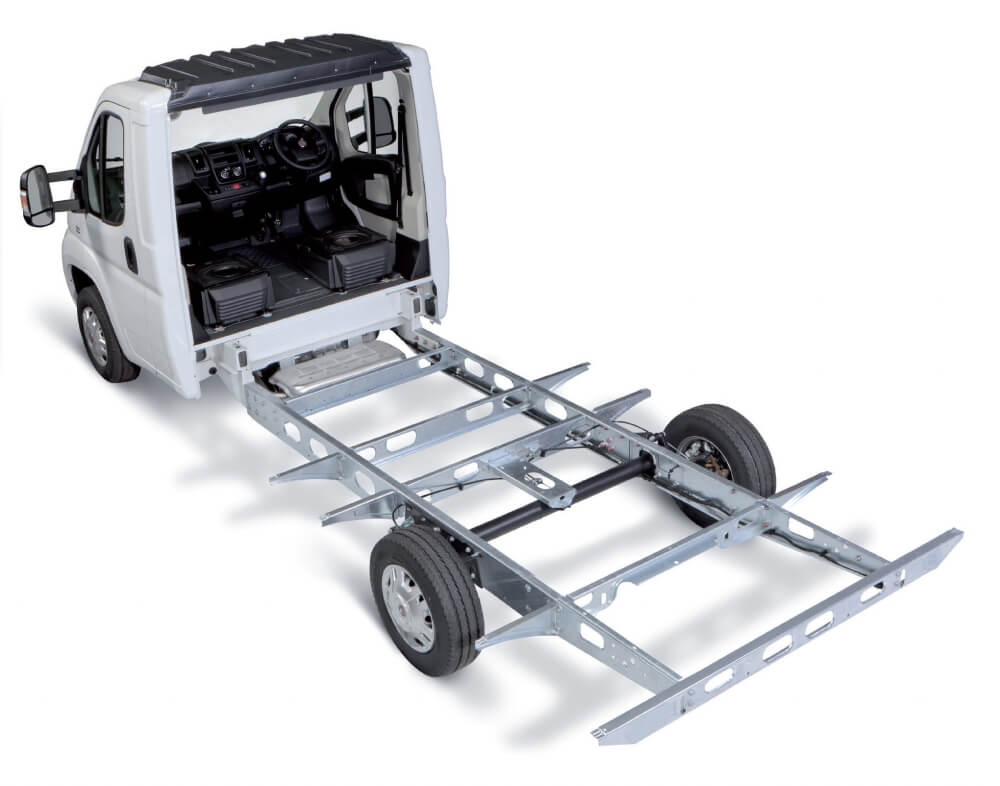 The driver and front passenger's seats rotate and are incorporated into the front lounge. The ability to use the front cab seats while parked up increases the living area giving this body type more usable interior space.

Semi-integrated motorhomes were originally designed for two people with a permanent bed in the rear and the option to convert the dinette into an extra bed if required. Bürstner solved the problem of how to add a second permanent bed in the living compartment with its fold down bed. This innovative bed, which tucks away in the ceiling during the day then folds down at night, is standard in European motorhomes and has even been adopted by New Zealand manufacturers in the past few years.

Semi-integrated motorhomes come in a number of different layouts but the permanent island bed or twin singles in the rear are the most popular.

In contrast to the alcove body type, the semi-integrated motorhome is flat and low. Its streamlined body makes it more aerodynamic improving fuel consumption and the lower centre of gravity improves driving performance.


Pros and cons of a semi-integrated motorhome


Pros
Ideal for couples and small families

Good driving experience

More spacious and comfortable




CONS
Less fuel efficient

Requires a bigger parking space

Cab is uninsulated




Integrated motorhomes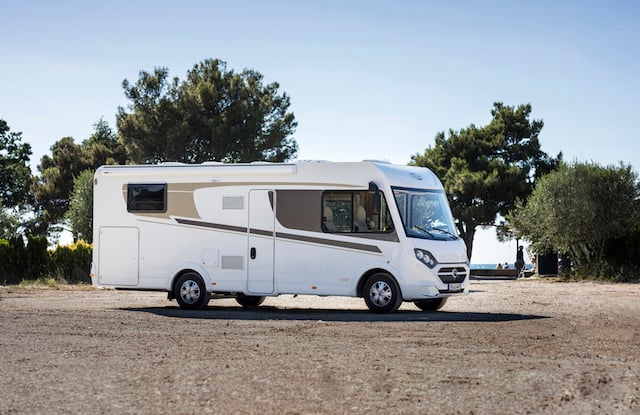 Number of people: 2-4
Typical dimensions: 6.99 - 8.65 metres long, 2.3 metres wide
Driver licence: car or truck*
Comfort level: medium to high
*Depending on vehicle weight. Truck (class 2) is required if GVM is more than 6000kg.


The integrated, also known as an A class motorhome, is the big brother of motorhomes. While it may look like a bus to the unschooled, an integrated is a purpose-built motorhome rather than a large people carrier which has been converted into an RV. In this body type, the cab is fully integrated - in contrast with the semi-integrated which partially incorporates driver's cab into the living area.

A stripped out truck chassis arrives at the motorhome factory and is integrated into the habitation unit from the front grille to the rear bumper.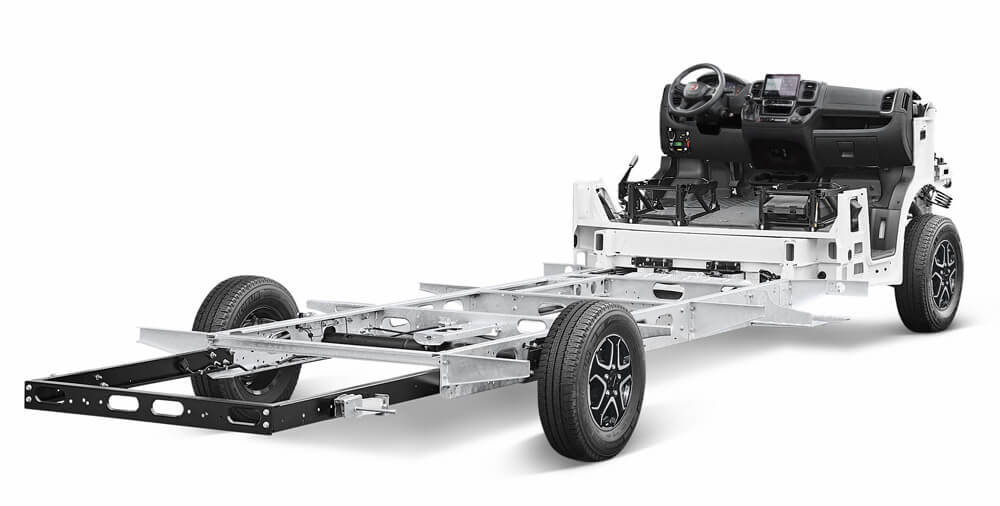 The biggest advantage of the integrated body type is the additional living space upfront making this the most spacious type of motorhome. The full width of the front cab is incorporated into the living area. The fold down bed, which sits above the dinette in a semi-integrated motorhome, is positioned further forward in a fully integrated giving the whole front section of the motorhome a more roomy feel.

Every integrated motorhome model has its own distinct look because the front is incorporated into the body of the motorhome. This gives the motorhome designer the opportunity to really distinguish their brand.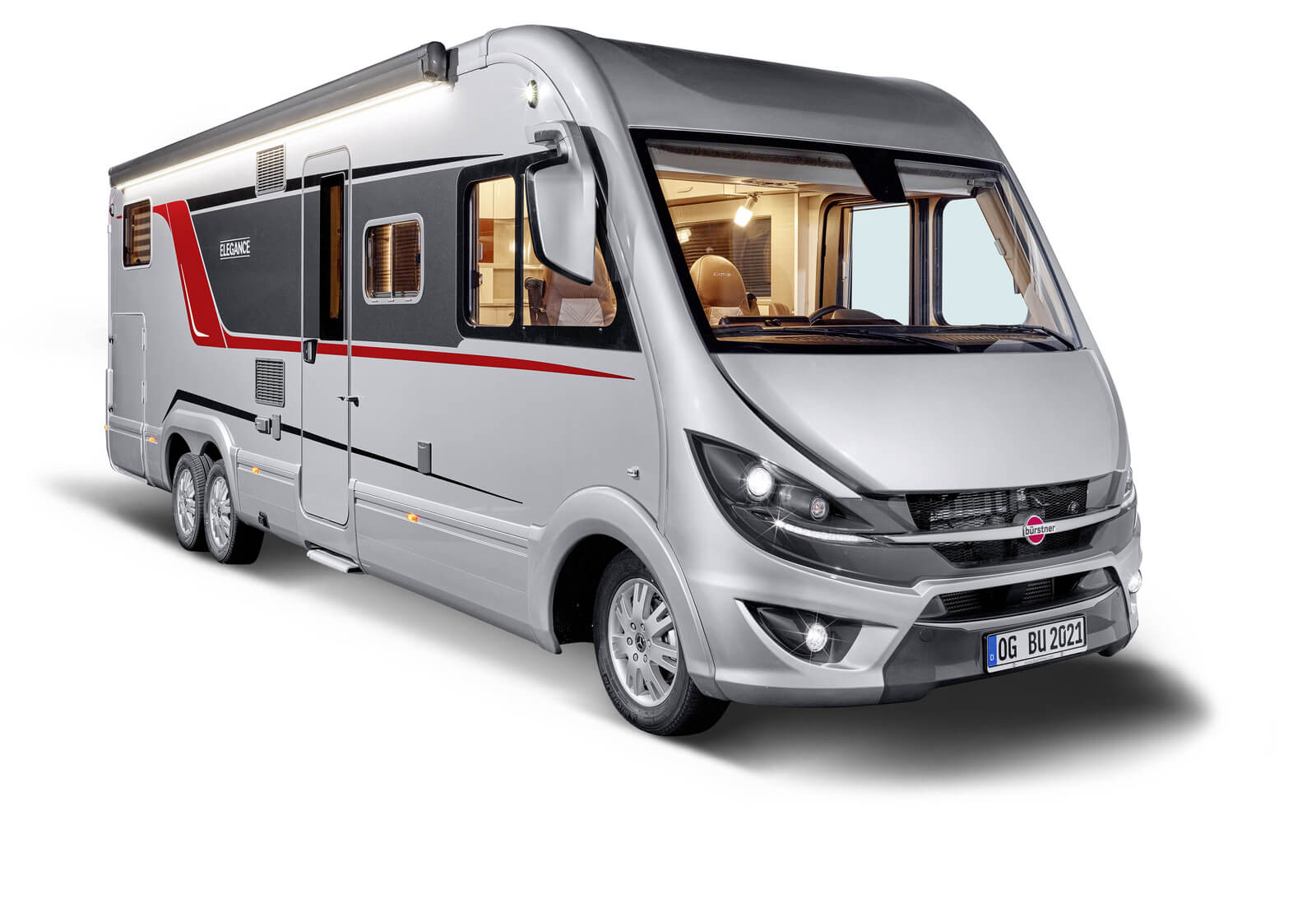 The integrated cab has a bigger windscreen than a semi-integrated, improving visibility and giving a feeling of the outdoors coming inside. Insulation is incorporated in the front section as well as the main section of the habitation unit making the fully integrated motorhome the most well insulated body type.

Until recently, integrated motorhomes were the domain of luxury brands. They tended to be bigger and more highly specced, have more luxurious fabrics and finishes, and be fitted out with more high end equipment than semi-integrated motorhomes. They were built on heavier chassis (more than 3500kg GVM) and were therefore able to carry more weight. In fact, it's not uncommon in Europe to see a small car being driven into the back of one.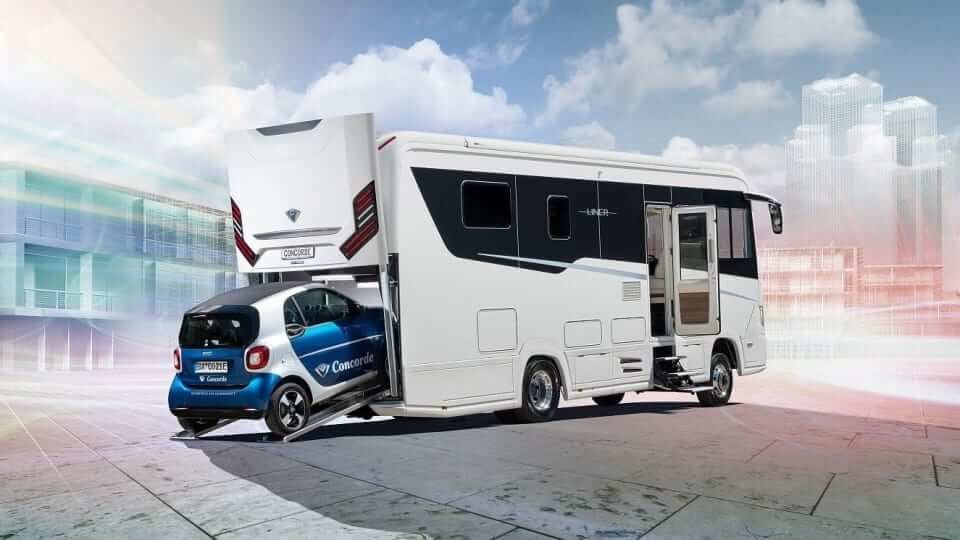 Integrated motorhomes are no longer restricted to the extreme high end models. Now a number of entry level brands have added this body type to their range in recent years. Most have taken the layout of their semi-integrated models and built them with a fully integrated body. The specifications and fitout are similar to the semi-integrated but they have the advantage of the more spacious front living area. They usually have no more than a 3500kg GVM which means they fit within the WOF compliance regime and can be driven on a car licence.



Most integrated motorhomes are designed for two people with the ability to add a second double bed upfront that drops down from the ceiling at night.



Pros and cons of an integrated motorhome
Pros
Great feeling of space

Good looks

Loads of storage

Cab is insulated




Cons
Less fuel efficient

Higher running costs

Harder to find parking spot

Harder to access some tricky roads




Cabover motorhome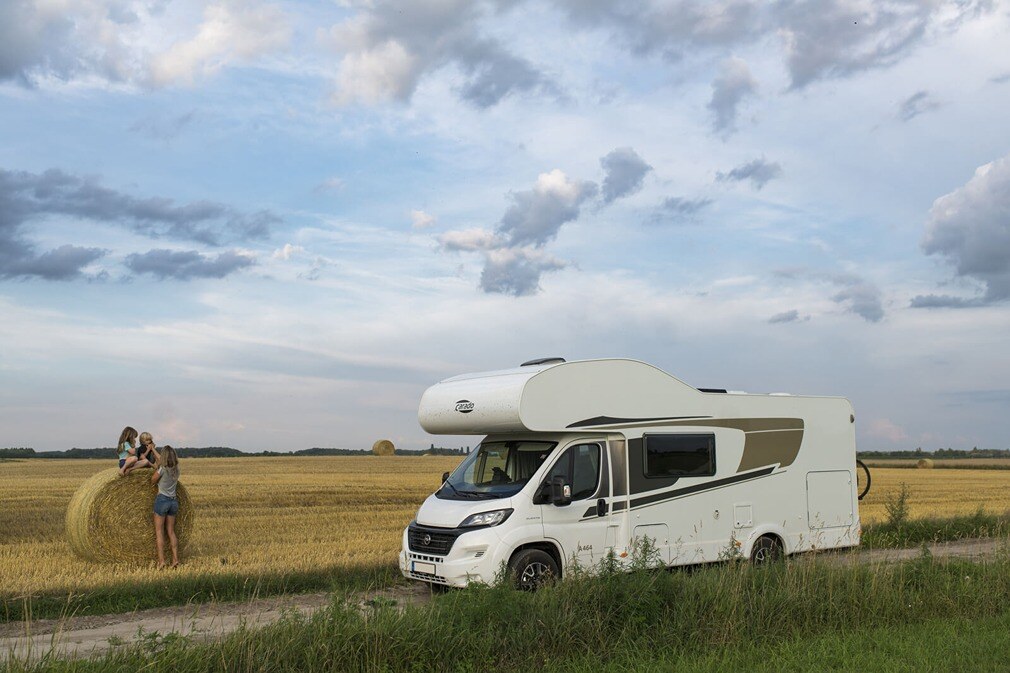 Number of people: 4-6

Typical dimensions: 5.99 - 7.69 metres long, 2.3 metres wide

Comfort level: medium to high

Driver licence: car




The cabover, also known as over-cab, luton, or alcove motorhome, is easily spotted with its protruding nose above the driver's cab. It was the first purpose-built motorhome manufactured to scale in New Zealand and continues to be popular with families and couples who don't mind sleeping up high.

The cabover is also the most common model in New Zealand rental fleets as the versatility of this body type make it suitable for multiple layouts. The most common layout is a lounge in the rear which converts to a double bed at night (by rearranging the seat cushions), a dinette midship that converts to a double bed, and a double bed over the cab which is accessible with a ladder.

European built cabover motorhomes (known as alcove) such as the Carado A464 usually have a fixed bed or beds in the rear and a double bed over the cab - either double, twin singles or bunk beds stacked vertically. The dinette or front lounge may also convert to a double berth making the motorhome suitable for six people.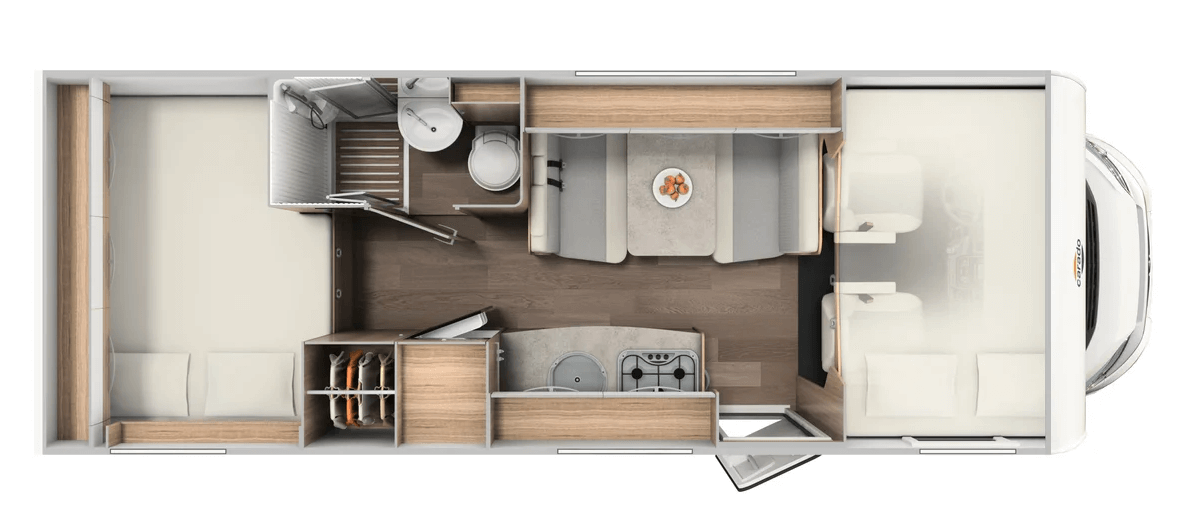 Carado A464

The cabover is the typical family model, especially for families of five or six. However, everyone does have to share beds, which may not work for all families. The bed above the cab is usually the most popular bed for the little kids as it makes a great play area. Most cabover motorhomes come with a safety net in the over cab bed to protect little ones, plus a curtain for privacy.

New Zealand built cabover motorhomes, with the wraparound lounge in the rear, are popular with couples who want a rear lounge and a permanent double bed. If you use the over cab bed as the main bed you don't have to convert the lounge into a bed at night and you have the added comfort of sleeping on a proper mattress rather than a number of seat cushions - as long as you're agile enough to climb up into the over cab bed by ladder.

The NZ built cabover motorhomes have good internal storage and the European built models have plenty of external storage as well.

Cabover models have a bulky appearance and are not exactly streamlined. Their higher air resistance increases fuel consumption. They're also a bit top heavy. Their centre of gravity sits higher than in other body types so care needs to be taken, especially when cornering. Inexperienced drivers may forget the extra height so extra care is also required around low hanging branches, signs, building overhangs and bridges.


Pros and cons of cabovers


Pros
Ideal for families

Good option for couples

Lots of storage




Cons
Access to cabover bed is by ladder
Increased fuel consumption
Extra height can be hazardous

The RV industry is growing at the fastest rate since its inception so new innovations and modifications to traditional designs are coming onto the market every year. It's a good idea to understand the main body types and the pros and cons of each so you can get a step closer to figuring out what campervan or motorhome is perfect for you and your lifestyle.
Researching your motorhome options in New Zealand?
Check out our extensive range of premium European motorhomes perfect for getting off the beaten track in extreme comfort today.