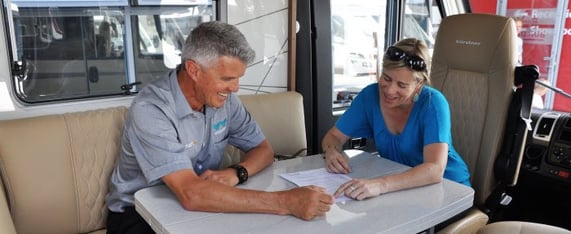 Every industry has its own jargon and the motorhome industry is no different. As new innovations are rolled out, new terms enter the lexicon of motorhoming. We've created this quick reference of common motorhome specific terms to help you navigate the motorhome buying process with ease.
Motorhome and RV types
Recreational vehicle (RV)
A recreational vehicle (RV) is a vehicle or trailer designed for camping. It includes campervans and motorhomes but also caravans, fifth-wheelers and camping trailers. The term was first used in the US but is now commonly used in New Zealand.




Campervan

A campervan is a van with the interior converted to a living space containing a bed and a small kitchen. It will usually have a small water tank and some have a compact coolbox.


Caravan
A caravan is a recreational vehicle that doesn't have an engine or driver's cab and requires towing.



Fifth-wheeler
A fifth wheeler is similar to a caravan but is towed using a hitch or turntable positioned over the back of a tow vehicle, just in front of the rear axle. It is typically towed by a ute or small truck.
Motorhome
A motorhome is a recreational vehicle with a habitation unit built on a truck chassis. The way the habitation unit is integrated with the truck body determines the type of motorhome it is. The three most common motorhome body types available in New Zealand are semi-integrated, integrated and cabover. A motorhome may sometimes be referred to as a coachbuilt.



Semi-integrated motorhome
A semi-integrated motorhome is one that has the original driver's cab partially integrated into the living area. The driver and front passenger's seats rotate to incorporate the cab into the front lounge. A semi-integrated motorhome is also known as a low profile or C class motorhome.



Integrated motorhome
An integrated motorhome is one that fully incorporates the driver's cab into the habitation unit with no barrier between the two. It is purpose-built to be a motorhome rather than converted from another vehicle such as a bus. An integrated motorhome is also known as an A class.



Cabover motorhome
A cabover motorhome is one where the driver's cab is retained but the habitation area has been extended over the cab roof. It is also known as an over-cab, luton, or alcove motorhome.



A class motorhome
B class motorhome
C class motorhome
See Semi-integrated motorhome.



Motorhome chassis and construction
Wide track chassis
A wide track chassis is one that has its wheels moved outwards to make a wider wheelbase for improved safety, better road handling and resistance to rollover.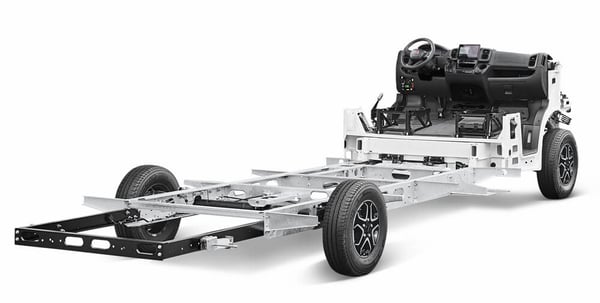 Light chassis
A light chassis is one that is used to build light motorhomes (those with a gross vehicle mass of 3500kg or less).
Heavy duty chassis
A heavy duty chassis is used to build heavy motorhomes (those with a gross vehicle mass of more than 3500kg).
Glass reinforced plastic (GRP)
Glass Reinforced Plastic (GRP) is a composite material that's strong, durable, and corrosion-resistant. These characteristics make it an ideal material for parts of the motorhome habitation unit to protect it from damage caused by roads and the elements.
Foam sandwich panel
A foam sandwich panel consists of a rigid polystyrene foam (XPS) core that is laminated to a thin but strong outer layer material such as aluminium or fibreglass. Foam sandwich construction is the preferred construction method in the manufacture of motorhomes as it creates an energy-efficient, lightweight and durable vehicle body.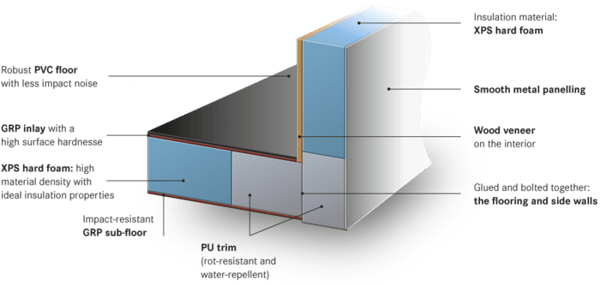 Isofix
Isofix is the international standard for fitting child safety seats in cars and motorhomes. It is a safer alternative to using a seatbelt to attach the car seat to the vehicle seat.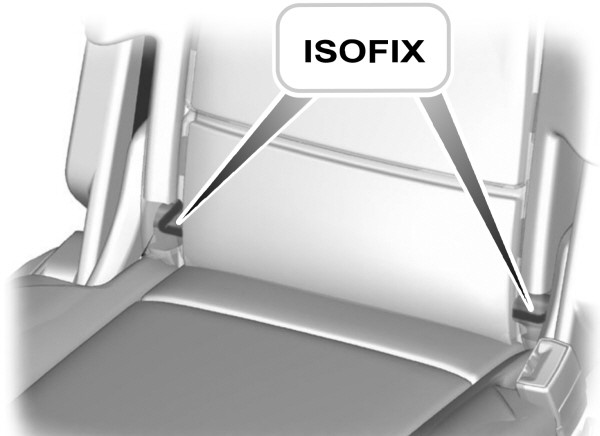 Thermofloor
Thermofloor is a type of motorhome floor construction. The floor is continuous from the cab to the rear, with no steps. A lower floor is attached to the chassis which, together with the top continuous floor, creates a double floor with superior insulation properties as well as additional storage. The thermofloor was pioneered by Bürstner to reduce trip hazards and improve thermal performance.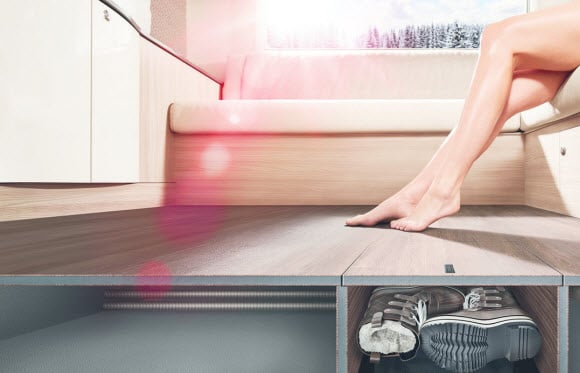 Motorhome weight
Chassis rating plate
A chassis rating plate is a plate or sticker which is affixed to the motorhome by the chassis manufacturer, motorhome manufacturer or engineer who has made major modifications to the chassis.

All motorhomes have a stage 1 and a stage 2 chassis rating plate. The stage 1 plate is attached by the chassis manufacturer and lists the gross vehicle mass (GVM), gross combination mass (GCM) and axle weight maximums of that motorhome. The stage 2 plate is issued by the motorhome manufacturer when the habitation unit is added to the chassis.

Some motorhomes also have a stage 3 (or stage 4) chassis rating plate. This is an additional sticker that is added to the motorhome when it undergoes a major modification. Each time a major modification is carried out, for example, if the chassis is replaced or GVM of the motorhome is increased, additional chassis rating plates (stage 3 and so on) will be added. The information on the additional chassis rating plate overrides the weight information on the earlier rating plate.



Tare weight / unladen weight
Tare weight is the weight of a motorhome with no load except for full fuel tanks. This includes empty water and waste tanks and no occupants or contents. Tare weight is the term commonly used in New Zealand to describe the unladen weight of a vehicle.
Mass in Running Order (MIRO)
The Mass in Running Order (MIRO) or Mass in Ready to Drive Condition is the European definition of unladen weight. MIRO is the weight of the standard empty vehicle with factory-installed equipment plus a driver (75kg is used regardless of the actual weight of the driver). Unladen weight includes lubricants such as oils and coolants which have been filled, the onboard toolset, and the fuel tank filled to 90 per cent.
Gross laden weight (GLW) is the weight of a motorhome with its load, including full fuel tanks, water and waste tanks, occupants and contents.
Gross vehicle mass (GVM)
Gross vehicle mass (GVM) (also referred to as the gross vehicle weight or GVW) is the maximum operating weight of the motorhome, as specified by the manufacturer.
Gross combination mass (GCM)
Gross combination mass (GCM) (also referred to as the gross combined weight or GCW) is the maximum combined weight or gross vehicle mass (GVM) of the motorhome and the vehicle or trailer it is towing, as specified by the manufacturer.
Payload
Payload is the weight added to the unladen motorhome, including occupants, water, wastewater, contents and accessories. The maximum payload is the gross vehicle mass (GVM) less the tare weight of the motorhome.
Uprating
Uprating is the process of increasing the gross vehicle mass (GVM) of a motorhome with the help of a motorhome uprating specialist. The motorhome, including its axle components, is assessed to ensure each part of the axle can handle the new loading weight before the motorhome is modified.
Beds and seating
The terms used to describe motorhome beds refer to whether these are permanently made up (or not) and to the position in which they are located inside the motorhome.
Fold down / drop down bed
A fold down or drop down bed is a made-up bed that can be lowered from the ceiling when needed using a hand crank or electric push button.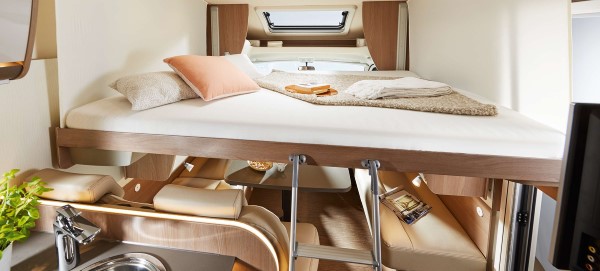 Permanent bed
A permanent bed is one that is designed solely for sleeping and doesn't need to be assembled each time it's needed. Most permanent beds are attached to the floor but some are attached to the ceiling.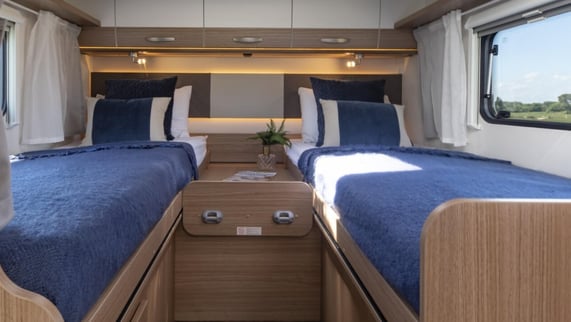 Lounge bed
A lounge bed is a bed that doubles as a lounge or dinette seating. The lowered table forms the base of the bed and the seat cushions are arranged to create the bed base.





Luton / cab over bed
A luton or cab over bed is a double bed in the area that extends over the top of the motorhome cab or luton. It is accessed by a ladder behind the driver's seat.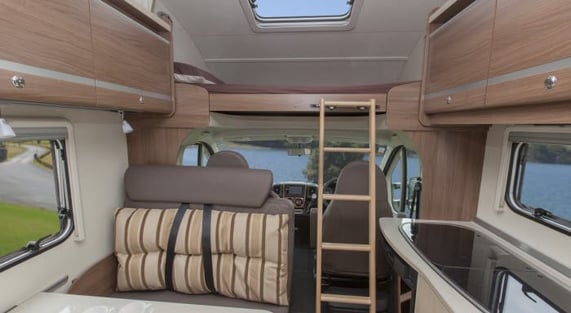 Fixed bed
A fixed bed is a permanent bed that is attached to the floor and cannot be raised or lowered. It may be positioned in the centre (island bed), across the full width of the motorhome (transverse), or in the corner (French bed or single beds).
Island bed
An island bed is a fixed double bed that is positioned in the centre of the floor and can be accessed from either side. It is usually oriented longitudinally (front to back) with the head of the bed at the rear. This longitudinal orientation is sometimes called a north-south bed.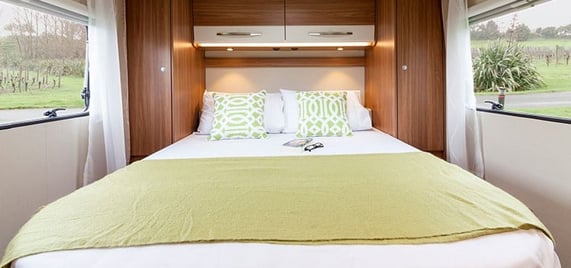 Transverse / east-west bed
A transverse or east-west bed is positioned across the width of the back of the motorhome. It can only be accessed from one side.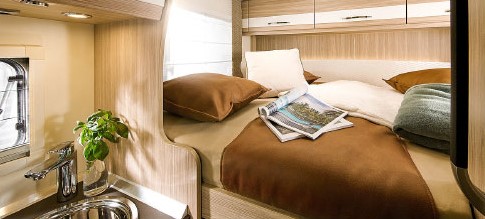 French / corner bed
A French or corner bed is positioned against the sidewall of the motorhome and can only be accessed from one side.




Cold foam mattress
A cold foam mattress is made of cold foam or polyurethane foam. This has been the most widely used material to make mattresses for decades. Most polyurethane mattresses have a combination of low-density foam on the top layer to create a soft feeling and higher density foam in the core to provide more support.
Memory foam mattress
A memory foam mattress, made of memory foam or viscoelastic foam, is a more recent advancement in mattress technology. Memory foam has gained popularity due to its ability to both absorb and redistribute the pressure of a body lying on it. Most memory foam mattresses also contain high-density cold foam for structure and support.
Captain / pilot seats
The captain or pilot seats in a motorhome are the two seats in the driver's cab.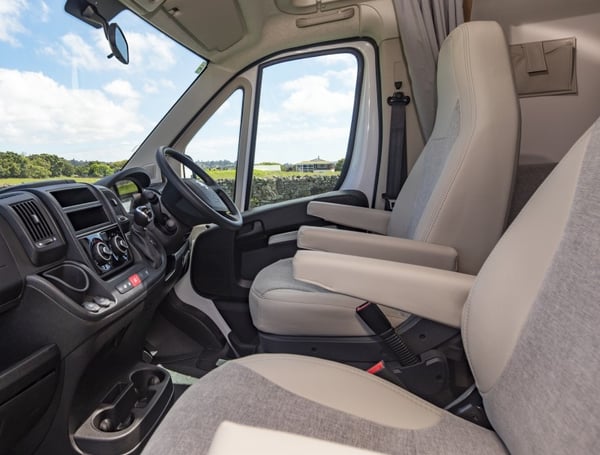 Vario-seat
A vario-seat is additional seat available in some European motorhomes. This seat, which folds away when not in use, is an optional extra that allows the carriage of an additional passenger.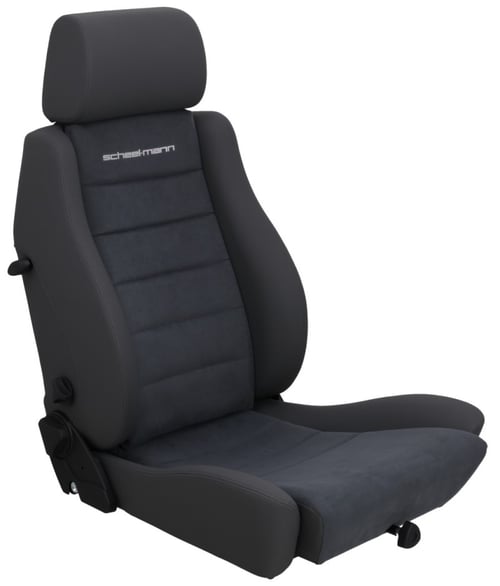 Kitchen
The terms used to describe motorhome fridges relate to either the mechanism used to cool it, e.g. compressor fridge or the power source it uses e.g. two way fridge.


Compressor fridge
A compressor fridge uses a mechanical process to cool the fridge. A compressor pressurises the refrigerant vapour increasing its temperature. Hot refrigerant is then cooled in the condenser and the vapour becomes liquid. The refrigerant liquid is forced through an expansion valve which takes the heat out. The liquid and vapour pass through an evaporator which produces cold air then the vapour returns to the compressor to start the process again. Learn more about compressor fridges here.


Absorption fridge
An absorption fridge uses a chemical process to keep the fridge cold. Heat is used to trigger an ammonia-based refrigerant to change from liquid to vapour then back to liquid again. Learn more about absorption fridges here.


Two-way fridge
A two-way fridge can use either the 12V house battery (while driving) or 240V mains (when plugged in at a campsite) to power the fridge. Power sources can be chosen manually or set to auto select. Compressor fridges are sometimes referred to as "two-way" fridges as they use these two power sources, although some compressor fridges run off any of the three power sources. Learn more about two-way fridges here.
Three-way fridge
A three-way fridge can run off the 12V house battery, LPG (while freedom camping) or 240V mains power. Absorption fridges are sometimes referred to as three-way fridges, as they use these three power sources. Learn more about three-way fridges here.
Gas and Electrical
12V system
The 12V system is the motorhome house battery system. It is used to power items like the lights, water pump and TV screen, allowing them to work when the motorhome is not plugged into mains power. The house battery recharges while driving and will fully recharge when the motorhome is plugged into 240V mains power overnight. The house battery is separate from the starter (engine) battery so the engine can still be started even if the 12V house battery is running low.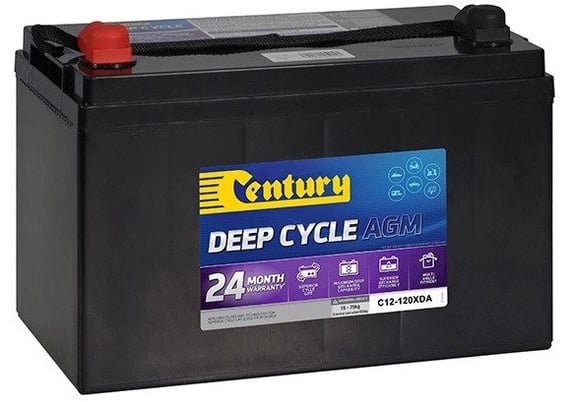 240V system
The 240V system is designed to operate the equipment and appliances when the motorhome is plugged into 240V mains power. Equipment, such as an electric jug or toaster or personal devices such as a laptop computer or mobile phone charger, can be connected to the power sockets when you're hooked up to 240V mains power.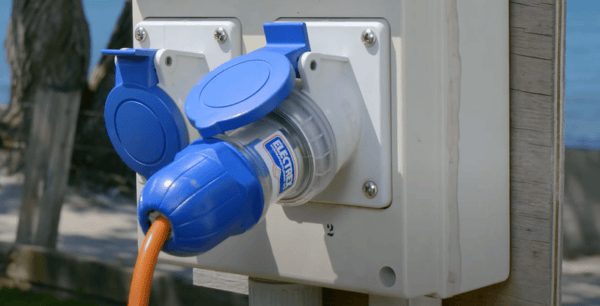 Gas system
The gas system supplies LPG or propane to power the cooktop and heater, plus the fridge in some cases. Gas is usually the main power source when the motorhome is not connected to mains power. The gas bottles are required to be stored in a separate compartment that is accessible from the outside of the campervan only, for safety reasons.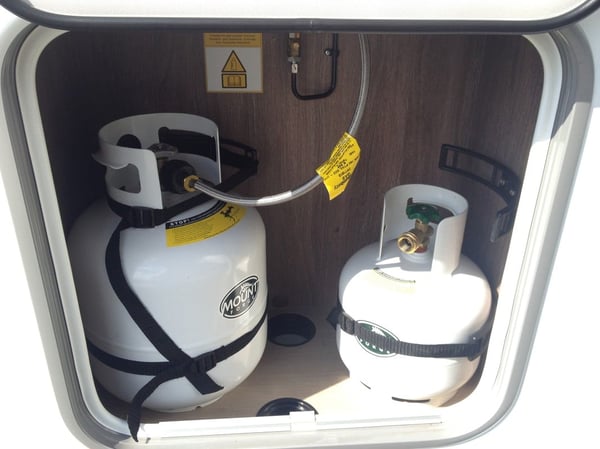 Inverter
An inverter converts the direct current (DC) from the motorhome house battery to alternating current (AC). Typically, a motorhome inverter converts 12V DC to 240V AC. This provides a way to power small appliances and low load equipment when the motorhome is not plugged into mains power. A basic inverter can power equipment that draws less than 600W. Inverters are not standard equipment in motorhomes so are often fitted after purchase.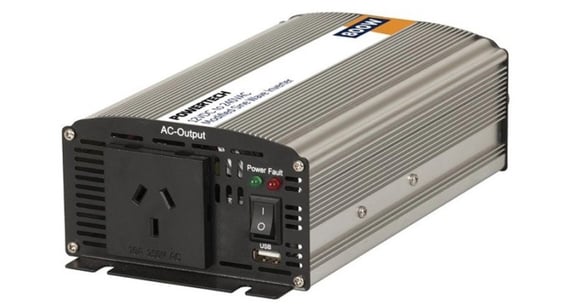 Combi heater
A combi heater is a type of motorhome central heating that combines two functions in one appliance - warming the living area and heating water. Combi heaters can be used in gas, electric, diesel or mixed mode.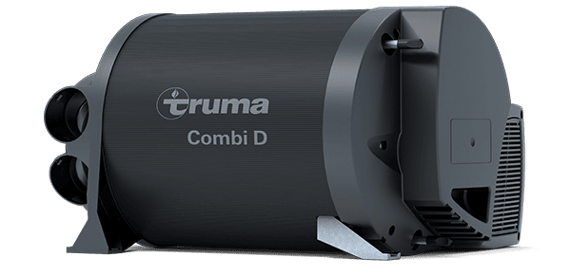 Water and bathroom
Frost control system
A frost control system is a feature in many European motorhome water heaters. It prevents the water in the heater unit from freezing in sub-zero temperatures.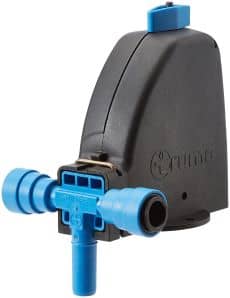 Grey water
Grey water is water from the sink and shower, which is contained in the grey water tank.


Black water
Black water is the toilet contents. It is usually contained in the toilet cassette or in a black water tank in some motorhomes.
Cassette toilet
A cassette toilet is a fixed toilet, which is plumbed into the motorhome. The contents are flushed into a storage container known as a cassette. The cassette can be emptied at specially designed dump stations located at most holiday parks as well as at public locations all over the country. A chemical is added to the cassette each time it is emptied to break down the contents and prevent odours.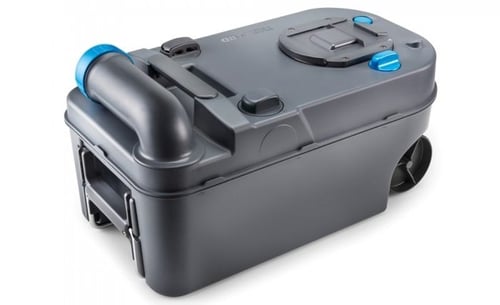 Portable toilet
A portable toilet is not plumbed into the motorhome so can be removed when not in use.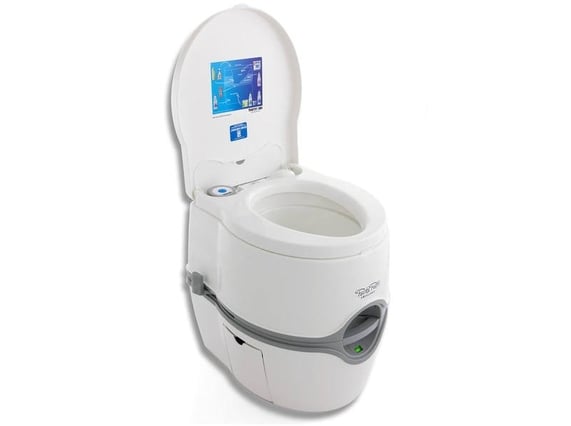 Black tank toilet
A black tank toilet is one that stores toilet waste in a special tank attached to the underbody of the motorhome. These are most common in A class motorhomes in the US.
Vario bathroom
A vario bathroom, or variobad in German, is a bathroom innovation that separates the shower from the toilet via a swivel wall to prevent the toilet and vanity from getting wet when the shower is in use.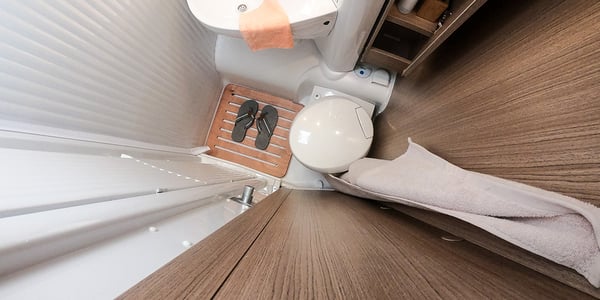 Doors and windows
Cassette blind
A cassette blind sits in a frame that attaches to the inside of the motorhome window. The blind has both blackout fabric and insect screen components. The blackout fabric and the insect screen retract into the unit which houses the operating mechanism.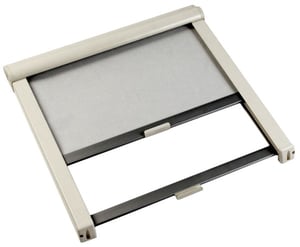 Hartal door
A Hartal door is a brand of motorhome habitation door with integrated components, which may include central locking, a window, insect screen and a waste bin.



Motorhome exterior
Garage
A garage is a large storage space in the lower rear of a motorhome that can be accessed externally. It's used to store bulky items or items that are primarily used outdoors, such as sporting gear and bicycles.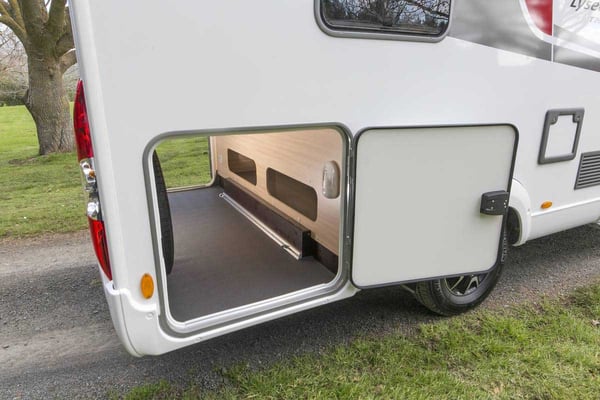 Service unit
A service unit is an external locker with centralised access to the motorhome services such as water tanks and the power connection point.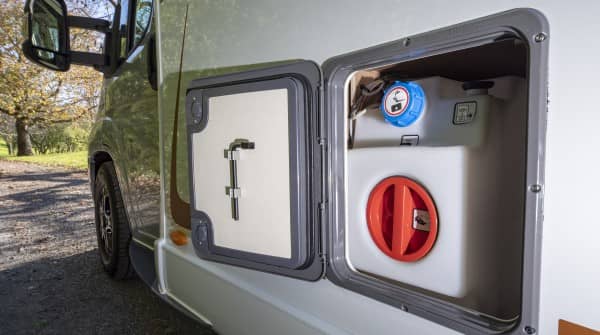 Habitation unit
A habitation unit is the living area of a recreational vehicle which is separate from the driver's cab.

Onside entry door / onside habitation door
An onside entry or habitation door provides direct access to the habitation unit or living area from the passenger side or kerbside.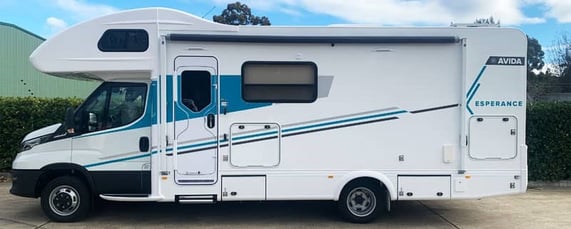 Offside entry door / offside habitation door
An offside entry door or offside habitation door provides direct access to the habitation unit or living area from the driver's side. Offside entry doors are most common in European motorhomes manufactured for the right-hand drive market (the UK and New Zealand).




Fix&Go Kit
A Fix&Go kit is designed to temporarily fix the most common tyre damage i.e. punctures and leaks. It works by sealing the inside of the tyre. The repair can be undertaken by most motorhome drivers and does not require specialist skills.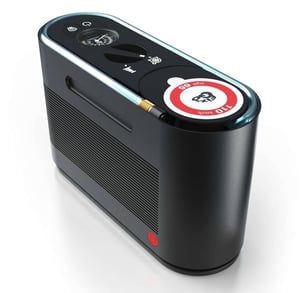 Warranties, Certifications and Guarantees
Water tightness / water impermeability guarantee
A water tightness or water impermeability guarantee warrants that the motorhome is watertight. Water damage that occurs as the result of water ingress during the warranty period will be repaired at the motorhome manufacturer's cost subject to certain requirements being met. Water tightness guarantees range from three years to ten years. Most water tightness guarantees require an annual water tightness test.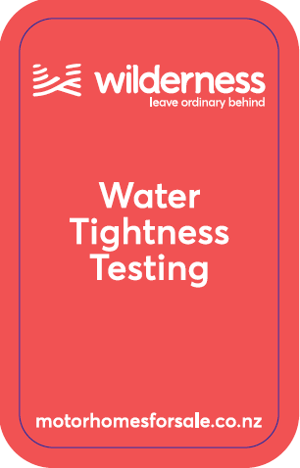 Gas Safety Certification
Gas safety certification confirms that any gas appliance or gas fittings in a vehicle have been deemed compliant before installation and that the installation is consistent with New Zealand safety standards.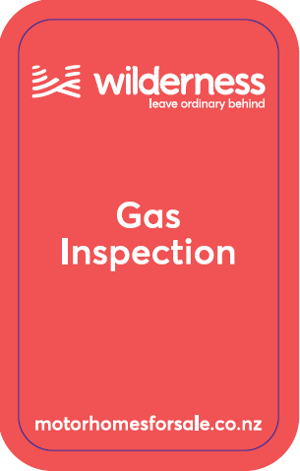 Warrant of Electrical Fitness (WoEF)
A Warrant of Electrical Fitness (WoEF), issued by an authorised installer or inspector, confirms that the electrical installation in a recreational vehicle is safe to use and complies with the Electricity (Safety) Regulations 2010.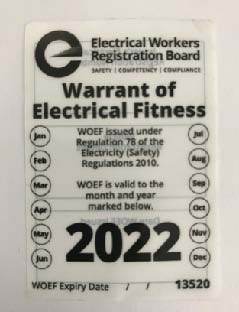 Motorhome Certificate of Fitness (CoF)
A Certificate of Fitness (CoF) is required for heavy vehicles, including motorhomes, with a gross vehicle mass (GVM) of more than 3500kg. A CoF is issued when a motor vehicle has passed a compulsory periodic inspection of safety and roadworthiness.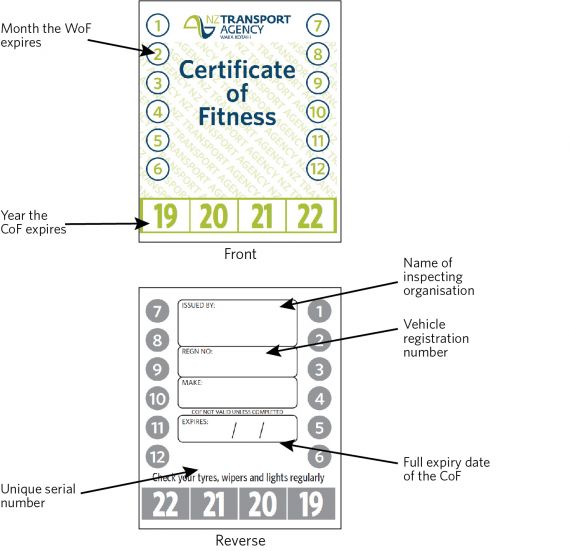 Heavy vehicle specialist certification / LT400
A heavy vehicle specialist certificate or LT400 certificate is issued after a heavy vehicle (gross vehicle mass of more than 3500kg) that has had a cab wall modification has passed the required safety inspection.
Certified Self-Contained
A certified self-contained vehicle meets the ablutionary and sanitary needs of its occupants for a minimum of three days without requiring any external services or discharging waste.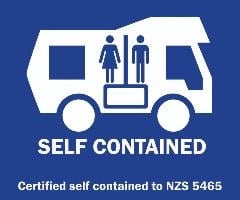 Want to find out more?
If you want to find out more information about any of these motorhome terms, or want ask about any that we haven't listed, get in touch with us today for a chat.