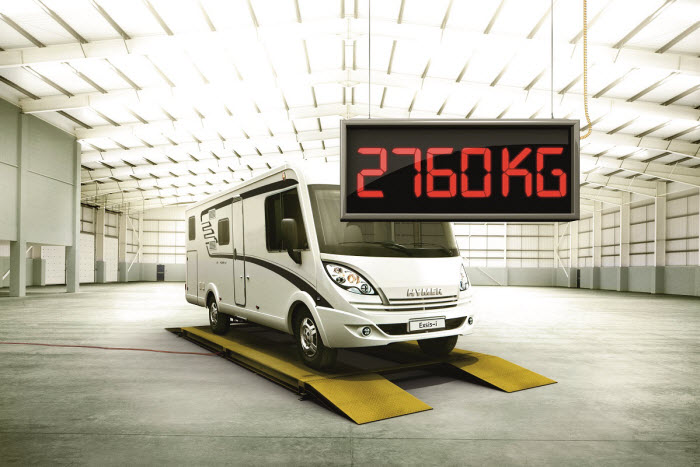 When you start the journey of buying your first motorhome you may come across some jargon that could be confusing at first. Here, we answer some of the most commonly asked questions and explain the terms and definitions that come up when buying an RV.


Definitions to know before you start

Motorhome weights and payloads are important to understand as a motorhome buyer as they have a bearing on the driver's licence you will need to drive your motorhome and the vehicle testing regime you will need to follow.
Tare Weight: the weight of the vehicle without any load. All storage tanks empty (apart from fuel), no occupants and no contents on board.
Gross Laden Weight (GLW): the weight of a vehicle together with any load it is carrying, including any equipment and accessories plus full fuel tanks (including LPG bottles). Water tanks and waste water tanks are empty. This weight may be specified (following the latest modification, if applicable) by the vehicle's manufacturer. In most cases GLW is the same as gross vehicle mass (GVM), see below.
Gross Vehicle Mass (GVM): the maximum loaded weight (as specified by the manufacturer) at which the vehicle can be driven on the road. In most cases this is the same as gross laden weight (GLW), see above.
Gross Combined Mass (GCM)/Gross Combined Weight: the sum of the gross laden weights of the vehicles that make up a combination vehicle (e.g. a motorhome and trailer).
Payload: the weight of what you add to the unladen vehicle, including occupants. The allowable payload is the GVM less the tare weight of the vehicle.


What kind of license do I need to drive a motorhome?

With a full New Zealand class 1 drivers license or above you can drive any motorhome with a gross laden weight (GLW) of 6,000kg or less. All vehicles over 3,500kg must have a certificate of loading, which is usually displayed on the vehicle's front windscreen, and this will tell you the vehicle's gross vehicle mass (GVM) or gross combined mass (GCM).


Do I need a CoF or WoF?

Motorhomes with a gross vehicle mass (GVM) of more than 3,500kg need a Certificate of Fitness (CoF), as opposed to the regular Warrant of Fitness (WoF) given to cars and other lighter road vehicles. For a motorhome you own for personal use, you'll need to get a CoF every six months. This can be done at any suitable CoF B testing station around the country.

You can read all about CoF vs WoF motorhomes here.

Note: There are some exceptions for motor caravans with a manufacturer's rating of less than 3,750kg and that were registered In New Zealand prior to 1992. You can find out more about this exemption here.


Do I have to pay Road User Charges (RUC)?

You must pay road user charges (RUC) if you are driving a vehicle that uses diesel or other fuel that is not taxed at source. (Petrol is taxed at source, so levies are built into its price at the pump.)

All eligible vehicles are assigned a permanent RUC weight. In most cases, the RUC weight will be the gross vehicle mass (GVM) of the vehicle, which is indicated on the certificate of loading on the front windscreen.

To pay your road user charges, you need to buy an RUC licence based on your vehicle's RUC weight and vehicle type. For most motorhomes, this will be a 'distance licence', which you can buy in 1000km units (or multiples of 1000). You must buy a new licence before you've driven all the distance covered by the previous licence.

When buying a used motorhome, be sure to check it has a current RUC licence. It is an offence for a person to sell a vehicle without a current RUC licence and the new owner will become liable for any unlicensed distance.
See the RUC rates and fees here


What is Certified Self-Contained (CSC)?

Most modern motorhomes are Certified Self-Contained (CSC) and display a blue compliance sticker to indicate this. This certification allows you to freedom camp legally in your motorhome as it demonstrates that your motorhome has the capacity to look after the full cooking and sanitary needs of everyone on-board for at least three nights. It shows that you can stay in a location without leaving any evidence of having been there.

If you are buying your motorhome from a reputable dealer, then they should arrange the certification inspection and paperwork before you collect your vehicle. Otherwise, the NZMCA has Self-Containment Officers available to members, or you can ask any registered plumber.
Certification requirements are as follows:
A freshwater supply (of 4L per person per day; i.e. 12L per person)
All internal waste water drainage points must be fitted with non-return valves that empty to a sealed grey wastewater tank so no water can spill on the ground
A toilet (net holding tank capacity of 3L per person)
A wastewater holding tank (minimum of 12L per person) and monitored if capacity is less than the freshwater tank
An evacuation hose (of 3m for fitted tanks, or long enough to connect to a sealed portable tank)
A sealable refuse container (standard rubbish bin with lid).


What's a 'Cassette Toilet'?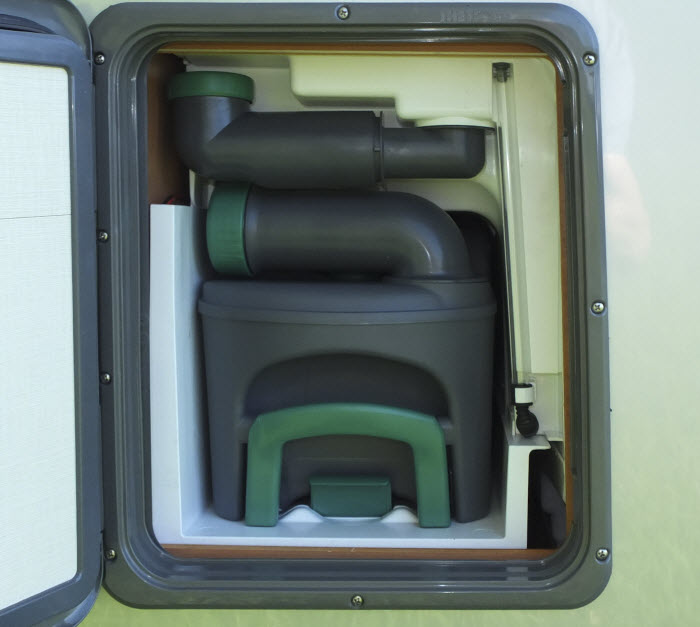 Toilets in modern motorhomes are usually 'cassette toilets'. After it is flushed, the contents of the toilet is emptied into a storage container, known as a 'cassette'. This cassette contains a chemical to break down the contents and prevent odours. After flushing, there is usually a seal that moves back to close the entrance to the cassette before the toilet lid is replaced.

When it's time to empty the cassette (a light on the toilet usually indicates this), you disconnect it from the toilet and remove it via an exterior panel on the side of the RV for emptying at a dump station. You then refill it with the toilet chemical, add a little bit of water and replace it for use.


New Zealand Motor Caravan Association (NZMCA)

A membership-based organisation for private motor caravan owners. It offers a range of resources and benefits such as discounted services and products, a dedicated insurance scheme and guides to getting the best out of motor caravanning around New Zealand. Find out more about the NZMCA.