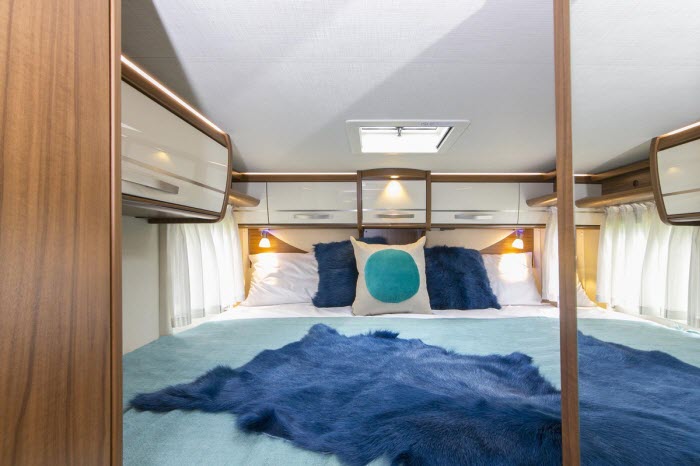 Choosing a motorhome length, layout and berth to suit your lifestyle requires a little imagination. It's a time to think about how you want to live while on the road, and how many of you will be along for the ride.

Layouts and length can vary widely depending on how much space is given over to beds and lounge areas, and even the type of beds will need consideration. Here, we look at what to think about when selecting the right motorhome for you.
Length
Motorhomes on New Zealand roads usually start at around 6m in length. Anything shorter than this, is usually a van (or even car) conversion and is referred to as a campervan. While the size of a motorhome will affect the price, after the base vehicle it's actually the fitout that has the largest bearing on the final cost. So you can buy a large motorhome with a low quality fitout for less than a small motorhome with a high quality fitout.

Putting the quality of the fitout to one side for a moment, it's best to decide on the size you need based on the type of motorhoming you're planning to do before you focus on the quality of the fitout. For example, if it's just you and your partner travelling and you plan to do mostly weekends or short trips, then a small motorhome or campervan may suit your needs best. In Europe, campervans around 5.4m long or less are a popular choice for many families as they're small enough to take into town and big enough for a weekend escape.

It's also important to think about what you're comfortable driving. Driving a large motorhome takes practise but it's worth bearing in mind that motorhomes longer than 7.5m can be more challenging on narrow New Zealand roads which have more twists and turns than the open roads in larger countries like Australia or the USA. A 7.5m or shorter motorhome can be a lot easier to manoeuvre and park than a 9m one.
Layout
The layout of your motorhome can make a huge impact on the functionality, usefulness, and appeal of the vehicle. Too many buyers forget to consider how they are going to live in their motorhome and often regret the layout down the track because it isn't suited to their needs.

With such a large variety of motorhome layouts to choose from it's important to know where you are most likely to spend your time while in the motorhome. The majority of owners will spend a significant amount of time in their living space and bedroom so these areas should take priority when it comes to space. However, that doesn't mean you should sacrifice the functionality of other areas such as the kitchen or bathroom.

A key element to keep in mind when it comes to your motorhome layout is the number of space optimization features it utilities. These can include drop-down beds, pop out countertops, dinettes that double as an extra bed, swivel chairs in your cab and slides which can expand the space you have by 30 to 60 per cent. All in all, you want to ensure that the layout you decide on is practical and will accommodate your lifestyle.


Berths and bedding
A family of four will need more beds. You can find a 6.8m motorhome that sleeps four, for example, and still has a good-sized dining area. A couple planning on taking longer trips will usually want more room to relax but not necessarily more beds. Purchasing a motorhome based on its length is a trap many novices fall into. A longer motorhome with lots of beds will actually have less interior space to move around or relax in than one of the same length with fewer beds. So if there's just two of you, look for a motorhome with just one or two beds.


The bed layout tends to dictate the remainder of the space, so let's look at the various options you'll come across.
Fold down


A made-up bed that 'folds down' from the ceiling using a hand crank or push button. Because the bed drops down when you need it at night and disappears into the ceiling cavity during the day, these have revolutionized modern motorhome layouts as they allow for extra living space.



Fixed bed


Beds that are part of the floor plan and cannot be tucked away. The most common floor plan includes a fixed double bed at the rear of the vehicle that can be curtained off for privacy. Sometimes this will be transverse (across the width of the back), other times an island bed (with space on either side), or a French bed (accessed from one side only). This is the most popular floor plan in European motorhomes because the bed doesn't double as a lounge. It has a slatted base and a high quality mattress, which makes for a good night's sleep.

Fixed single beds can be ideal for couples who prefer their own space at night, and if there is a drop down bed up front too it can be a great option for families, as the kids can sleep in the single beds.



Lounge bed





The lounge converts to a double bed. During the day you can enjoy a spacious lounge and dining area, then at bedtime you lower the table so it becomes part of the bed base and arrange the seat cushions to fill the void. The main disadvantages of this set-up are comfort and convenience. You're sleeping on lounge cushions designed for seating and you have to unmake the bed every morning and remake it every night.



Luton/cab over bed


An area that extends over the top of the cab and provides a second double bed accessed by a ladder behind the driver's seat. These are found in many New Zealand-designed four and six-berth motorhomes. Lutons are great space savers, but can make the motorhome top heavy, causing drag and reducing fuel efficiency. Some motorhomers prefer a more aerodynamic integrated body.



Permanent

Not to be confused with 'fixed', this simply means the bed is made up (with bedding) but can be tucked away. You will sometimes see the term "permanent drop down" bed. This is a made-up bed that tucks away into the ceiling, then drops down and is ready to use.



All these bedding options can be used in different ways to create myriad motorhome layouts, and it will simply come down to what works best for your needs.

Thanks to the skill of specialist motorhome designers, a smaller motorhome doesn't necessarily mean less living space. But a longer motorhome can give you more options when it comes to fixed beds (as opposed to those that tuck away during the day) or island beds (that you can walk around), additional lounge seating, or extra storage space.
Comfort and other considerations


Mattress quality is crucial. These will differ between motorhome manufacturers. Look for a good mattress, ideally with a washable cover, over a base that allows the mattress to remain dry and healthy.


If you or your partner are tall, or you're travelling with growing teens, check bed length to make sure everyone can stretch out and be comfortable.


Check lighting around beds (e.g. adjustable for reading), and bedside storage.



Consider your lifestyle


Choosing the right layout, length, and bedding for your motorhome all comes down to making sure it suits the way you want to live while on the road. Space optimization features are always a key element to look out for, but in the end, the right choice for you will completely depend on your lifestyle and how you function within your motorhome.

Our parting tip is to spend a bit of time scoping out the different motorhome layout at the dealership and work out how you will interact with the different aspects of a motorhome. Even just a short time testing out the functionality and how you will live in the motorhome can make a major impact when it comes to your decision.


Also in the Wilderness 'Buyers' Guide' series:
RV Buyers' Guide – Budget
RV Buyers' Guide – Motorised or Towed?
RV Buyers' Guide – Self-Contained Vehicles
RV Buyers' Guide – Chassis and Construction
More helpful reading: