You've invested a lot of your hard-earned cash in your new motorhome. So why leave it parked up in the cooler months? You can savour those cold winter evenings on the road in a toasty warm motorhome.

A motorhome that's fully winterised has been built for four seasons. It has full insulation, double glazed windows, and a grunty heater that can be used without needing to plug into mains power.

If you plan to use your motorhome in winter, a central heating system is a must. These are now standard in caravans and motorhomes imported from Europe.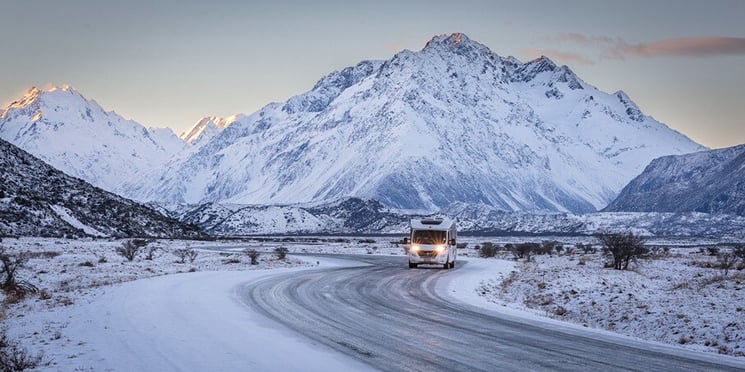 In this article, we look at options for heating your motorhome. From small mains-powered portable heaters that are similar to what many homes have to central heating systems designed for adventurous motorhoming.
How do central heating systems in motorhomes work?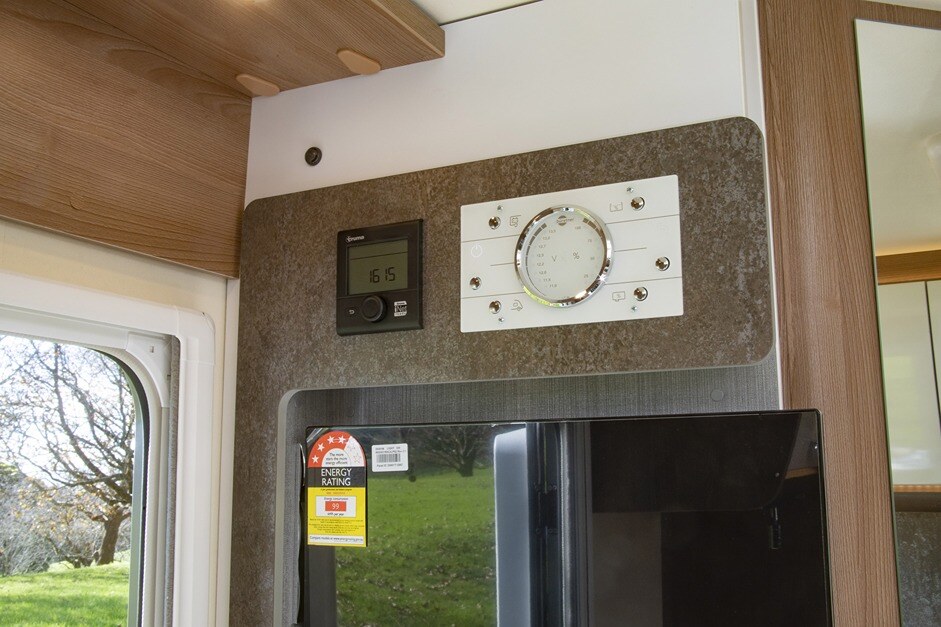 A central heating system has a small gas or diesel-powered heater unit or boiler — often referred to as an air-blown heater. It's fixed under a seat or in a cupboard.

If you have a high end motorhome, it may also have a thermostat. You'll be able to dial in a comfortable temperature and let the unit do the work. The thermostat will automatically switch on when the temperature drops below the temperature set.

Air-blown heaters produce dry heat. They work by drawing oxygenated air into their burners and completely sealing it off from your motorhome's internal air.

Air is driven by a fan across the heat exchanger, then dispersed via ducts throughout the interior. Burnt noxious gases are expelled externally through a vent.

The heated air is directed using a 12 volt DC supply, so you won't need to be connected to mains power to operate the central heating system. However, the heating system will need power to start — so ensure you have sufficient battery charge to turn your heater on.
Check out our motorhome power guide about 12 volt batteries.
Fuelled with diesel or LPG
An air-blown heater system is fuelled by either diesel or liquid propane gas (LPG). Depending on its fuel source, your heater will either be connected to your motorhome's main diesel tank or to your LPG setup.
Ducting system
Ducting systems take the warm air from your heater and disperse it throughout your motorhome's interior. The best ducting system designs have multiple ducts — located at floor and shoulder levels.

Strategically-placed locations — including in the bathroom — ensure heating is evenly spread and there aren't any cold spots or areas of condensation buildup.
Take a look at our guide to motorhome bathrooms.
Controlled by thermostat
After the air has been heated and fan-driven to the ducts, there may be a thermostat that switches on and off to maintain your preferred temperature.
Easy to operate
Most air-blown heaters are fairly easy to operate, though ones with digital touchpads take a little getting used to. Cold weather is usually a great incentive for understanding how your motorhome's heating system works.
Reduce condensation
Air-blown heaters have a combustion process that's separate from the heated air. They considerably reduce the problem of condensation — like that caused by a naked flame when using a hob.
Diesel vs LPG heating
Central heating systems in motorhomes can be powered by electricity — plus either diesel or LPG.

Utilising fuel sources other than electricity enables you to have heat when camping off-the-grid. Both LPG and diesel heating systems have evolved to become increasingly safe and practical — essential if you're planning to freedom camp in winter.

LPG is the most common fuel source for motorhome central heating systems in New Zealand. It can also be used to fuel your cooker and even your hot water if you have a Combi heater which heats both the interior of the motorhome and your water (more below). LPG bottles are stored in an external locker vented to the outside.

Diesel powered heaters are a little less common. They only work in a turbo diesel-powered motorhome. A fuel line is tapped off the main diesel tank to provide fuel to a small diesel tank which usually has 10 – 12 litres (L) capacity.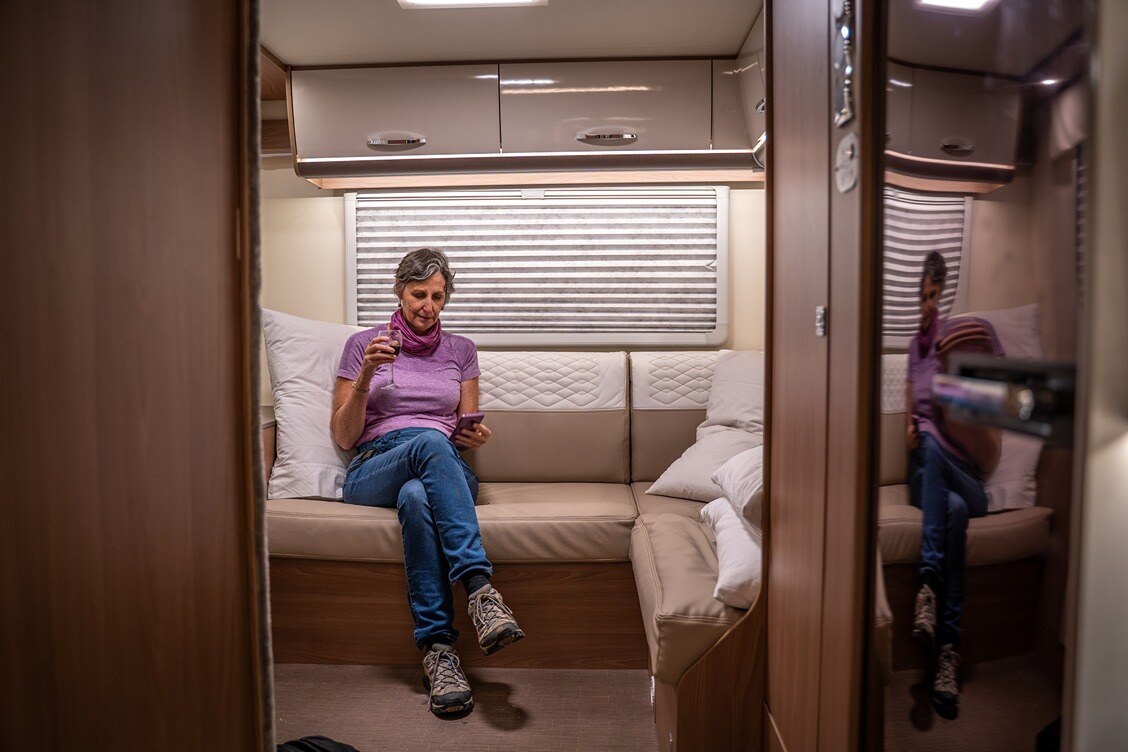 Running costs of diesel versus LPG
If we look at the equivalent heat output of a gas heater versus a diesel heater, we can gain a clearer idea of their respective running costs. Here are two examples.


A

Truma Vario Eco Gas Heater

operating at 2.2 kW of heating will use about 170 g/h of LPG. Based on a price of $24* for a 9 kg cylinder refill, running costs will come to about 45 cents per hour.


An

Eberspacher Airtronic AS2 D2L

on its output of 2.2 kW will go through about 0.28 L/h of diesel. At today's average price of $2.90 per litre, running costs will come to approximately 81 cents per hour.


The current cost of fuelling your heating system with diesel is almost double the cost of LPG.
*At the time of writing (August 2022)
Pros of diesel heating
Goes a long way — so you'll have less chance of running out of diesel on a cold night.
Can be operated while your motorhome is in motion — though you do have a heater in the cab to keep you warm while driving.
Is quieter than an LPG-fuelled heating system.
Pros of LPG heating
Ignites fuel readily.
Has a stop-start cycle — so when your LPG heater reaches its target thermostat temperature, it turns off and on when needed.
Is cheaper to replace than an equivalent diesel unit.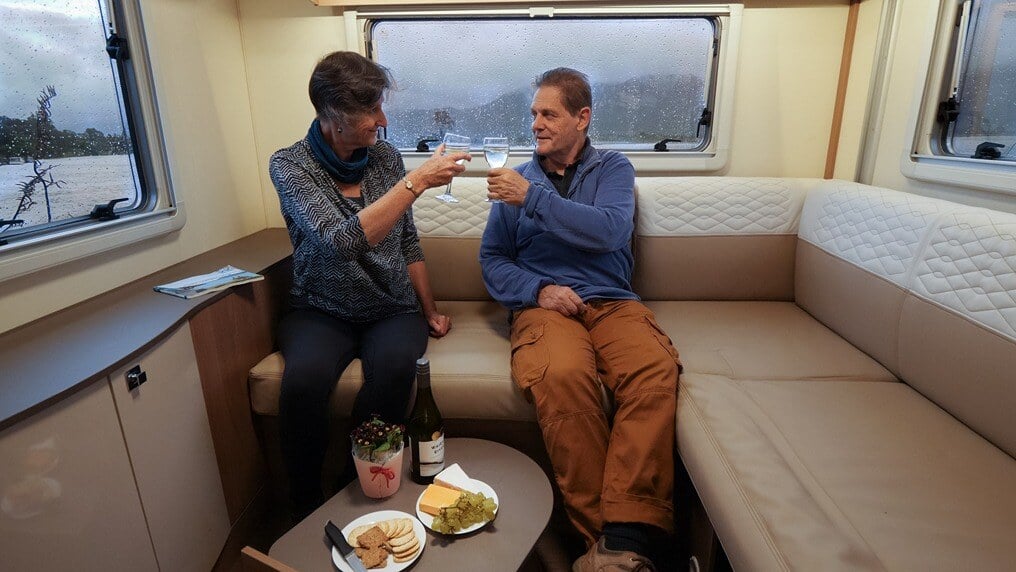 The importance of your house battery
Whatever your heater fuel source, you'll need a reliable 12 V power supply to keep your heater fan working. Remember not to let your house battery level drop too low as you won't be able to start the central heating system or keep the fan going.

Learn how to recharge your house battery.

Diesel heaters need 6 – 10 amps (A) for 30 – 60 seconds during their start period. Both LPG and diesel pumps draw less than 1 A while operating. If your battery voltage drops too low, your fan and heater will stop.
Find out everything you'll need to know about motorhome power.
Heaters to avoid
The only heaters you should use in your RV are inbuilt central air heaters or small portable electric heaters.

An LPG (or catalytic) heater designed for home use isn't suitable for a motorhome. Placing this type of heater in a recreational vehicle's confined air space is not only dangerous, it's illegal. Like portable camping devices, they give off radiant heat.

Burning LPG causes two problems which are:


Oxygen deprivation

Carbon monoxide poisoning.




Both can lead to unconsciousness and even result in asphyxiation whilst sleeping. And for this reason, open ovens and LPG-fuelled hobs should never be used as temporary heaters.

Discover more about LPG safety in your motorhome.


Motorhome central heating system brands in New Zealand
The most common RV central heating units installed in motorhomes available in New Zealand are made by pioneering German manufacturers like:


Propex, a British manufacturer with economical LPG heaters, have had a presence for a few years. Swedish and Russian makers (Alde and Autoterm respectively) have also moved into the market.

All these brands are supported by service agents in New Zealand.
Find out how motorhome heating, light and ventilation work together.
Combo heaters
Manufacturers like Truma and Alde make air heaters with a water heater in the same unit — essentially two functions in one.

The burner heats glycol which then moves through a heat exchange unit and heats your water. The water heater unit typically heats about 8 – 10 L at a time.

A Truma unit has a 10 L stainless steel water tank for heating the water and heat exchanger fins to heat the air. However, it won't give you instant hot water but rather take around 25 minutes to fully heat from cold.

The Alde hydronic system is a little different. It uses a mix of water and glycol rather than water and air. A pump then circulates it around your motorhome via radiators and pipes. The radiators are placed along the outer walls to heat the air, setting up a convection cycle that heats everything.
Advantages of combo heaters
The benefits of choosing a motorhome with a combo heater are:


Space saving — particularly in smaller campervans and motorhomes

Cost saving — compared to purchasing separate water and air heaters.




Alde's high-end combo heaters have an option for a heated towel rail which is an added benefit for fast drying towels.

For their water and air combination heater, Truma let you choose your fuel source.
Reverse cycle air conditioners
Uncommon in New Zealand but popular in Australia, reverse cycle air conditioners are capable of both cooling and heating. Just like a domestic heat pump, they allow the refrigeration cycle to be reversed — to provide both hot and cool air.
How reverse cycle air conditioners work
When you select a heat setting on a reverse cycle air conditioner:


A refrigerant (cold liquid) passes through an external coil and absorbs heat from outside.
The compressor then pumps the warm air to the condenser.
When the refrigerant compresses, it warms up.
Then the fan pumps out this warm air into your motorhome.


Reverse cycle air conditioners require connection to a 240 V mains power supply or a generator. Their other major downside is that they only operate on heat cycles when ambient temperatures are above four or five degrees Celsius. Anything below that and they'll do a good job of blowing out cold air but not much else.

It's therefore not surprising that reverse cycle air conditioners aren't practical for New Zealand motorhoming — especially if you prefer to camp off-grid.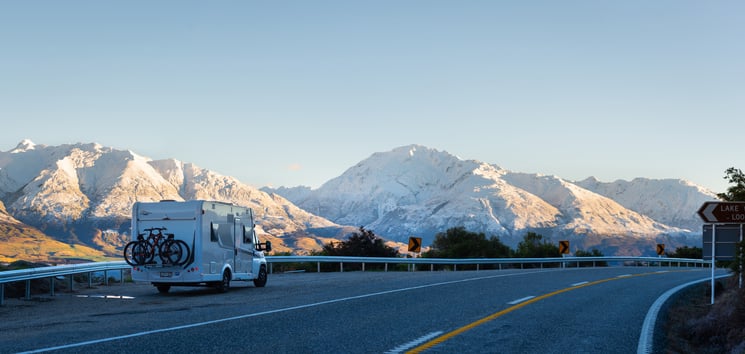 Not-so-reliable heaters on the market
Chinese-made replicas of well-known diesel heater brands are available on websites like eBay. Their prices raise serious concerns about the quality of their products.

Considering both hot temperatures and life harming gases are involved, you may not want to risk using a heater from these lesser-known manufacturers.

Parts availability and servicing can also be an issue, so be confident you have solid DIY skills for any repair jobs.
Why insulation and double glazing are so essential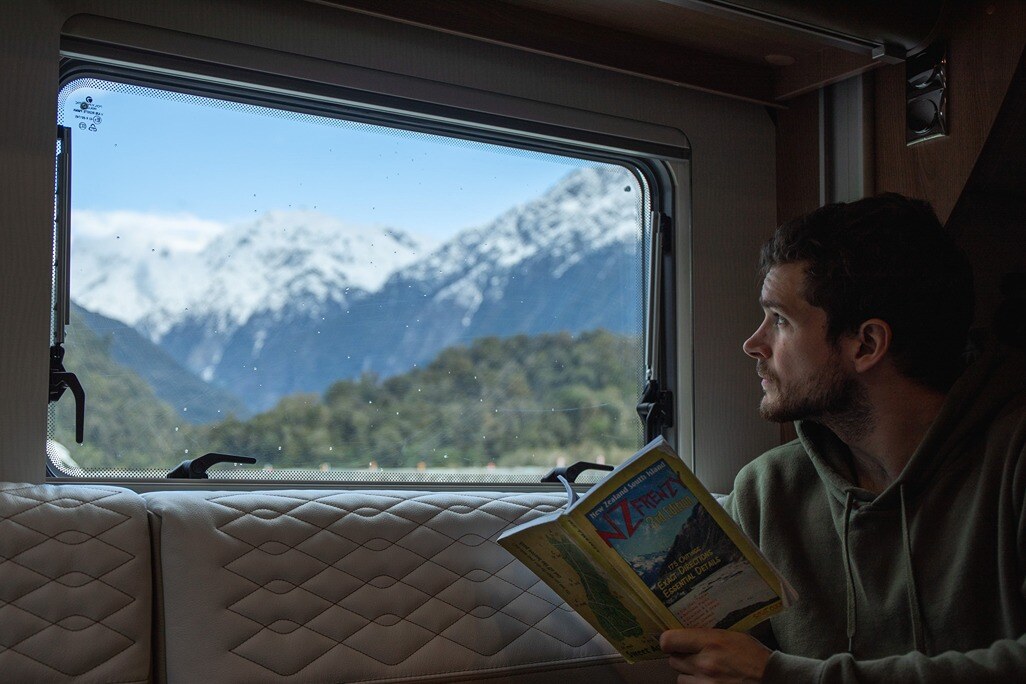 When deciding on a motorhome that'll best suit you and your travel plans, it's important to look beyond heating. For warm winter touring you'll need reliable insulation and complete double glazing — as well as your dependable central heating system.

See how to prepare your motorhome for a winter road trip.

Insulation and double-glazed windows are vital to your motorhome's warmth because they:


Ensure better temperature regulation whether there's cold or hot weather outside

Reduce the problem of condensation — particularly in winter

Provide an excellent thermal and air barrier without air gaps.




Many motorhomes and campervans in New Zealand have some insulation but this may be insufficient to effectively retain warmth over the colder months.

Learn more about insulation in the types of motorhomes available in NZ.

Installing a diesel or LPG heater
Depending on your motorhome or campervan's layout it should be easy to install a heater. Diesel and LPG heaters vary slightly on where the heater flue goes. But in both cases, it should be totally sealed off from the interior.
Installing a diesel heater
If you're getting a diesel heater installed, use a competent handyperson who knows what they're doing. Fitting the pick-up pipe to the diesel tank requires some skill and the flue usually goes through your motorhome's floor.
Installing a LPG heater
If you're getting a LPG heater installed, it must be done by a licensed tradesperson. The flue should be on a wall adjacent to your heater. You don't want your flue near any open windows or doors — nor on the same side as your habitation door.
Maintaining and servicing your heater
Like any mechanical device, your LPG or diesel heater will require maintenance. Get it checked annually if you use it often, or every 24 to 36 months if you utilise it less frequently.

Service requirements vary depending on your model — but regular cleaning of the burner, ducting and fan is essential. You'll also need to replace the glow pin, burner, motor gaskets and fuel filter periodically.


While you're servicing your heater, learn how to prepare your whole motorhome for winter.
Do-it-yourself servicing
A few tasks don't require the expertise of a service agent if you're fairly competent at DIY, such as:


Regularly vacuuming around your heater — particularly around the air intake to keep airflow clean

Inspecting your heater's external air intake and exhaust — for insect nests, dirt, and mud.




If you don't use your motorhome heater regularly, ensure you still start it every month and run it for around half an hour — to keep it in an operationally good condition.
Choosing a motorhome with a heating system that works for you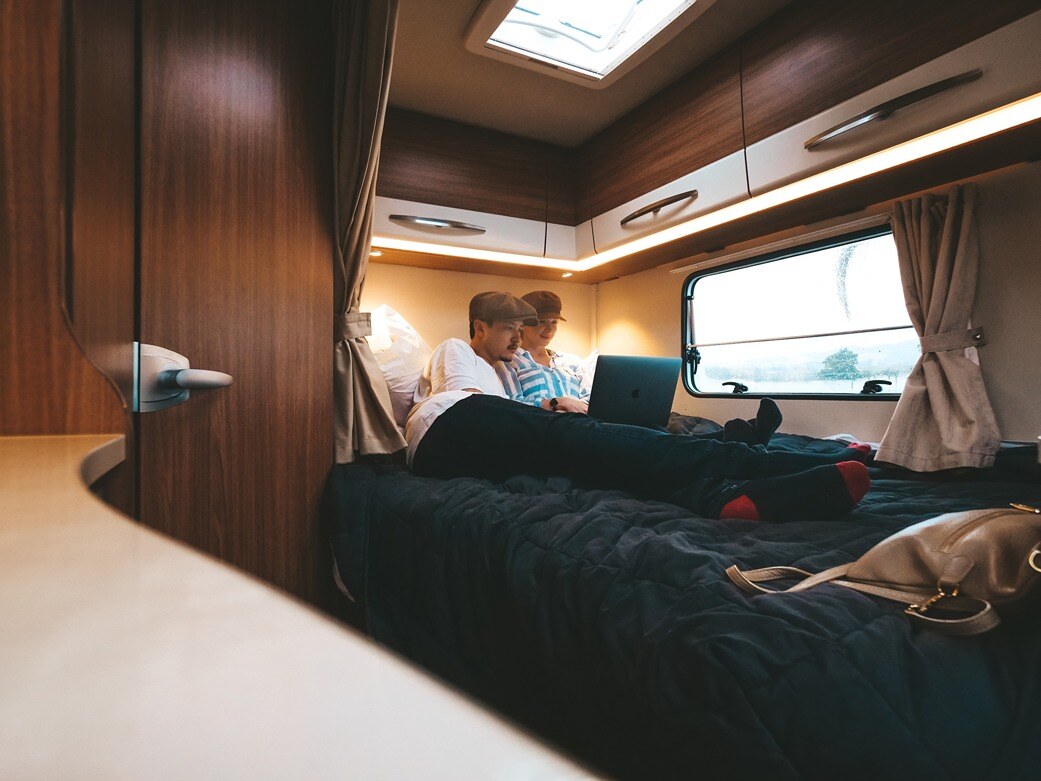 Understanding the different types of motorhome heaters and how they work is an important step in determining what type of motorhome you should buy.

If you plan to use your motorhome in winter and prefer to camp off-grid, you'll want a fully winterised motorhome with a powerful heater. Both diesel and LPG heaters work well in New Zealand climates but reverse cycle air conditioners are unsuitable.

Whichever way you go, an air-blown heater will help broaden the places and times of year you can travel by motorhome — without worrying about how cold it is outside.


Get in touch if you have more questions about the different ways to heat a motorhome.