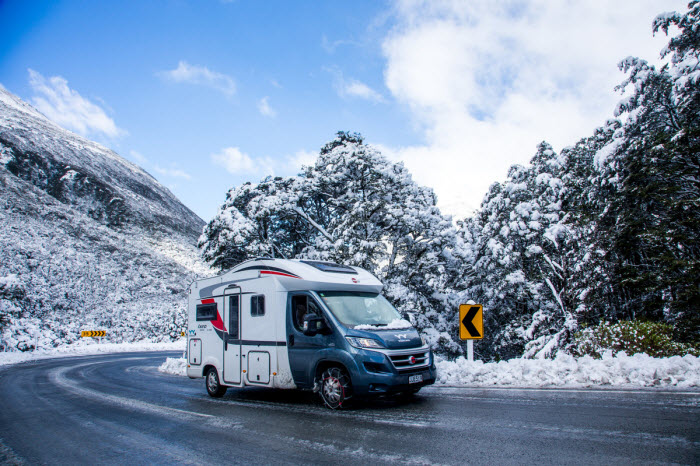 Crisp mornings, windswept beaches and snow-capped mountains – it's time to hit the road and see New Zealand in all her chilly winter beauty. So, sweep out the sand from your summer adventures and get your motorhome ready for a new season on the road.

Here's a handy guide to getting your motorhome winter ready, along with some general essential safety and technical checks.


INTERIOR
Now that winter is here, it might be tricky to get a good sunny day to air out your motorhome, but you can still freshen things up inside and do all the necessary maintenance checks.


Cleaning
Remove any cushions and pillows and put them in a sunny spot inside your home
Put any bedding through an airing cycle in your dryer or have it dry cleaned
Clean and degrease the gas hob and inside the oven
Wipe down kitchen surfaces and clean inside the sink
Clean the shower and basin areas and wipe out the toilet. If you can access the waste trap in the shower drain, open it up and give it a good clean out
Vacuum dust off any upholstery and wipe down with a damp cloth
Wipe out storage cupboards and shelves with a damp cloth
Clean the interior of the windscreen and wipe down the dashboard with a barely damp cloth
Clean the remaining interior windows
Once you have finished cleaning your interior surfaces, mop the floor
If you want to avoid nasty chemical smells when cleaning (especially in a confined space like a motorhome) there are plenty of eco-friendly products in the supermarket aisle that won't leave pungent odours. Or make your own – simply Google 'homemade cleaning products nz' for some useful ideas using locally available ingredients.


Winter Maintenance
Check that the interior heating is working throughout the vehicle and that nothing is blocking any of the vents




Is the heating sufficient for where you're planning to go? Do you need any additional plug-in heaters?
Check that there is sufficient bedding for chillier nights on the road or consider getting electric blankets for the beds for when you're plugged to mains power


Safety Checks
Test all your smoke detectors
Check that the pressure gauges on your fire extinguishers are showing the needle in the green zone and that the pin is still in
Check that your first aid kit is fully stocked and that none of the items are past their expiry dates


EXTERIOR
Cleaning
If you can get a dry day, open the awning right up to air. If you clean it, bear in mind it needs to dry completely before you close it up again. Check it for any damage and ensure it is secure. Spray a lubricant onto any moving parts
The roof of your motorhome can often be overlooked when washing the exterior. If you can access it safely, climb up and give it a good hose down – especially if it has been parked up for a long period over autumn when leaves and other detritus may have accumulated.



GENERAL MAINTENANCE
If you haven't charged your motorhome battery recently, charge it for at least 24 hours on mains power. (If you have any doubts about the battery, have it checked at a workshop)
Check levels and top up to manufacturer specifications if required: engine oil, gear oil (if your vehicle has a dipstick for transmission), power steering fluid, windscreen washer fluid, brake fluid and coolant.
Empty any fresh water from the system and flush it through before refilling with drinking water. (Even then, we recommend using a fresh water treatment if you plan on drinking the water without boiling it first.)
Replace or clean your water filter, if you have one. We recommend fresh water filters and these can be easily retrofitted to almost any motorhome.
Give your waste water tank a good clean by filling it completely with water and adding a waste water tank treatment. Flush it out and repeat.
Check there's no dirt clogging any breather hoses, as this can lead to water draining too slowly.
Visually inspect your waste pipes, hoses and caps for damage and to ensure the vehicle is still compliant with self-containment regulations.
Spray water along all the seals and vents, around solar panels and satellite dishes, then check for any water entry around those areas. (Wilderness can carry out a full water tightness test as required by the manufacturer to maintain the warranty. We recommend having this done each year, as it can pick up any problems early on and help to avoid expensive repairs later.)


SAFETY CHECKS
Make sure all your lights and indicators are working
Check tyre pressures are as per the manufacturer's recommendations.
Look at the sidewall of each tyre to check for cracks. If you see any damage, contact your nearest tyre specialist.
Check for any punctures or flat spots. If you park up for any length of time then it's worth putting the vehicle on axle stands to avoid getting flat spots. These are available from auto or hardware stores.
Check that your tyres aren't more than seven years old. There is a DOT number on the sidewall of each tyre that corresponds with its date of manufacture. E.g. 2816 means the tyre was made in week 28 of 2016. If it is older than seven years then we would recommend replacing it.
Inspect the wheels for any cracks or damage.
Make sure the wheel nuts are tightened to the correct torque setting. If you're unsure, you can check at any service centre.
Check that your gas bottles are less than 10 years old. At Wilderness, we recommend having your vehicle's gas components checked each year, including a leak test. If unsure, Wilderness can recommend a local gas fitter for you.


ON THE ROAD IN WINTER
Top up your gas tanks before freedom camping over winter as you'll use more gas to power heaters during colder weather. Be sure to keep your tanks fairly full, as a nearly empty tank may suffer from pressure loss, meaning your systems will not work as well.
Make sure you have snow chains if you're travelling anywhere where snow or ice may be an issue. Check your owner manual for information specific to your motorhome model.
Fill the windscreen washer fluid with anti-freeze additive or pack a de-icer spray
Check that the anti-frost system is not activated. This system, which is designed to ensure that the pipes don't freeze and split, activates when temperatures reach 6 degrees Celsius, if it's not in use. This means that if the vehicle has been standing without being used during a cold period, it will probably have activated the anti-frost mechanism, and drained out all of the water in the vehicle. If you are unsure of where to find the device, contact Wilderness After Sales for guidance.




If there's any risk of frost, always run the heater at a minimum of 15°C and switch the circulation fan (if there is one) to automatic.
To help prevent condensation and ensure optimal ventilation, open roof storage cabinets, curtains and blinds.
In the morning, lift up all cushions, air out storage boxes and dry any damp areas. Wipe any condensation off.
De-icing salt can damage your motorhome's underbody and the parts open to water spray. It's recommended that you wash your vehicle more frequently during wintertime if travelling on roads that have been de-iced with salt.


If you have any further questions or expert advice please contact our After Sales Team in either Auckland or Christchurch.