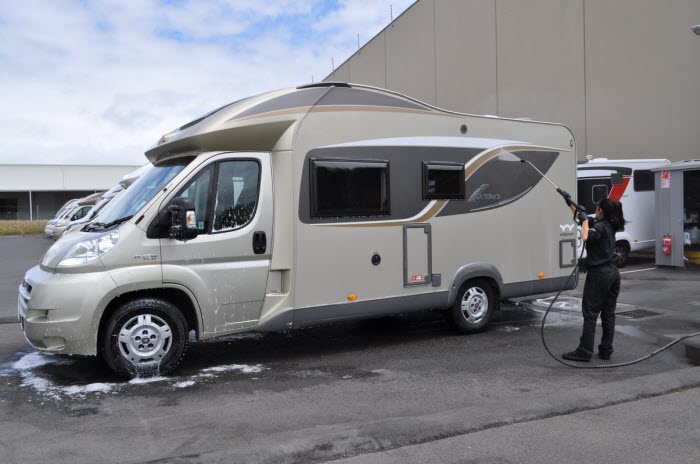 If your motorhome has been parked up and out of use, it's a great time to take give it a good clean and to check all the vital bits and pieces. Then, when the days get warmer again, you'll be all set to head away, safe in the knowledge that everything is ship shape and ready for adventure.
We've put together a quick guide to cleaning your motorhome along with some essential safety and technical checks so you're ready for a new season on the road.
(For more in-depth checks contact our team in either Auckland or Christchurch and we can make sure everything is in tip-top condition.)


INTERIOR
Open all the windows of your motorhome so it can air out while you clean. (If you can manage a nice sunny day then that's even better!)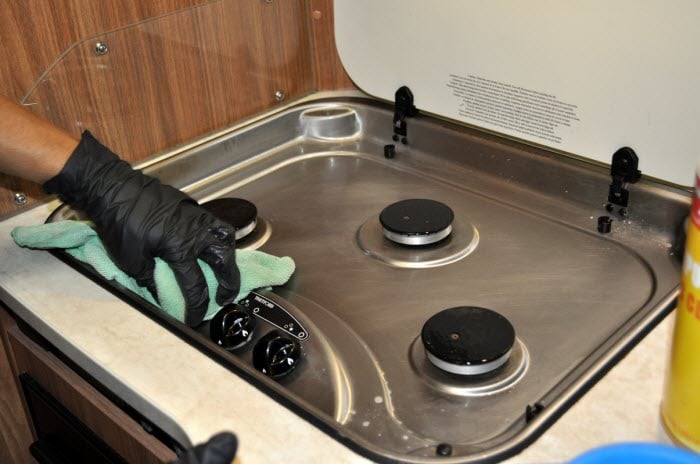 CLEANING
Remove any cushions and pillows and put them outside (in direct sunshine if possible) to air

Air any bedding left in the motorhome

Clean and degrease the gas hob and inside the oven

Wipe down kitchen surfaces and clean inside the sink

Clean the shower and basin areas and wipe out the toilet. If you can access the waste trap in the shower drain, open it up and give it a good clean out.

Vacuum dust off any upholstery and wipe down with a damp cloth.

Wipe out storage cupboards and shelves with a damp cloth.

Clean the interior of the windscreen and wipe down the dashboard with a barely damp cloth

Clean the remaining interior windows

Once you have finished cleaning your interior surfaces, mop the floor.




If you want to avoid nasty chemical smells when cleaning (especially in a confined space like a motorhome) there are plenty of eco-friendly products in the supermarket aisle that won't leave pungent odours. Or make your own – simply Google 'homemade cleaning products nz' for some useful ideas using locally available ingredients.


SAFETY CHECKS


Test all your smoke detectors.

Check that the pressure gauges on your fire extinguishers are showing the needle in the green zone and that the pin is still in.

Check that your first aid kit is fully stocked and that none of the items are past their expiry date.




EXTERIOR
CLEANING
Open the awning right up to air (preferably on a sunny day). You can clean it, but let it dry completely before closing it up again. Check it for any damage and ensure it is secure. Spray a lubricant onto any moving parts.

The roof of your motorhome can often be overlooked when washing the exterior. If you can access it safely, climb up and give it a good hose down – especially if it has been parked up for a long period.




MAINTENANCE
If you haven't charged your motorhome battery for a month or more, charge it for at least 24 hours on mains power. (If you have any doubts about the battery, have it checked at a workshop)

Check levels and top up to manufacturer specifications if required: engine oil, gear oil (if your vehicle has a dipstick for transmission), power steering fluid, windscreen washer fluid, brake fluid and coolant.

Empty any fresh water from the system and flush it through before refilling with drinking water. (Even then, we recommend using a fresh water treatment if you plan on drinking the water without boiling it first.)

Replace or clean your water filter, if you have one. We recommend fresh water filters and these can be easily retrofitted to almost any motorhome.

Give your waste water tank a good clean by filling it completely with water and adding a waste water tank treatment. Flush it out and repeat.

Check there's no dirt clogging any breather hoses, as this can lead to water draining too slowly.

Visually inspect your waste pipes, hoses and caps for damage and to ensure the vehicle is still compliant with self-containment regulations.

Spray water along all the seals and vents, around solar panels and satellite dishes, then check for any water entry around those areas. (Wilderness can carry out a full water tightness test as required by the manufacturer to maintain the warranty. We recommend having this done each year, as it can pick up any problems early on and help to avoid expensive repairs later.)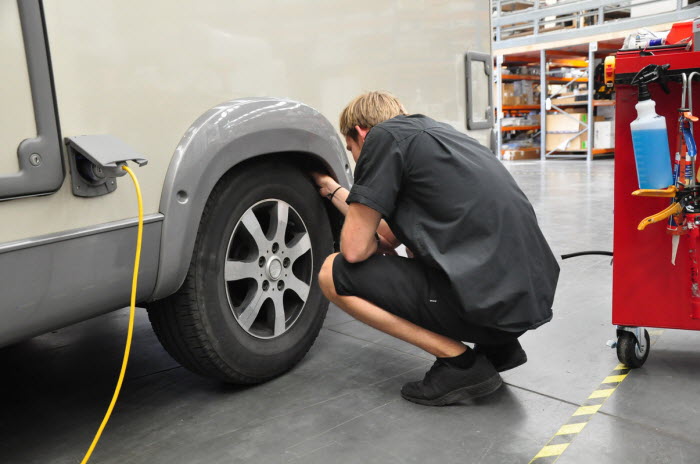 SAFETY CHECKS
Make sure all your lights and indicators are working

Check tyre pressures are as per the manufacturer's recommendations.

Look at the sidewall of each tyre to check for cracks. If you see any damage, contact the Wilderness team.

Check for any punctures or flat spots. If you park up for any length of time then it's worth putting the vehicle on axle stands to avoid getting flat spots. These are available from auto or hardware stores.

Check that your tyres aren't more than seven years old. There is a DOT number on the sidewall of each tyre that corresponds with its date of manufacture. E.g. 2816 means the tyre was made in week 28 of 2016. If it is older than seven years then we would recommend replacing it.

Inspect the wheels for any cracks or damage.

Make sure the wheel nuts are tightened to the correct torque setting.

Check that your gas bottles are less than 10 years old. At Wilderness, we recommend having your vehicle's gas components checked each year, including a leak test. We can do this at one of our service centres, and if any repairs to your gas system are required, Wilderness will contact a certified gas fitter to undertake this work for you.