One of the best parts of touring by motorhome, compared with touring by car, is being able to unpack your bags just once. Instead of unpacking each night when you arrive at your hotel and repacking again the next morning before you move on, you only need to repack your suitcase on the last day of your motorhome holiday.

But just how much storage is inside a motorhome and, more importantly, how much storage do you actually need? Like most decisions around motorhoming, there are always trade-offs. You'll need to weigh up how important it is to take certain things with you and avoiding feeling cluttered.

The difference between a good and a great motorhome is in the detail - and storage is one of those details. Having a home for everything can make a huge difference to your comfort and enjoyment on the road. Whether you are considering a 6-metre van or a 9-metre bus, the challenge is always how to make the most of the available space.
How much storage space is there inside a motorhome?
It's not just the size of the motorhome itself that determines the amount of storage it has. Two motorhomes of the same size may have vastly different usable storage. It all comes down to how much thought went into storage in the motorhome's design.

Motorhome storage has come a long way over the last few years with many brands putting in more effort to maximise the usability of the space. Motorhome designers usually start with positioning the beds, then the bathroom, and then the kitchen and lounge. Not only do they have to factor in the size of the motorhome when optimising the space, they also need to work around structural components of the vehicle including the wheel arches and chassis shape. Once the main components are positioned, including plumbing, gas lines and electrical wiring, the storage compartments are designed.

Most basic motorhomes built for the rental market have rudimentary internal storage, while higher-end motorhomes include refined cabinetry with specialised compartments and even external storage lockers. The cabinetry is carefully designed and seamlessly fits into the habitation space to avoid excessive rattling. A test drive is a great way to check for rattles in the habitation unit.

Many modern high-end motorhomes, especially those made in Germany, have a large external storage compartment called a garage. We're not talking about the slide-out compartment for your small sports car, but a space behind the rear wheels for bulky items or those you will mostly be using outdoors. These big garages are designed for an active lifestyle and allow you to store and access items such as sports gear and outdoor furniture easily.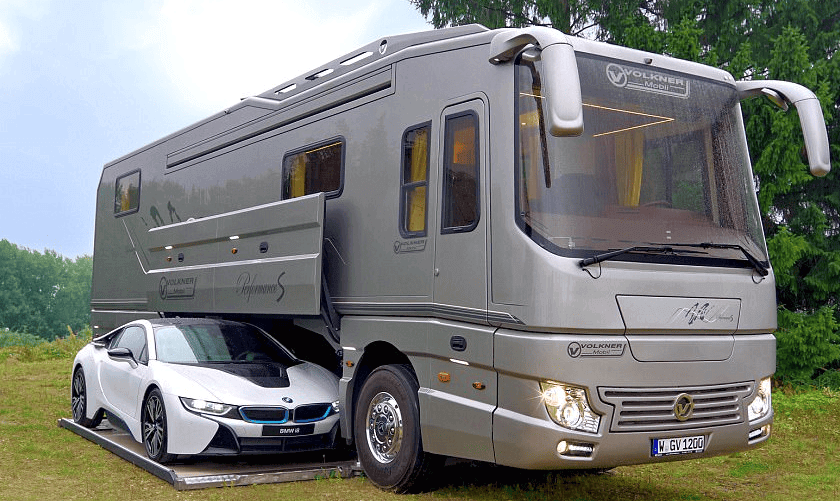 As a general rule, a two-berth motorhome of the same length as a four-berth or even six-berth will have more storage space. That's because a two-berth only has to accommodate one double or two single beds. The additional beds in a four or six-berth take up space that would otherwise be available for storage. This rule also applies in a four-berth motorhome with a fold down bed up front. Even though the bed takes up no floor space, since it tucks into the ceiling cavity when not in use, it does take up space that could otherwise be used for overhead lockers.


What's the best way to store clothes in a motorhome?
Overhead lockers are the most common type of storage unit in a motorhome. Make sure the lockers are easily accessible and easy to open. They should be well-fitted with rounded corners and ideally have a shelf so that it's easier to organise and access your clothing. Most motorhomes don't have drawers for small items such as underwear and t-shirts, like you would have at home, so small bags or packing cells can help organise your smalls. Taking mostly items that can be folded or rolled up for storage is helpful too.

The locker doors are hinged at the top in most modern motorhomes. This makes it easier to see inside the locker and gives easier access. They may also have ambient or reading lights underneath the locker.

Wardrobes with hanging space are common at home but these are very inefficient in a motorhome because they take up a lot of space relative to the number of items that can be stored. Many motorhomes don't have wardrobes at all. Those that do usually have a half-height wardrobe best suited to shirts. Layouts with twin king beds often have the best solution for wardrobes. Because the beds are raised higher off the floor than in an island bed configuration, wardrobes are often located under the foot of the bed.

Since shoes don't work well in overhead lockers, they often end up in a pile by the door. This is where storage compartments under the floor come in handy. Some modern motorhomes with a double floor, have underfloor lockers which are ideal for shoes. Not only do they keep shoes tidy – or other items including heavy things like cans out of the way – but when the heating system is on in winter, you can also dry your boots.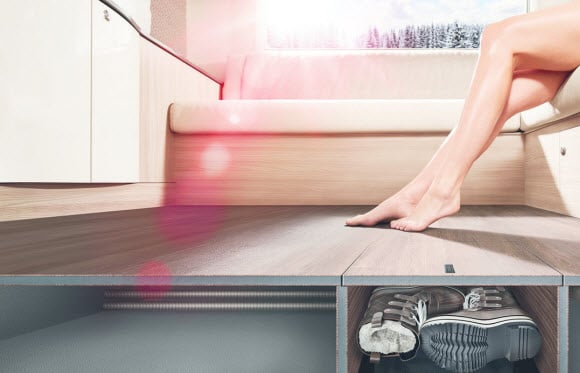 How much storage do motorhome kitchens have?
The amount of storage in a motorhome kitchen is usually relative to the size of the kitchen itself. The kitchen in a traditional New Zealand motorhome layout will usually be bigger than in a modern European motorhome. That's because the designers of most European motorhomes prioritise the bed layout over the kitchen space to cater for Europeans' preference for a permanent bed. However, a permanent bed takes up more space than a traditional U-shaped lounge (common in New Zealand) so the trade-off is often made in the kitchen.

With a smaller kitchen, you've got to think really hard about how to use the space – in particular, how and what you cook. You can make best use of your limited kitchen storage by taking fewer items but also choosing items that serve multiple purposes, for example, a metal mixing bowl that can double as a salad bowl and a serving spoon that can double as a salad server.

Some motorhomes have drawers but large drawers like you'd have in your home kitchen don't work particularly well in motorhomes since they don't fit well into the available space and they also add extra weight to the habitation unit.

Custom inserts for plates and glasses that can be fitted into your kitchen cupboards not only make best use of the available space but also reduce movement and rattling. Non-slip grip mats can also help to keep items such as plates and pots and pans in place and also prevent rattling.

While they may have less cupboard space, German motorhomes often have a larger fridge/freezer giving you more cold storage than most NZ made motorhomes. Also, the bench space often features smart space-saving features such as a fold-out bench extension.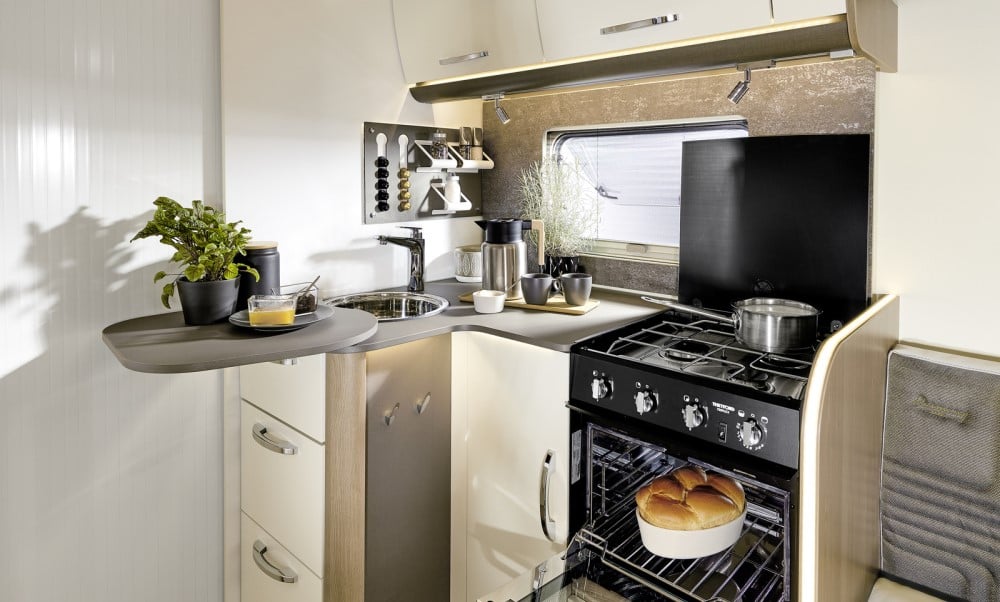 The kitchen is often the technology hub in the motorhome so you'll usually find several power points. If you've got several devices with you on your journey, ensure there is a safe and secure space to store and charge them.


Is there any dry storage space in the bathroom?
This really depends on whether the bathroom is designed to be a wet room or a dry room. In many basic New Zealand builds, such as rental motorhomes, the bathroom comprises of a plastic shower shell that gets wet all over when the shower is in use. This design doesn't have dry storage space and you have to remove the toilet paper from the bathroom before you take a shower.

Modern European motorhome bathrooms are designed to be dry rooms. The shower is separated from the rest of the bathroom by either a shower door or a moveable wall called a VarioBad. Dry bathrooms have shelves and cupboards with plenty of storage so you can accommodate all your toiletry items right where you need them.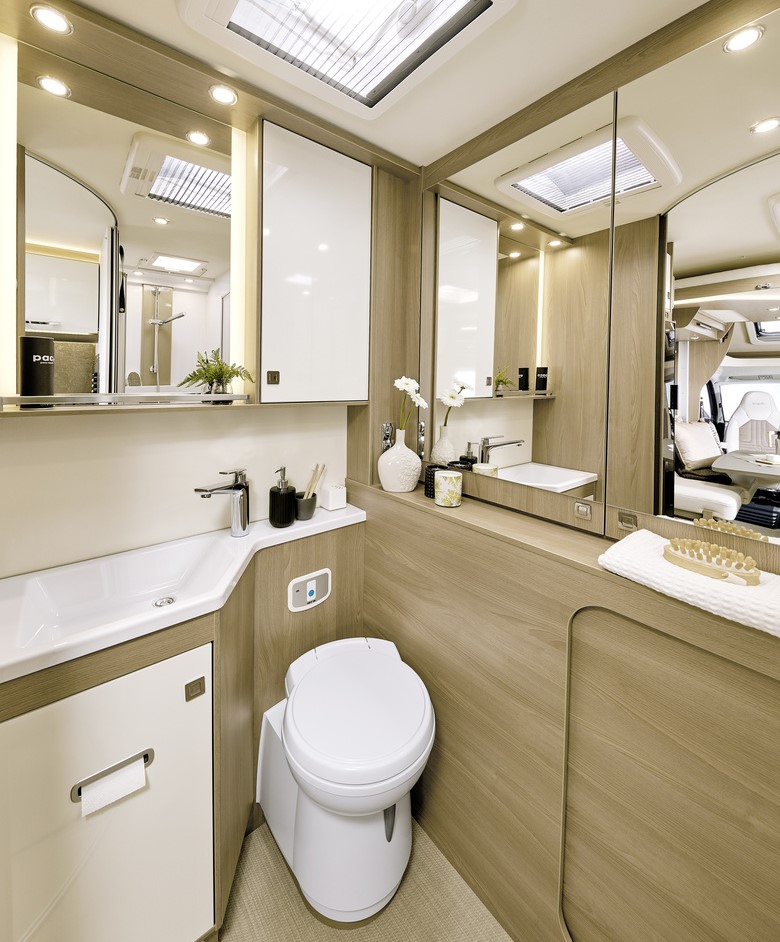 A well designed bathroom will have sufficient hooks so that each traveller can hang up their towel. As a handy aside, the bathroom in many German motorhomes can double as a drying room if the central heating vents into the bathroom. Turn the heater on overnight and open the bathroom heating ducts to allow towels and wet clothes to dry.

Read our buyers' guide to RV bathrooms for more detail on this part of a motorhome.
Where can I store large equipment and sports gear?
Some motorhomes only have one or two small external compartments that can hold a couple of camping chairs and a bucket and hose. The rest of the storage is inside the habitation unit. This isn't very convenient for sports gear, such as golf clubs or other camping gear such as an outdoor table or portable barbecue.

Many high end motorhomes will not only have a large external locker (garage) but also anchor points to tie things down, allowing you to keep your belongings safe and secure as well as get them out quickly. While some motorhome garages can be accessed internally, it's useful to have a garage door on each side of the vehicle for maximum convenience.

Some garages have shelves that offer the best use of the space. Lighting inside the garage is important. Some garages may even have a powerpoint which is useful for charging electric bikes or other items. Carpet or a large non-slip mat can be useful to prevent items from moving around.




It's easy to overload your motorhome by loading up the garage with heavy toys. Anything you pack will increase your payload. All motorhomes have a maximum payload which must not be exceeded. If you plan to take e-bikes and other heavy items, make sure you have sufficient payload as well storage space.


Case study: The best layouts to maximise storage
We've looked at a couple of the most popular motorhome layouts and compared and contrasted how they stack up regarding storage.


7.4m • 4 berth • Extra-long twin single beds in the rear which can convert to a king, plus a fold down double bed

7.49m • 4 berth • Permanent island bed in the rear, plus electric fold down double bed

Pros:

Extra large wardrobe space under the foot of the rear beds


Overhead storage cabinets in bedroom plus extra shelves on sidewall above bed


Underfloor locker in bedroom (deeper than other models) plus smaller one in dinette


Soft close drawers and cupboards


Large under-bench cupboard in kitchen


Large separate fridge and freezer


Extra towel rail in bathroom


Two under-seat lockers in lounge with access from side and seat base


Only one overhead cupboard in dinette but under-seat storage makes up for it


Spacious garage for sports gear and other bulky items

Pros:

Overhead storage cabinets in bedroom plus large bedside cabinets


Bedside cabinets are dual purpose (can be used as cupboards or wardrobes)


Large cupboards under bed with access from above and below


Underfloor lockers in bedroom and lounge


Soft close drawers and cupboards


Under-bench drawers in kitchen


Generous bathroom storage both in vanity cupboard and under bench


Concealed toilet roll holder


Rubbish bin integrated into habitation entry door


Access to garage from interior

Cons:

More cupboards than drawers in kitchen


Rubbish bin takes up kitchen cupboard space

Cons:

Limited kitchen storage


Smaller fridge with freezer compartment


Smaller garage
Conclusion
Good storage doesn't usually make it to the top of a motorhome buyer's must-have list but it is one of the features that sets a great motorhome apart from a good one. Bigger doesn't equal better when it comes to storage. With clever storage solutions available in many new motorhomes, you can be as organised as you'd like to be.

Contemporary motorhomes tend to have several smaller cupboards and spaces rather than a few cavernous cupboards. This means that items can be stashed individually or in smaller bags or clothing organisers. Bulky items can go into the garage – a large open space accessible from the outside.

It's a good idea to make a list of items you plan to take touring and think about which cupboards or storage space they will go into before you purchase your motorhome. That way you won't get any surprises. Check that the items you use most often will be easy to access.

Once you've organised your new motorhome, all you'll need to do before setting off on your next adventure is to grab a few clothes and top up your groceries then hit the road. Making a quick getaway is as easy as that.


For more tips on storage and other key factors to consider, read our guide to buying the right motorhome.