Just as in a house, the kitchen can be regarded as the heart of your motorhome. It's a space you will use several times every day and as such needs to suit your requirements.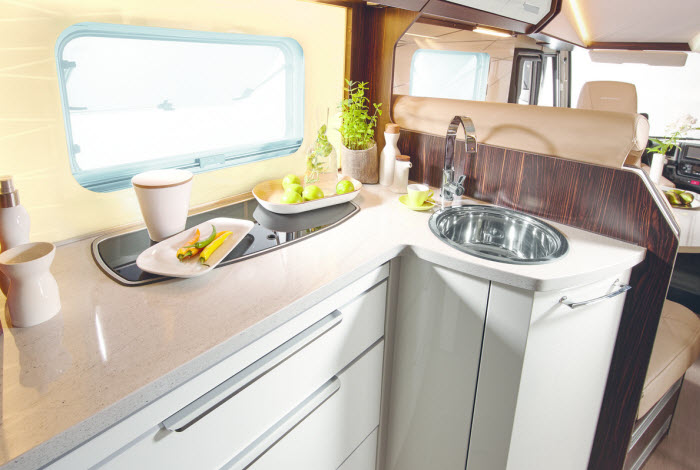 In this guide, we explain what to look for when it comes to kitchen features and layout.


Kitchen

A motorhome kitchen will always be a compromise on space and storage because of the limited room available, but many modern motorhomes offer surprisingly functional layouts.

Think about how you are most likely to cook when travelling. Are you happy with just a stove-top, or is an oven/grill a must as well? Even if you plan to stay mainly in campgrounds and holiday parks, it can be useful to have the option of being able to pop something in the oven if the communal kitchen is busy, or you might end up spending more time freedom camping than you expect.

Carrying a barbecue in the garage of your motorhome is a huge help with cooking on the road over summer, but New Zealand's often unpredictable weather (in any season) means it is good to have the option of cooking meals easily inside your motorhome too.


Overall space

The first thing to consider is the overall space in order to ensure that the kitchen has a functional layout and enough space for you to move around when cooking. You also want someone else to be able to access the bedroom whilst you're using the kitchen area without having to squeeze, or even worse walk sideways.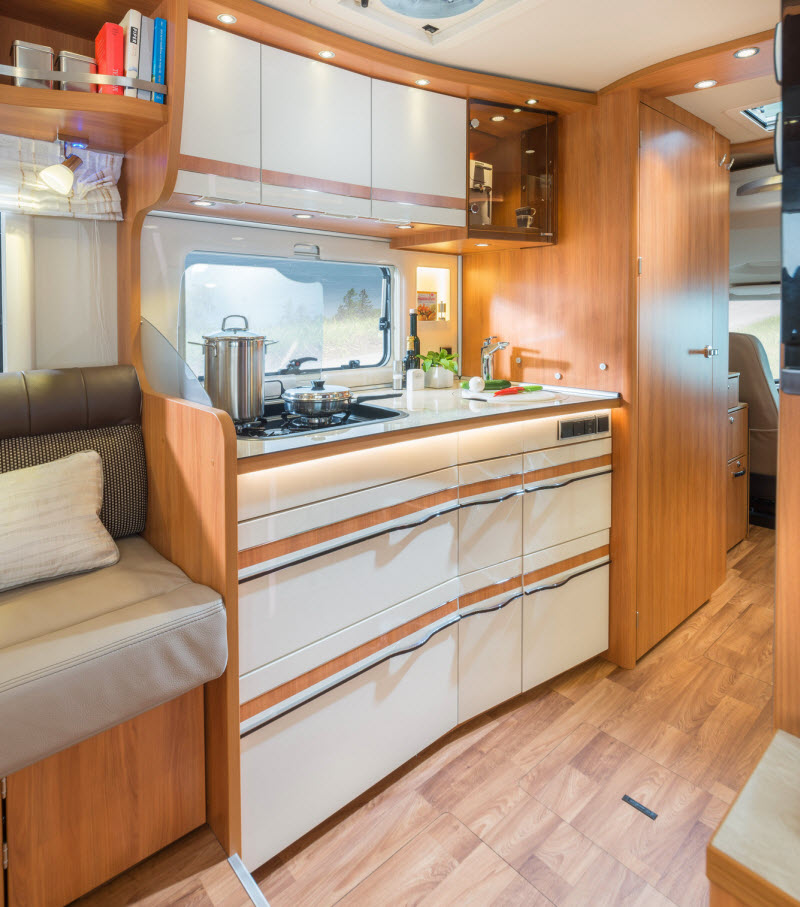 Cooker

Do you want a stove top with an oven, or are you comfortable with just a stove top and perhaps a microwave when on the road?

Is the oven large enough to accommodate meals for the number of you travelling? Motorhome ovens aren't enormous but as long as you aren't hoping to roast full-size turkeys, most should be more than adequate.

Is there an extractor fan or other vent over the stove top to dispel cooking smells and steam?


Storage

Even if you're only on the road for a few days at a time, it's easier not to have to think about regular trips to the supermarket, so kitchen storage is key.

Look at how much pantry space you have, as well as shelf storage. Check how much room there is to store basic cooking equipment such as chopping boards, pots and pans, trays and utensils.

Look at overhead lockers, and pay attention to the type of closure. Shelves should have rails to prevent items from falling out, and cupboards and drawers should be self-closing with a locking mechanism so they don't come open while travelling.

Look for flush cupboard fronts, good slides on drawers and pantries, and no sharp corners.


Fridge/Freezer

What is the capacity of the fridge? Will you be able to fit enough supplies for a few days at a time? How long can you go off-the-grid and still run your fridge-freezer efficiently?


Bench space

How much functional bench space is there? Most motorhome kitchens 'borrow' space by having a cover over the sink and cooktop when they aren't in use, so it can take a little time to adjust to working on a small bench.

Look at the placement of power points, overhead lights and vents.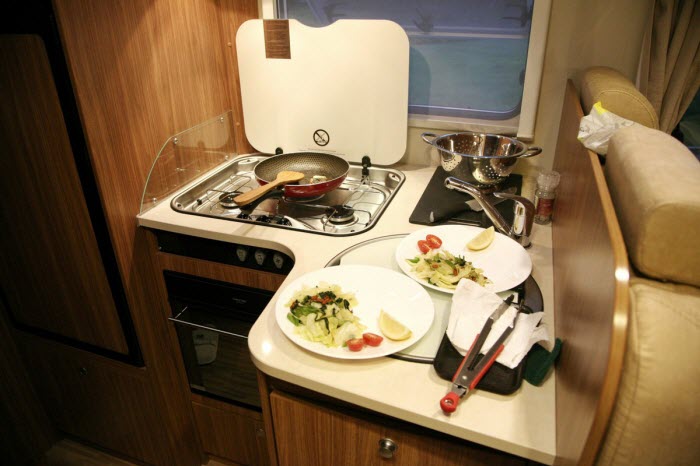 Small appliances

Do you need room for a microwave or coffee machine? Bear in mind these will need to be stored safely and have an easy access to power. They'll also only work when plugged into mains power or directly to an inverter.


Learn about inverters and how they work.
Dining area

What sort of dining area is there and how many people do you need to seat regularly? Even if it's just two of you travelling, do you want space to entertain?

In most motorhomes the front seats swivel to join the dining space. What sort of seating arrangement will best suit your needs?

How easy is the dining area to get around when moving from the cab through the motorhome? Bear in mind that in some motorhomes the seating area will convert into a bed, or a drop down bed may come down overhead.


Colour and style

Most motorhome companies offer a choice of colour and finishes in their vehicles, and the kitchen plays an important role in how light or dark your motorhome feels overall as it contains most of the cupboard frontages.

Remember, light colours will help it to feel spacious and airy, while darker tones (such as dark woodgrain) can make a space feel cramped and gloomy – especially if you're spending time inside on a rainy day!


Get some tips on how to organise your motorhome's kitchen space in order to cook up some superb meals.