It's easy to cook up a storm in the relatively small confines of a motorhome kitchen. But how easy is it to create a delicious meal in an organised way that feels great and doesn't leave you with a mess to clean up?

Motorhomes, Caravans & Destinations editor Catherine Milford proves that making magnificent meals in a motorhome kitchen with some organisation is possible.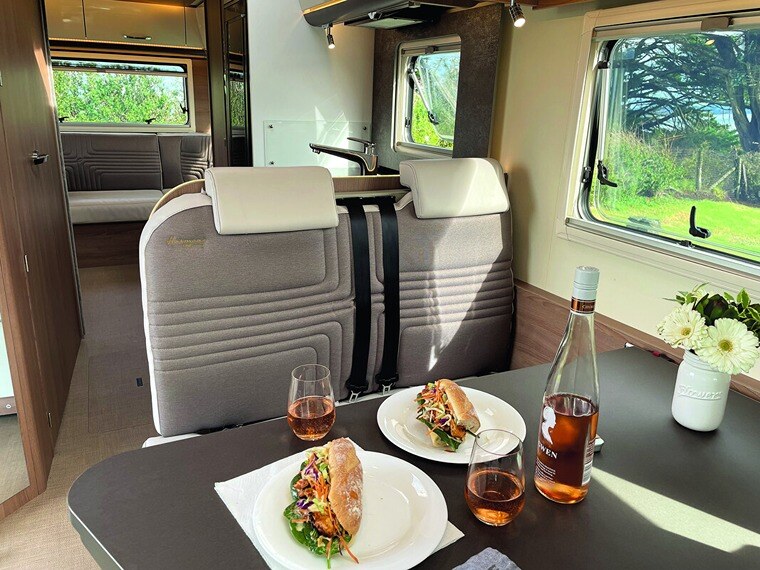 I've been a food writer for many years, so the kitchen is my happy place. Whipping up a plate (or glass!) of something delicious isn't a chore for me at all. However, I've learned over time that if you're going to cook while on your travels, organisation is key — there's nothing quite like seeing a chaos of dishes and ingredients taking up every inch of space to make you reach for the keys and head to the nearest restaurant or takeout.

As we all know, New Zealand weather can change on a whim. Such was the case on my recent trip in a Bürstner Lyseo TD744 from Wilderness Motorhomes. Picking up the motorhome in the pouring rain, I knew that with a husband who can't stay away from the water in any season, rain or shine, I'd need some good warming dishes that would keep him happy and well fed.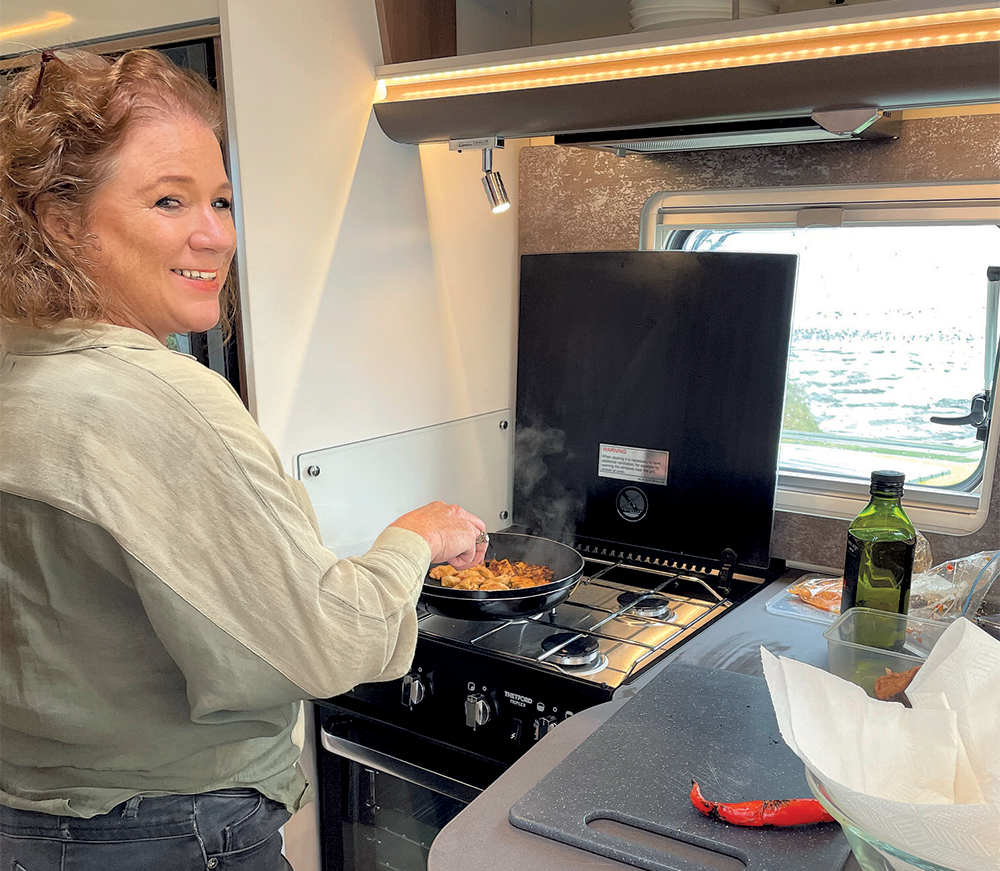 Anyone who knows the hungry cries of When's dinner ready? from kids of all ages will be aware that keeping the food coming makes everyone's life a bit easier. While everyone's kitchen needs and wants in a motorhome or caravan are different, most people want an intelligent setup — with enough storage space to ensure there are plenty of supplies on board without the need for a daily supermarket dash.

For me, a good motorhome must have a decent-sized fridge, good storage space near to the kitchen area, and good ventilation so I'm not trying to cook in a cloud of smoke. Our Bürstner's little extractor fan punched well above its weight. Along with the open kitchen window, it ensured the area remained well aired, even during the sizzliest of sizzling fry-ups.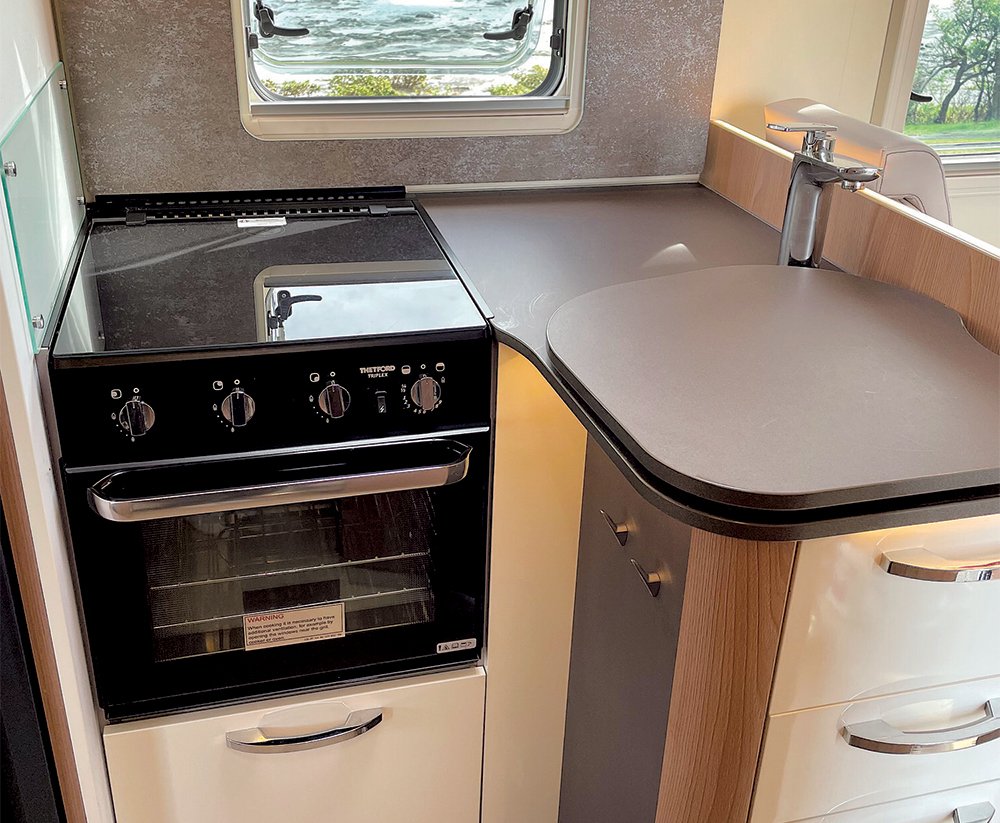 I also wanted good access to the indoor dining space and the outdoor area — both of which weren't an issue in our motorhome, with the kitchen situated almost opposite the side door.
"The golden rule if you're cooking in a motorhome is to know your setup and use it to your advantage."


The Wilderness team mentioned that the door on the Bürstner's 130L fridge can be turned to open in either direction. This was perfect. While it's great to have the door opening towards the lounge area without moving far for drinks and snacks, I wanted to be able to open the fridge door for necessities while keeping my eye on the cooking.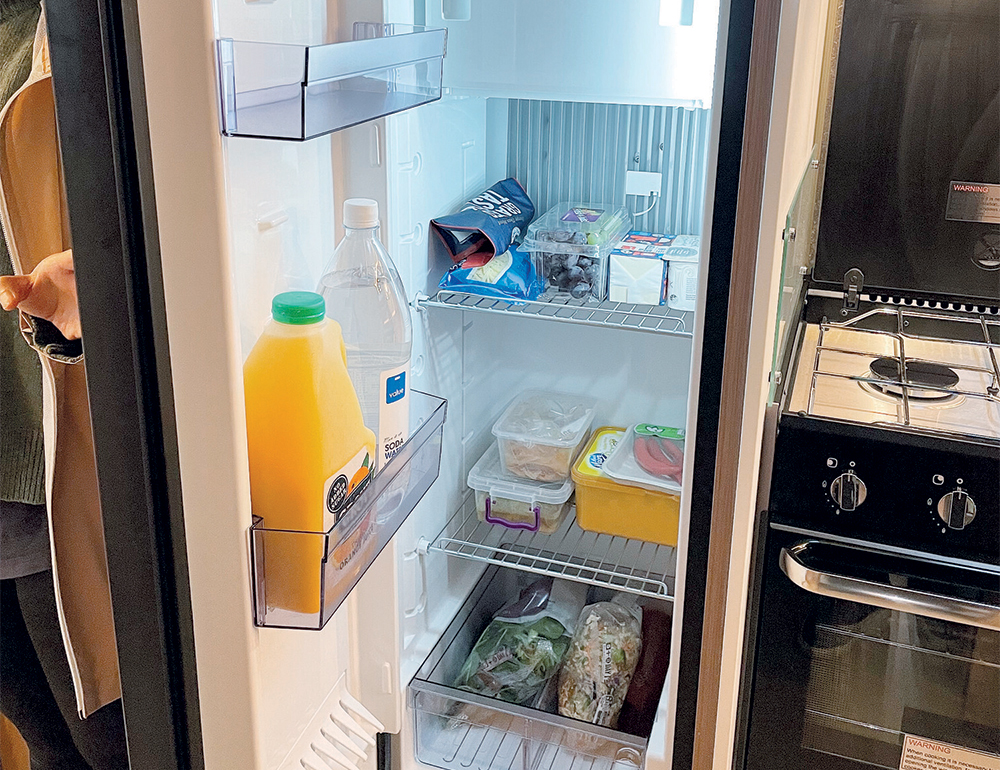 Unlike some motorhomes, the spacious fridge freezer has enough room to keep bottles upright, with plenty of space for veggies, meats, cheeses and condiments — more than some people's home fridges. We had no problem easily fitting in enough provisions for a couple of days, with room to spare. With a freezer unit that's designed to carry more than an egg cup too, this is the sort of fridge freezer you can take into the middle of nowhere and be sure you're not going to starve.

Often the tricky part of cooking in a motorhome is working out where to keep everything nearby. To my right, soft-close drawers house all the cutlery, cooking tools and saucepans. While above the fridge to my left were the bowls and colander — with plenty of space for a couple of extra dishes I'd brought along. Plenty of reachable storage space is invaluable. However for me, the game-changer was the underfloor secret compartment.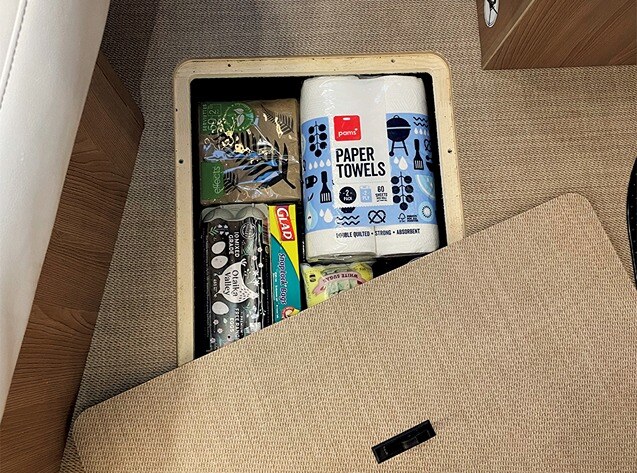 Just by the side door, within easy reach of the kitchen, is a nifty wee storage area that's been fitted into the floor. It's the perfect place to keep the sort of stuff you don't want sliding around in cupboards — tins (they stand up perfectly in this space), pasta, kitchen rolls, eggs, sandwich bags. You name it, we stored it in here!

It's a really useful addition to the kitchen storage that makes life super easy. Because it's low down, nothing moves when you're driving. That's especially handy for the eggs. If you're heading away for a few days, it's a great idea to have a few pantry staples on hand that you know are going to transform your food from OK to knockout.

Herbs and spices, good oils and proper salt and pepper are a vital part of your kit — and don't take up much room. These can easily fit in several compartments, including the floor storage, the drawer under the fridge and the upper compartment just to the right of the kitchen area. Simple.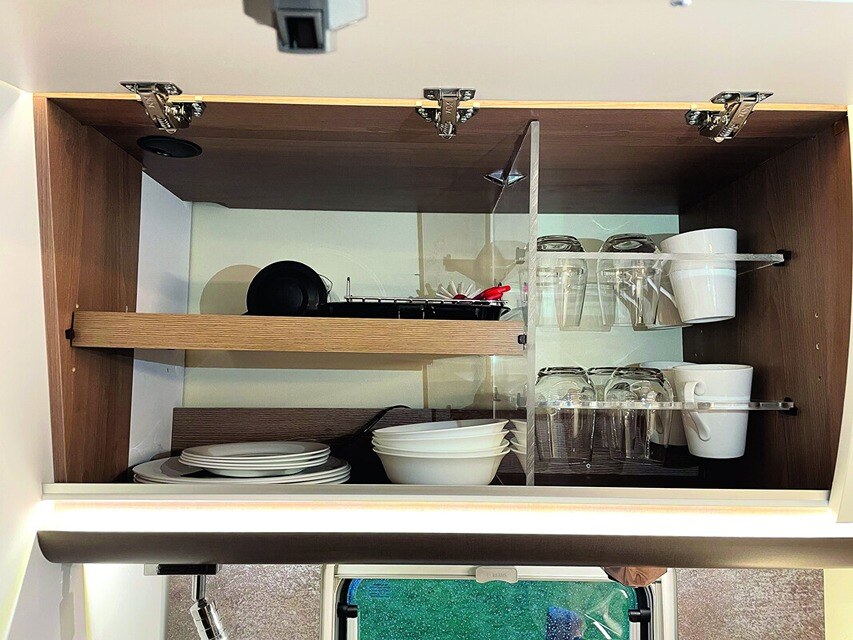 To cook from scratch in your motorhome, preparation space is a non-negotiable. If you've ever tried to balance a chopping board on your knee with tears pouring down your face because you need a diced onion but there's no room on the bench, you'll know what I mean.

Probably the handiest part of this kitchen during prep was the panel that covers the kitchen sink. Slide it out and you've got not just a good-sized bench, but you can also get rid of a few kitchen tools in the sink. Not many motorhomes have this much space, and when I was ready to start on the banana pancakes for breakfast, I was mighty glad of every inch I had.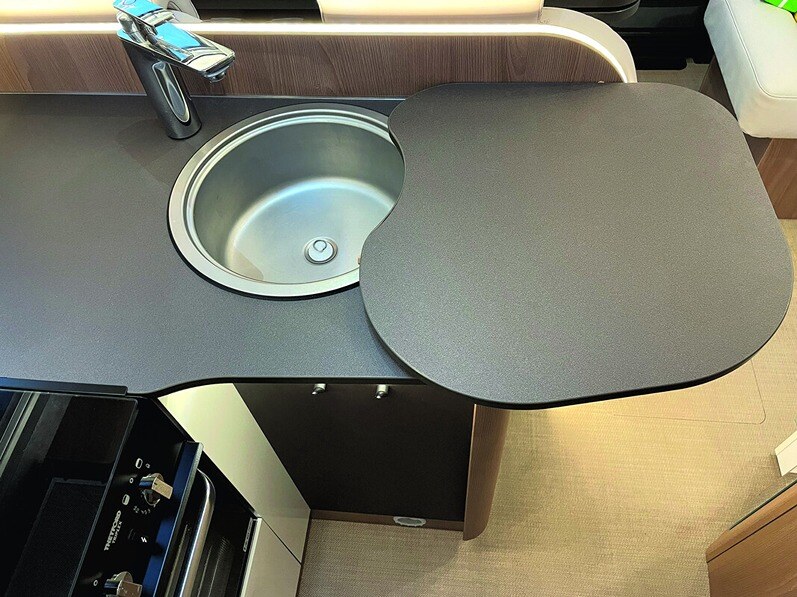 Of course, part of the joy of RV travel is being able to eat outdoors. I took advantage of the large fridge and made a marinade in the morning for our barbecue dinner that night of hot chicken sandwiches. That made life super easy, as once the chicken was marinating in the fridge, I was completely free for the rest of the day. With the husband on BBQ duty, I ended the day feeling like I'd planned particularly well.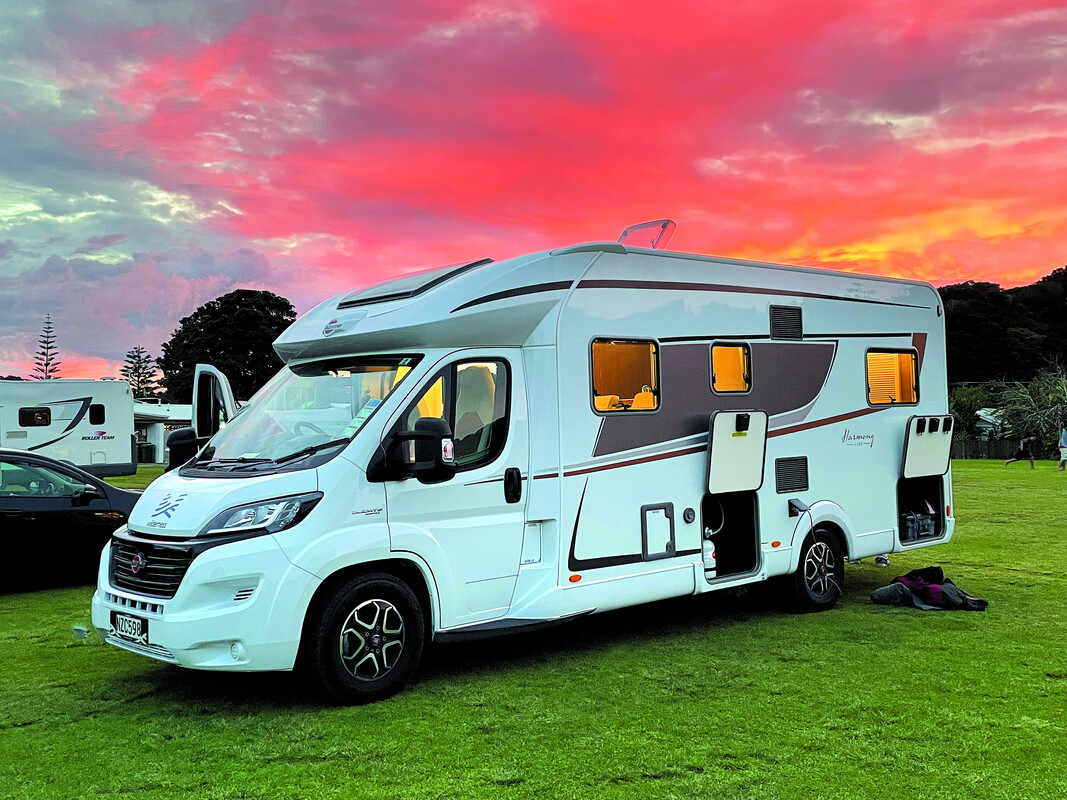 Once cooking's done, that extra storage space comes in handy again during clean-up. The slide out panel over the sink comes in handy again as a spot for dirty dishes, which can be easily washed and moved to drain on the left — or the other way around if you've managed to get someone else to put everything away. Surfaces only take a minute to clean, so we were done and settled within a few minutes, full of great food and with a tidy, clean motorhome. What else do you need for a trip away?
This story from Catherine was originally published in Motorhomes, Caravans & Destinations magazine in July 2022.

Download our Guide to Choosing the Right Motorhome
Created by motorhome experts, our guide outlines the key features you should consider before making your motorhome purchase and guides you through inspection and evaluation.