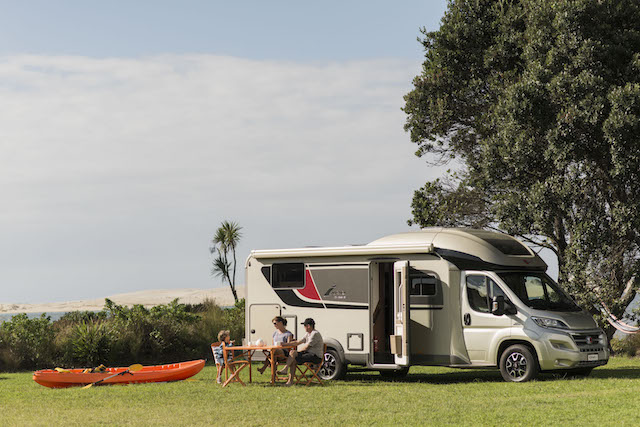 At the end of a summer's day, it's nice to know there's a chilled beer (or Chardonnay!) waiting, and a grill plate that's ready to use, so here are some useful tips from the Wilderness team on getting the best out of the fridge and barbecue in your motorhome.


Stay cool
There are a few tricks to using the fridge in your motorhome to reduce its energy usage and keep it operating at its best.


Buy drinks cold before putting them in (putting room temperature items into your fridge means it has to work hard to chill them initially)
Keep the fridge shut as much as possible (know what you want before you open it)
Keep it full (but not bursting) as cooling a full fridge is more efficient than a half empty one
Keep the air around the fridge as cool as possible. Try to park in the shade where you can
Ensure the fridge door is closed properly (always worth checking if kids are around!)


Learn more about keeping your motorhome fridge running efficiently here.


Heat it up
It doesn't get much better than barbecuing in the great outdoors, and many of our motorhomes offer fantastic space in their 'garage' storage section with selected models offering plenty of room for a barbecue, fishing rods, inflatable kayak and even a chilly bin (for all your freshly caught fish!) too.
Remember to give your barbecue a thorough clean before heading away this summer.

You'll need: rubber gloves, a stiff brush, soft scouring pad, a large bucket of hot soapy water, paper towels and vegetable oil.


Remove the drip tray and discard the contents, then scrape away any fat remnants.
Leave to soak in hot soapy water for a few minutes to loosen any baked-on food remnants, then scrub well.
Remove the grills, scrape off excess fat and food remnants and then soak before scrubbing.
With the tray and grills removed, check the burners are clear of any blockages.
Give the barbecue frame and surrounds a good clean with hot soapy water and a soft scouring pad.
Wipe the grills dry with a paper towel, then apply some vegetable oil (canola is ideal) to a clean paper towel and oil the grills all over.
Line the drip tray with aluminium foil and fill with fresh fat soaker.
Replace the tray and grills.
Ensure the gas bottle is full.
Grab a beer and fire it up!


Got a question about fridges or other accessories for your motorhome? Our friendly team of motorhome experts will be happy to offer advice. Contact us.