If a kitchen is the heart of a home, then the dining area fulfils that role in a motorhome. This is where you'll come together to eat meals, have a chat and play board games. It's where you'll socialise, relax and even work — so it pays to consider your options carefully.


In this article, we look at the most common seating arrangements along with pros and cons for each. We also touch on various table designs and upholstery options, to find the motorhome that best suits your RV lifestyle plans.
The most common seating arrangements in motorhomes
Motorhome and campervan seating areas were traditionally located in the rear. The lounge seats and table doubled as the master bed.
Today, you'll mostly find the seats up front — especially in European motorhome brands.
Dinette


The dinette is most common in four berth motorhomes. It typically comprises two bench seats facing each other in the middle of your recreational vehicle.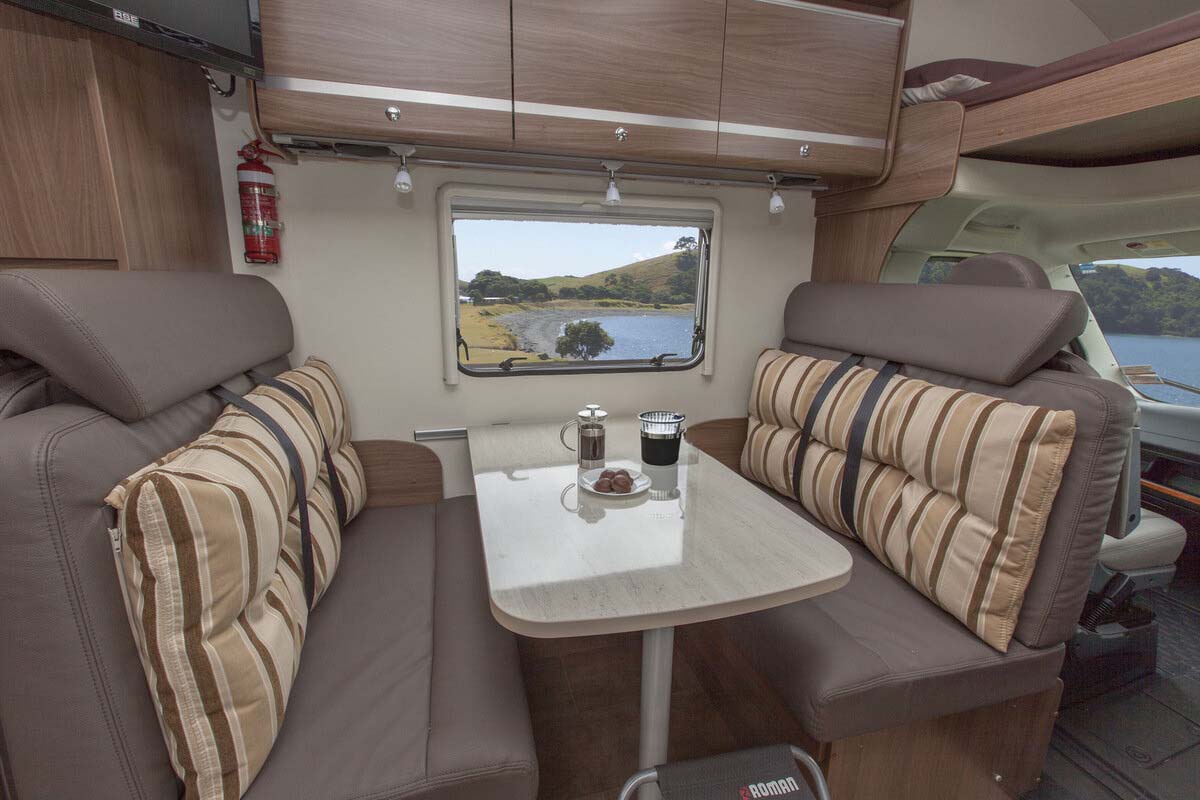 This long-standing layout can seat six people and is distinct from the driver's cab. Depending on which motorhome model you choose, it can also include a two-seater dinette.
Pros of the dinette
Engaging seating arrangement for mealtimes
Can usually be converted into a bed
No need to rotate the cab seats


Cons of the dinette
May take up more space
Can be tricky for your guests to slide in and out of the seats
Difficult for people to move around — particularly when the kitchen's in use
Couch-couch

A relatively new innovation in many European motorhomes is the couch-couch. It consists of two longitudinal benches that are aligned parallel to your vehicle's walls in the front living space.
This arrangement is especially popular because it opens up the whole dining area which makes the front of your motorhome feel more spacious.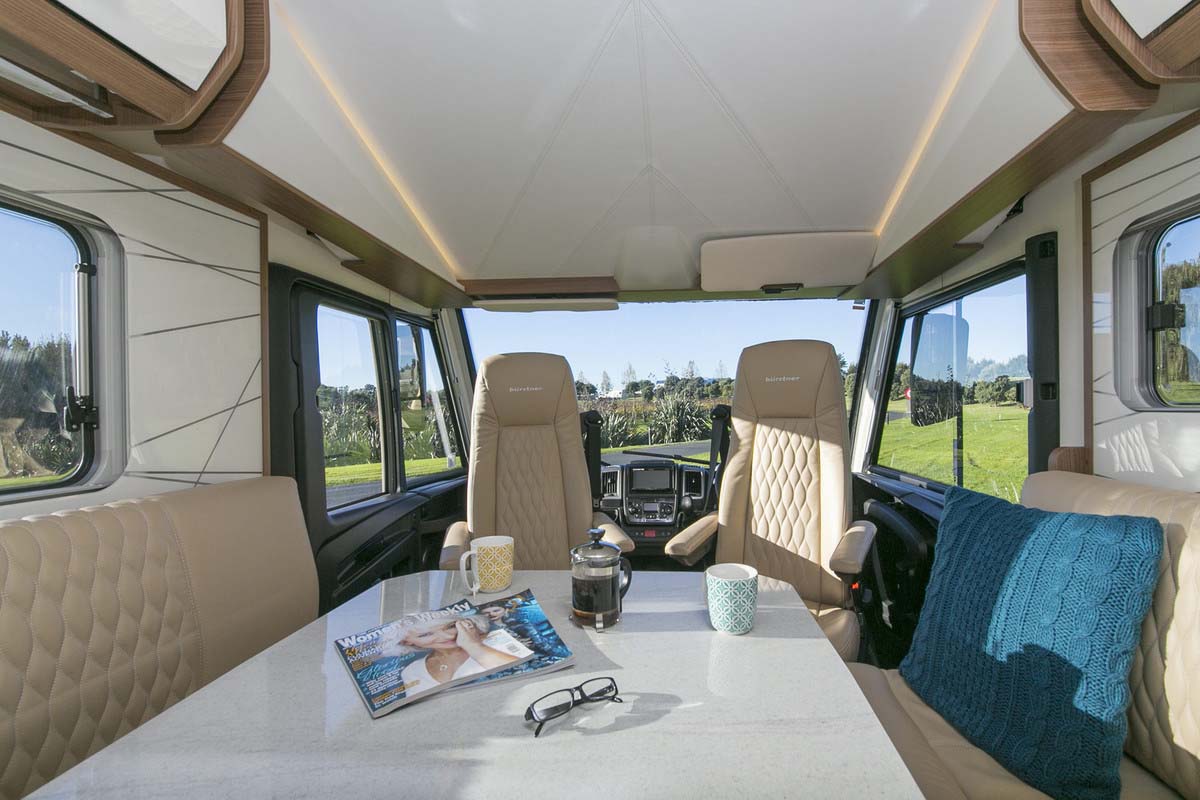 Pros of the couch-couch
A comfortable set up — for couples in particular
Offers an open feeling of space when located in the midships — in the middle section of a motorhome's interior
The open layout encourages social interaction


Cons of the couch-couch
Needs the seats converted to allow passengers to travel
The design, comfort and layout of a motorhome's seating and lounge space can enhance your enjoyment on the road.


Check out our guide on what features to consider when buying a motorhome.
Half-dinette

One of the most popular seating configurations these days is the half-dinette. It features a regular or L-shaped bench seat along with the driver and passenger seats — which swivel around to face the table.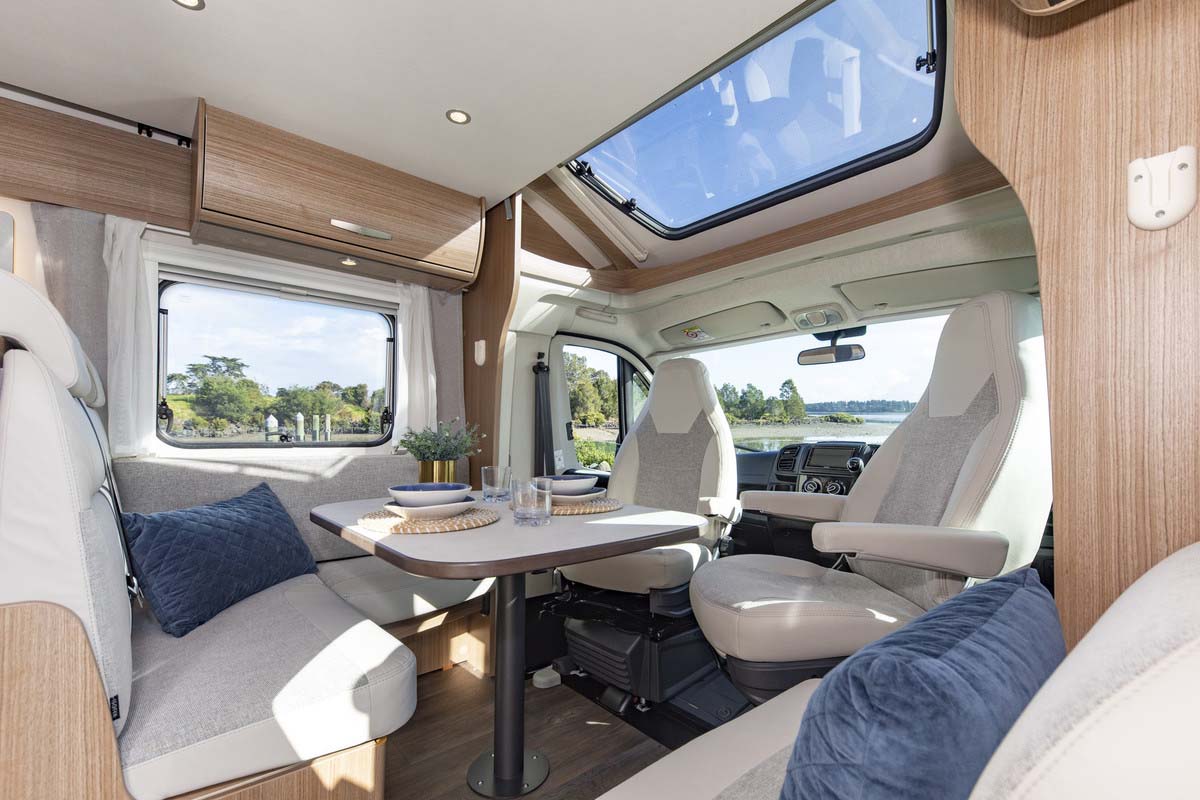 Including the cab in the seating arrangement maximises the use of available space. It also means that at least two of the seats are extra comfortable and adjustable, which is ideal if you suffer from back pain.
Pros of the half-dinette
Frees up more space than the dinette
Table is able to easily be removed


Cons of the half-dinette
May not seat as many people as other dining layouts
U-shaped lounge

Also known as a rear seating group or club lounge, the U-shaped lounge has a classic formation. The seats and dining table are at the back of your motorhome, often featuring panoramic views.


This arrangement provides a large seating area that a couple of extra guests can also enjoy. It's a versatile space but the seats are made up of movable swabs and are usually intended to serve two purposes — sitting and sleeping.


When it comes to travelling with more than two people, the additional seats are at the very back of your motorhome. If you have young children on board, that's not the most practical set up.


Pros of the U-shaped lounge
Plenty of seating for extra guests
Looks and feels like a more relaxing space compared to the dinettes


Cons of the U-shaped lounge
The seats often aren't the most ergonomic for either sitting or sleeping
Not suitable for travelling passengers — even with seat belts
Takes away from potential storage space
Regardless of which seating arrangement you prefer, they all prioritise safety when it comes to travelling on the road. Check out our motorhome seat belt safety blog.
The popularity of swivel RV seats
Swivel driver and passenger front seats have become increasingly popular over time — mainly because they offer multiple uses to help optimise space in the cab and dining areas.
Motorhomes with more than one seating area
Most New Zealand-built motorhomes have a rear lounge or seating area, while European imports tend to position the lounge or seating space up front. However, dual seating or lounge areas are becoming more commonplace in recreational vehicles.
Your sociable space

A rear lounge is a very social part of a motorhome. It has the feeling of space and gives you room to stretch out and relax. It may also have the best views if there are panoramic windows.
Your practical space

A front lounge or dining area offers more options for adults and kids to interact — and to utilise the available space. From eating to reading and travelling to resting, this lounge complements the rear lounge nicely.

Take a look at some of our Bürstner motorhomes for sale — like the Lyseo TD745 for how two lounges can work together.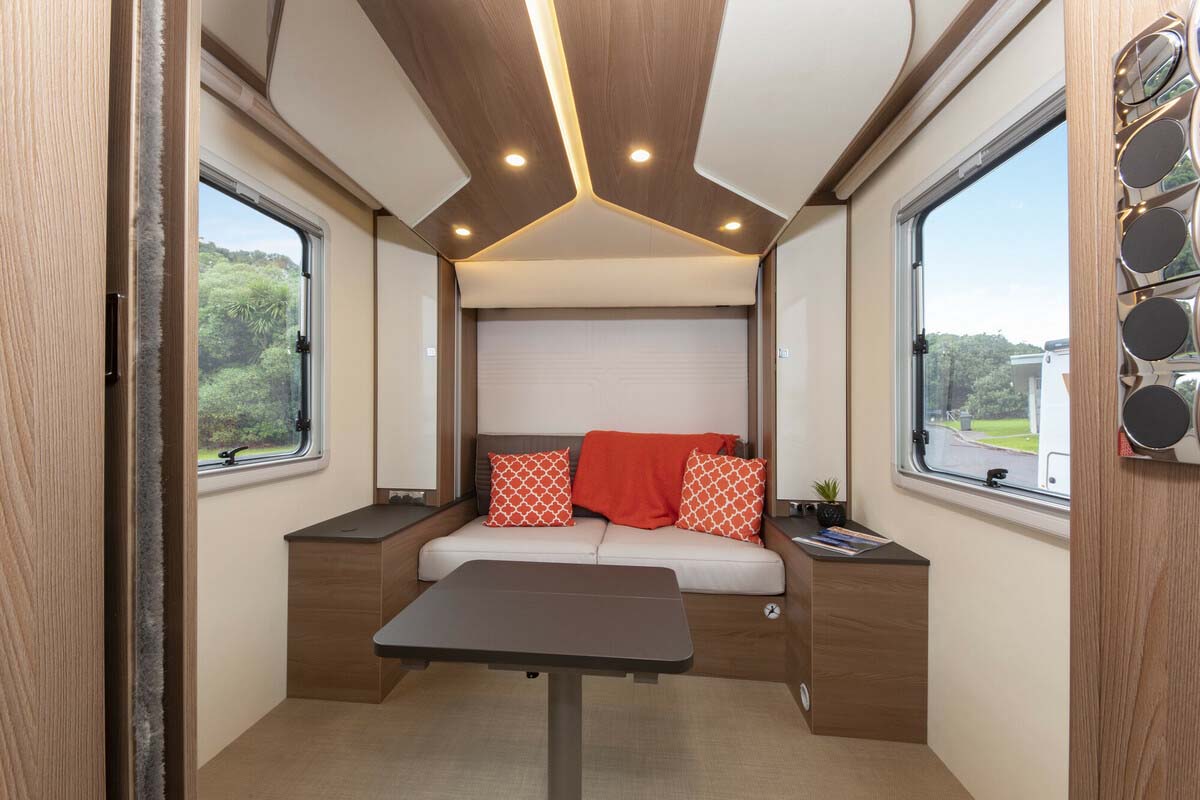 Advantages of two seating areas

With two lounges, you could serve dinner up front, then retreat to the rear for the evening. Or you might set up activities for the kids in the dining space and socialise down back. Two seating areas gives you:
The largest amount of useable living space in a four berth motorhome
Plenty of flexibility — around how you can use your motorhome's space and where you want to spend more time while holidaying.
Disadvantages of two seating areas

When contemplating buying a motorhome for sale with two lounges, consider that it:
Won't have a large external storage locker — meaning you'll likely have less storage space.


Download our ebook on what's inside a premium motorhome.



Motorhome table designs

The focal point of any motorhome seating area is the table. It's where you and your guests come together to eat, laugh and interact.

Motorhome manufacturers have come up with a multitude of different table designs aimed at maximising the functionality of the dining space. From foldable to adjustable tables, to those that integrate seamlessly with convertible seating arrangements — you have a range of options.
Freestanding tables

The freestanding table is the most common type in motorhomes. It usually comes with a mounting plate in your motorhome's floor where the table leg screws in.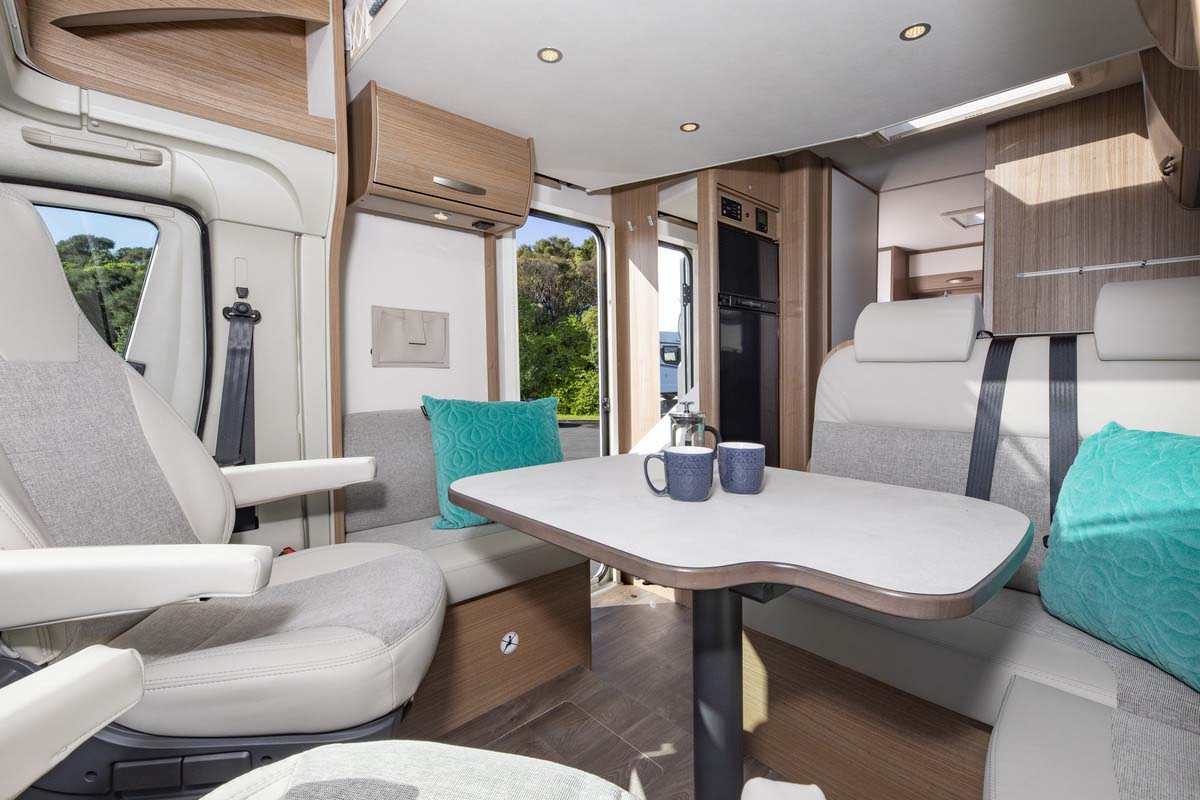 The tabletop may be fixed. But it can also be adjustable — both its height and its position. This can be hugely useful if you're travelling with children.
Folding and extending leaf tables

Some freestanding tables have a hinge in the middle which allows the table to fold when not in use. This folding leaf freestanding table has a few advantages, such as:
Gaining more space — when the table's folded and not in use
Having a larger table for mealtimes.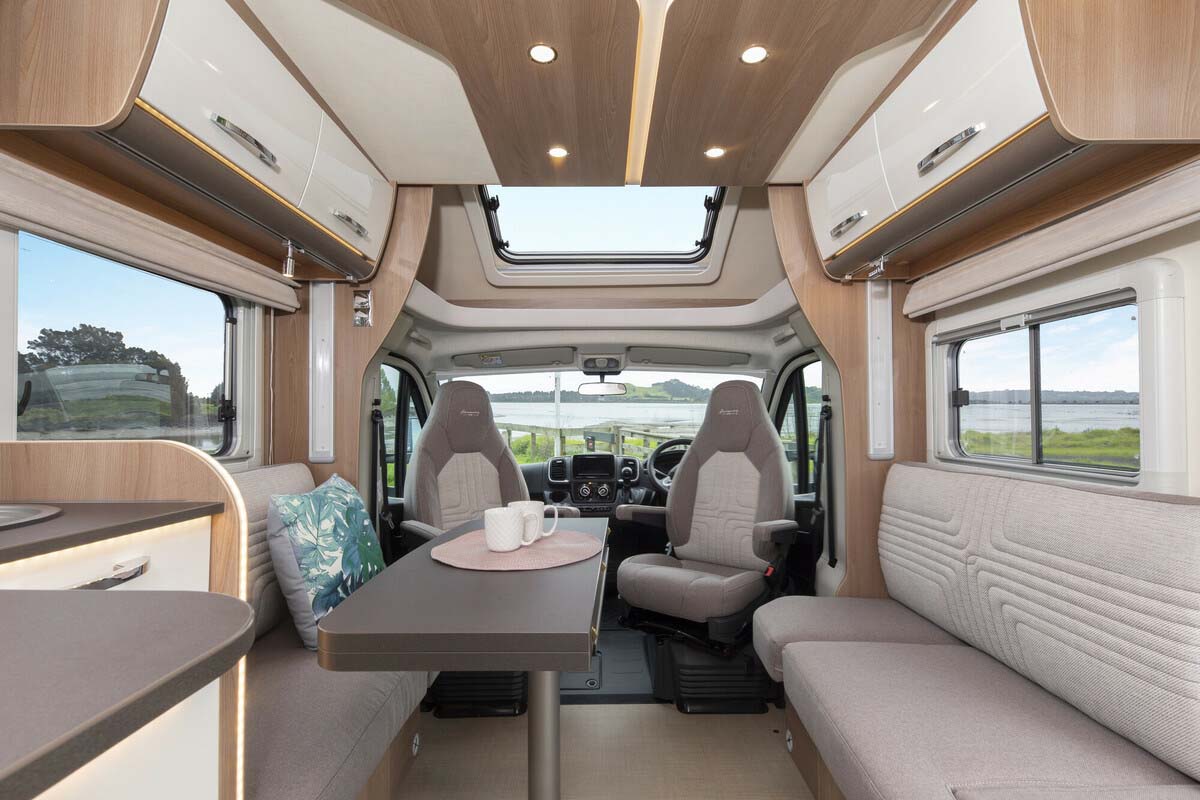 Similar to the folding leaf table top is the leaf extension. The extra part normally sits under the table top and can be swung into position to extend your dining space.
Wall mounted tables

The wall mounted table is designed to save space. Usually, this type of table is fitted to the side wall of your motorhome and also mounted on a table leg that attaches to the floor.
When not in use, a wall mounted table should effortlessly fold up against your side wall to free up floor space — and to declutter the living area.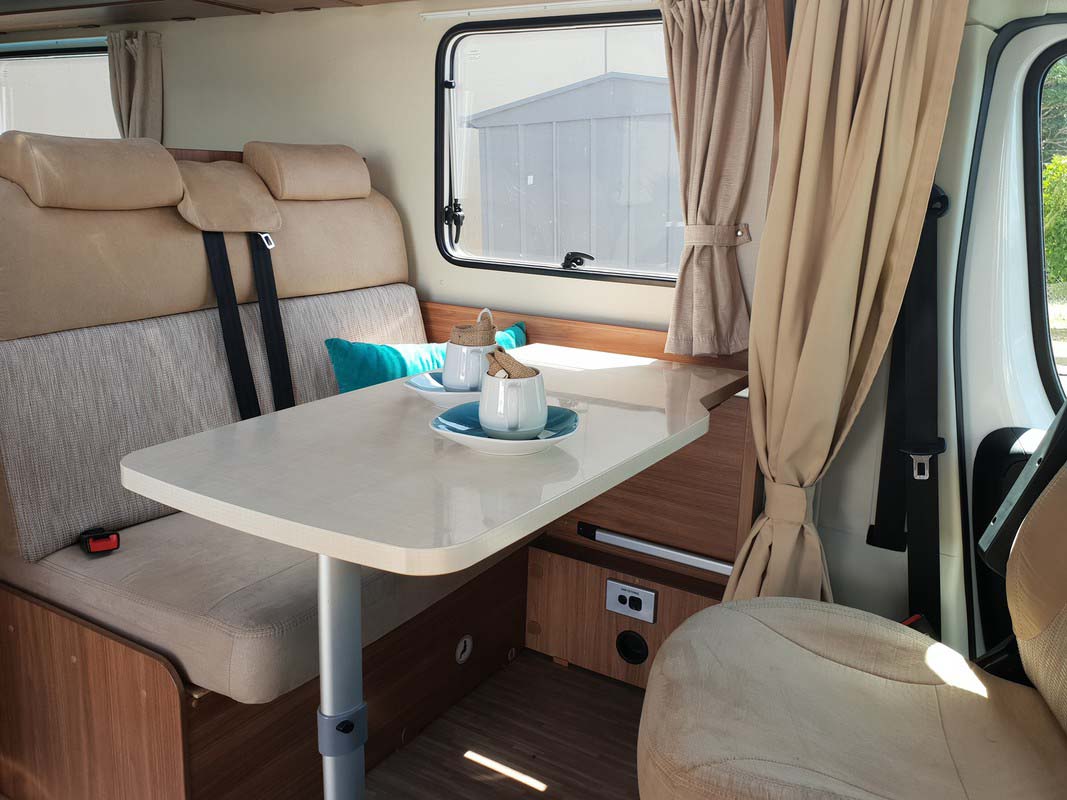 Lagun tables

The Lagun table is more common in compact campervans for sale, rather than motorhomes. Mounted on a movable arm, this type is often attached to the base of your seat. The movable arm swivels out offering a range of adjustability — so you can use it in different positions for different reasons.

For instance, swivel it close to your seat for eating — then when you're finished, swivel it over your seat and out of the way. Keep in mind that Lagun tables may not be the most stable and often can't hold a lot of weight.
Motorhome furniture upholstery
Motorhome furniture upholstery can help to achieve a cosy and functional living area. The choice of design, materials and colour will impact the overall ambiance inside your RV — and ultimately your comfort.


When shopping around for your ideal motorhome, look for fabrics and materials that are stain-resistant, easy to clean and durable.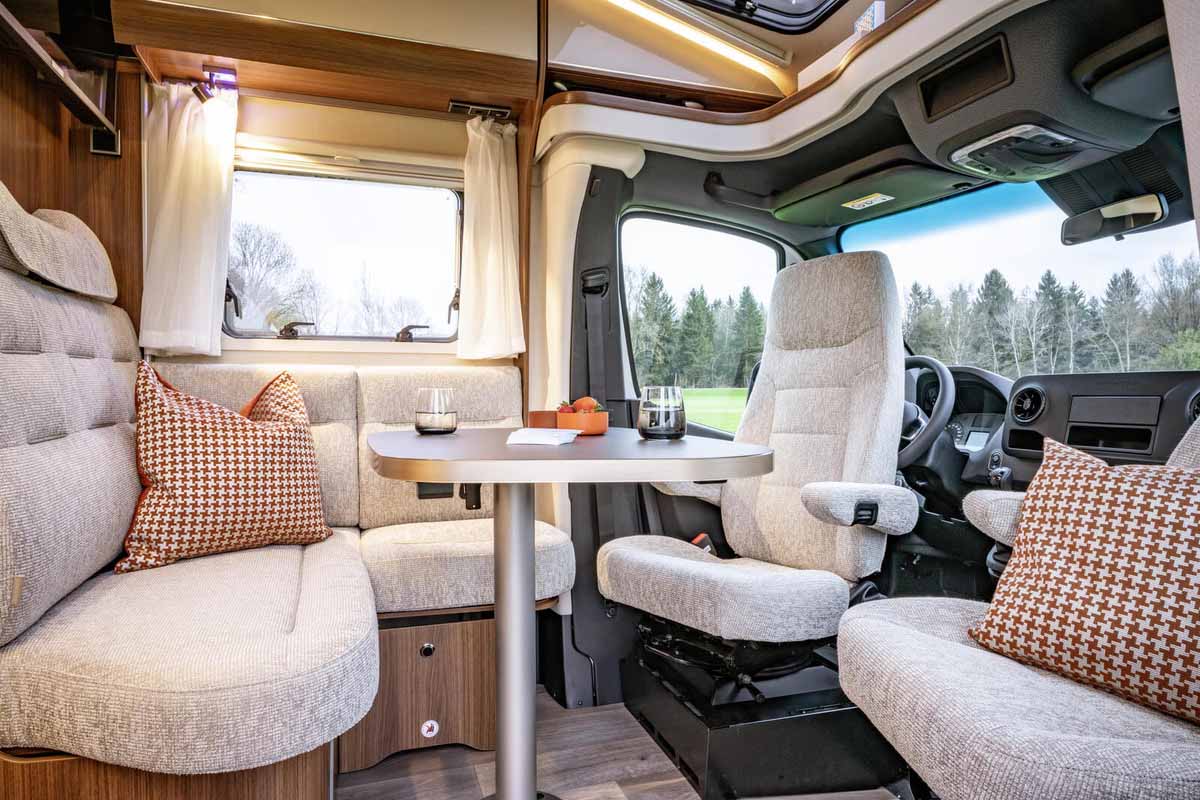 Fabric or leather

Fabric and faux leather are more affordable than real leather. However, if leather is maintained well, it can be the longest-lasting and most luxurious choice.

It's easy to clean stains and pet hair off leather and faux leather. But just like in a car, leather seats are generally the high-end option.

Motorhome manufacturers offer a range of different colour schemes. As a general rule of thumb, lighter fabrics create a feeling of spaciousness while darker fabrics may show less dirt.
Look for an adaptable and multi-use seating space
Adaptability and flexibility are vital aspects of a functional lounge and seating area in a motorhome. Your ability to utilise this space will be enhanced with a table that folds up or a bed that folds down.


Think about how you prefer to travel when making a final decision on a motorhome seating arrangement. Consider how you plan to:
Holiday — either solo, as a couple, or with family and friends
Eat — mainly outdoors or in the dining area
Make use of the spaces within your motorhome — for hobbies and activities
Move around — inside your recreational vehicle.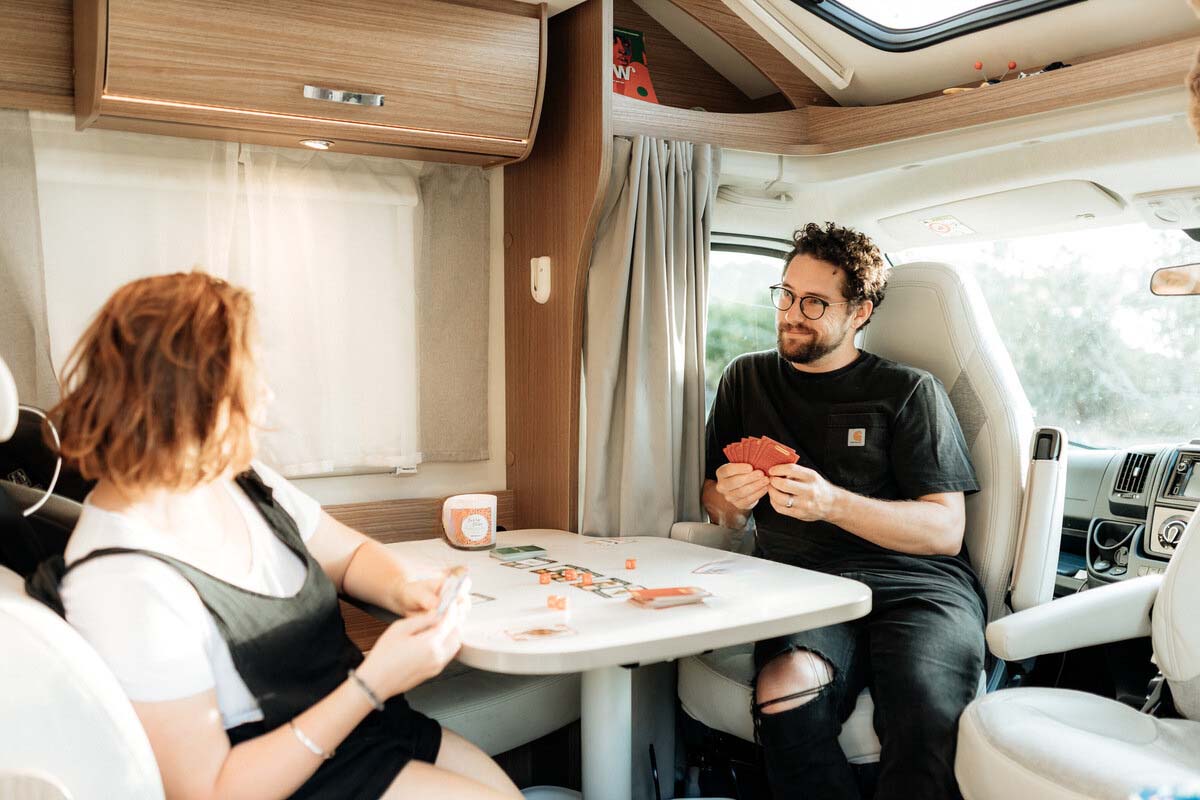 Finding the right motorhome for you and your family can take time and effort. Apart from seating arrangements there are other interior elements to think about — such as layout, the bathroom, the kitchen and even lighting.
---
Be sure to do your due diligence as you're going through the process of viewing and comparing motorhomes.
Download our motorhome due diligence checklist.