Of all the advantages that come with owning a motorhome, packing up and heading for the path unknown is right up there. Catherine Milford of Motorhomes, Caravans and Destinations looks at what to buy for effortless off-road travels.
New Zealand has many relatively straightforward roads but some of the best adventures can be had by simply turning left or right on a whim. If you're going to do that, however, you need to know you're in a vehicle that will take care of you, rain or shine, frost or heatwave, tarmac or dirt track.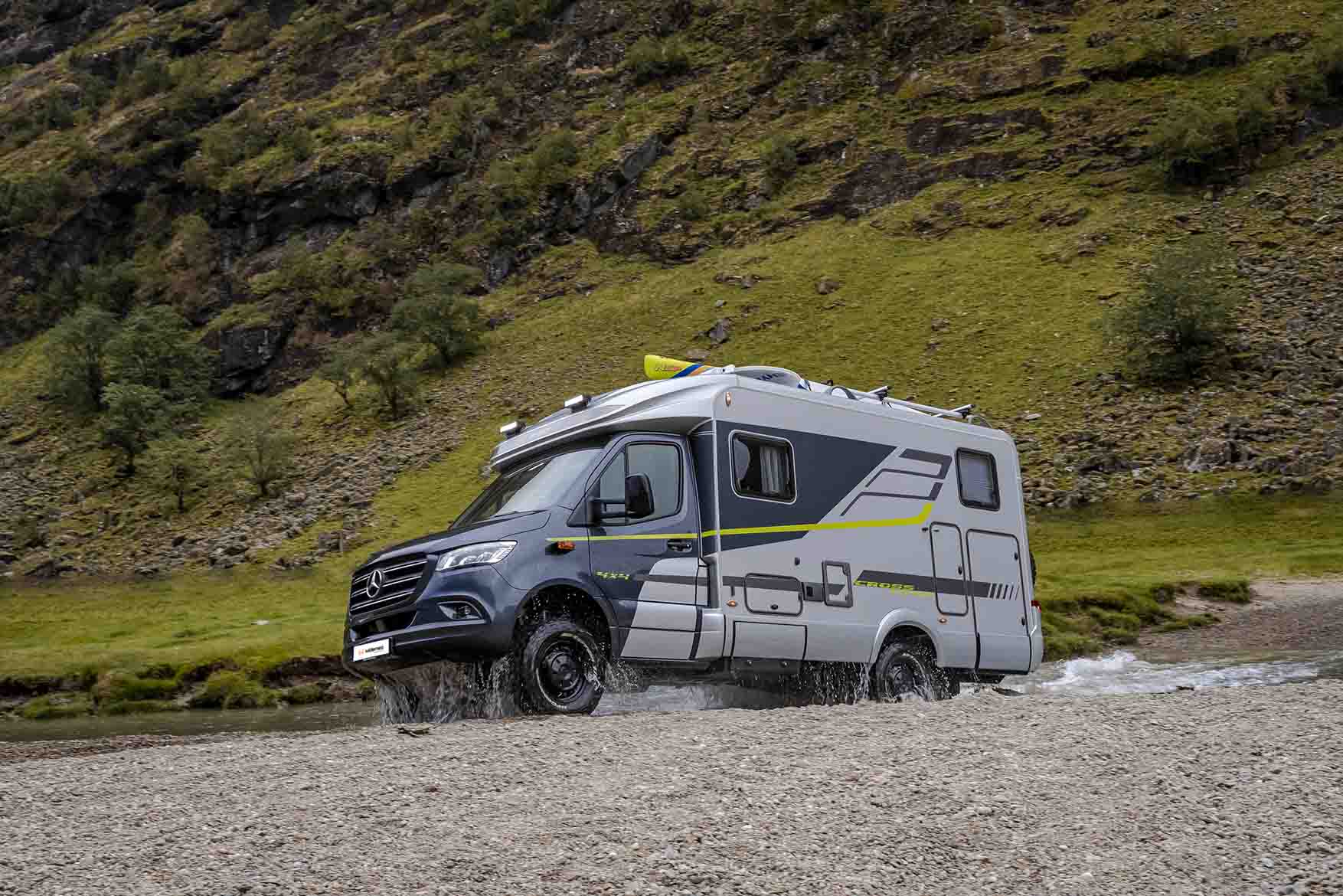 An off-road motorhome can take you to places where it's just you and the remote hilltops, isolated beaches and illuminating stars.

Some South Island highlights include a tour around the Matukituki Valley near Wanaka, the Ashburton Lakes area in Canterbury and the Mavora Lakes in Southland.

North Island adventures include heading up into the hills on Meremere Road in Manawatu — and the Waihi Falls in Wellington provide fabulous escapes for those with a taste for adventure. These are the types of places you wouldn't want to tackle in a rear or front wheel drive.
Where to start
If you're looking at exploring challenging terrain, seeking out some secluded destinations, and doing New Zealand travel your way, you'll need a 4x4 motorhome. Ideally, your 4x4 will not only handle the journey but also provide you with space for your essentials — such as fishing gear, hiking packs and mountain bikes.

When you buy your expedition motorhome, it's important to have a vehicle that will support you if you're heading off the beaten track. Unless you have Bear Grylls-level survival skills, you'll want to be sure you're not going to get caught short.

With a 4WD recreational vehicle that's built for off-road adventure, plus equipped with strong suspension and a powerful engine, you'll be able to go places many others won't.

While there are all kinds of motorhomes available, one of the most popular brands here is the German brand HYMER. Established for over 60 years, and brought to New Zealand in 2017, the brand is well known for its production and technology mastery.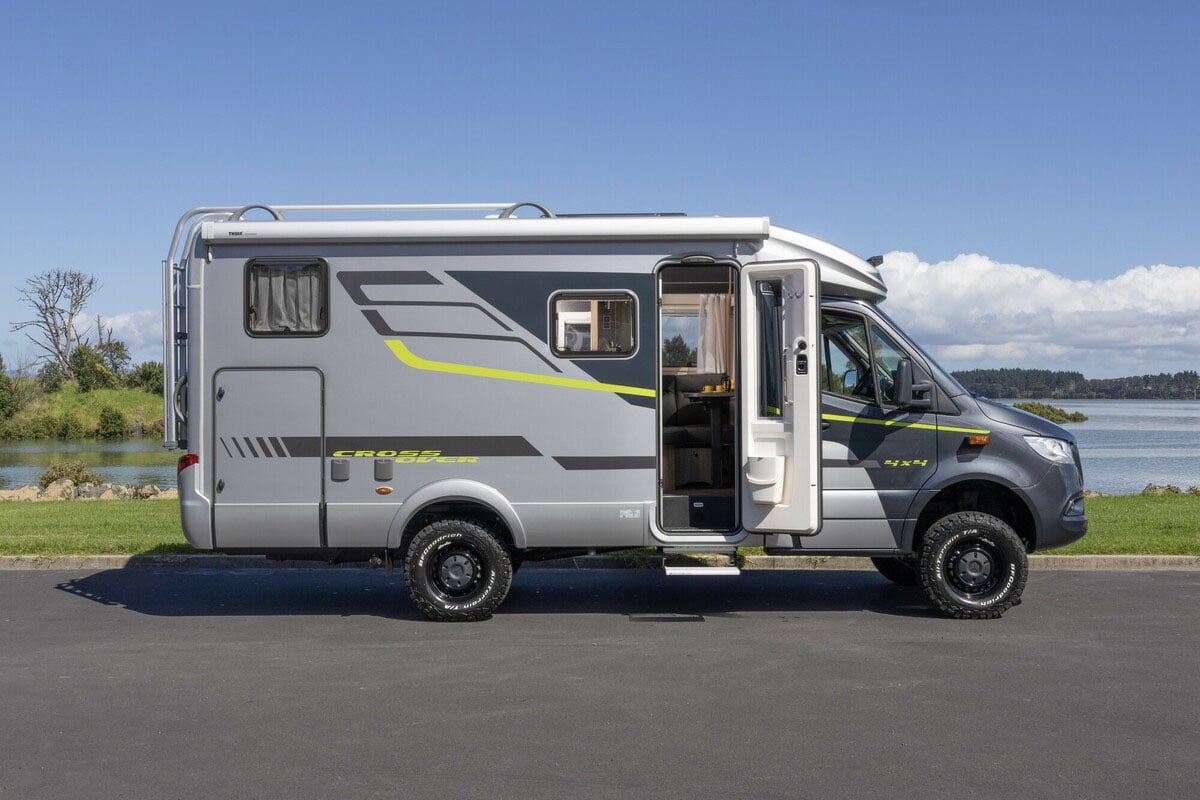 HYMER vehicles are built for a life of adventure. It also doesn't hurt that these beasts are extremely comfortable and stylish too — so once you're parked up, you can really relax.

Find out all about this quality German-made brand on our dedicated HYMER page.
What am I looking for?
Do your research if you're looking to buy something you can take off-road. Four wheel drive is essential for better traction and control on difficult terrain. Look for something that's been built on a strong chassis so you can be confident driving across dirt, gravel, mud and even rocks.

HYMER motorhomes are constructed on a Mercedes-Benz Sprinter chassis — with enough power and torque to handle some of New Zealand's steep inclines, and locking differentials that minimise wheel slippage and increase traction.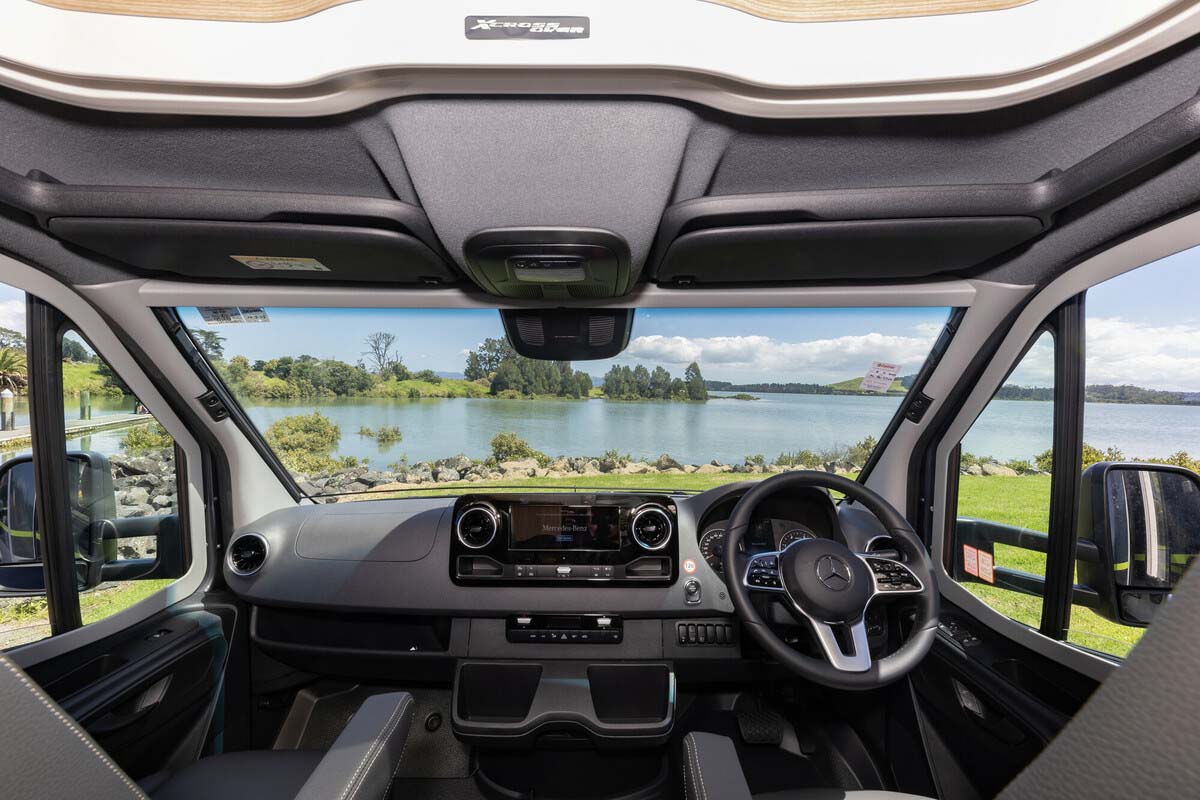 European RVs are usually more lightweight than their heavier, larger American counterparts, making them a better option for New Zealand roads. The HYMER is pretty economical with fuel — definitely a bonus when there are a fair few kilometres between you and the nearest gas station.

Suspension is another factor to consider. While there's something earthy about your bones crashing together as you bump your way across lumpy terrain, it doesn't feel too good after a while.

Look for vehicles with raised suspension. The ground clearance is elevated by 16mm to 1922mm on the 4x4 versions of the Mercedes Sprinter range. The significant gap between the wheel arches and tyres shows how the 4x4 was built to tackle rough ground.

Safety is an important factor for reliable 4x4 recreational vehicles. Learn about the safety features and technology of German motorhomes.
Making it last
Taking a trip off-road can be pretty hard on your vehicle so make sure you're buying one that isn't going to fall apart on you halfway across the mountain range or rocky ravine.

Don't be afraid to ask questions about what the motorhome is made of. The walls and roof of HYMER motorhomes are made using polyurethane foam sandwiched between two aluminium plates — which helps with stability driving off-road, and with insulation for temperature balance across all seasons.

Think about what you'll require when you're on the road too. You're likely to need quite a bit of storage if you plan to stay out a while — as well as a good supply of water, strong batteries and enough gas to see you through.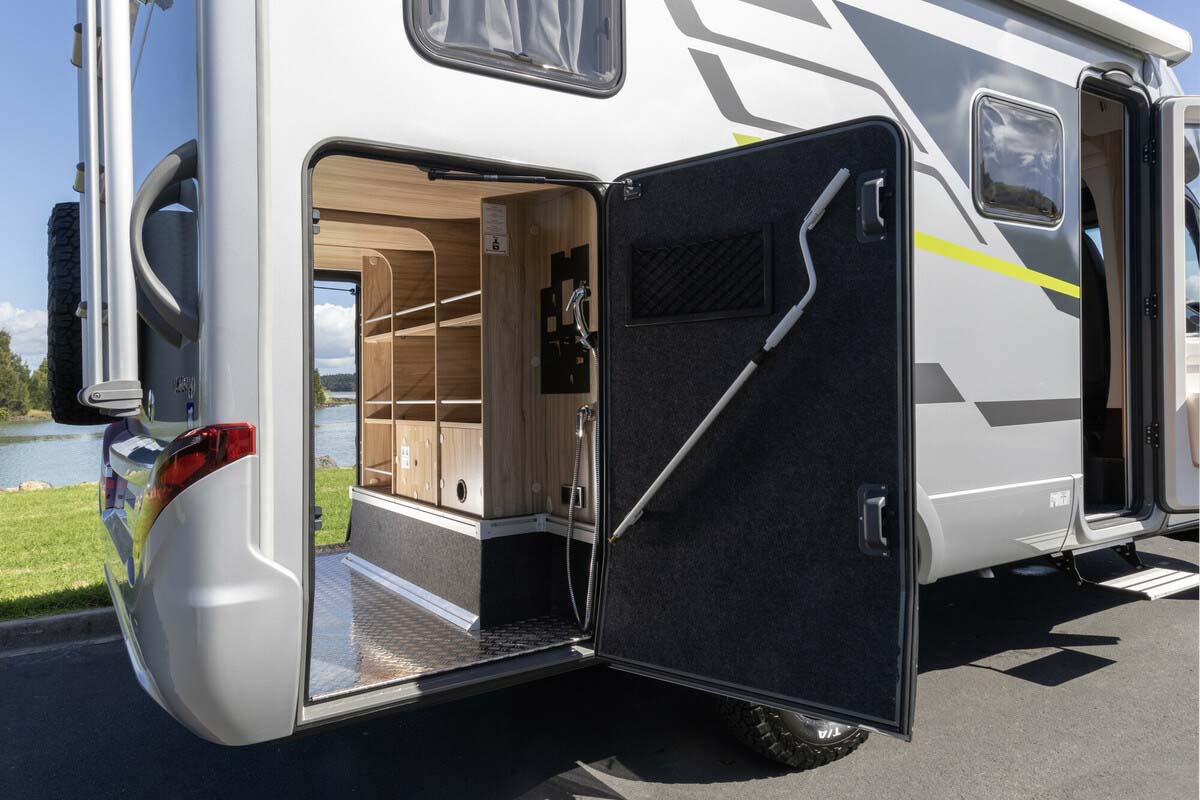 These days, a smart battery system is a practical idea as it combines the cost-effectiveness of lead batteries with lithium ones. This will give you a superior self-sufficient onboard power supply as well as a longer battery lifespan.

Look for vehicles with good energy management. Nothing can ruin a night away from it all like a dead battery. Integrated solar systems that are designed to maintain energy off-grid, LED lighting systems and lithium-ion batteries all help conserve energy — giving you more time to travel wherever you please.

See our blog on how you can freedom camp for longer with lithium batteries.
Time to relax
If you've spent the day traversing some of New Zealand's more challenging roads, you're going to want to hunker down in comfort. Having somewhere to dry clothes, cook up a nourishing meal and enjoy a restful night's sleep is paramount.

Like everything else in a HYMER, the kitchen manages to tread the balance between stylish and practical. As a result, you have everything you need on hand — with the bonus of not having the cutlery drawer rattle the whole journey.
The vehicle has super-comfortable mattresses with disc-spring bed frames that you'll melt into. The HYMER ML-T 570 CrossOver features some clever accessories that outdoor enthusiasts will appreciate. An external shower and a clever folding wet-dry bathroom mean the essentials are taken care of while you relax and enjoy the peace and quiet of your home from home — wherever in the country you want to be.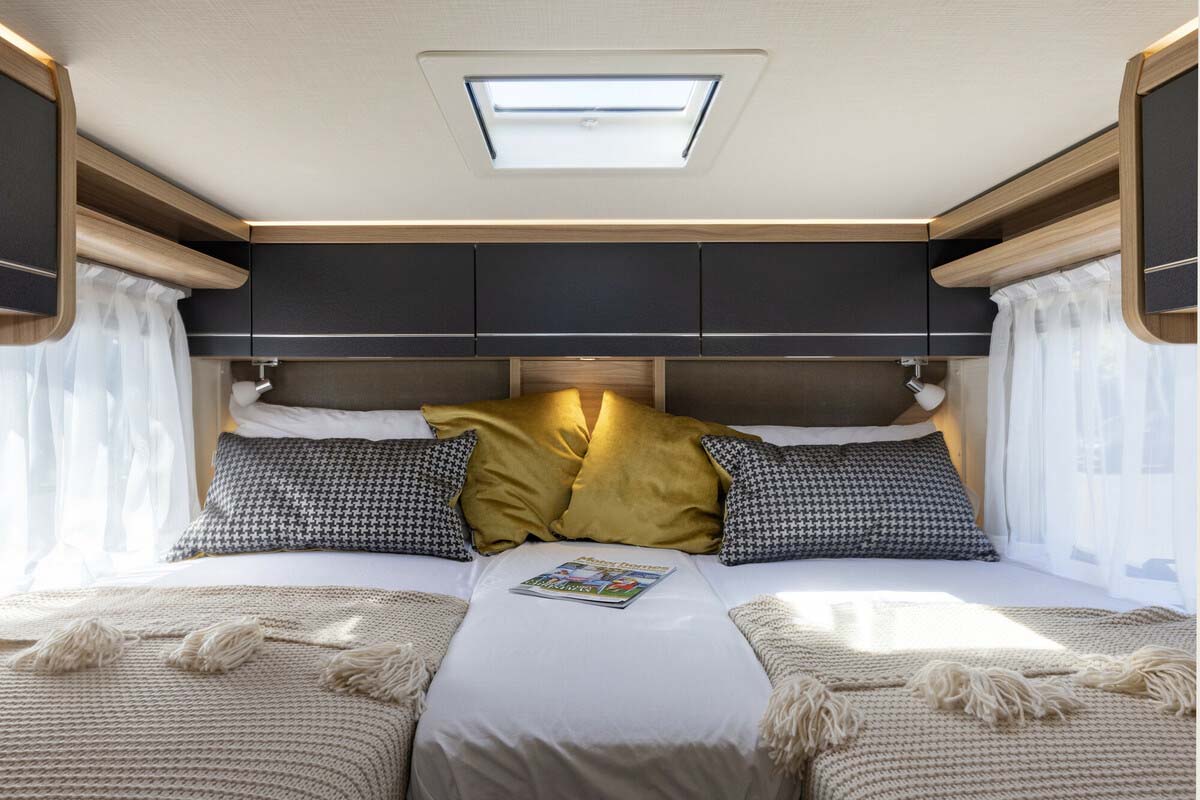 ---
Take a look at our guide on features to consider when buying a motorhome. Also, read MCD's independent review of the HYMER ML-T 570 CrossOver.
This article was originally published in Motorhomes, Caravans & Destinations magazine in July 2023.