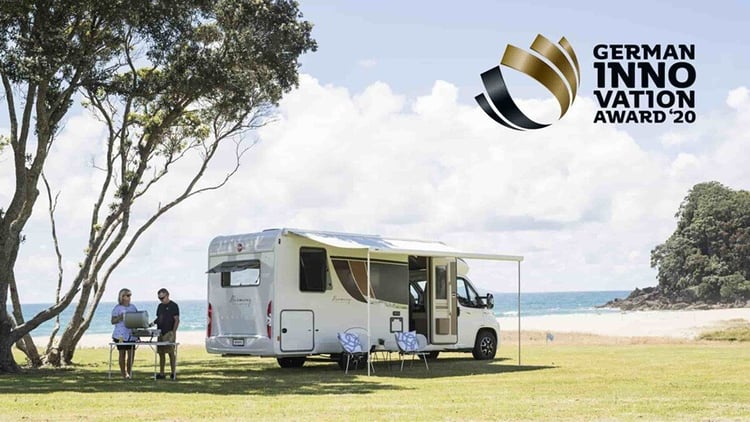 Bürstner's Lyseo Harmony Line picked up another win at the 2020 German Innovation Awards - fitting recognition for a motorhome manufacturer whose innovation has led the pack for decades.
Bürstner's Lyseo Harmony Line motorhomes have been collecting awards since first hitting the market in 2017. Now Wilderness's best selling motorhome has scooped arguably the most sought after design award - the 2020 German Innovation Award - a well deserved accolade for a company with customer centric design at its core.

We knew that Kiwis would love the unique layouts of Bürstner's Lyseo Harmony Line motorhomes when they first arrived on our shores in 2017. The Lyseo Harmony Line range was a first of its kind - a range of European motorhomes with a wraparound lounge and large picture windows. Just what we've been waiting for.

Kiwis' love of the wraparound rear lounge with picture windows dates back to caravans of the 1950s. New Zealand beaches were dotted with caravans positioned to take advantage of our iconic vistas. As soon as the sun was low in the sky, families across the country kicked back in their caravan lounge with a glass of Muller-Thurgau or sauterne to watch the setting sun.

European motorhome manufacturers have been fairly late to embrace this quintessential Kiwi layout. The concept required new thinking and collaboration with component manufacturers. The challenge was to achieve a lounge with large picture windows without sacrificing the thermal properties of double glazing - essential for Europe and more recently high on the wish list of many Kiwi motorhome buyers. European motorhome windows are all made by a couple of companies who supply the whole European motorhome industry. So some close collaboration with the window manufacturers was required. Next was creating a solution for the bed. Germans have been the leaders in providing motorhome beds that are as comfortable as your bed at home. That's why you won't find a bed assembled from the seat cushions of the lounge in a German motorhome. The challenge here was to design a rear lounge with wraparound seating plus a permanent double bed. The solution was a bed that folds down from the ceiling at night then tucks back into the ceiling during the day. Of course! Enter the Bürstner Lyseo Harmony Line.

A couple of years after its release, Bürstner's Lyseo Harmony Line is still scooping awards. At the 2020 German Innovation Award, received a "Winner" award for the Lyseo TD 644 G and a "Special Mention" for its innovative Bürstner Home Light. Bürstner CEO Jens Kromer said "the rear wraparound lounge with Bürstner's patented fold down bed has captivated owners with its sensational feeling of space". The German Innovation Awards honour companies across all industries for particularly innovative and efficient solutions. The focus is on detailed innovations and services with real added value.

Being acclaimed a winner in one of the world's most innovative countries is fitting recognition for a manufacturer committed to a strategy of customer centred design, quality and technological progress. The sunset viewed from the rear lounge of the Bürstner Lyseo is just as beautiful as that viewed from a 1950s caravan but a pinot noir has replaced the bottle of sauterne and the bed is a whole lot more comfortable!

To experience the best of the best of German innovation in a Bürstner Lyseo motorhome, come and see us at our sales centre in Auckland and Christchurch.