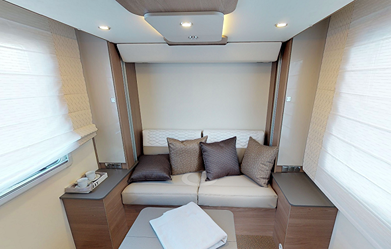 A more spacious entertaining area and a groundbreaking new bed design are part of Bürstner's new Lyseo Harmony Line models have just arrived.
Four stylish new 2019 models from German manufacturer Bürstner are now available and the Wilderness team expects them to be hugely popular with Kiwi motorhomers.
Described as a "three-room apartment" on wheels, the Lyseo Harmony Line motorhomes feature Bürstner's premium 'wohnfühlen' design. This includes an emphasis on comfortable, modern living with a choice of soft natural hues in quality long-wearing fabrics along with premium fittings, soft close drawers, and LED night lighting.
Wilderness Motorhomes former Head of Sales, Mark Baker, says the layout changes make the new models even more appealing as they work so well for the New Zealand lifestyle. "Our customers are telling us they want a large entertainment area. They want to be comfortable and stretch out – that's a big driver for them."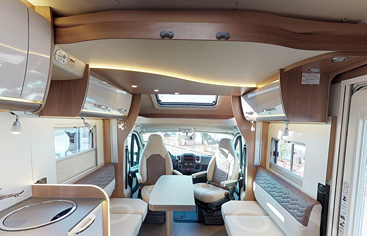 Bürstner has delivered this in the new 'couch/couch' set-up in the T736, IT736 and IT727 models. The front lounge area has been redesigned to remove the two front-facing seats that back onto the kitchen bench, with two couches now facing each other across a foldable table. This opens the kitchen to the front lounge, so the table can be used as an extra food preparation area, or simply folded in half to create more space for moving through the motorhome.
Combined with the Lyseo's one level floor throughout and 205cm headroom, it makes for an even more spacious living experience.
For travelling twosomes seeking the ultimate home away from home on the road, Mark Baker recommends the two-berth Lyseo Harmony Line T736. "There's so much space in this motorhome," says Mark, "and because you've got another skylight where the other bed would normally be it makes it beautifully light and offers great increased head height as a result."
The T736, IT736 and IT727 are all at Wilderness now.
Wilderness has also taken delivery of the new Bürstner Lyseo Harmony Line IT745, which features a new island drop-down bed at the rear of the vehicle.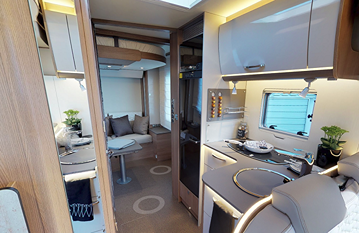 The motorhome still features its two lounge areas at the front and rear, but Bürstner has changed the 'east/west' design of the rear drop-down bed to an island bed providing ease of entry from both sides of the north/south bed.
Mark Baker says he expects the IT745 to be hugely popular. "It's going to fly: by having the same two lounge set up as the popular IT744 model but with an island bed, this motorhome will really appeal to a wider range of customers."
Come and see the new 2019 models at the Wilderness sales centres in Auckland and Christchurch. You can pop in, or call 0800 007 627 to arrange a time that suits you to come and chat with one of the team.
Visit our 'Contact Us' page for more details on our locations and normal opening hours.