If you're planning to spend a decent amount on a new motorhome, you'll have the pick of two types of body construction.
In the more affordable corner is the semi-integrated motorhome — which still retains the front sheet metal parts and cab components of its donor van that provided the platform.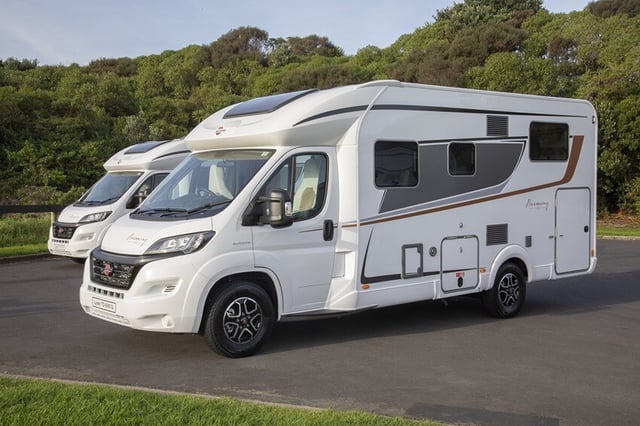 While over in the money's-no-object corner is the fully-integrated motorhome — where all the body parts of the van have been replaced by the motorhome builder's own bespoke components.
Which one's best for you — the 75 percent step or the full 100 percent body reconstruction?
What semi-integrated motorhome means
A semi-integrated motorhome has its original driver's cab partially integrated into the living area. The cab seats rotate to be part of the front lounge.
The starting point of a semi-integrated motorhome is its van cab-chassis. This enables several cost savings that make semi-integrated motorhome models more affordable. It's the ability to meet the purchase budgets of more new motorhome buyers that accounts for the popularity of this method of body construction.
Advantages of retaining the cab
With the cab of the motorhome's platform retained, the manufacturer doesn't have to reconfigure the wiring loom of the donor van for the operation of headlights, indicators and windscreen wipers.
Nor does the van's heating, ventilation and air conditioning (HVAC) system need a complete rebuild as the existing system can be retained along with the rest of the cab's original equipment.
That includes the side doors of the cab — one of the highest ticket items in automotive body construction. When designing a new model of any motor vehicle, a manufacturer will often retain the doors of the previous model. This is because the cost of tooling up to build new ones is considered prohibitive.
Retention of the donor van's doors therefore represents one of the biggest cost savings that semi-integrated motorhomes offer over their fully-integrated cousins.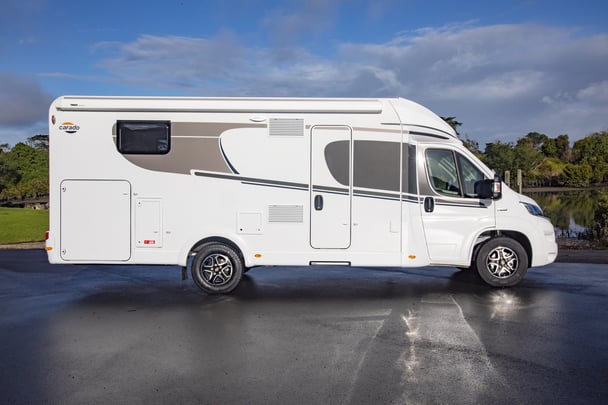 Two types of semi-integrated motorhomes
When it comes to semi-integrated motorhomes, there are two types — those that:
Only integrate a body structure with the existing van cab-chassis

Also hybridise the chassis with new rear suspension and structural members.
Some of the latter type replace all of the van's original suspension while most retain the van's front suspension and adopt a new format, geometry, and shocks and springs at the rear only.
Motorhome types and classes
All semi-integrated motorhomes are classified as Class C whereas fully-integrated models are Class A. Class B motorhomes are smaller recreational vehicles and are typically called campervans.
Find out more about the construction of semi-integrated motorhomes.
What is an integrated motorhome?
An integrated motorhome fully incorporates the driver's cab into the habitation unit with no barrier in between. It's purpose-built to be a motorhome rather than converted from another vehicle.
Instead of beginning with a readily available van cab-chassis, the fully-integrated version results from the arrival of a naked modified chassis at the motorhome maker's production facility. The original donor van's powertrain, electronics, front seats, steering system and dashboard architecture are retained.
Usually, this stripped chassis is modified by AL-KO and retains the original structural front members of the van. However, the front suspension is replaced with AL-KO components — either air or steel springs.
The rest of the chassis will be all AL-KO's work with:
Honey-combed chassis rails — for reduced mass

Rear suspension tuned to the final gross vehicle mass of the completed motorhome — otherwise known as the GVM or unladen weight plus payload.
What is AL-KO?
The AL-KO Vehicle Technology Group is the world leader in high-quality chassis and suspension components for leisure vehicles. They represent the best in functionality, maximum comfort and innovation — to ensure greater driving safety.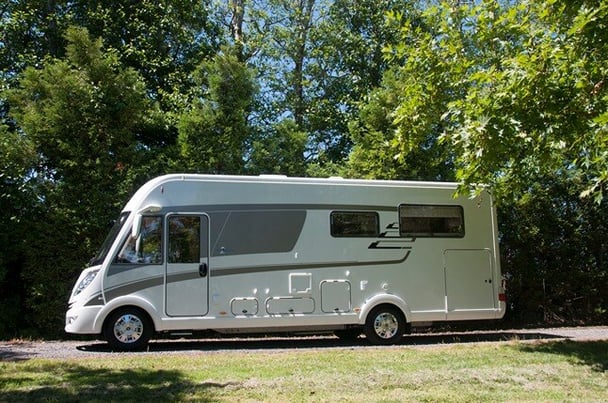 Modifications are made
The first step in the construction of a fully-integrated motorhome is the modification of all the retained in-cab systems for their use in the wider cab. Then, when the dual floors, furniture, electrics, gas lines and plumbing have been mounted to the chassis, the assembly of the fully-integrated body begins.
On the driver's side is an entire wall that's been machined with cut-outs for a cabin side entry door, windows, rear garage and other lockers. It's the same on the other side — the single body panel is machined to also allow fitment of a door adjacent to the front passenger seat.
The roof is added, along with the front mask and rear panel — all typically protected by a single-piece glass reinforced plastic (GRP) outer layer.
Quality control is critical
The process of bringing these massive body parts together is a complicated one. Care must be taken to ensure complete accuracy and that no wires or pipes attending the electric, gas and plumbing circuits are compromised.
Makers of fully-integrated motorhomes invest heavily in quality control processes to ensure that their well-heeled customer base is completely satisfied — and that body assembly is precisely measured and verified. The result is a neater, better-looking body that oozes quality.
The only joins likely to be seen in a fully-integrated motorhome body are where the wheel guards and underbody protection strips have been added to the side walls.
Contrast this with a semi-integrated version where the joining of the original van cab to the wider motorhome cabin results in several extra panel joins.
From high-end to entry level
The fully-integrated motorhome used to be synonymous with luxury. It was larger, more highly specced, and came with lavish fabrics and finishes — plus it was fitted out with more high-end equipment than semi-integrated models. And because it used to be built on a heavier chassis, it was able to carry more weight.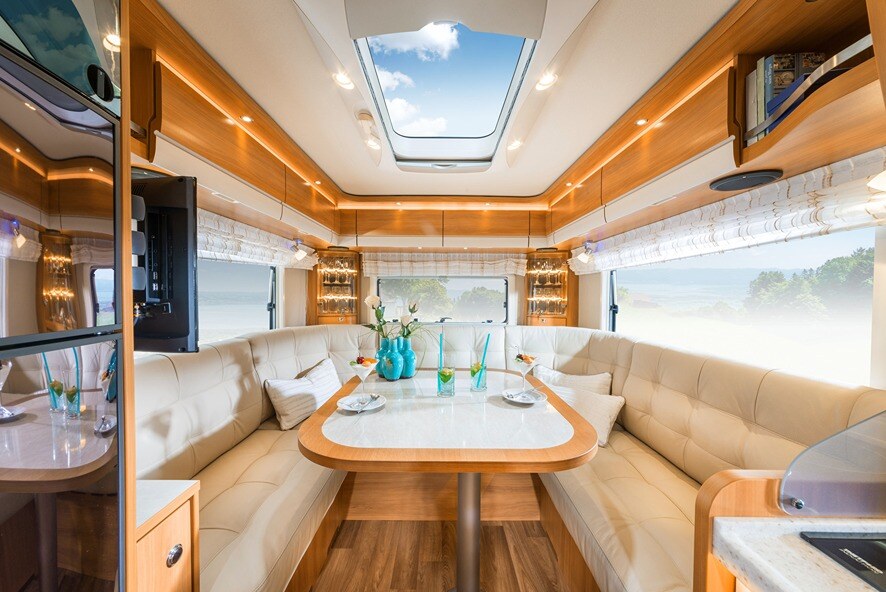 Today, integrated motorhomes aren't restricted to high-end models. Many entry level brands have taken the layout of their semi-integrated model and simply built it with a fully-integrated body.
Although the specs and fitout are still similar to their semi-integrated cousins, these entry level integrated models have the advantage of a more spacious front living area. They usually also have less than 3,500kg in GVM — meaning they can be driven on a car licence under a warrant of fitness (WOF). But they don't come with luxury.
Find out more about the types of motorhomes available in New Zealand.
Living in a semi-integrated motorhome
At the more expensive end of the semi-integrated sector, you'll find motorhomes with dual or double floors just like their full body alternatives. These generally result in flat floor levels all the way from cab to garage.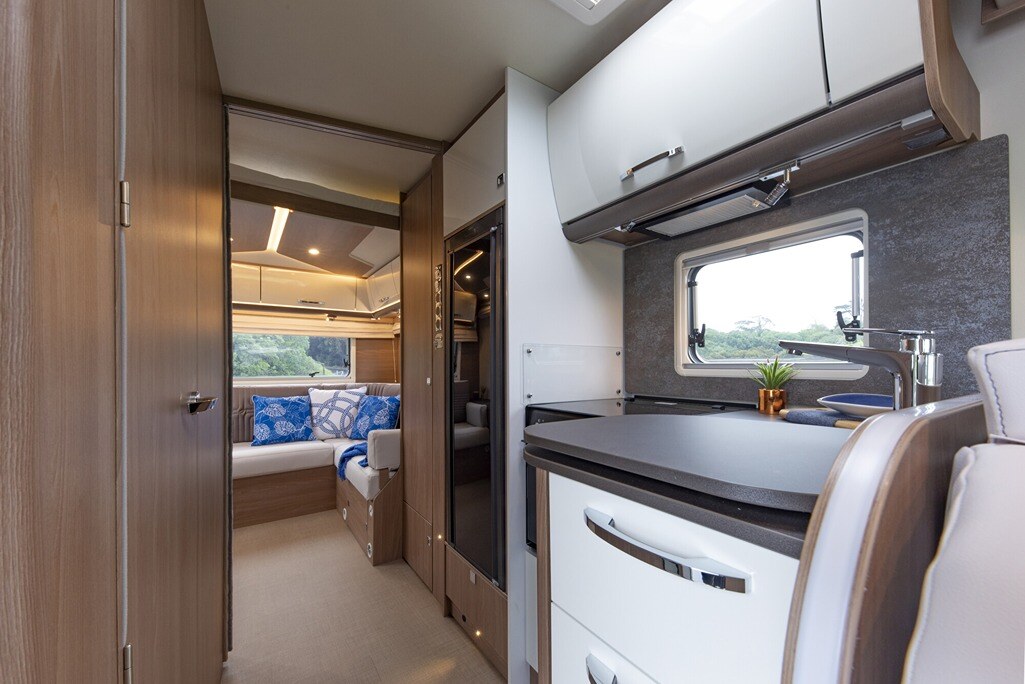 However, cheaper semi-integrated models that use a single floor tend to place the flooring on several different levels — resulting in steps that might catch you out. These cheaper models often:
Have higher cabin noise levels when you're on the move

Aren't as well insulated against the weather.
Space
The cabin width dimensions of semi-integrated motorhomes are usually wider than those of the van cab up the front. As a result, there isn't all that much spatial difference between the two body styles when it comes to the living room.
The difference is mostly noticed up front where a fully-integrated body will offer more room, especially overhead.
Maximum garage luggage mass is commonly rated at around 250kg for a semi-integrated body. Many fully-integrated motorhome models can cart 450kg back there — due to their more extensive chassis and suspension improvements.
See our guide on maximising storage space in your motorhome.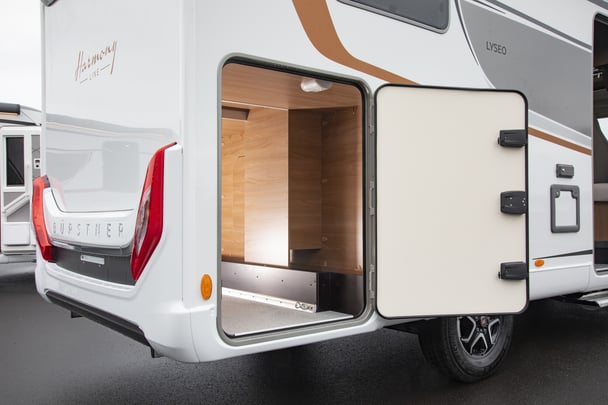 Living in an integrated motorhome
The neat exterior design of an integrated motorhome normally translates to a tidy-looking design on the inside with:
More linear lines of sight

Slightly more floor and ceiling space — especially up front.
This means that any drop down beds located above the front lounge can be better integrated into the interior roof line and will give you extra headroom. They're usually situated a little further forward in an integrated motorhome compared to a semi-integrated model — making your lounge feel more spacious at night.
The driving area of an integrated motorhome can also be better utilised when parking up for the night. Cab blinds are simple to open and close thanks to the spacious headroom. They can often be deployed at the push of a button.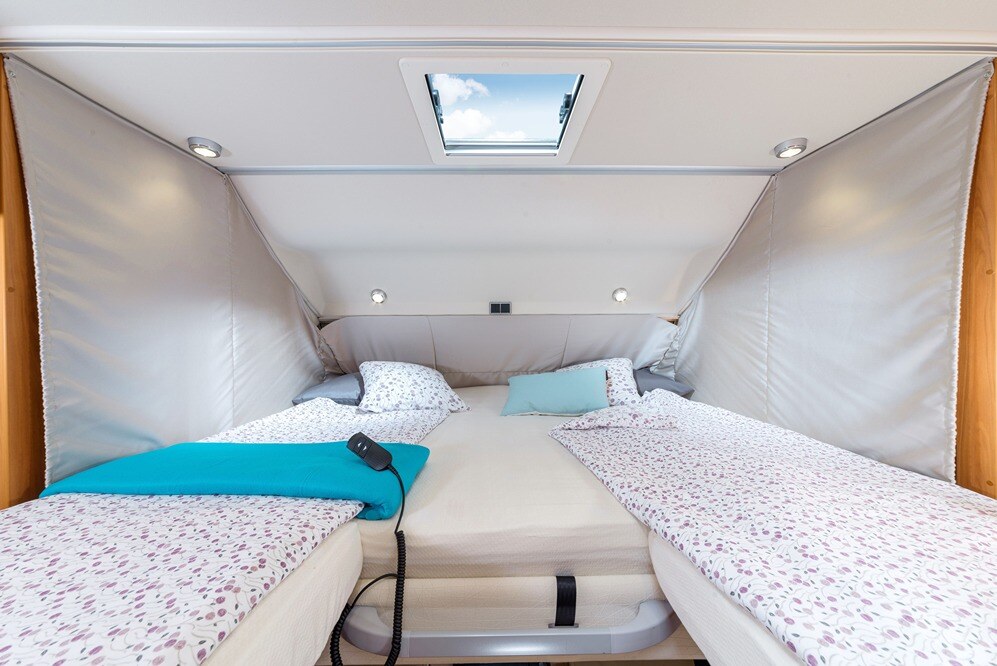 Integrated cabins are usually a little wider than semi-integrated ones. This allows for an easier front cabin reconfiguration when putting your motorhome into transit mode. Lounge bench seats can be rotated 45 degrees to provide a couple of forward-facing seats with certified seat belts — due to that extra width.
Find out about seat belt safety in motorhomes.
Driving a semi-integrated motorhome
Semi-integrated motorhomes drive almost exactly like the vans they look like. They have the same side mirrors, same controls and same seats.
It can be easy to forget that there's a wider cabin following the relatively narrow cab. This only really becomes an issue if you're trying to avoid adjacent tree branches on narrow rural roads or you're manoeuvring around a campsite.
The safer choice
It could be argued that a semi-integrated motorhome is a safer choice than an integrated one.
In New Zealand, most integrated motorhomes have three exit doors just like their semi-integrated counterparts. However, you can buy them with only one door in Europe. Should the motorhome catch fire due to some electrical or gas system fault, three exits are better than one.
As for crash test performance, in 2019 the Swedish Transport Authority (Trafikverket) found some interesting results comparing the two body types. A semi-integrated motorhome achieved slightly better results than a fully-integrated model in back-to-back frontal impacts into an offset stationary barrier at 64km an hour.
Driving an integrated motorhome
From the driver's perspective, you're aware of the width of an integrated motorhome as there's a pair of reference points right in front of you — the outer edges of the windscreen. The generous size of the windscreen provides unparalleled views of the scenery you're driving through.
However, should your fully-integrated motorhome's windscreen get a stone crack or chip, it may take a while for a repairer to source its more specialised replacement screen.
Contrastingly, the screen of a semi-integrated motorhome can be repaired almost immediately anywhere in New Zealand.
Is it time for a test drive?
Perhaps the best way to decide whether to buy a fully-integrated motorhome or a semi-integrated equivalent is to first rent one of each body style. Aim to find out whether the popularly-perceived advantages of the more expensive fully-integrated version are real — or just the stuff of our collective imagination.
You can make an argument for either body style with safety and reduced costs being the main trump cards of the semi-integrated versions. Whereas design integrity, extra cab space and greater storage are positives of the full-bodied versions.
If you'd like to know more about motorhome construction, check out our guide to motorhome chassis and construction.