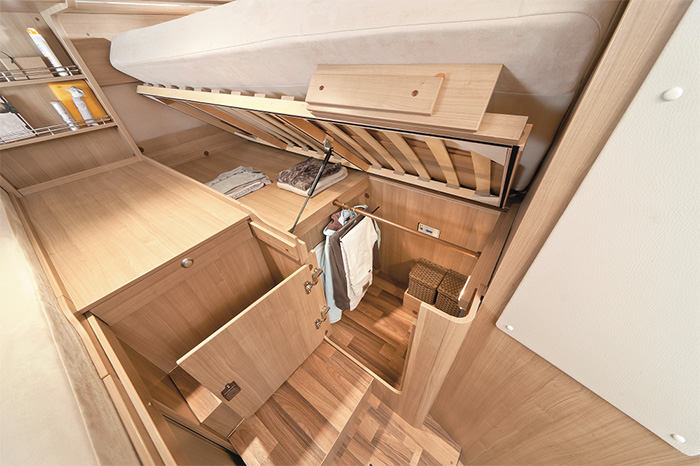 Life on the open road might be about getting away from it all, but you should still be able to have all you need to be comfortable without cluttering up the inside of your motorhome. That's where storage comes in and, just like a house, good storage options make life so much easier.

Here, we look at what to expect when it comes to motorhome storage and what to look out for.


Garage

This is the biggest storage area in your motorhome and will range from somewhere to stow bags, through to a large space that can accommodate luggage, bikes, golf clubs and even a couple of surfboards. The amount of garage space you have will depend on the length and internal layout of the vehicle you choose.
Things to consider:
Aside from luggage, what sort of gear would you want to take with you regularly? Are you keen golfers or cyclists? You can get a bike rack for your motorhome but may prefer the option of stowing them more securely in the garage.
Is the garage accessible from both sides?
How easily can you secure items in the garage to prevent them moving around when on the road?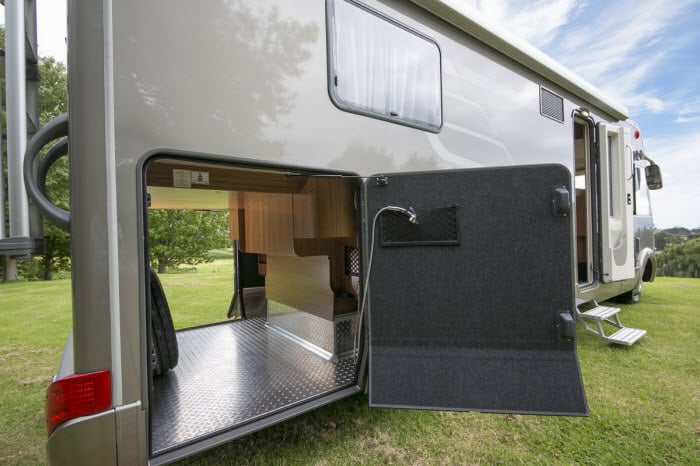 Bedrooms

Being able to unpack is much easier than constantly living out of a bag and really makes your RV feel like a home away from home.
Features to look for:
Cupboard/s with a rail for hanging
Storage lockers for folded clothes or other items. These may be up high and/or under the bed – check the depth to ensure they're spacious enough.
Bedside cabinets/additional bedside shelving
Shoe cabinets. These dedicated spaces are a great way to store shoes tidily and easily. Some motorhomes have these in the bedroom, and/or under the floor in the entranceway.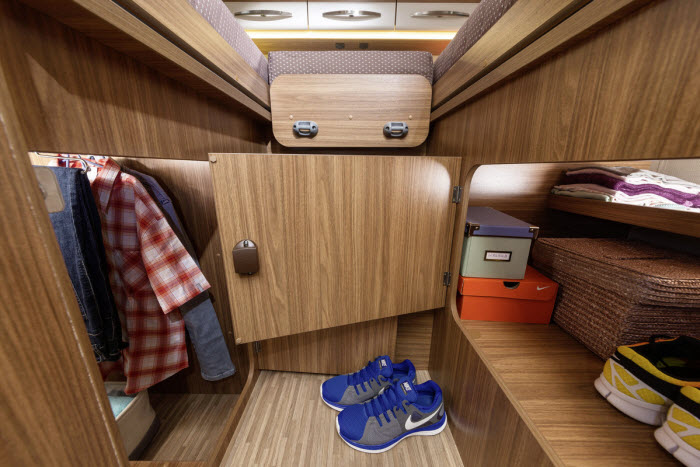 Bathrooms

Have all your essential items easily to hand, rather than rummaging through toiletry bags every morning and night.
Look for:
A good amount of dry storage for toiletries and essentials like toilet paper – under the sink is ideal.
Shelving with rails or cupboards with fasteners to hold toiletries securely
A caddy in the shower with rails for soap containers and hair care products
An overhead rail in the shower for hanging damp clothes to dry when the motorhome heating is on, or for hanging bulkier items


Kitchen

Good kitchen storage is essential, especially if you're planning on freedom camping for several days at a time, or don't want the bother of daily supermarket trips. Motorhome designers are increasingly coming up with nifty ways to maximise every inch of space in this busy area and to enhance your lifestyle on the road with special storage areas for wine glasses, coffee machines and more.
Things to consider:
Check how much pantry space there is and any additional shelf storage for ingredients. Some motorhomes have a handy spice rack with rails.
How much room is there to store basic cooking equipment such as chopping boards, pots and pans, trays and utensils?
What is the fridge capacity? Will you be able to fit enough supplies for a few days at a time? How long can you go "off the grid" and still run the fridge/freezer efficiently?
Do you need space for a coffee machine? More modern motorhomes may offer a special pull-down cupboard for a small machine.
Pay attention to the closures on storage – shelves should have rails to prevent items from falling out, and cupboards and drawers should be self-closing with a locking mechanism so they don't come open while travelling.
Non-slip mats inside drawers are useful to stop items moving around too much.
Look for flush cupboard fronts, good slides on drawers and pantries, and no sharp corners.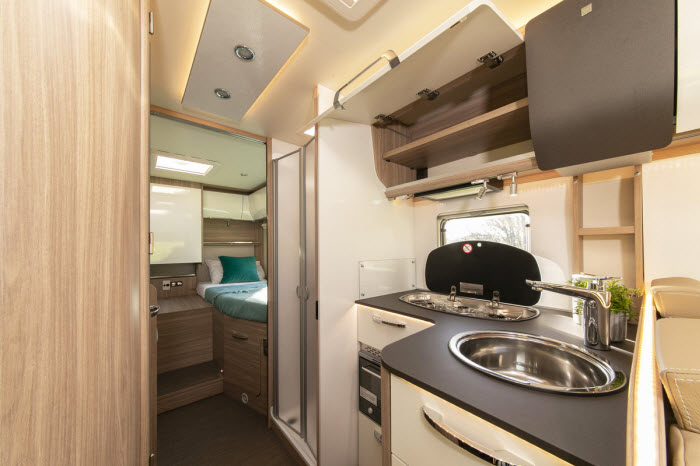 Additional
Extra cupboards around the front dinette/lounge area are useful for storing board games, books, devices, charging cables and anything else that you don't want in the bedroom or kitchen.


Packing up and heading off
Keep your allowable payload in mind when packing your motorhome to avoid overloading it. Here's a useful guide to terms and definitions around this.
Always remember to close doors and cupboards and secure any loose items before setting off.


Also in the Wilderness 'Buyers' Guide' series:
RV Buyers' Guide – Budget
RV Buyers' Guide – Motorised or Towed?
RV Buyers' Guide – Self-Contained Vehicles
RV Buyers' Guide – Chassis and Construction
RV Buyers' Guide – Length, Layout and Beds
RV Buyers' Guide – Kitchen
RV Buyers' Guide – Lighting, Heating and Ventilation
RV Buyers' Guide – Bathroom, Fresh and Grey Water
More helpful reading: