Before you sink your hard-earned money into the purchase of a new motorhome, you'll want to make sure that you have a place to store it that's both secure and minimises the impacts of the elements on it. A lockable garage or shed is ideal or alternatively, a secure carport on your own property.

However, with apartment living and smaller sections becoming more common, storing your motorhome at home is not always possible. And since parking a motorhome on the road long-term is not an option, a commercial storage company may be the way forward.
Why should I consider where I can store a motorhome before I make a purchase?

Before you buy your new motorhome, carefully consider the best way to store it. Look at the suitability of your property for storing a motorhome. Both the access to your property and the parking site options need to be considered.

First of all, size matters. You may be able to find a campervan or small motorhome that can fit down your driveway or into a parking space on your section. If you are considering a big motorhome, you'll need to determine the size limits that your property can accommodate.

When it comes to site access, it's not just all about motorhome dimensions. The wheelbase and the overhang behind the rear wheels also have a part to play. Sharp turning angles on your driveway or property will require a shorter length vehicle or one with a shorter wheelbase. A steep entry to a driveway may cause a motorhome with a long overhang behind the rear wheels to bottom out.

Compare the dimensions of different motorhomes carefully as a few centimetres in length and width can make all the difference. While motorhomes vary a lot in length, their width and height are a lot more standard. A campervan (a van converted into a camper) is narrower than a motorhome (a vehicle with a habitation unit built on the back of a truck chassis). Most campervans are between 1.95 (Toyota Hiace) and 2.05 metres wide (Fiat Ducato). Whereas a motorhome is usually between 2.2 and 2.3 metres wide. Most European motorhomes are 2.3 metres wide but you can get a 2-berth Carado motorhome that is 2.2 metres wide which is a great option for tighter spaces.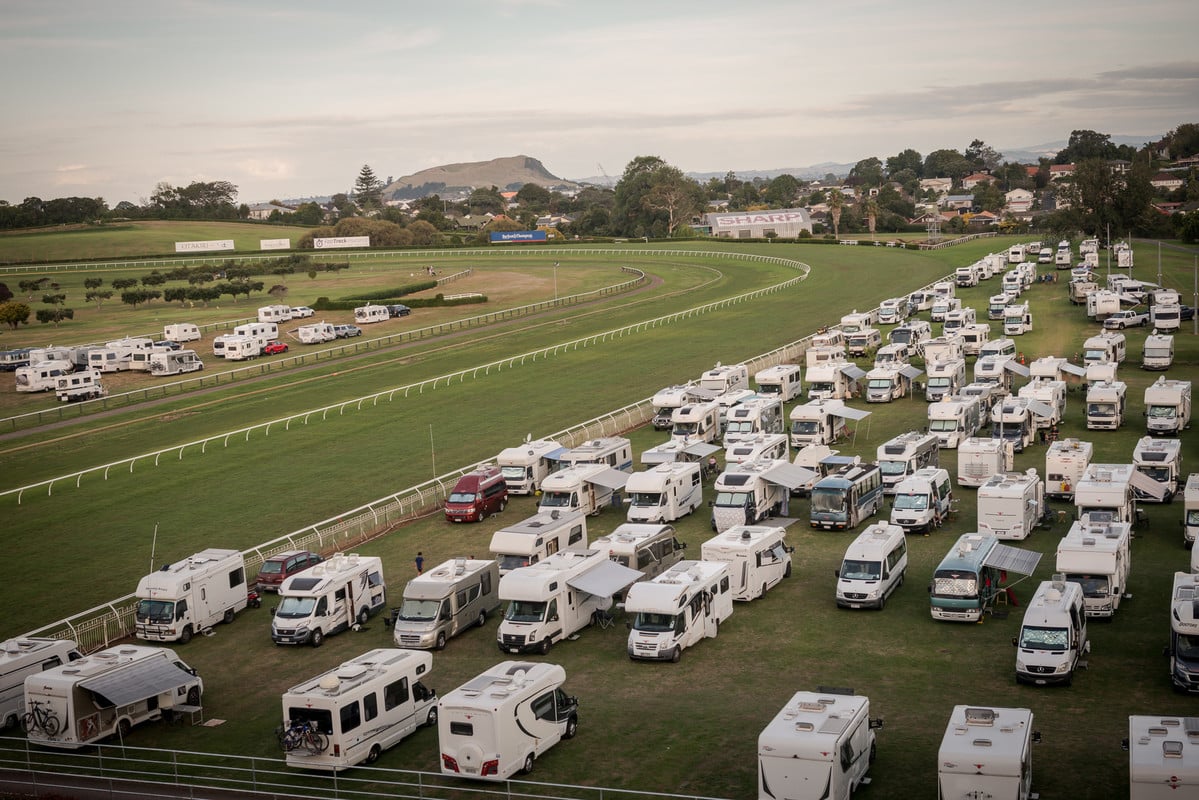 The height of the motorhome is important to consider if you plan to store it inside. A high-top campervan is usually between 3.0 and 3.2 metres tall which is similar to a motorhome with a cab over profile (circa 3.2 metres). A low-profile motorhome, such as the Bürstner Lyseo, is usually under 3.0 metres tall so may fit in a space that other campervans or motorhomes won't. Keep in mind that if your motorhome has accessories such as a satellite dish fitted to the roof, this will add at least another 300mm to its overall height.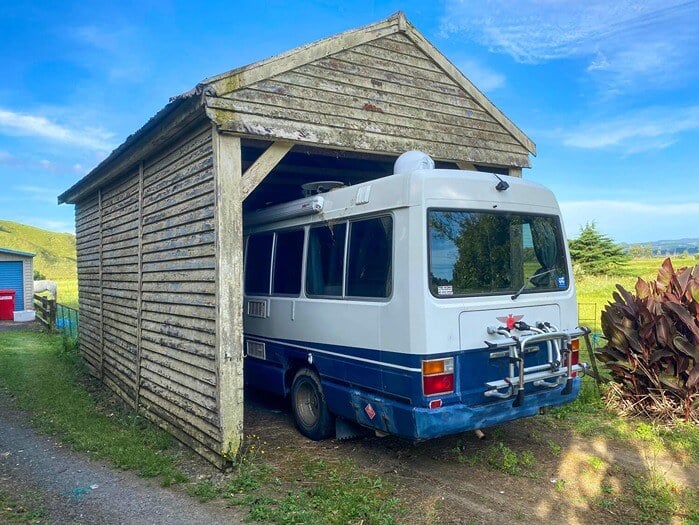 More often than not, motorhomes are stored outdoors. This is where the quality of the materials and the craftsmanship come into their own. As water ingress is a big problem for motorhomes, it's worth finding out what materials the external shell is made from and checking what type of water tightness guarantee the motorhome comes with. Glass reinforced plastic (GRP) is a sturdy material that many German manufacturers use for the roof. It's impermeable and protects the motorhome from hail and general weathering.


What type of motorhome storage is available in New Zealand?

A garage or shed is, of course, the gold standard for motorhome storage. Keeping the elements out and protecting your motorhome from rain, hail and sun damage means that you can keep your motorhome looking spick and span for years to come. If you have the space to build a shed or carport for your RV, that's the most convenient option but it can come with a hefty price tag.

Parking on a driveway or in a carpark on your property is the next best thing. You may be able to plug in and keep the batteries topped up plus you can keep an eye on your RV. Putting security measures in place, such as security cameras or a wheel clamp, can help reduce the risk of theft. Storing your motorhome at your residence also gives you the convenience of heading off on your next adventure on a whim.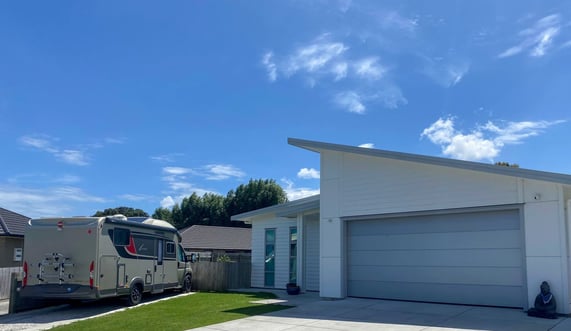 If you're considering a move to a retirement village in the future, look out for a village that caters for motorhome owners. Many villages now offer storage onsite (although space may be limited) and others even provide storage next to their units or apartments. In fact, Longridge Country Estate in Paeroa has been developed specifically with motorhome owners in mind.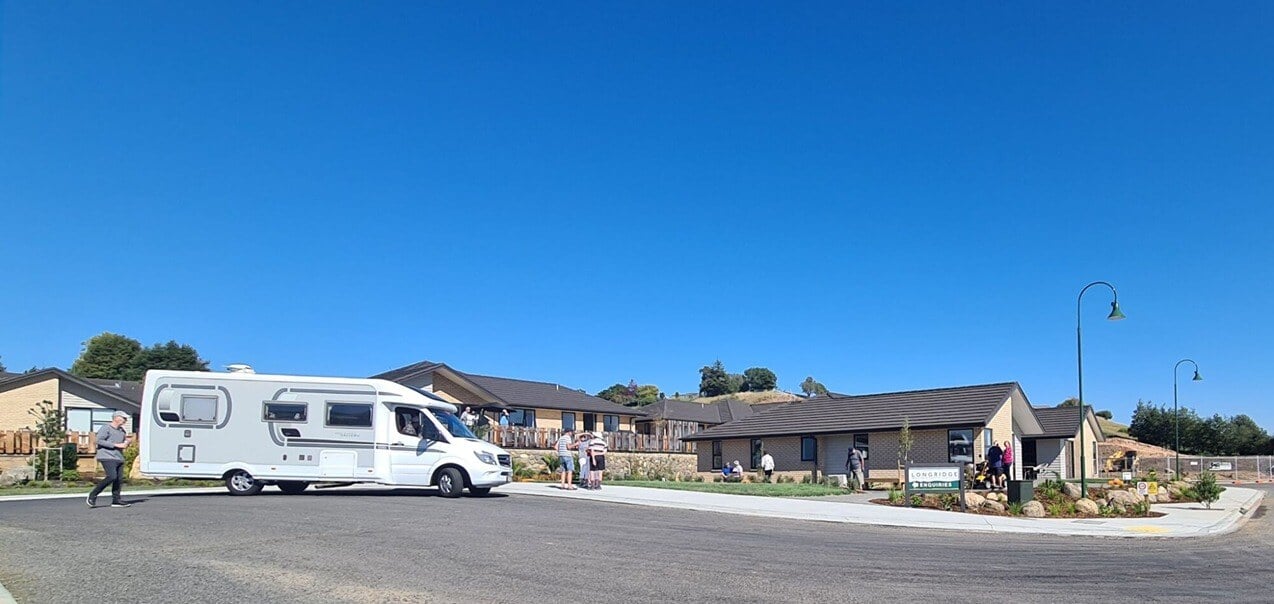 If keeping the motorhome at your home is not an option, a commercial storage space might be the answer for you. Convenience and safety are key aspects to consider, along with amenities such as power supply and cleaning facilities.


What are the best motorhome storage options in Auckland?

Large nationwide storage companies such as National Storage or Storage King have facilities across the country, including several branches in Auckland. Not all storage companies cater for motorhomes and some may already be at capacity so check with your local branch.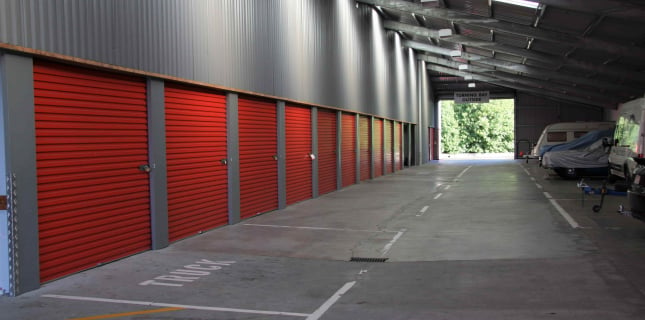 Storage King in Onehunga has a big outdoor area with around 30 to 35 spaces large enough to accommodate motorhomes, caravans and boats. Currently, most of the spaces are held by long-term customers. It's a good idea to call well in advance of any motorhome purchase to check availability and ask to be placed on a waitlist if necessary. A motorhome space costs $300 a month* with a minimum commitment of one month and a 14-day notice period.

"We are usually fully occupied," says Onehunga facility manager Muddazzir Mohideen. "But places do come up from time to time. We have power points around the facility that motorhome owners can use at no extra cost if they have a safe extension lead. We also have a washing area so you can give your motorhome a quick wash." Apart from Auckland, Storage King has branches in Rotorua and Hamilton, as well as Christchurch, Dunedin, Queenstown and Wanaka.

Many storage companies have centres in different parts of the country but not all cater for motorhomes. National Storage's Pukekohe Centre can accommodate large motorhomes (longer than 6 metres) but it's less convenient for people who live in Auckland. However, they charge less than storage sites in the city ($201 per month*). Having your motorhome stored in Pukekohe may work if you frequently travel to the Coromandel or further south as you can collect it on the way. The minimum rental period is one month. All parking spaces are outdoors and do not have a power supply.

No matter where you decide to store your motorhome, trying before buying is a good idea.

"Bring the motorhome in and have a look at the storage area before you sign the rental agreement," says Sam Capelli, Customer Service Agent at National Storage. "Have a look at the space and check out access and manoeuvrability with your vehicle, as well as the security features of the centre."


What motorhome storage options are available in Christchurch?

Christchurch is the main hub for travelling to and from the South Island and it's a handy location for storing a motorhome. Storage2u is a family owned and operated business which offers long-term storage for caravans and motorhomes. While the business operates from Upper Riccarton, large vehicles are stored at their offsite location in Selwyn, about 20 minutes south. Access to the Selwyn site is by arrangement only. All spaces are outdoors in a secure yard. The minimum storage period is one month and the cost is $220* per month.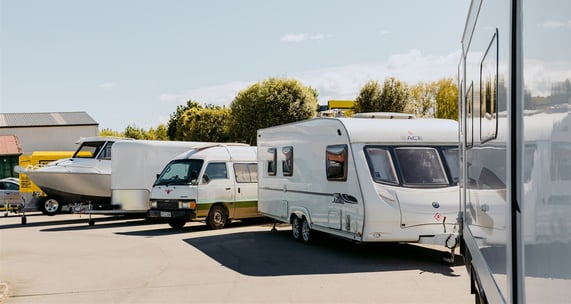 Airpark Canterbury is located near Christchurch airport next to the Wilderness sales centre. You can store vehicles here for either a few days or a few months. Space is not an issue here and advance notice is not required. But Airpark Canterbury branch manager Bree Kindred recommends getting in touch ahead of time to get a quote for longer term storage. If you store your motorhome here for the winter, the Wilderness team can even collect it from storage for you and complete a spring check before you hit the road on your first spring or summer trip.
What does motorhome storage cost?

Prices vary and it pays to shop around. Costs tend to be higher in Auckland and Christchurch than other regions in New Zealand. However, the significant growth in motorhome ownership over the past few years combined with a reduction in the size of the average residential property has meant that demand for offsite storage is high and availability is low in some locations.

If you don't have storage on your own property, you should factor in monthly storage costs to the overall cost of motorhome ownership. Try our cost of ownership calculator to get an overview of all the costs to consider and plan for.
How should I prepare my motorhome for storage?

An important first step in preparing your motorhome for storage, whether in the summer or winter, is to drain your fresh water and grey water tanks, flush them with a treatment solution and then let them dry. Use a cleaning treatment in the grey water tank. The team at Wilderness rentals use Thetford Tank Freshener and swear by it. "It's easy to use," explains Dale McLeish, Wilderness' workshop manager in Christchurch. "You simply tip the liquid down the drains in the kitchen and the bathroom, then run fresh water through as per the instructions."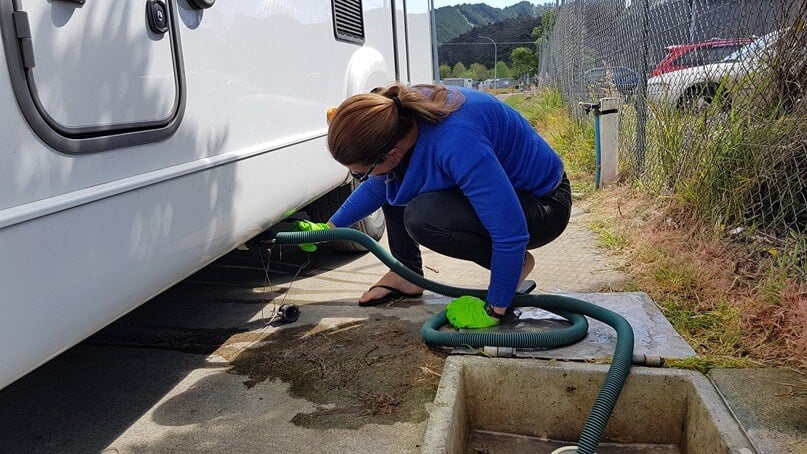 If you live in a part of New Zealand that is prone to very low temperatures, draining your freshwater tanks before winter is especially important as it eliminates the chance that water will freeze in the lines and cause damage. You should also drain the water from your hot water heater. Most German motorhomes come with a Truma heater which has a frost control valve. Use this valve to empty the water from the hot water heater.

See how to drain a Truma heater and how to prime the heater before you use it again.

Empty out your fridge and give it a thorough clean to prevent the build-up of bacteria like mould and mildew and eliminate odours. Keep the fridge door ajar to vent it and allow air to circulate while the motorhome is not in use. A tea towel over the door works a treat. Empty all cupboards, remove all traces of food which could attract ants or vermin, and give all surfaces a wipe down.

Mattresses, seat squabs and cushions need to be aired to ensure they're bone dry. Most modern motorhomes have good permanent ventilation systems that allow the flow of air even when the motorhome is closed up.

Roll out the awning, if your motorhome has one, to give it a chance to completely dry before you put your motorhome into storage.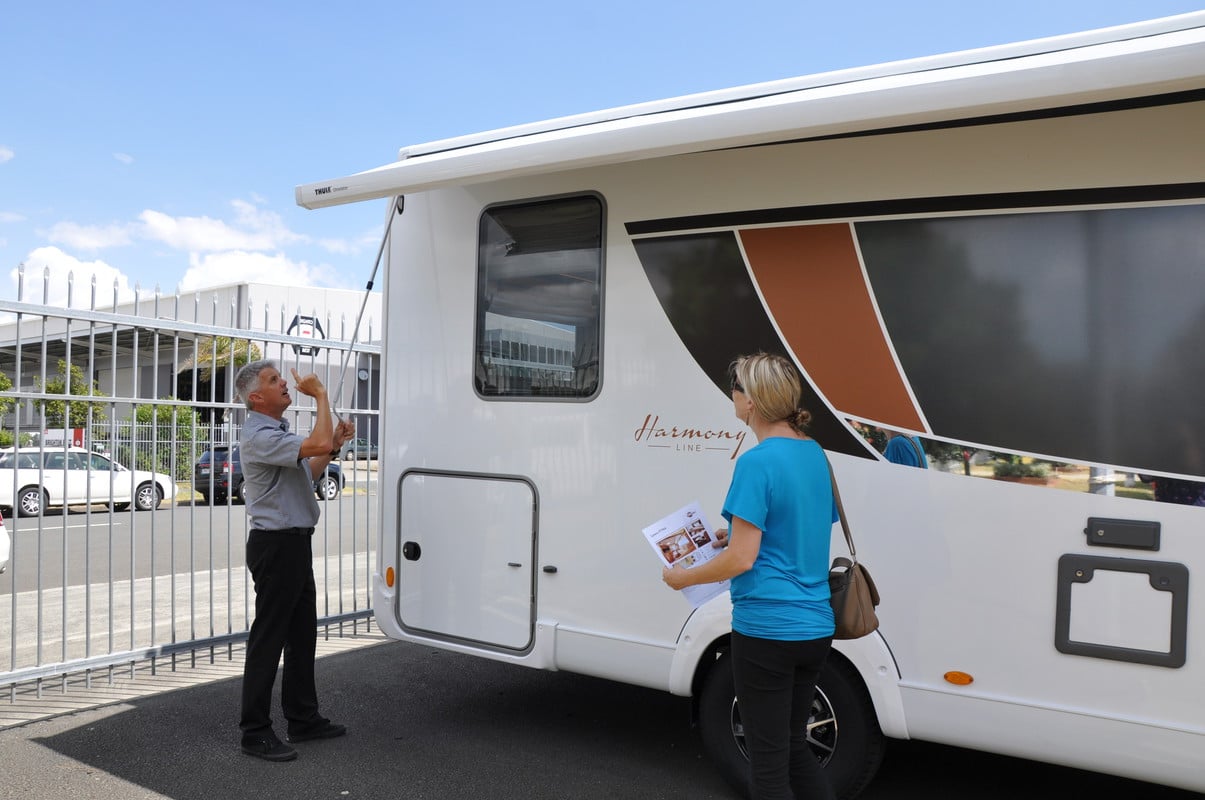 Ensure all electrical equipment is turned off. Dale at Wilderness recommends connecting to a smart charger, if you have access to a power supply at home or at a storage facility. This will keep the house battery topped up. Alternatively, if your motorhome has solar panels, these will be sufficient to keep your house battery topped up. However, if you're relying on your solar panels while your motorhome is in storage make sure you don't cover them with a motorhome cover!

Give your motorhome a good wash and check all exterior seals before putting it into storage. Check the seals around the roof, windows and external compartments to ensure they are not damaged or dirty.

If your motorhome will be stored outdoors, you may want to consider getting a ceramic polish coating such as ToughGuard applied. This will protect the paintwork and prevent paint fade and other signs of deterioration. If mould does build up then it can be easily washed of.

It's a good idea to give your motorhome a run from time to time while it's in storage to turn the engine over, check all the electrics are working, and rotate the tyres.

Before heading off on your first trip in the spring, take it into an approved agent and get an annual service completed. An annual service should include a fully mechanical check, a thorough inspection of the habitation unit including all the appliances, a battery check, and a water tightness test. Check our list of approved agents. There's nothing worse than packing up your motorhome to head off on holiday only to find something is not working.

Finding the right storage solution to suit you and your lifestyle may take a bit of time and planning, but it's well worth the effort to ensure your motorhome stays safe and you can easily access it when needed.

*Prices correct at 1 November 2021


Motorhome size matters.
Wondering if your space is big enough to accommodate a Wilderness motorhome? Explore our range of motorhomes and learn about their sizes and specs.