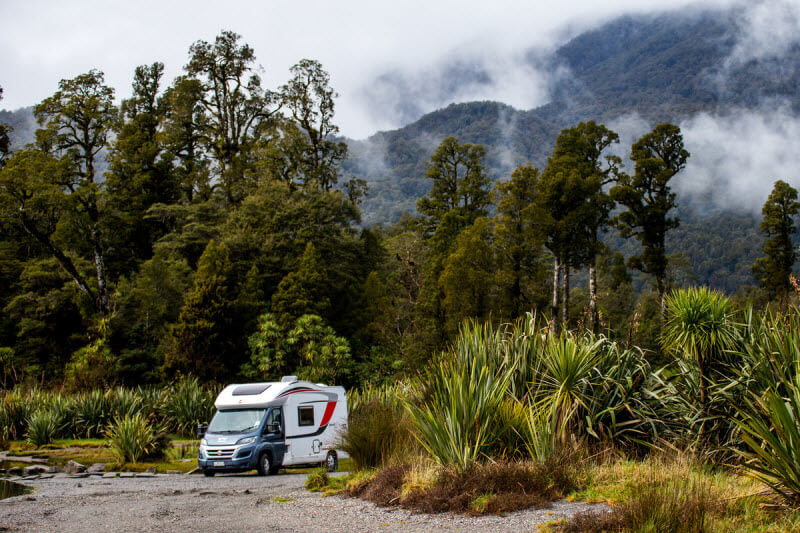 Part of the thrill of owning an RV is being able to explore New Zealand whenever you like – simply pack and go, knowing your transport and accommodation is ready when you are. For the ultimate in freedom, a certified self-contained RV opens up a whole new world of places to stay that the average traveller never gets to experience. So, whether you're keen to see where the open road takes you, or want to revisit favourite locations – make sure you choose the right RV for freedom camping.
Freedom camping has had a lot of publicity in recent years, some of it negative with regards to those who haven't followed the rules and have caused issues in some popular tourist areas. However, when done properly, freedom camping is a fantastic way to make the most of your RV and its capabilities while enjoying New Zealand's beautiful outdoors.
The idea of being away from the sort of services provided at campgrounds and holiday parks can be daunting for some new to life on the road, but freedom camping is hugely popular within New Zealand's motorhoming community. There are excellent guides and advice available through organisations like the NZMCA. Ask your dealer if they have a members' club for sharing travel experiences and advice too.
After all, getting away from it all is what your RV is designed to do and it really does add an extra feeling of freedom to your travels.
What is freedom camping?
Freedom camping refers to staying in any place that allows overnight camping but provides little or nothing in the way of facilities; like water and toilets. Freedom camping spots might include lakeside reserves, a beachfront carpark or on the edge of native bush. Some are administered by DOC while others might be council owned, or even private land made available to freedom campers. There are hundreds of freedom camping spots around New Zealand that are easily locatable through an app like Campable or the directories available to NZMCA members.
To freedom camp legally, your vehicle must be Certified Self-Contained (CSC) and display a compliance sticker indicating this. Being certified demonstrates that your motorhome has the capacity to look after the full cooking and sanitary needs of everyone onboard for at least three nights. It shows that you can stay in a location without leaving any evidence of having been there. In return, certification makes you welcome in the greatest variety and most secluded of camping areas. (Without it, you risk fines of $200 or more.)
How do I get certified?
If you are buying your motorhome from a reputable dealer, then they should arrange the certification inspection and paperwork before you collect your vehicle. Otherwise, the NZMCA has Self-Containment Officers available to members, or you can ask any registered plumber.
Certification requirements are as follows:
A freshwater supply (of 4L per person per day; i.e. 12L per person)
A fitted sink via a smell trap that empties to a sealed grey wastewater tank so no water can spill on the ground
A toilet (net holding tank capacity of 3L per person)
A wastewater holding tank (minimum of 12L per person) and monitored if capacity is less than the freshwater tank
An evacuation hose (of 3m for fitted tanks, or long enough to connect to a sealed portable tank)
A sealable refuse container (standard rubbish bin with lid).
Making sure you stay compliant

Be sure your RV stays compliant with some easy maintenance tips:
Remember that motorhome drain pipes are much smaller than the ones in your house so don't flush food waste down the drains or they may block
Keep an eye in the breather pipes to make sure they're clear
Check regularly for waste or freshwater leaks
Use only clean drinking water in your fresh tanks and replace the freshwater filters at least every two years
Be sure to use food-grade freshwater hoses, and keep your freshwater and wastewater hoses in separate containers
Use a wastewater treatment to prevent bacteria from growing inside the wastewater tank.
Regular servicing will help keep your motorhome in tiptop shape and ready to explore the most remote destinations in complete comfort and compliance – all without leaving a trace.
What to consider when buying
When deciding which RV is right for you, it pays to think about freedom camping and how long you would ideally like to be able to go before you have to top up fresh water, dump waste and recharge batteries. The minimum for self-containment is three days, but some RVs have the capability to let you stay "off the grid" much longer. Compare water storage, battery and gas capacities to work out what is right for you.
Useful links: