Custom built motorhomes are bespoke motorhomes designed to the specifications of the buyer. These can be purchased from manufacturers or home-built. Read on to find out how these motorhomes are built, what types exist and how much these cost compared to ready made motorhomes.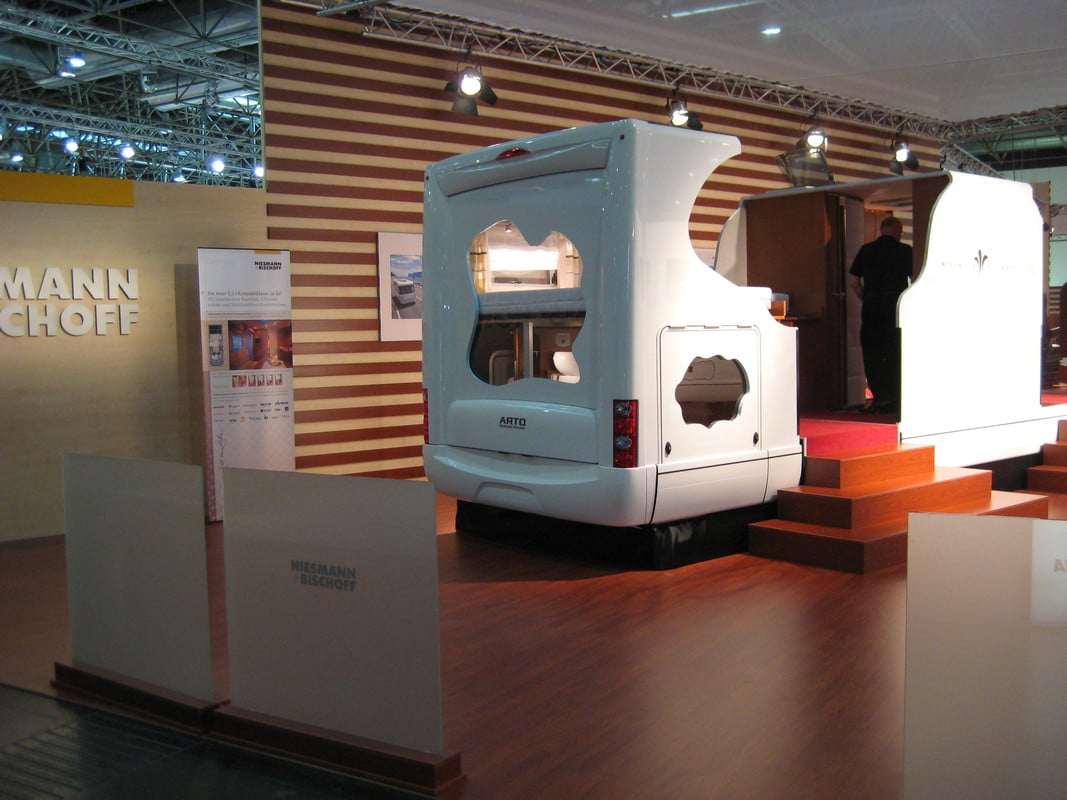 How are custom motorhomes built?
The bespoke manufacturing process starts with the customer sitting down with the motorhome designer. Together, the motorhome is designed exactly to the customer's specifications. This starts at the base vehicle and includes layout, furniture and fittings, fabrics and finishing touches.

Custom motorhomes can be built on a new cab and chassis or converted from a bus. The main downside with a bus conversion is that since the vehicle wasn't designed to be a motorhome in first place it is unlikely to perform as well as a motorhome built as a motorhome from the chassis up. Compromises and workarounds are required when converting the bus e.g. door and window placement.

While the vast majority of new motorhomes registered in the past ten years are on a front wheel drive chassis, buyers who are particularly keen on a rear wheel drive (RWD) motorhome and are prepared to pay for it can specify a RWD chassis when purchasing a custom build. Otherwise, the range of new imported RWD motorhomes is limited.




A few motorhome manufacturers have taken the cost advantages of manufacturing at scale and included options for a level of customisation. The layout and main design elements are standardised but the customer has the opportunity to personalise the motorhome through input into the interior design including furniture, upholstery, appliances, lighting and paint colours. This level of customisation can add tens of thousands of dollars to the price but gives the purchaser the ability to fit the motorhome to his/her personal style and taste.

A couple of examples of high end bespoke manufacturing are Auckland based Traillite and ACM and Coastal Motorhomes in Whakatane.
Different types of custom-built motorhomes
Home built Motorhomes and Campervans
Another option for custom manufacture is a homebuilt. While this option requires a level of carpentry, electrical and plumbing skill, significant savings can be made in the labour component if you build the motorhome yourself.

One major downside to homebuilt motorhomes is the cost of the base vehicle, materials and componentry. DIY motorhome builders don't have the same purchasing power as motorhome manufacturers so are likely to pay thousands more for the base vehicle. That's why many homebuilders choose to buy a second hand van, truck or bus to save on the base vehicle cost.

Most of the specialist materials used by major manufacturers aren't readily available to the home builder which means compromises are required. NZ based Duralite manufactures a lightweight construction system for DIY motorhome builders.

If you're not confident about your carpentry skills, a good option is a flat pack kit which can be purchased to fit into a base vehicle. Vanlifer in Auckland manufactures an interior fit out for vans ranging from a people mover to a mid size van.

If you decide to go down the DIY road, it's important to understand the regulatory requirements. The NZ Transport Authority NZTA stipulates the rules around how the base vehicle must be set up and Worksafe sets the rules on gas and power systems in a campervan or motorhome. A new light vehicle (with a GVM under 3500kg) must meet specific requirements for electronic stability control, seatbelts, as well as other items. A heavy vehicle (with a GVM over 3500kg) must meet specific requirements for brakes, tyres, seatbelts and steering and will need a certificate of fitness. Any motorhomes with gas appliances or power systems that connect to 230V mains power require an electrical warrant of fitness.
New motorhome conversion on a used based vehicle
Many of the bus conversions in New Zealand are built on a used bus. A second hand bus is fitted out from scratch into a comfortable motorhome. This can be a good option for people wanting to customise their motorhome but it's important to thoroughly check that the base vehicle is sound and reliable. Buses are usually designed to do hundreds of thousands of miles without fault. A full service history will give you insight into how well the vehicle has been maintained and a full mechanical inspection should provide indications of any issues.


Used Custom Built Motorhomes

Custom built motorhomes built to the exact specifications of the owner may not suit the needs and styles of the majority. This means that there will be a smaller pool of buyers when it comes time to sell. So a motivated purchaser with the time and motivation to do the research can often pick up a quality motorhome for a fraction of the cost required to build it.

But for most people, buying a trusted brand with a good service history will reduce some of the risk of buying second hand. Furthermore, quality motorhomes from known brands will hold their value.

Is it cheaper to custom build?
A bespoke motorhome designed and built to your specifications can cost tens of thousands or hundreds of thousand more than the same size motorhome bought off-the-shelf. Since bespoke motorhomes are one off pieces, the time taken to build is longer which means labour costs are much higher. Also, a bespoke manufacturer will not have the purchasing power of a large factory so the customer will not benefit from savings in the base vehicle and components.


The decision about whether to buy a custom built or off the shelf motorhome is a very personal one and one only you can make. You should take as much time as you need to study all your options.

Now, compare custom-built with premium ready-made motorhomes.
Check out our guide: What's Inside a Premium Motorhome?