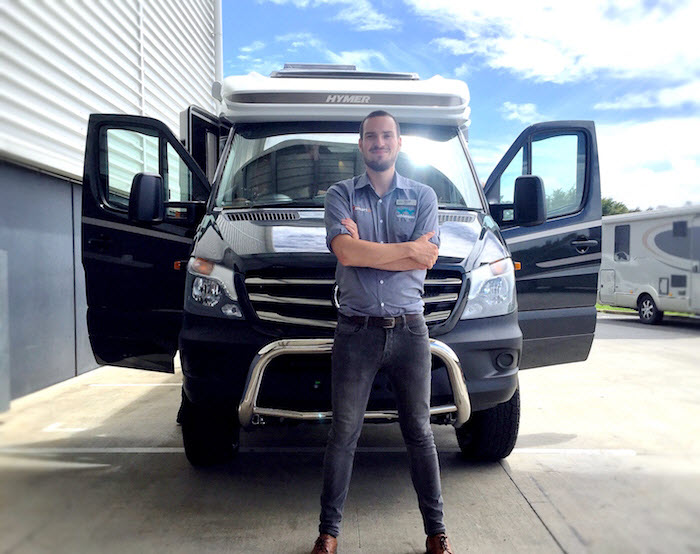 The careful attention to detail and complexity of design decisions are what struck Wilderness' Marcel Peifer most during his recent internship with motorhome manufacturer HYMER in Germany, as the company prepares its new 2019 range of vehicles.
Marcel works in the Auckland office of Wilderness. He had the good fortune to secure a three-month internship with HYMER's design team as part of his studies in industrial design, from September to November 2018. Wilderness Motorhomes is the exclusive distributor of premium HYMER vehicles in New Zealand, as well as sibling brands Carado and Bürstner from parent company Erwin Hymer Group.
HYMER is based in Bad Waldsee in southern Germany, where it was first founded in 1923 by Alfons Hymer, who worked as a wheelwright and coachbuilder. His son Erwin joined the business in 1956, and today the Erwin Hymer Group has 22 brands in its portfolio and employs 6,000 people.
Marcel says seeing the company's intricate design and manufacture processes first-hand has given him a new appreciation for what is involved in the creation of each premium motorhome. "There are a lot of things I didn't even take into consideration. There are so many legal requirements they have to comply with, and there's the need to optimise parts for manufacture."
He says the painstaking work that goes into fitting as much as possible into the motorhomes without compromising space and weight is truly impressive. "It all has to be so finely tuned to make use of the space, particularly if you have a 7 metre motorhome and you pretty much have to get a house into it, you really have to make use of every centimetre. That's what HYMER are really good at.
"Every single gram of weight is analysed – because in Germany you are trying to keep it under 3.5 tonne so you don't have to get an extra licence. It even comes down to cupboard handles, trying to find the lightest ones, because if you have six handles then that could be a kilogram. It's amazing how much attention they pay to that."
Marcel worked with HYMER's design team on developing a new stove design concept for the 2019 range. "It involved all the stages of the process," he says. "Brainstorming, concept development and even talking to suppliers. The cool thing was you could just walk downstairs and go to the main manufacturing plant where they build everything and see how it's being made. So often at design companies it's all on paper, but at HYMER it becomes real just next door and you can pop over and see it."
He says the insights from his time at HYMER have been useful for both the Wilderness team and customers in getting a better understanding of the vehicles. "I can explain why things are the way they are. Once you understand why the shower has to be placed here, for example, then things make a lot more sense."
Although Marcel isn't allowed to give any hints about the new 2019 HYMER range, he believes it will make a big impact on release. "I think it will show HYMER getting back to what they're good at: focusing on delighting people with their innovative design and really pushing forward again. HYMER is pairing their very high quality product with a new look and I think that's really going to surprise people."
For more information about HYMER and the other Erwin Hymer Group brands available at Wilderness, click here.