There's only a few days to go until Covi Motorhome Caravan and Outdoor SuperShow 2021! We can't wait to catch up with you there and help you find your dream motorhome.

This year the Covi SuperShow will be held from 19 - 21 March at the ASB Showgrounds in Greenlane. There will be a vast range of motorhomes, campervans and caravans and accessories on display. There's also fantastic prizes to be won and seminars to attend on topics like buying a motorhome and motorhoming in Australia.

At the SmartRV booth (251), we'll be displaying 11 of our most popular motorhomes for you to explore from premium German brands Carado and Bürstner. Our friendly team is there to help guide you on a great option that suits your lifestyle and budget.

Carado Motorhomes at the SmartRV booth for Covi Show 2021
Carado is a motorhome brand with a reputation for great value with practical design and quality workmanship. As one of the most successful motorhome brands in Europe, Carado is also a popular choice with Kiwis looking for a more affordable way of enjoying life on the road.
Some of the most popular Carado models at our booth this year include the 2021 T447 and T449 and the 2018 T348. The Carado T447 2021 is the perfect motorhome for a family adventure with comfortable single and king bed options. The Carado T449 2021 delivers comfort and function at a great price. This 4 berth motorhome boasts an ergonomic rear queen island bed. The Carado T348 2018 is a more compact yet spacious model with a permanent rear French corner bed and an upfront fold down bed.


Bürstner Motorhomes at the SmartRV booth for Covi Show 2021
Bürstner is renowned for its innovative designs and premium quality. It's one of the most popular motorhome brands in New Zealand thanks to its modern styling and interior layouts that fit the Kiwi lifestyle perfectly, along with top quality manufacture that helps ensure excellent resale value.
For 2021 we'll be bringing along various Bürstner models including the 2021 TD736 and 2018 IT728. You'll feel right at home in the Bürstner Lyseo TD736 2021. It's an entertainer's dream with galley style seating and a permanent island bed. The Bürstner IT728 2018 is this versatile and modern option for families, featuring two single beds in the rear, with the option to be converted to a king bed.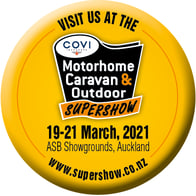 We can't wait to share these motorhomes and many more with you at the Covi SuperShow this year.

Don't worry if you can't make it to the Covi SuperShow 2021. You can drop by our sales centres in Auckland or Christchurch in person to explore our full range. You can also check out specs, images and videos of our motorhomes on our website.