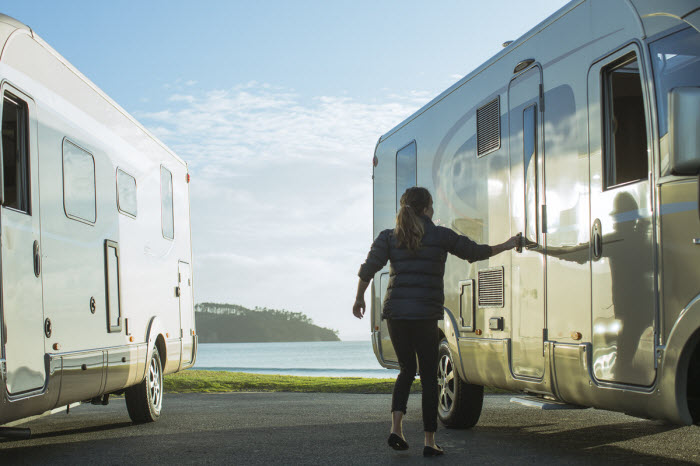 If you're in the market for a motorhome, you're no doubt doing a lot of research online. But sometimes you'll have questions that that aren't easily answered by a website. Here, Wilderness Sales Manager Samantha Kidson answers some of the most common queries about our range of new and used German motorhomes for sale.


Why is the entry door on the 'wrong' side?

Wilderness buys motorhomes from Germany, so although they are right hand drive, the motorhome entry door is on the 'road' side when you're parked. However, just as with a car, you primarily exit and enter your motorhome using the cab doors (driver and passenger) at the front of the vehicle. Additional passengers seated behind the cab can equally easily access the cab and exit through the passenger door onto the pavement too. If you're parked at your campsite or somewhere with safe space on either side, the habitation door can be freely used additional to the driver and passenger cab doors. When people come to our centres in Auckland or Christchurch and see the vehicles they quickly realise how easy it is to use those cab doors. In reality, you'd only use the motorhome entry door once you're parked up at a site, as opposed to using it when stopped at the shops, or getting a coffee.

Many motorhomes available in New Zealand now are European imports and feature the main door on the driver's side. However, given the easy accessibility of the cab doors, the positioning of the motorhome door is a small consideration that is outweighed by the quality, drivability and other benefits that come with buying a motorhome from Wilderness.


How suitable is front wheel drive for New Zealand conditions?

When it comes to buying a motorhome, we ask a customer what their 'motorhoming picture' looks like and then address it from there. For people who want to freedom camp predominantly, then they're really getting off the roads and using a lot of out of the way DOC sites, so front wheel drive is likely to be challenging for them, and we would recommend the HYMER 4x4 or other HYMER rear wheel drive vehicles such as the Starline B680 or Starline B690 instead. The same applies if we have a customer who's into fly fishing or trout fishing and needs to get off the beaten track.

That being said, the fleet of around 200 rental vehicles at our sister company Wilderness Motorhome Rentals are all front wheel drive. We don't put any restrictions on where our customers go when they rent our motorhomes and it's incredibly rare for someone to get stuck. Our front wheel drive motorhomes work really well for the majority of NZ roads as they offer stability and excellent drivability on the road. Avoiding sand, mud and thick marshy grass are a must and as long as you watch where you're going, then front wheel drive is not an issue. For peace of mind, you could buy some heavy-duty plastic tyre tread, which fits under all four wheels and helps you get out if you do get stuck.


What is the speed and handling like?

Our Carado, Bürstner and HYMER motorhomes are all manufactured on a wide rear axle. The tyres are in line with the body of the motorhome, and the motorhomes are lower to the ground, not as top-heavy as many others, so you get additional stability and better road handling. You don't experience the swaying motion of other motor homes available on the market.


What am I getting for my money?

At Wilderness, we specialise in three brands of motorhomes from a German company that is renowned as an industry leader. Carado is our value brand, Bürstner is the most popular motorhome brand, and HYMER is our premium range. When customers visit our motorhome sales centres they can see the exceptional finish and quality of the vehicles across those ranges. When you compare vehicles at the same price from other motorhome dealers, our quality speaks for itself.

At Wilderness, we also look after you far beyond your purchase. Our dedicated After Sales Service team members are available 6 days a week to answer your questions about your motorhome's features, extras or servicing requirements, for as long as you own it.

Contact us to talk about how we can make your dream lifestyle a reality.