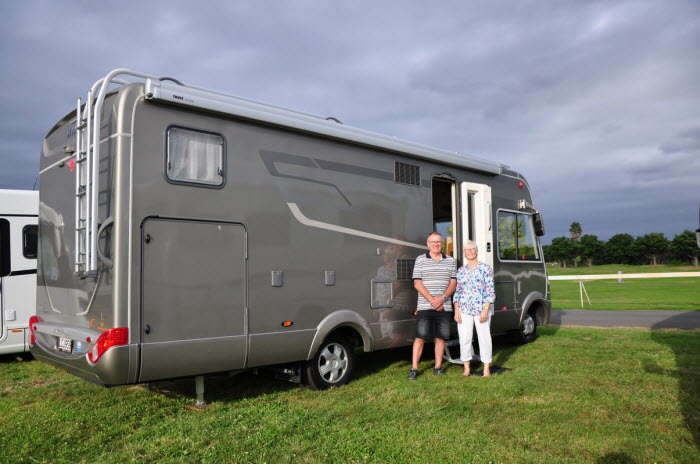 For Wilma and Grant McGregor, it's the little luxuries that make their HYMER Starline B680 such a pleasure to spend time in. "It's a bit like a yacht," says Grant. "There's a lot of woodgrain inside and the quality is amazing. We took it for our first drive and it was like driving a luxury tour coach."
The Auckland couple upgraded to the HYMER Starline in December 2017, after previously owning a Bürstner Elegance from Wilderness. They love its Mercedes chassis and rear wheel drive and the power of the 3L V6 engine, which makes short work of any hilly countryside.
The McGregors are keen travellers and joined Wilderness' Bürstner Owners' Club when they bought their Elegance and still meet up with a group of local members, despite changing brand. "We got a bit of a hard time!" laughs Grant. "But we have so much fun together. The group is about 9 or 10, there's a mix of Bürstner models and now a HYMER."
They describe their four-berth Starline B680 as a "home away from home" that suits their needs perfectly. It has rear single beds and a drop down double bed, which Wilma sleeps on and says is one of her favourite features. "It drops down so low that you don't need a ladder – that was a big bonus. I get leg cramps at night, so I can just hop onto the seat and onto the floor – it's much easier for me to manage."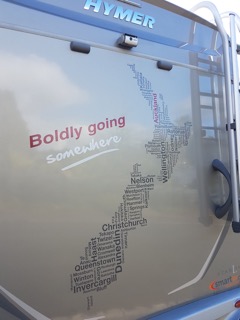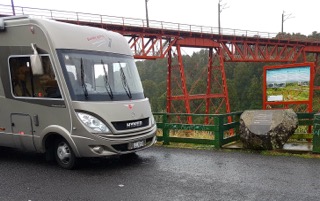 Grant has been impressed with the sophisticated electrical system, which include three house batteries, alarmed sensors on all the doors, an electric blind on the front windscreen and a rear vision camera linked to the dashboard monitor. "You can see everything behind you while you're driving or backing," says Grant. "Then you can even run it when you turn the ignition off, so from a security point of view, if we're having lunch somewhere isolated we just leave it going so we can see if anybody is coming in behind us."
"It's just got a number of little luxuries that we haven't had before," says Wilma, "like roof vent winders – you don't have to push them up manually, you just wind the little handle round."
The Starline's storage also won the couple over – from the full-height pull-out pantry to the large boot that easily fits bikes, a freezer, a barbecue and table and chairs with room to spare. There's even a drop-down cupboard for their espresso machine.
The great storage extends to the 170L fresh water and 140L grey water capacities which, along with the battery power, gives them greater freedom. Wilma says they can stay off the grid for about three days before they need to empty the toilet cassette and empty the grey water.
The couple has added solar panels, rear air suspension (this raises the motorhome an extra 120-140mm to allow them to clear their driveway), and an extra alarm.
When travelling round the country they like to use CAPs (Charges Apply Parking) and POPs (Park Over Property) that they find through the NZMCA app, as they find them a little more secure than freedom camping and not as expensive as motorcamps. They also love meeting the people who own the sites.
Wilma recalls staying in an avocado orchard in Tauranga, "right in the middle of the trees!" where the owner ran a power lead into the orchard, gave them some free avocados and even kept their spot while they popped out to the Mount for the day.
The next trip with their owners' group is to Turangi, where Grant has found a CAP site for everyone to stay. "This guy's got 1.5 acres on pumice soil, so it doesn't matter what the weather is like, it'll be dry. He's got a little shed for us to have our happy hours in and there's a restaurant about 800m up the road. There's a mountain biking track nearby and trout fishing if you have a license and a rod."
Having bought their second motorhome from Wilderness, the couple has nothing but praise for the team and were only too happy to return to them when they wanted to upgrade to the HYMER. "They've all been fantastic," says Grant. "Nothing is too much trouble. Their service is excellent and they're all very passionate about what they do. We'd absolutely recommend them."