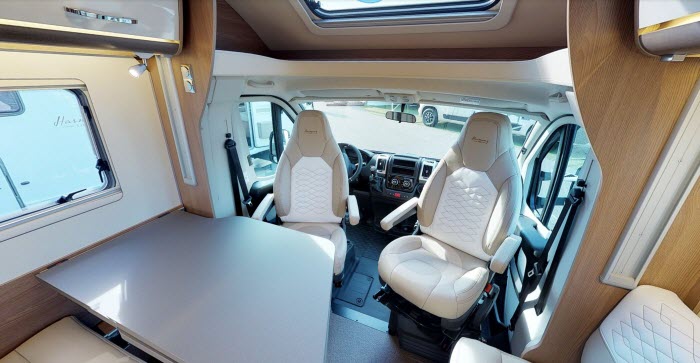 Spacious living and comfort are at the heart of Bürstner's Lyseo IT745, making it an ideal motorhome for the Kiwi lifestyle. The 2019 model has more room than ever to spread out during the day and a groundbreaking new bed design for extra comfort.
It features two living areas: a dining/lounge area at the front, and a second lounge with coffee table for relaxing during the day. The dining table also accommodates extra guests with a swivel extension piece.
At night, two double beds drop down at the push of a button and then tuck away into the ceiling again in the morning. The bed at the rear is a revolutionary new island drop-down, lying north/south to provide ease of entry from both sides.
Wilderness' Head of Sales, Mark Baker, says the new bed configuration increases the appeal of what is already a hugely popular motorhome from Bürstner. "It's going to fly: by having the same two lounge set up as the popular IT744 model but with an island bed, this motorhome will really appeal to a wider range of customers."
The light-filled interior features the sleek styling and premium fittings and finishes that are part of
Bürstner's 'Wohnfühlen' design. This means an emphasis on comfortable modern living with soft natural hues in quality long-wearing fabrics along with top quality fittings, soft close drawers, and LED night lighting. Combined with the Lyseo's one level floor throughout and 205cm headroom, it makes for an even more spacious home away from home.
Other features include plenty of storage throughout, including in the L-shaped kitchen with its 145L fridge/freezer, cooktop and new large oven. The combined bathroom handily converts to a drying room when required, and the double glazing and central heating make this motorhome perfect for exploring New Zealand year-round.
With its cleverly designed interior and quality features and fittings, the Lyseo IT745 has everything you need and more when it comes to living comfortably on the road.
Find out more about the Bürstner Lyseo IT745 available now at Wilderness.