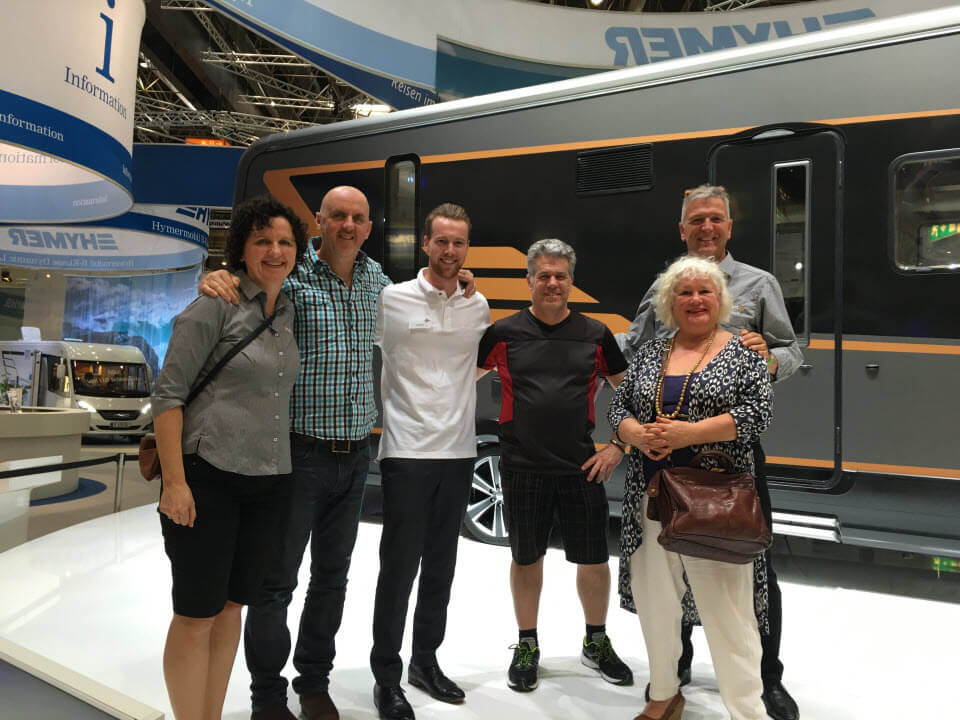 The world's biggest motorhome and caravan fair is a bellwether for the trends and health of the industry – judging by the 2016 Caravan Salon in Düsseldorf, it's in very fine fettle.
Wilderness's directors (Michael Becker, Mary Hamilton, John Managh) along with the South Island sales leader Pieter Koekemoer and after sales coordinator Josh Smith – who was already in Germany on a three month secondment to Bürstner – attended the fair together to catch up with Erwin Hymer Group manufacturers Bürstner and Carado and viewed the latest and greatest in European motorhomes and caravans. The Wilderness team were all inspired by the buoyant mood. That's along with: being in awe of its massive scale, captivated by the latest technical trends or investigating niche motorhomes (luxury pad for your dog, anyone?).
The current brisk demand for motorhomes in Europe is fuelled by concerns over the safety of holiday destinations like Turkey and Greece, along with low interest rates that encourage spending over saving. And while motorhomes may never quite reach a Kombi van's bohemian cachet, a slick Manufacturer's Association marketing campaign is helping transform their image from conventional to frankly quite hip.
The upsurge in demand has seen manufacturers shifting to Eastern Europe, taking advantage of lower costs, especially labour, to ramp up production. Carado is in fact the only entry-level German motorhome brand still doing all of its manufacturing in Germany. Bürstner is addressing cost with efficiencies such as the standardisation of some design elements as seen in its new Lyseo range where the front end (cab, dinette, kitchen, bathroom) is the same while offering different bed layouts in the back.
The current market also continues to pressure manufacturers to come up with new models every season that are somehow more distinctive; modern or retro, clever, and with an 'x' factor. Bürstner has long been one of the leading innovators with its game-changing longitudinal dropdown bed. They continue to push the envelope on functionality, with new layouts which create even more space and features such as scratch-resistant table and bench tops which take quality up another notch. Other new innovations on show included an above bench mounted fridge and smartphone apps to control and gauge 'household' comforts like power, light, and heat.