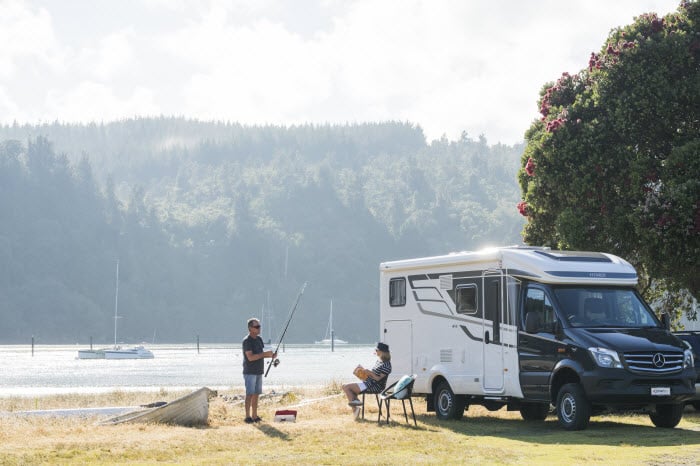 Exceptional quality and comfort meet adventure in the new HYMER 4x4, available from Wilderness.

The 2019 HYMER ML-T 580 4x4, arriving from Germany in September, is a collaboration between premium motorhome brand HYMER and prestige car manufacturer Mercedes.

The four-wheel drive motorhome sits on a redesigned Mercedes chassis and features a new Mercedes 7-speed engine in 4x4 with gear reduction.

Wilderness Sales Manager Mark Baker says the HYMER ML-T 4x4 has a big following in New Zealand and the new 2019 model won't disappoint. "I drove it in Germany and it was really impressive – super-smooth, quiet and super powerful at 163 horsepower. Because it's gone from being a five-speed auto to a seven-speed auto it just gives you more options on the road. There's not a lot out there that compares to the HYMER 4x4."

HYMER's exceptional attention to detail and quality finishing inside and out make this a motorhome in which comfort and adventure go hand in hand.

The HYMER ML-T is light, slender and manoeuvrable thanks to an outside width of 2.22m, yet has everything you need for life on the road. The two-berth motorhome features a living area, a spacious bathroom, a sleek and practical kitchen with plenty of storage, and a single level floor for ease of movement.

The large garage has a loading height of up to 121cm, making it ideal for stowing any gear that Kiwi motorhomers want to have on hand for making the most of the great outdoors.

These sought-after German motorhomes also offer comfortable travel year-round, with industry-leading insulation designed for European winters.

"The HYMER 4x4 is unique in the New Zealand market," says Mark Baker. "It provides the confidence of the Mercedes 4x4, is very manageable in size and has the design and build features that the world has come to expect from HYMER."


The new 2019 HYMER ML-T 580 4x4 will be on show at the 2019 Hamilton Motorhome Caravan & Leisure Show at Mystery Creek (Sept 20-22) and at the Wilderness Auckland base.