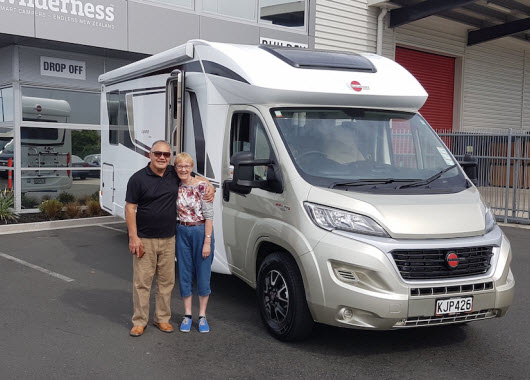 Liz Kinley and Tau Huirama are self-professed motorhome newbies. In fact Liz had only been in a motorhome once in her life prior to purchasing their new Bürstner Lyseo IT744.
Living in Wellington, the couple desired an easy option to journey home to Waikato and Auckland to regularly connect with Tau's whanau. With eight grandkids to factor in, they were clear on the lifestyle they wanted, and what kind of motorhome would fit the bill.
It's that passionate commitment to their dream that sold them on Bürstner's Lyseo IT744 in a few short hours at the Covi Supershow 2017.
Lovingly called Tui after the sweet song of our native bird, their new motorhome has delivered over and above on their hopes for a carefree way to travel and spend precious time with family.
"It's like we're young again and Tui is our playhouse. You can just hop in and escape the day to day. There's nothing better than jumping in Tui on the spur of the moment to get away for a night with our books and the heater on, snuggling up and enjoying some peace away from the city," says Liz.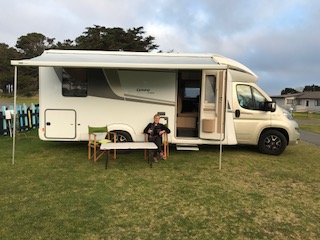 Prior to purchasing at the motorhome show, Liz and Tau did a lot of research and looked closely at other brands. They were put off by the idea of beds in the lounge area – fussing around with unmaking and remaking beds each day did not appeal.
"Smart design and layout was really influential in our decision," says Liz. "We didn't want to feel claustrophobic or limited in our choices. For us, it had to be like a mini studio apartment on wheels that could service all our whims."
It's clear why the Lyseo IT744 was the perfect choice. It has not one, but two drop down beds that are cleverly hidden in the roofline.
"The flexibility of the two drop down beds is just brilliant", enthuses Liz. "The spacious living area at the back of the motorhome, with a proper bathroom that's not just an afterthought off the bedroom, really does make it feel like we're living in a bach."
They were also both enamoured with Bürstner's renowned sleek contours and the high-end finish and couldn't find anything else that remotely stacked up in comparison.
"You do notice the difference sleek lines can make. We drove her on the Desert Road in pretty harrowing conditions and it was a piece of cake," says Liz.
Liz tells us she's small in stature – only 5ft1 – and she hasn't found Tui at all intimidating to drive in the many and varied conditions they've come across.
"You have to watch your speed, as she just floats along the open roads. She really is beautiful to drive."
Liz says they get stopped by people all the time wanting to have a nosey inside, and explains that in a Maori proverb 'Tuituia' means connecting people together. It sounds like they're doing just that – spreading inspiration of a wonderful life on the road.
"It's the best decision we've ever made. I know it sounds a little cliché, but it really is living the dream that all our friends and family are envious of."
"Tui will be a major part of our lives for decades to come, of that I'm sure."
For more information on the new Lyseo IT744 visit Wilderness in Auckland or call 0800 007 627.