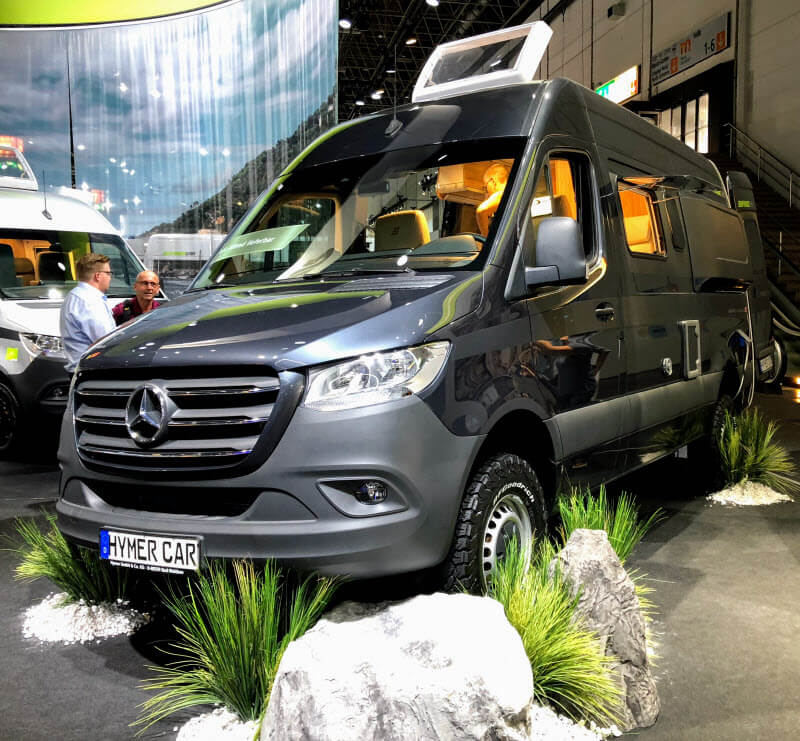 Incinerating toilets, super light chassis and voice controls were just some of the innovations on show at Caravan Salon Düsseldorf (CSD), the largest annual European trade fair for motorhomes and caravans. A team from Wilderness, the exclusive distributors of Bürstner, Carado and HYMER in New Zealand, attend the event in Germany each year for an insight into industry trends and developments. Wilderness Marketing Director, Mary Hamilton, outlines her picks from CSD 2018 of what to watch out for in the world of motorhomes.


1. New Mercedes Sprinter chassis for HYMER 4x4

German motorhome manufacturer HYMER is well known for its investment in research and development, creating many motorhome innovations that have become standard in the industry such as the drop down bed. HYMER is currently working on two exciting innovations that we will see in New Zealand in the next couple of years.

The first involves the HYMER ML-T four-wheel drive motorhome, which sits in a market niche: a luxury motorhome for owners who want to get into the real wilderness. Wilderness has been importing HYMER motorhomes for the past two years and the ML-T has proved to be the most popular model. Now, it is getting an overhaul for 2019 thanks to a brand new chassis.

HYMER has worked closely with development partner Mercedes on the new 4x4 chassis specification for motorhome conversion. It comes with 7G-Tronic automatic transmission, optional four-wheel drive, increased traction, improved driving stability and ADAPTIVE ESP®, all of which allow the motorhome to cope perfectly with any road or weather conditions. Additional driver assistance systems such as Crosswind Assist, Active Brake Assist and DISTRONIC Active Distance Assist mean the HYMER ML-T will remain at the front of the pack of 'go anywhere in luxury' motorhomes.

HYMER is currently building a prototype of the new chassis and expects to start full production on the 4x4 version in the European spring of 2019.


2. Super Light Chassis (SLC)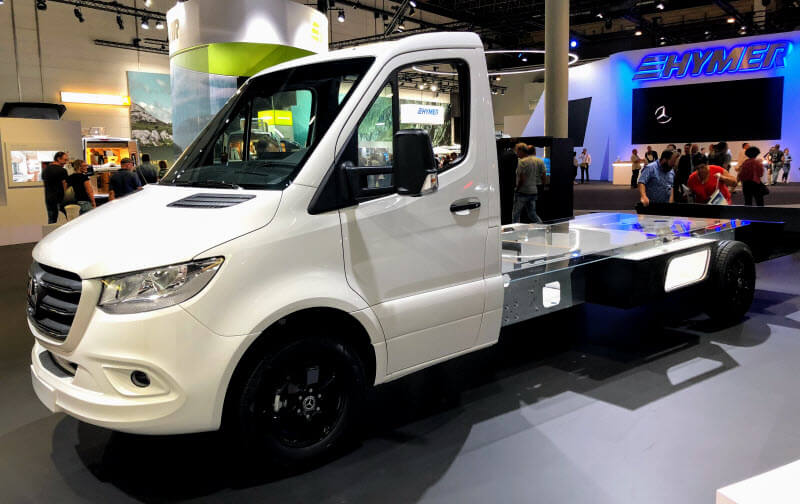 The second innovation from HYMER is a super light chassis (SLC). Weight has always been an issue in motorhome design due to regulation (weight restrictions are particularly tough in Europe) and fuel efficiency. Historically, almost all factory-built motorhomes have been built on a standard truck or van chassis, which were designed primarily for freight.

HYMER has partnered with chassis manufacturer ALKO to produce a super light chassis (SLC) that is 16% lighter than a conventional chassis, meaning the 450kg difference is now available for payload so owners can carry much more in the way of equipment and toys. The SLC also comes with independent wheel suspension, which improves wheel control when cornering and gives the motorhome considerably more grip than a vehicle with a rigid axle.

Initially, the SLC will only be available in the HYMER ML-T models (four-wheel drive) but will eventually roll out across the full range of HYMER front-wheel drive motorhomes.
Read more about the new SLC here


3. A recreational EV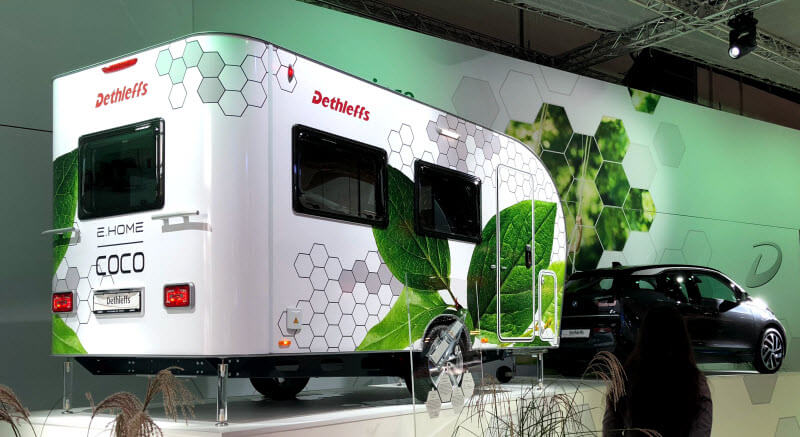 It's the innovation we were hoping for, but it hasn't happened – yet. There's talk, but not a lot of action in the sustainable RV space currently. Norway seems to be providing the impetus for change after its government set a goal for all cars sold there to be 'zero emission' by 2025. While this is the catalyst European vehicle manufacturers needed to invest in EV research and design, sources in the motorhome industry believe that EV motorhomes won't surface for at least a few years after 2025.

The challenge for motorhome manufacturers is to find a sustainable solution that can handle the weight and distance requirements of a motorhome. HYMER showed a prototype of its motorhome built on the Mercedes Benz Sprinter powered by fuel cells. The Concept Sprinter F-Cell has a maximum range of 530 kilometres and fast refuelling capabilities. The rear-wheel-drive motorhome has up to four hydrogen tanks and a powertrain developing 147 horsepower and 350 Newton-meters of torque. The hydrogen-fuelled Sprinter is a plug-in hybrid, thanks to a small rechargeable battery pack offering 30km of range to supplement the fuel cells.

Dethleffs launched its E.Home Coco concept caravan at CSD. The small caravan, produced in partnership with ZF (a global leader in driveline and chassis technology), has a floor-mounted lithium battery and a dual-motor axle designed to decrease towing demands and provide mobile power capabilities at camp. The 80-kWh battery sends power to the electrified axle, which has a 40kW motor at each wheel. Solar panels on the caravan's roof help keep the battery charged. An EV needs the powered drive train for towing, as it doesn't have sufficient torque to tow the weight of a caravan.

The ability to charge the caravan's battery from household solar generation when at home caught the attention of visitors to CSD, especially given the cost of solar batteries. The concept caravan's major limitation is its battery capacity, which limits its range.


4. Smart RVs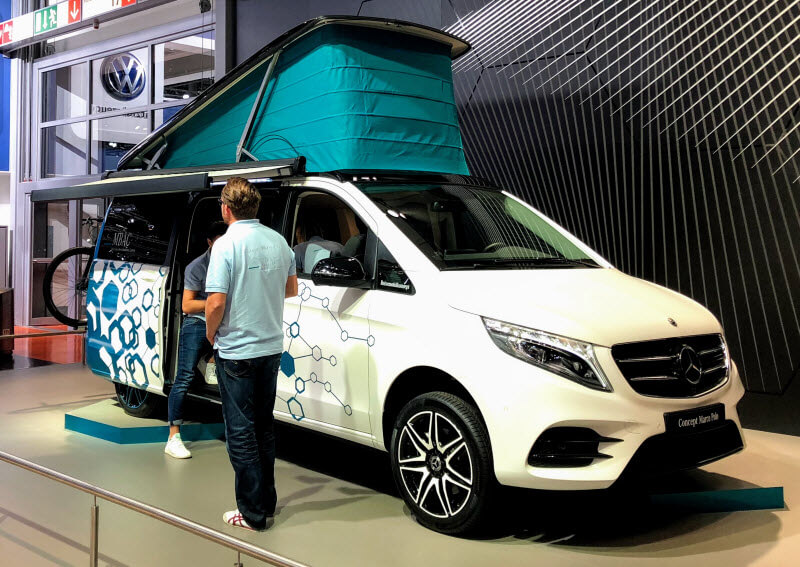 In the age of uber-connectivity, the motorhome industry has been a little slow in integrating the latest technology into its vehicles. However, the Mercedes Benz Concept Marco Polo campervan provided a glimpse of the future with Voice Control and a voice assistant.

The Voice Control in the compact campervan takes care of everything from lighting and temperature control to seat adjustment, water tank levels, pop top activation and much more, with just a verbal command. The voice assistant is perfect for those who want a different kind of travel companion – a travel buddy who is helpful, only responds when you speak to it, and doesn't take up any space!
Watch more about the Concept Marco Polo here


5. E-scooters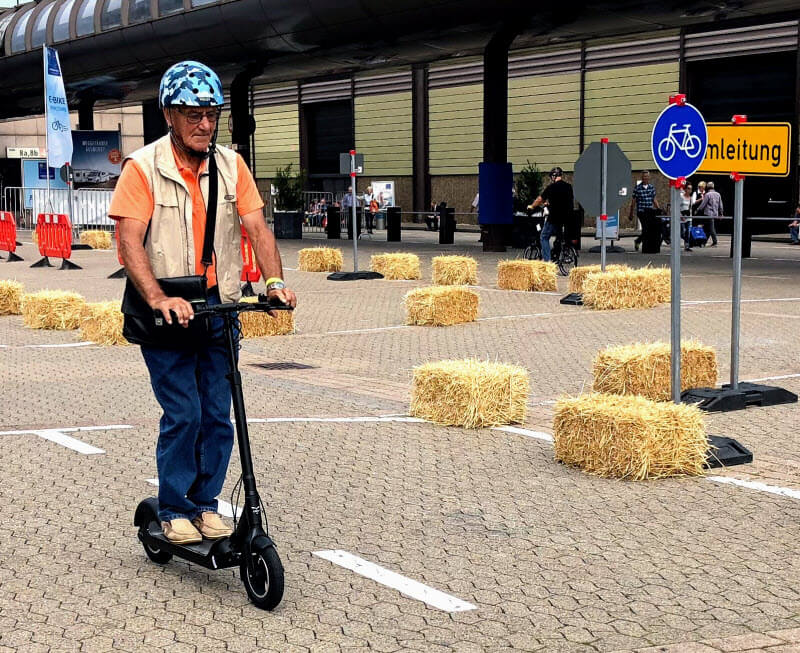 E-bikes have become increasingly popular with motorhome owners as their small size and light weight make them easy to stow and a great option for exploring a backcountry bike trail or getting around town instead of parking your motorhome in an urban area. But this year at CSD, e-bikes were outnumbered by e-scooters. Even smaller and lighter than e-bikes, e-scooters are ideal for motorhomes with less storage and, at about a quarter of the price of an e-bike, very economical too.


6. Incineration toilet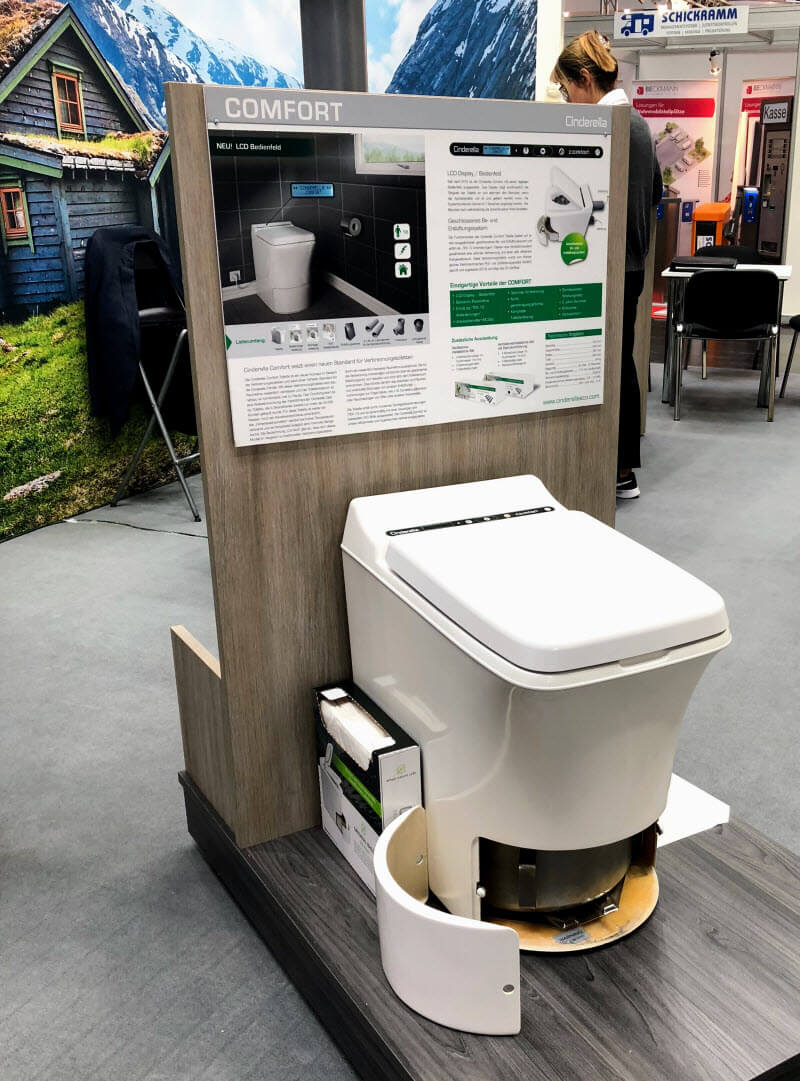 My favourite innovation at Caravan Salon 2018 was the Norwegian designed and built incinerating toilet. Most newbie motorhomers would agree that the idea of dealing with human waste is one of the least compelling aspects of #vanlife. The Cinderella Incineration Toilet is the most innovative approach of all, with waste incinerated quickly at a high temperature, leaving only an insignificant amount of ash. Unlike conventional RV toilets, you aren't exposed to the waste in any way, at any stage. According to the manufacturer, it is an RV toilet that is clean, odourless and environmentally-friendly.

Designed originally for log cabins in the Norwegian wilderness, the eco toilet eliminates the need for a sewer connection, and the RV version is the latest release from Cinderella. Unlike the domestic model, the RV model does require power (gas) and minimal 12V power for the ventilation fan and control panel, but no water or drain connections. At around NZ$7,000 plus installation, it isn't cheap, but if the idea takes off the price will no doubt reduce and maybe these new generation toilets could become mainstream?


7. The double door motorhome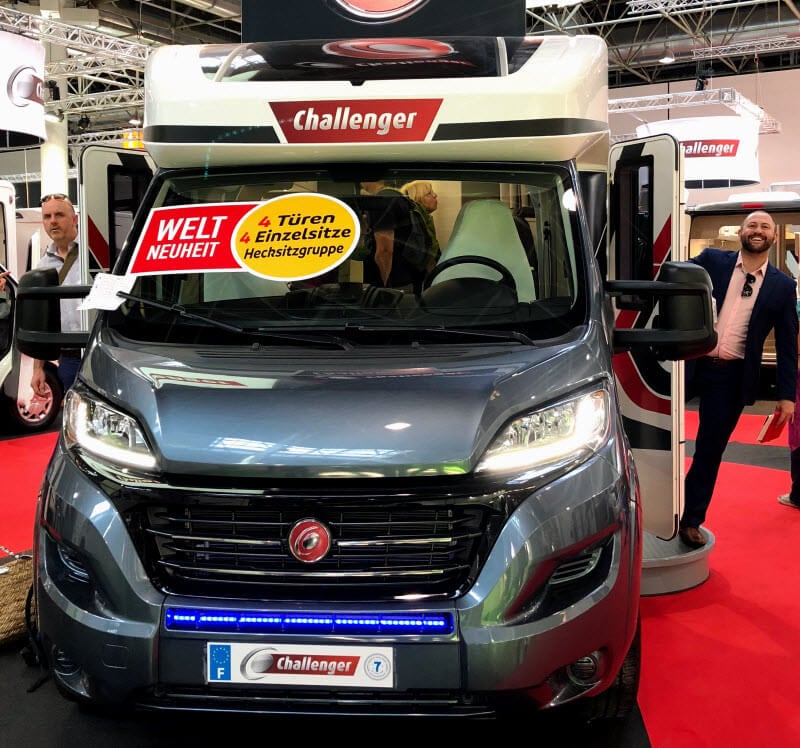 Not sure about which side you want to exit your motorhome from? French manufacturer Challenger Motorhomes has a solution: a motorhome with cabin doors on the driver and passenger sides. Why isn't this more common? Like everything else in motorhomes, it's a compromise as the extra door requires you to sacrifice space that would otherwise be in the kitchen, lounge or other area.

Challenger seems determined to address several traditional constraints in motorhome design, offering twin drop down beds and height adjustable bunk beds that retract into the ceiling to make room for a dinette.

The concepts still need refining, but the early progress we saw at CSD shows they may be onto something.


8. The fridge with a double hinged door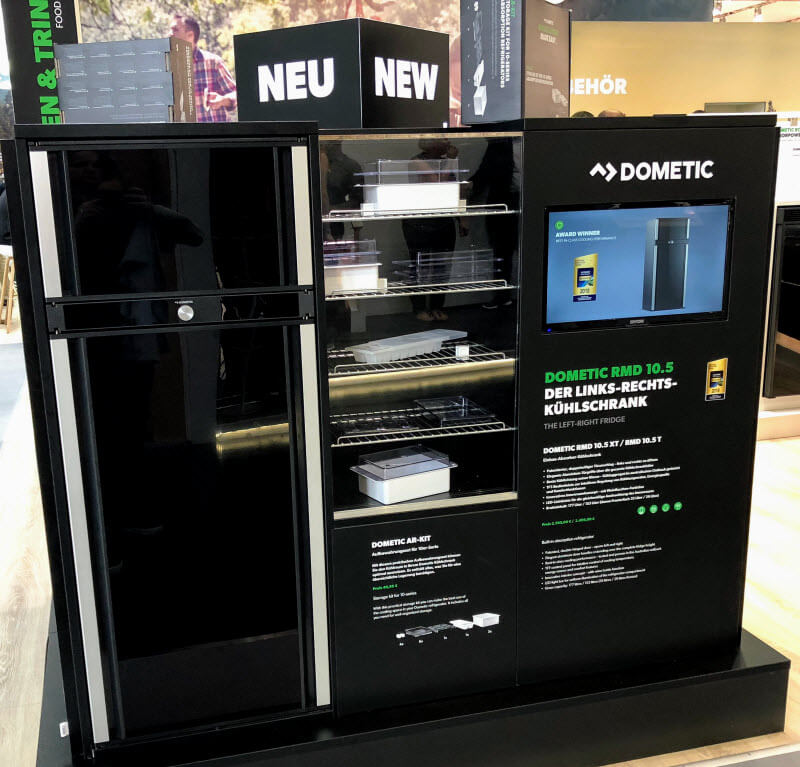 Continuing the theme of more options for motorhomers, Dometic has created a fridge with a double-hinged door that opens to the left or right. The Dometic RMD 10.5 Absorption fridge is a 153L unit with a door that can go either way, for the best use of limited motorhome or caravan space.


9. The hound mobile

Dog lovers are a growing niche market for motorhome manufacturers. Last year, we saw the HYMER motorhome converted for dog lovers and this year, a manufacturer focused on the canine market. 4pfoten Mobile claims that its Dog-Liner T730 is the first motorhome designed especially for dog owners.

Accommodating up to two large dogs, the Dog-Liner comes with a dog cabin, accessed from both the outside and inside. The ramp for external access is ideal for less agile dogs and a gate across the internal access keeps Rover safe while travelling. There's even a special seatbelt for him. Other features include a comfortable sleeping mat, anti-slip water bowl, a window positioned for Rover to enjoy the scenery, outdoor hot and cold shower, and digital camera in the dog area so you can keep an eye on your beloved pet.

Read more about the Dog-Liner T730 here