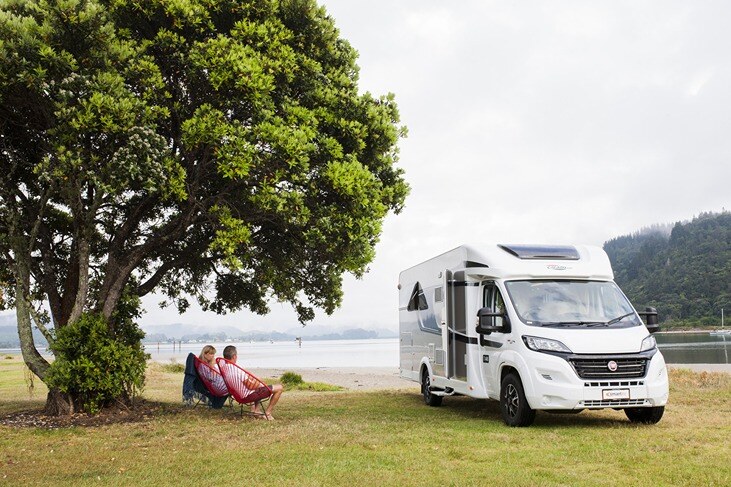 A sensational price, improved interior layout and premium German design and manufacture are all the reasons you need to check out the new 2019 Carado motorhomes coming to Wilderness in May.
The 2019 Carado T447 and T449 models are both four-berth and priced at an exceptional $126,900 – giving them an unbeatable price to quality ratio and putting a brand new motorhome within reach of those who may have been considering buying a second-hand model.
Each one has a double drop-down bed at the front, then a choice of either twin single beds at the rear (which can be made up into a king bed) in the T447, or an island bed at the rear in the T449.
German motorhome brand Carado builds motorhomes to the highest possible standards but keeps prices down by focusing on streamlined production of a small selection of models.
Carado has become one of the most successful motorhome brands in Europe since its inception nearly 15 years ago, and has built a reputation for RVs that combine great value with practical design. It is part of world-renowned German manufacturer Erwin Hymer Group and benefits directly from the Group's more than 60 years of experience and innovation in motorhome design and production, as well as buying power, systems and logistics.
"The Carado really appeals to motorhomers who want it functional and reliable," says Wilderness's Head of Sales, Mark Baker. "It's amazingly good at what it does; it's built phenomenally."
Changes to the interior layout of the new 2019 Carado models have also improved storage and living. There is increased space beneath the fridge and the television is now in a cupboard, ready to slide out and down for viewing.
A full length mirror has been added to the entranceway, there is additional LED lighting, and the control panels are now all above the fridge, making them easier to access.
"The new models look really smart," says Mark. "Carado is all about functionality and ensuring the customers' requirements are the focus. These motorhomes have everything you need."
The new 2019 Carado T447s and T449s are arriving at Wilderness in mid-May. Come and see them at Wilderness's Sales Centres in Auckland and Christchurch. You can pop in, or call 0800 007 627 to arrange a time that suits you to come and chat with one of the team to find out what makes Carado such a great value motorhome.
Visit our 'Contact Us' page for more details on our locations and normal opening hours.
Useful links:
Carado – the Inside Story
What is the Wilderness Difference?