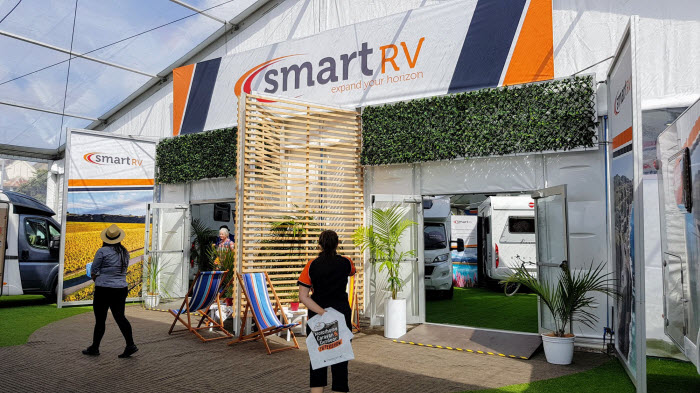 Looking for your first motorhome or want to upgrade? Come and see SmartRV's exclusive range of value brand Carado, popular Bürstner and premium HYMER vehicles at the Covi SuperShow in Auckland in March.
The Covi SuperShow is New Zealand's biggest annual motorhome expo and SmartRV will have 21 motorhomes on site at the ASB Showgrounds event, including new 2019 and 2020 models plus a selection of used motorhomes.
It's a fantastic opportunity to see these famous brand RVs up close to see what makes them such a popular choice with Kiwi motorhomers. There's a variety of innovative layouts to suit any lifestyle on the road with twin single, island bed, French bed and double drop down options. (See below for a full list of the models that SmartRV will have on display.)
SmartRV was proud to win 'Best Stand In Show' at the Covi SuperShow in 2019 and is looking forward to another fantastic event in 2020.
Highlights on the stand include the new 2020 HYMER ML-T 580 4x4. This incredible RV is a collaboration between HYMER and prestige brand Mercedes and is the pinnacle of motorhome travel in New Zealand.
You can also see the luxurious Bürstner Lyseo range of motorhomes, designed with spacious layouts, light-filled interiors and premium fittings and finishes for comfortable, modern living on the road.
The I744 model has a clever L-shaped rear lounge that makes it feel more like an 'apartment on the road', while the IT727 has a new couch-couch dining layout for an even roomier feel.
All 2019 Bürstner models also have $10,000 off their regular price while stocks last.*
There will be a selection of models from value brand Carado too, offering practical German design and engineering at outstanding prices.
Plus, come and browse the range and chat to the friendly team at the SmartRV Pavilion and you can be in to win a $2000 Wilderness Motorhomes holiday or a $500 fuel card. We'll see you at Covi 2020!
---
What: The Covi SuperShow
When: Friday 13 to Sunday 15 March
Where: ASB Showgrounds, Auckland. SmartRV's pavilion will be by the main entrance at Gate 2, on stands OS55, OS51 and OS47.
Details: supershow.co.nz
---
SmartRV Motorhomes on display at Covi 2020**
New motorhomes
Carado T447 (2020)
Carado T449 (2020)
Used motorhomes
Bürstner IT728 (2018)
Bürstner T569 (2017)
Bürstner T700 (2017)
Bürstner IT700 (2017)
Carado T135 (2017)
Carado T348 (2017)
Carado T449 (2017)
** Please be advised some motorhomes may sell before the show and maybe replaced by alternative models.
*$10,000 off new 2019 Bürstner Promotion runs whilst stocks last.