About the Author
Author Catherine Milford is the Editor of Motorhomes, Caravans & Destinations magazine. She hopes to own her own motorhome soon. In her spare time, Catherine enjoys seeking out New Zealand's best foodie spots and plays viola in the Auckland Symphony Orchestra.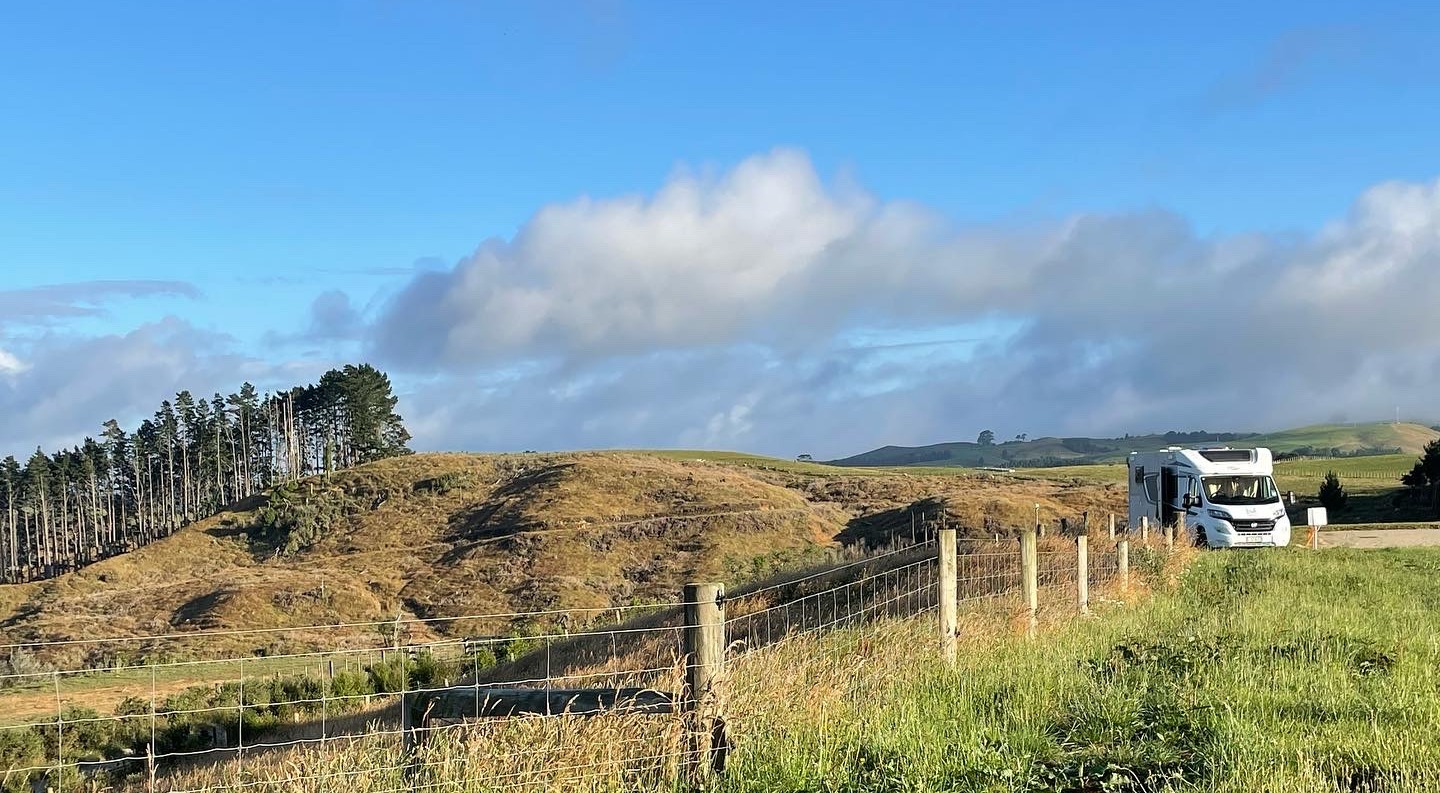 I love driving. My happy place is on the road, music up as I take in the sights of this beautiful country. So when Wilderness asked me if I would like to trial one of their vehicles on a roadie, I was packing before you could say 'motorhome'.

Although I edit a motorhome and caravanning magazine, I don't own one – yet. It's definitely the dream, and my husband Trev and I often talk about the places we'd love to visit. First though, we had to see if we could survive in one! I am a compact 1.57m, while Trev is a rather less condensed 1.97m, so we had questions. Could he stand up in it, or lie straight in the bed? Could we both be in the kitchen area? And would we have enough storage for all his freediving equipment?

Then there was the topic of where to go. New Zealand's a big place when you have an open book. Thanks to Wilderness' thorough pre-departure email information, we help, so we deferred to their website, which has a bunch of itinerary ideas that helped guide us. Eventually we decided to weave our way down the west coast of the North Island, the only definite being that we'd get to Taranaki at some point.

When D-Day arrived, it's fair to say Trev and I were both in a state of nervous excitement. Armed with the bare pantry essentials, a few extra pillows and enough walking and freediving gear for an Antarctic expedition, we arrived at the Wilderness HQ by Auckland Airport. We were greeted with lots of smiles and taken around our King Twin four-berth motorhome to learn about all the bells and whistles. They didn't mind our numerous questions at all; they are obviously used to newbies like us!

We needn't have worried about the bed space; there was oodles of room in the super-comfy – and long – king-size bed (which can be subdivided into a twin) for us both. And there was plenty of head- and width room too – having done a few uncomfortable long-haul flights with Trev, this felt like luxury. Storage was a dream too, and having worked out plans A, B and C for what we'd leave in the car if there wasn't enough space, we ended up taking everything, with room to spare.

After signing the paperwork (quick and easy), we set off. There's a bit of a thing about women driving motorhomes I think, because as soon as I shared a photo on the MCD Instagram page of me driving this 7.4m vehicle, I got messages from a bunch of women congratulating me for driving as they would be too nervous. Honestly – it was a breeze. Sure, you've got to think about a few things; it's a lot longer and heavier than a car, and there's no such thing as a quick sharp turn, for instance – as I discovered, but more on that later. But driving this baby? Just watch me!
We were determined to go where the mood took us, so with no particular plan in mind we worked our way down past Raglan, Kawhia and Pirongia, stopping occasionally to pick up fresh, locally produced supplies and take in some of the sights, including the beautiful 7km Nikau Loop Walk at Pirongia Forest. The track was well maintained and signposted, and with beautiful weather the whole way, it was wonderful to end it with a refreshing swim in Kapuni Stream before heading back into the motorhome to change.

As we were slowly getting used to the concept of having everything we needed there with us on the road, we wanted to give freedom camping a go. Wilderness recommends the Campable app as a good place to find camping spots – and thank goodness they did, otherwise we'd never have learned of the House on the Hill, a beautiful private patch of farmland in Te Rauamoa with stunning views over the Waikato valley.

It's at this point Trev and I should have realised that there are times we're better playing to each others' strengths. I was determined to drive, which left him on direction duty. Bad idea. We ended up taking a 100km-round detour across gravel roads, meeting cows, chickens and not a lot else, before finally arriving at the house, somewhat frazzled and definitely a little later than planned! Our motorhome handled it beautifully, but we were tired and looking forward to enjoying the sunset from our little spot of paradise...and as we turned into the paddock, that's when I discovered that thing I mentioned earlier about the motorhome needing a wider turn than a car.

On the positive side, the damage to the motorhome side panel was minimal (and no damage to the sturdy gatepost). At check-in, Wilderness asks you to take photos and report any damage as soon as you can to the office, which we did; they were quick to reassure me they'd seen a lot worse, and not to worry. We could continue to enjoy our trip and their insurance covered the damage.

Knowing Wilderness had us looked after was a huge relief, and we managed to enjoy the sunset, aided in no small part by the beautiful homekill sausages and homemade grapefruitcello brought to us by our lovely host – and the delightfully mischievous cow who kept meandering up to us behind the fence to say hello.

The next morning, we said our goodbyes and left, but not before I had a gorgeous encounter with one of their sociable goats. He was lovely and so affectionate – he even enjoyed munching away a chunk of my dress for himself as a keepsake.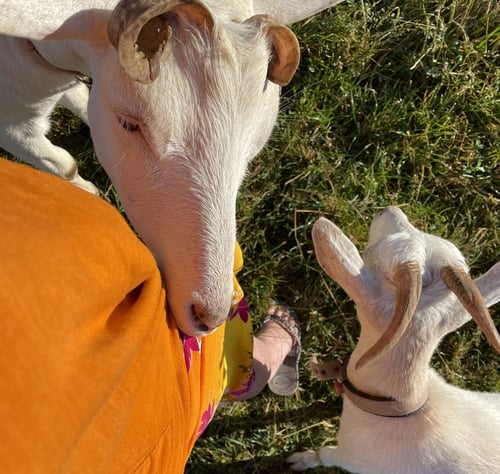 While our minor bump definitely had its stressors, it was a great learning experience for us both. I love driving the motorhome, but going forward, when going off the beaten path, we are a better team when Trev's in the driving seat, and I'm navigating!

The next day took us into New Plymouth, and at the recommendation of some people we met while buying berries in Piopio, we booked a seafront site at Belt Road Holiday Park, next to the start of the Te Huanui Takutai Coastal Walkway. This 13.2km path stretches from port Taranaki to the eastern end of Bell Block Beach. The walkway is a lesson in how to maximise your coast; an easy walk, with gentle slopes, that's great for walkers, runners, cyclists and skaters alike. There's also plenty of parking, even for a motorhome, which was useful on several occasions.

As relative newcomers to motorhome life, we were continually commenting how easy it was to just drive up to where we wanted to stop, put the handbrake on, and – that's it. The wine and beer were cold, the bed was made – all we had to do now was enjoy it. And we did. Trev's eyes were glued to the sea and the port to our left as he searched for swimming and freediving opportunities, while I looked up the multitude of walks, swims, restaurants, bars and markets for us to visit. The ample fridge was loaded up with local ingredients including local Taranaki beers, whitebait from a roadside butchery, great 'Taranaki Laid' free range eggs and a bunch of locally produced fruit and salads.


"As relative newcomers to motorhome life, we were continually commenting on how easy it was to just drive up to where we wanted to stop, put the handbrake on, and – that's it."

A trip to the Goblin Forest and Wilkies Pools was a must. Just 20 minutes' drive from Stratford, at the entrance to the Dawson Falls on Mount Taranaki, the Wilkies Pools loop is a short but beautiful 2km track that feels like another world. Entering the Goblin Forest, otherwise known as the Kamahi Walk, truly feels like leaving this world, and entering into a fantasy land. The kamahi trees began their life perched on the trunks of other trees, their branches bursting through the existing trees to create a gnarled, twisted forest, with hanging mosses, spider webs and all manner of greenery; even the forest flowers seemed to be able to create their own fairy rings.

As you leave this magical forest, you'll cross a swing bridge across the Kapuni Stream to arrive at Wilkies Pools. We'd been warned – this water is COLD! Ever the adventurer, I dipped in a few toes, then supervised as Trev embraced his inner child and went straight down the natural slide, accompanied by a fully-dressed man in his 70s, while his grandkids looked on. (Did someone say the slide was great for kids?)

We were having such a great time, we forgot we'd made dinner reservations at New Plymouth's destination restaurant, Social Kitchen, for 6.30pm. We hopped back in the motorhome, trying to work out how we'd change in time, before once again realising we weren't thinking: we had everything we needed right with us. So we parked up on the side of the road, and within 20 minutes were showered, changed and looking for all the world like Trev hadn't been embracing his inner kid on a slide up a mountain less than an hour before. And it was well worth it; Social Kitchen's food is as good as its reputation. After a big day, we feasted on silky-smooth chicken liver paté, barbecue corn ribs, salads, meats and their famously decadent house-made blue cheese gnocchi. We'd earned this meal. And it was amazing.

The rest of the trip went by way too fast. We swam in the chilly crystal waters of Back Beach, and ate the best poke dish we've ever had at Kahakai Poke Bowl, one of the food trucks set up on Liardet Street in New Plymouth's city centre. Parking the motorhome was easy by the Coastal Walkway; in fact, one of our initial concerns – that we'd be walking for miles if we wanted to go into town – was completely unfounded.

As we meandered our way back to Auckland, with a quick overnight stop at Matamata's hot springs, we talked about our motorhome experience. There's no doubt Wilderness' great communication was a big factor, as we were confident we knew how to use everything, and that they'd have us covered if anything went too awry. That confidence meant we pushed our own boundaries and explored places we'd never have visited without their help and guidance. When we reluctantly turned into Wilderness HQ to return our lovely home on wheels, we saw a couple getting into what was clearly their very own brand-new motorhome, smiles a mile wide. One day, we really hope that'll be us.


Want to try before you buy?
Our rental motorhome fleet is made up of the same premium German motorhome brands we sell, so you can have a taste of motorhome life and discover what might suit your personal motorhome needs. Learn more about our Try Before You Buy offer.


* This article was originally published on Motorhomes, Caravans & Destinations magazine on April 2022.