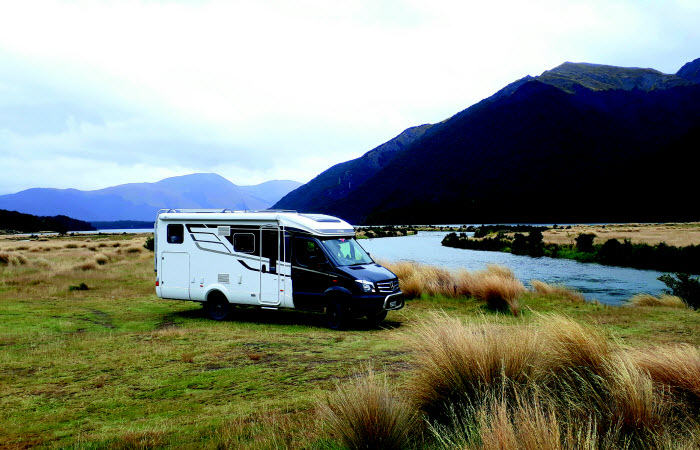 Want complete isolation? Try remote Anatori Beach on the West Coast near the very top of the South Island. Fancy the bright lights of the big city? Park your motorhome in the very heart of Auckland city, close to the harbour bridge and under the lights of the Sky Tower, and walk to a multiple of options for drinks and dinner. Those are just two of the places NZMCA members Paul and Caitriona Hutchinson (#77226) stayed in on their travels this year. The couple bought their Hymer motorhome about 18 months ago, and a few months in decided to go on an extended trip up and down New Zealand. It was pretty much a spur of the moment decision, considering they were still new to motorhoming. In fact, the very first time Caitriona put foot in one was when they took theirs for a test drive up to the top of One Tree Hill in Auckland. But the couple is known for their love of adventure, and decided to put their Queenstown home on the market and see what happened. It sold, they resigned from their jobs, and hit the road in January, after Caitriona's relatives returned to Ireland following a Christmas visit.
"We sat down with a map and highlighted the places we wanted to see in both the North and South Islands, and then tried to base the trip around that map," says Paul. When they bought the Hymer, they had a few things on their wish list. Alongside being warm and comfortable enough to take into the mountains near home, Paul wanted a four-wheel drive, and it needed to have enough room to 'store the toys', including the BBQ, the golf clubs and the surfboard. Wanting to use those golf clubs and the surfboard dictated many of the places they visited on the trip, and they picked up lots of ideas from people they met in campgrounds.
Caitriona says whenever they started chatting with new people she'd ask for recommendations on everything from where to visit, to tips and tricks for long-term travel. She admits it took a while to get used to living in a much-reduced space. But she concentrated on making it feel like home with nice bedding, throws and cutlery. "It really did feel like my home, apart from everything being a bit more concise. Even though we were sometimes offered places to stay along the way, I always preferred to stay in the motorhome." Their itinerary included keeping to the coast for much of the time, they figured after calling Queenstown home for the past 18 years, they're pretty spoilt with access to the mountains. Totaranui was a favourite spot and they spent a total of 11 nights there (popping in and out for supplies), the greatest number of nights they spent in any one place.
They weren't afraid to head off the beaten track and onto the gravel roads. French Pass in Marlborough was a highlight, offering the chance for spectacular views and some great walking. It was one of those places they nearly didn't get to, after stopping at Elaine Bay on the way. "We wondered whether we needed to keep going on further, but it really was amazing," says Caitriona. As well as checking in with friends and family along the way, they clocked up plenty of nights in NZMCA Parks (where there was always plenty of chatter around Happy Hour) and the NZMCA DOC Pass also proved invaluable. As much as they loved spots where they were one of the only motorhomes there, Paul and Caitriona didn't shy away from the towns and cities. Both Dunedin and Westport showed them a good time, and they loved staying in the heart of Auckland at Westhaven, where pay and display overnight parking is available at the Z Pier carpark (TD #990).
"It was great being right in the heart of the city, and enjoying the hustle and bustle of restaurants and not having to cook. If we went back to Auckland again, we would definitely stay there," says Caitriona. When The Motor Caravanner caught up with the couple, they were back in Queenstown and life had come full circle in a variety of ways. Southland's Colac Bay was the very first place they visited when they started travelling back in January.
They stayed for a week, partly to plan for the trip and partly to relax after a very busy time getting ready for months on the road. They enjoyed it so much, they ended up buying an undeveloped section there. While they've also bought a house in Queenstown and have started back at their previous jobs, it's nice to know there's plenty of adventure awaiting near the beach. The big question is whether or not they sell the motorhome to concentrate on a new build. But for now, it's still proving to be very useful. "We haven't bought beds yet so we're still sleeping in the motorhome, which is lovely and cosy on cold winter mornings!"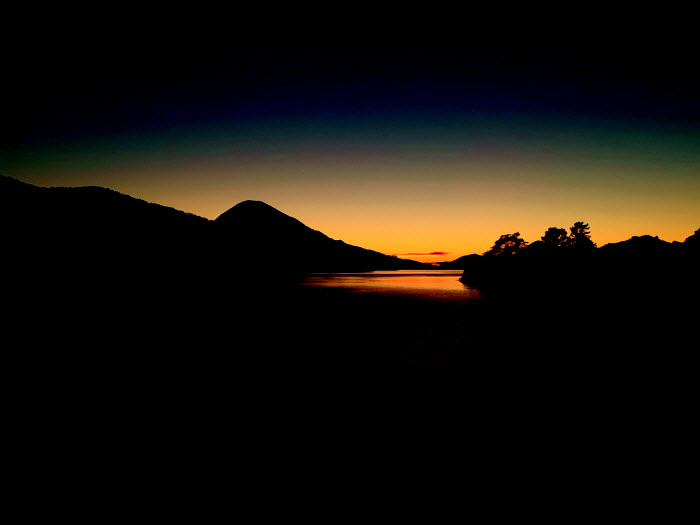 Best of the best The Hutchinson's 'best of' ratings after six months around New Zealand.
Best walk: Cape Foulwind walkway on a beautiful day with great surf rolling in.
Best sunrise: Elaine Bay, Marlborough Sounds.
Best sunset: At the Gentle Annie Campground, Mokihinui after cooking wood-fired pizzas in the campground pizza oven.
Best wildlife: Caitriona: Watching a pod of 20-30 dolphins rounding a point at French Pass, all jumping and playing. Paul: Watching the baby seals play in the rock pools at Wharariki Beach, near Farewell Spit.
Best campground: Three equals: Otamure Bay DOC (TD #539), Totaranui DOC (TD #6018), Gentle Annie Seaside Camping Ground and Accommodation (TD #6436).
Best freedom camping spot: Clifton Road Reserve, Te Awanga (TD #3863) – wineries, walkways and the ocean all right there.
Best dinner out: Moonsoon Poon, downtown Auckland, within walking distance of Westhaven. Also, the Old School Cafe at Pakawau Beach, Tasman.
Best dinner in: My BBQs! We also had great fish and chips from the Kai Kart at Te Araroa. Most photogenic spot: Anatori/Wharariki/ Lake Pukaki/Te Paki giant sand dunes.
Best surf: Riding a nine-footer at Whangamata main beach.
Best golf: Tasman Golf Club at Kina Beach. Pinch me moments: The whitest sand and crystal clear water at Rarawa Beach, Northland; and Hot Water Beach, Coromandel. Most challenging moment: Blowing multiple fuses trying to plug in Caitriona's 12v hairdryer – it was during a torrential downpour in Te Anau and Paul needed to access these from an external hatch to work out what had blown! The hairdryer went in the bin!
Thank you to The Motorcaranner for allowing us to republish this article. It first appeared in the Motorcaranner issue 340