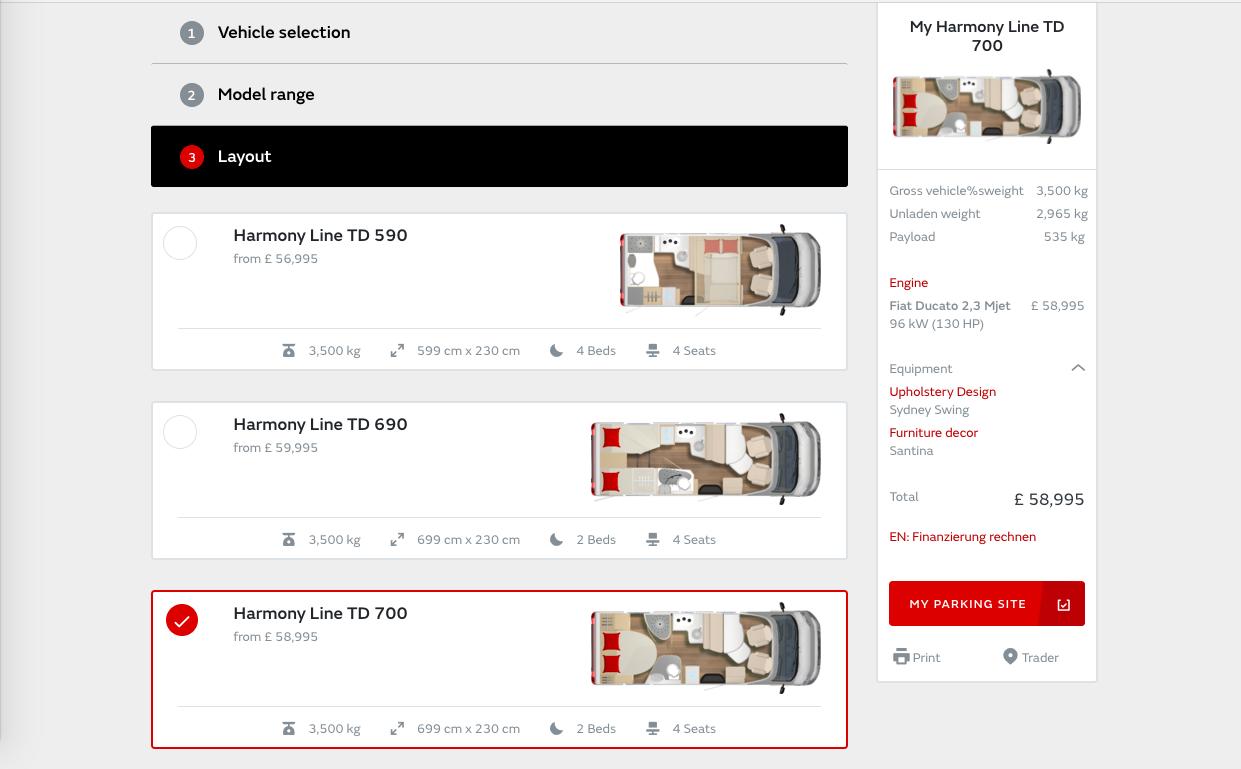 Choosing a new motorhome to buy is an exciting process, but did you know you can also order one to your specifications? At SmartRV we import a popular selection of Carado, Bürstner and HYMER brand motorhomes from Germany, but can also help you have more input into your vehicle's design.
As the exclusive New Zealand distributor of the three brands from Erwin Hymer Group, SmartRV can order directly on your behalf if there is something in particular you would like. "We have a great mix of price and layout across those brands," says SmartRV Sales Manager Samantha Kidson, "but there is certainly the opportunity to order from the wider range."
Samantha says the first step is to visit the brand's website to see what is available. The Bürstner website even offers a 'Configurator', which allows you to select a model and then choose from a range of options around floor layout, engine size, external and internal colours, the finishes and fabric used inside, as well as any extra accessories, to build the motorhome of your dreams.
"We'll then sit down with you and go through the options to narrow down what you're after," explains Samantha. "I'll price it up, we'll get an estimated delivery date and then we can place the order." Lead times can vary from 10 months to over a year for a vehicle to be delivered, as demand for motorhomes has soared in the past couple of years.
Ordering in this way also offers an unexpected bonus: the chance to 'meet' your new motorhome in the UK and spend some time travelling in it before returning to New Zealand. For an additional fee, SmartRV can arrange delivery of the vehicle to our UK agent, who organises registration and other documentation. You can then collect it, insure it and spend up to 12 months touring the UK and Europe before the vehicle needs to leave again.
Samantha says it's a fantastic option for those keen to start adventuring in their motorhome. "If you're going to travel for several months in your own vehicle, then it's an accommodation-free holiday. It's just food and diesel to get around. We then ship the vehicle back to New Zealand for you (the cost is included in the original price) and do the compliance here for you."
Contact us to find out more about ordering the motorhome of your dreams.